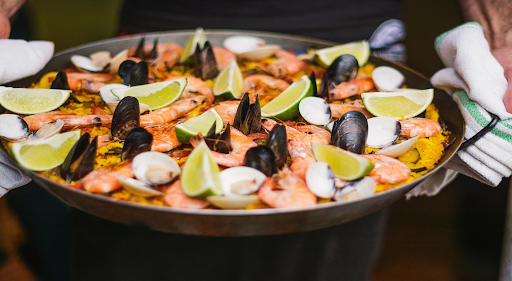 Flying to Spain can be a dream come true for many Singaporeans, with their tasty meals and desserts. However, you do not need to travel to Madrid or Barcelona for good Spanish food. Right here in Singapore, you can have mouth-watering paella, tapas, grilled octopus, Jamon croquetas, and gazpacho.
Singapore has recently been inundated with Spanish restaurants, making it challenging to choose which one to go to. Fortunately, we have combed the Island for you on the best Spanish eateries worth spending your time and dough on. This piece presents you with the best weekend brunch, restaurants, and exquisite steak cuts.
1. Basque Kitchen by Aitor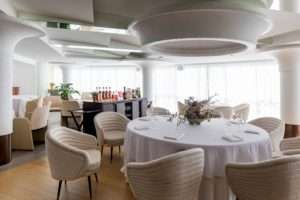 This Spanish restaurant is the first Basque-centric restaurant in Singapore located at Fullerton Waterboat House. Expect amazing dinner foods here with a large dining room.
The eatery's 38-seater dining table offers you a glittering waterfront view that seems to add to the sweetness of the dishes served here. This restaurant also has a bar for a casual evening and relaxation as you enjoy a flute of champagne.
2. FOC Sentosa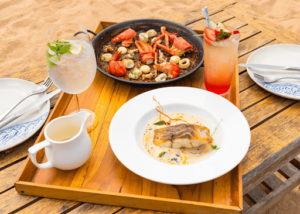 What doesn't the famous Sentosa have? Sentosa's fame can be defended by gorgeous beaches, beautiful playgrounds, and Spanish restaurants. FOC Sentosa offers you ample space by Palawan Beach. You can easily spark love and romance from this restaurant with its awesome sunsets and breeze afternoon hangouts.
They have one of the best paellas you should try, featuring various Iberico pork and squid ink. Remember to pad your food with tapas, grilled meat, and delightful treats like Catalan crème Brulee and Basque burnt cheesecake.
3. Restaurant Gaig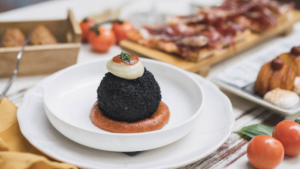 Restaurant Gaig is named after its Michelin-starred sister from Barcelona, setting high standards for the Singaporean branch. Nevertheless, the food here is high quality and impressive.
Apart from the regular ones you would expect in a Spanish restaurant, Restaurant Gaig also showcases unique dishes with its Barcelona sister, including quail Escabetx marinated in vinegar at $32.
Today, the restaurant is expanding with more seating space and additional meals on its menu. When entering Restaurant Gaig, you will undoubtedly feel at home with individual dining enclaves and quiet nooks divided by homely furnishings and wood shelving. You will experience the comfort only found at your home's dining table as you indulge in healthy Catalonian fare.
The restaurant's fork-tender dishes are well cooked with sherry vinegar to eliminate the acidity and come with confit vegetables. If you love traditional Spanish foods, try out the Gaig cannelloni made with the 1869 recipe, where pork collar or beef chuck is first cooked and then filled with pasta, providing a tasty meaty bite.
If tradition is not your thing, don't worry, Restaurant Gaig has got you covered. It gives traditional dishes a modern spin, thus producing delicious dishes for the digital society. For instance, you can enjoy tortilla de Camarones and Salmorejo- all traditional meals with a modern spin.
The menu can be overwhelming; our advice is, to begin with, tapas, paella, or Fideua. You could also go for the chef's menu that features some of the restaurant's greatest hits. Don't worry; you will not break a bank for any of its meals.
4. Kulto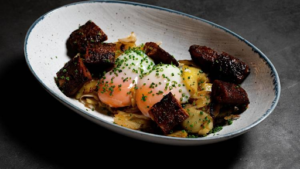 Kulto Spanish restaurant is a cozy dining place. The feel at this restaurant resembles those experienced in Madrid, with its wooden shutters on the dining space walls. The restaurant has a central eatery with a lively open kitchen, allowing you to witness where the magic happens.
Chef Jose Alonso, hailing from Rioja, has lots of experience from the Tapas Club and Binomio. The menu at Kulto is authentic for the mid-tier eaters. With $30, you can enjoy a two-course lunch, allowing you to start with the croquettes replete with Iberico ham and then sample its creamy and light-spiced chili crab.
You can also enjoy Kulto's famous classic Chorizo and potatoes with boiled eggs. Furthermore, you can take your friend to Alonso's signature dish- Squid ink paella. They will serve you with a huge plate of rice studded with some seafood and chicken pieces.
After the meals, feel free to order the refreshing sangria at $10 or drink the sparkling banana version at $12. Various wine selections are also available sourced from the chef's vineyard in Spain.
The dessert to help you crown your meal is Kulto's deceptively light cheesecake- made using Manchego cheese instead of the heavy blue cheese.
5. UNA at Alkaff Mansion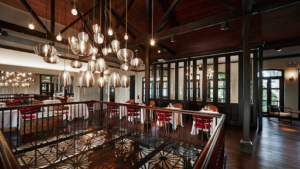 Are you looking for a romantic Spanish dinner to sweep to occupy her heart? Climb the stairs to the second floor of Alkaff Mansion, and a dinner table for two will be waiting for you. The vaulted ceiling furnished with beautiful timber design and drop lights creates a romantic atmosphere to help you win your fiancée's heart.
The dishes at UNA are authentic Spanish foods like noodles tossed in squid ink, Fideua de Calamares, Paella de Marisco, and sofrito sprinkled with deep-fried baby squid from the local market.
Apart from honoring the Basque Country, UNA also respects the northern region with dishes like grilled prime rib-eye and Txuleta coupled with Piquillo Sauce. Cap your Basque dinner with an Ensalada de Tomate y Atun at $10 or, enjoy the white asparagus topped with extra-virgin olive oil.
6. Esquina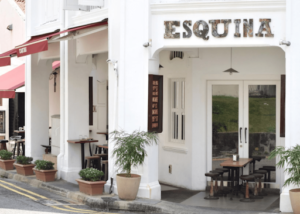 Restaurateur Jason Atherton and hotelier Loh Lik Peng joined forces in 2011 and started Esquina. The restaurant began creating finer-than-casual small plates, making it one the most reliably booked-out Spanish restaurant.
Carlos Montobbio was brought to Esquina and is responsible for Esquina's signature Mediterranean warmth plate. He was famous for his fancy snacks ideas at Anti:dote bar, but his true potential is fully realized at Esquina's open kitchen. He also has experience from Michelin-decorated kitchens, including Zeberoa and El Celler de Can Roca.
One of Esquina's famous delicacies is the Spanish nigiri going for $6. It is a roasted bell pepper wrapped in velvet potatoes and salted cod with a fruity taste of tuna.
The snacks at this restaurant are dominated by seafood, indicating that Montobbio is in the house. On the menu, you will see foods like slender, bonny sardines accompanied with grilled zucchini or a cooked octopus sprinkled with burnt onions and the Jerusalem artichokes.
The traditional meals include the paella and snapper fillets, the Spanish omelet blended to form fluffy pancakes. However, the bar seats need improvement for comfortability.
7. Tapas Club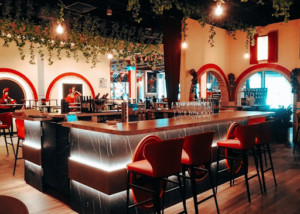 Though its tourists' interior design and low prices may negatively impact confidence, the food at Tapas Club is top-notch like those offered by the big boys. You will enjoy various food selections ranging from squid ink paella to patatas bravas generously served. Be sure to have a drink at its pocket-friendly bar, with a glass of wine ging for $9.
8. Sabio by Sea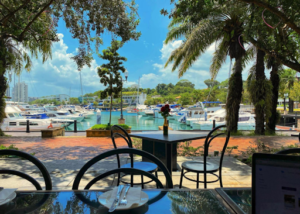 Sabio by the sea offers you a cozy resting and eating place with waterfront views and sun rays. If you want to have a drink as you enjoy nature's flora fauna, you can take a seat at the plush outdoor sofas. However, if you came for a designer dining experience, take a seat in the house and relish the beautiful interior designs created by The Stripe Collective to replicate ocean blues.
The ambient environment and delicious Spanish menu of cooked fish and grilled meat will give you a world experience. Other meals at Sabio by Sea fancied by many visitors include grilled octopus leg served with mashed potatoes and roasted lamb spread with rosemary sauce and honey.
9. La Taperia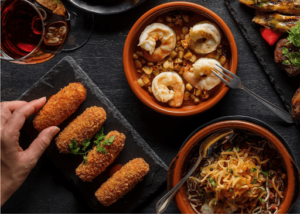 La Taperia is a product of the Les Amis Group. This group is also known for popular joints like Peperoni Pizzeria and Bistro Du Vin, and they have an impressive portfolio in producing classic Spanish meals.
La Taperia continues with this legacy, offering several Spanish signatures like suckling pig confit, charcoal-grilled ribs from lambs, and lobster paella accompanied by different wines of your choice.
If you are looking for some privacy, you can enjoy the outdoor balcony with dim light. There is a long communal table here that you can use for your chit-chats or tapas nibbling.
The chief chef is local- Chef Ng Wei Han. He ensures La Taperia dishes are authentic and represent the classic meals it is known for. Occasionally, you can also bump into the chef's contemporary creations and have a test of his ingenuity.
With only $16, you can have a taste of Chipirones Fritos en su Tinta, don't be scared with the long name. It is the deep-friend baby squid ink topped with batter. Be careful not to develop an addiction to this delicacy!
10. Binomio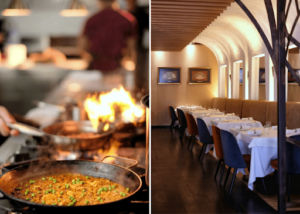 Most foodies in the community meet here, though it often goes unnoticed, unlike its counterparts that came later. If you are looking for classic Spanish tapas and excellent bites, Binomio is your place. Here, you are confident of a fancy diner for satisfying Spanish gastronomy.
For instance, for $27 only, you can order Tuetano con caracoles-the grilled bone marrow. Indulge in grilled bone marrow coupled with escargot, though not suitable for cholesterol levels; eh, it is occasional.
11. Ola Cocina Del Mar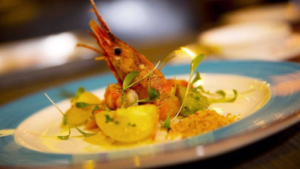 Daniel Chavez is the chief chef and owner of Ola Cocina Del Mar. The restaurant serves fresh seasonal produce, meaning the foods here are those in season, representing what is cooked at home.
Daniel's idea is to ensure sustainability by sourcing ingredients locally as he brings simple and tasty meals to life. Seafood is the signature meal here, all of which are locally sourced before undergoing fire baptism in the Josper oven.
Why not try the restaurant's grilled octopus for a perfect meaty taste. It is served with dried chili sauce and crispy lentils for $28.
12. BAM! Restaurant
From afar, BAM has funny décor from bare concrete walls to naked bulbs and wire; however, when you step inside, you will realize a beautiful stomping ground within the CBD. The bar seats are up-close to the kitchen, allowing you to a personal connection with the enthusiastic staff.
They serve various sakes curated by the head wine master Hardev Singh. BAM!'s bottles come from big players like Niigata and the Kyoto region. They also order drinks from smaller breweries in Tochigi and Shizuoka.
You can have thirteen sake labels, such as one umeshu or one shochu, or if you want to indulge in an alcoholic drink, take up the 300-milliliter carafes.
13. Pura Brasa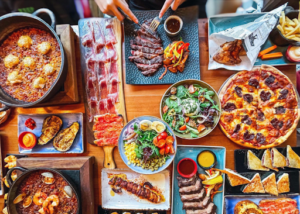 This Spanish restaurant is from Barcelona, bringing you an exquisite dining experience from Spain. It is located at Guoco Towers with an excellent view of the city. If you are catching up on a business deal or with a friend, swing by this restaurant for a fantastic lunch deal.
Pura Brasa is also ideal for family gatherings at the weekend for a brunch feast. Dishes like Spanish Omelette coupled with Chorizo, suckling pig, charcoal-grilled seafood paella, Spanish pork ribs, and grilled octopus legs are a delight for any visitor.
14. My Little Spanish Place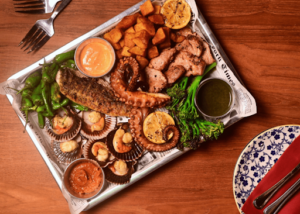 Spanish home-style eateries inspire Meals here. My Little Spanish place serves traditional family recipes from brunch to dinner. You can order the chef's signature cold or hot tapas, including codfish croquettes, grilled octopus leg, charcuterie platters, and cheese.
Do not forget Conchinillo, fave, Asado Iberico, and the slow-roasted baby pig. After a hearty meal, wash it down with a glass of sangria or wine.
Drive Your Shariot to Your favorite Spanish Restaurant in Singapore
We help you know which Spanish restaurants are suitable for you and offer you an affordable and convenient way to go there. After you have decided to taste tapas or paellas in the Spanish restaurant, book your Shariot and arrive in style. You don't need to struggle with public means or walk the long-distance, with as low as $1, you can drive a car of your choice. Shariot es compañero de viaje número uno!