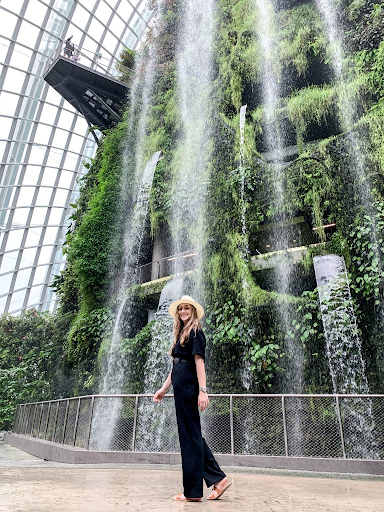 Around Singapore, many public and botanical gardens give Singaporeans a fascinating escape space from the busy hustle and bustle of the city. As you stroll through arbors covered in beautiful flowering vines, a wild, lush greenery help rejuvenate your body and soul and take in the beauty of mother nature.
Additionally, those seeking a more organic experience embark on a breathtaking waterfall hike and relish some of the most photogenic waterfalls in Singapore. The year 2022 is still young. If you want unique ways to immerse yourself in nature around Singapore, then this article is for you.
Beautiful Gardens in Singapore
Although Singapore is an island, it is bestowed with many beautiful gardens that have earned it the name city in a Garden. Scroll through and learn some of the most stunning gardens you can explore in Singapore.
1. Garden by the Bay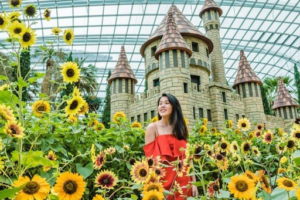 Gardens by the Bay is an iconic sanctuary in Singapore for horticulturalists and nature maniacs. The lush greenery consists of three distinct spaces spread out across 101 hectares, including Bay South Garden, Bay East Garden, and Bay Central Garden. The Bay is bestowed with SuperTree Groves, consisting of 18 metal structures manicured with vegetation and other plants.
You will enjoy a bird's eye view of the entire park by climbing on a bridge that connects the two tallest SuperTree Groves. The best part of the Garden by the Bay is that it consists of several attraction landscapes, including Marina Barrage, Flower Dome, and Cloud Forest Conversations, living spoilt for choice of where to begin your adventure. Therefore, embark on a journey to Gardens by the Bay, explore this exotic paradise, and enjoy mother nature.
2. National Orchid Garden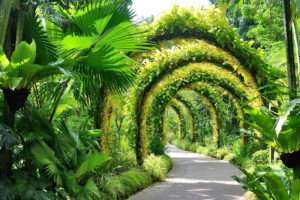 The National Orchid Garden provides you with out-of-this-world tranquillity as you get close to mother nature. The Garden is built along with the various core concepts, with each core having unique features that you can explore. The cores in the Garden include the heritage core, central core, Bukit Timah, and Tyersall-Gallop.
Moreover, you will explore the different orchids distributed along the walkways around the Garden to your delight. The beautiful part of the National Orchid garden is that it is free for permanent residents, citizens, and those working in Singapore, prompting you not to miss out on this incredible adventure.
A unique feature you will relish is the newly introduced attraction that has been designed to give you a pleasant experience of ascending through the tropical cloud forest. Although many people often visit the Garden, it is rarely overcrowded since it is designed with ample space for visitors to walk around and admire the various display houses showcased.
3. Jacob Ballas Children's Garden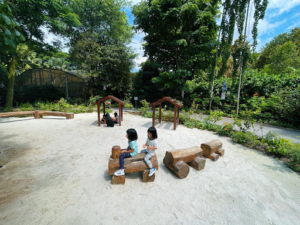 If you wonder where to explore mother nature in Singapore without living the little guys out, then Jacob Ballas Children's Garden is here to calm all your anxious thoughts. The Garden is purely dedicated to kids providing an ideal platform to have fun and delver into the ecology of plants and our habitat by experimental and discovery learning.
In addition, there are many activities you will explore at the Jacob's Ballas Children's Garden, including suspension bridge and nature play ways,  pick up some gardening tips and discover how plants grow, and stroll along the stream and climb into the tree-houses. The adventure continues in the forest, where you can find the streams and ponds and let your kids play along.
It would be kind if you or your kids ensure not to damage the plants, furniture, and facilities provided at the venue. The Garden restricts bringing bicycles, skateboards, pets, and glass objects for maximum safety of everyone visiting the Garden.
4. Japanese Garden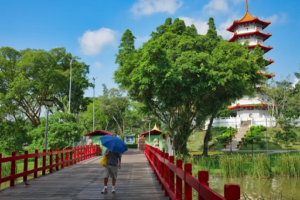 If you want to experience Tokyo in Singapore, pop in at Japanese Garden. The Garden is a picturesque paradise located in the Jurong Lake area. The Japanese Garden is bestowed with several sceneries inspired by the Momoyama and Muromachi era, consisting of arched bridges, stone waterfalls, pagodas, and lanterns. You can relish calm and peace in this authentic Garden.
Another outstanding feature in the Garden is the monitor lizards, but don't panic yet, since they are harmless. If you are a photo maniac, this Garden is the perfect place to snap Instagram-worthy shots around the unique architecture square. Moreover, you will bump into some creative cosplayers in the Garden, presenting you with an opportunity to take a snap with them.
Ensure you go in comfortable shoes to allow you to explore the many garden attractions. If you think you still have some energy, head down to the traditional Japanese house and glance at the stunning lanterns around a small waterfall and a pond, giving you a memorable experience. Are you tired now? Rest upon their shaded benches distributed throughout the Garden and quench your thirst with a refreshment of your choice that you can purchase from the stalls.
5. Ang Mo Kio Town Garden West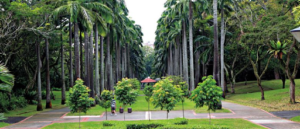 If you are looking for a garden in Singapore that can satisfy the needs of every member of your family, head down to Ang Mo Kio Town Garden West. The Garden has lush greenery pathways that meander through the forest, an adventure playground for your little guys, and a stunning viewpoint that displays the Garden in all its glory. The Garden is a frequent place for fitness enthusiasts and nature lovers. You will bump on recreational runners jogging through the forest and over hilly terrain.
The best part of the Garden is you can challenge yourself to climb up the 120-step staircase and shade off some calories and get a sprawling view at Ang Mo Kio Garden West from the plaza area. You must be feeling hungry after the tiresome climb of the staircase, and worry not. You can replenish your energy at the Mc Donalds located at the edge of the forest and enjoy a snack and refreshment of your choice.
Your little guys are now satisfied and want to utilize the excess glucose. You can take them to the adventure square and allow them to play with sand, netted climbing structures, slides, swings, and spring riders. Ensure to save some energy for an adventure of a lifetime as you enjoy listening to birds singing at the Kebun Baru Birdsing club located in the Garden. Additionally, do not forget to take postcard-worthy shots at the beautiful Garden near the blooming lotus flowers to ensure you add a memory to your photo album.
Beautiful Waterfalls in Singapore
Singapore is a haven of awe-inspiring waterfalls, which are major tourist attractions. Besides the waterfalls enhancing the beauty of Singapore, they serve as an escape route for many locals who visit them to enjoy the tranquillity. Peruse through and get enlightened about some of the iconic waterfalls in Singapore.
1. HSBC Rain Vortex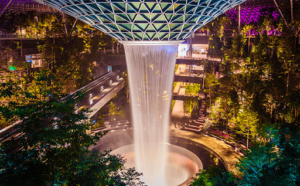 If you want to forget all your anxieties and experience a utopia, HSBC Rain Vortex is the ultimate destination for you. The marvel located inside Jewel Changi Airport is one of Singapore's most breathtaking tallest indoor waterfalls. You will relish stunning views of water cascading down the 7-storey jewels that will leave you with a lasting memory.
This waterfall is a must-see since it will make your imagination go wild. Moreover, it is hard to convey a glass structure building with plants growing like a jungle and a fountain of rain cascading down while people walk and trains move through the building. The waterfall is a perfect place to bring along your special person for a date.
During the day, you will enjoy a full illumination of the waterfall flowing down the mighty cascade that inspires awe. At nightfall, enjoy an enthralling vibe of non-stop pours of the waterfall transform into a mystic splendor with light-and-sound projected to give you a stunning night. The vortex is ideal for taking photos, especially during the spectacular light shows, since it makes the waterfall look futuristic. Therefore, visit the HSBC Rain Vortex if you want to enjoy the tranquillity and get inspired in Singapore.
2. Cloud Forest Waterfalls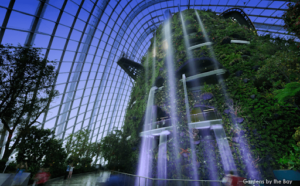 The cloud forest is a unique greenhouse-like glass dome with a stunning view of an indoor waterfall cascades down from 30 meters above. The Cloud Forest provides a popular venue for many Singaporeans who visit the waterfall to cool from the hot weather in the country and experience calmness from the busy city life.
Once you get inside the cloud forest, the first thing you encounter is a gush of air resulting from the magnificent waterfall that lives you staring with awe. You can use the elevator to climb up to get an elevated view of the water as it cascades down, circling in and out of the main central column. You will slightly soak up from the waterfalls sprays as you try to take a picturesque shot at the cloud forest, which is breathtaking.
3. Yunnan Garden Waterfalls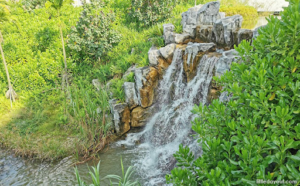 The majestic waterfall is Yunnan Garden which is a distance away from the hustle and bustle of the city. Moreover, the waterfall is surrounded by beautifully manicured gardens with traditional-looking pavilions inspired by the Chinese landscape painting. Upon approaching the Garden, you are greeted by the calming sound of the gushing water cascading down the waterfall. When you gaze at the waterfall from an elevated point, you will have a memorable experience and a deeper appreciation for nature.
The waterfall is one of the safest in Singapore, with less pollution since plants enhance the water filtration process. Additionally, artificial wetlands with layers of gravel and sand assist filter the water in Nanyang lake and the habitat for flora and fauna. You can relish an elevated view of the Chinese Garden adjacent to the waterfall. Although Yunnan Garden Waterfalls is far from the city, do not let that discourage you from visiting to explore its magnificent beauty and tranquillity. At Shariot car sharing and rental services, we are available to give you comfortable and affordable rides to ensure you relish a more organic experience at the Yunnan Garden Waterfalls.
4. Waterfall Aviary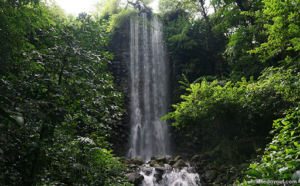 Waterfall Aviary is globally recognized as the second tallest artificial waterfall and covers a distance of 30 meters. The waterfall is located within Jurong Bird Park and is referred to as Jurong falls. The mesmerizing cascade is often seen flowing freely from the top of a cliff and recirculates streaming downwards into a stream and covers a height of 30 meters.
Furthermore, Waterfall Aviary is surrounded by stunning lush greenery and wild vegetation covering the entire area. The waterfall has blended well with mother nature to provide a habitat for fish, plants, and birds species. Besides, you can find over 10000 plants, including 125 ground vegetation species, bamboo, palms, and trees. Therefore, plan your visit to Waterfall Aviary and enjoy its over 600 free-flying birds from over 50 different species. Ensure you do not forget to take shots at this waterfall to add a memory to your photo album.
5. Singapore Botanical Gardens Waterfall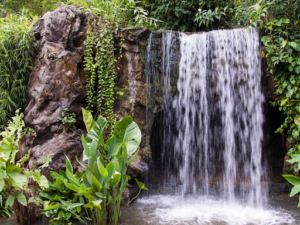 Singapore Botanical Gardens is a unique tropical garden on the island since it has recognition from UNESCO World Heritage Site. The Garden is surrounded by stunning lush greenery and various diversity of fauna that enhance its wonder. There are several hidden zones at the Singapore Botanical Gardens Waterfall, which you can explore, including the breathtaking waterfall and iconic caves.
Singapore Botanical Gardens Waterfall is a haven for most nature maniacs who frequent the venue to enjoy its tranquility and explore mother nature. The waterfall is surrounded by thick vegetation adding to its awe-inspiring beauty. The best bit of the Singapore Botanical Gardens Waterfall is to snap Instagram-worthy shots to give you a memorable experience.
Additionally, most lovebirds in Singapore visit the iconic Botanical Garden to have their wedding photoshoot near the waterfall. Ensure you do not miss out on exploring the hidden cave behind the waterfall, which is accessible, and learn more about Singapore's heritage.
Visit Singapore's Gardens and Waterfall at Convenience with Shariot.
You can visit your preferred garden and waterfall at your convenience because you have Shariot by your side. Our cars are available whenever you request them for a comfortable ride to the destination of your liking. We facilitate your Singaporean experience by taking you to the places you never thought existed on this beautiful Island.