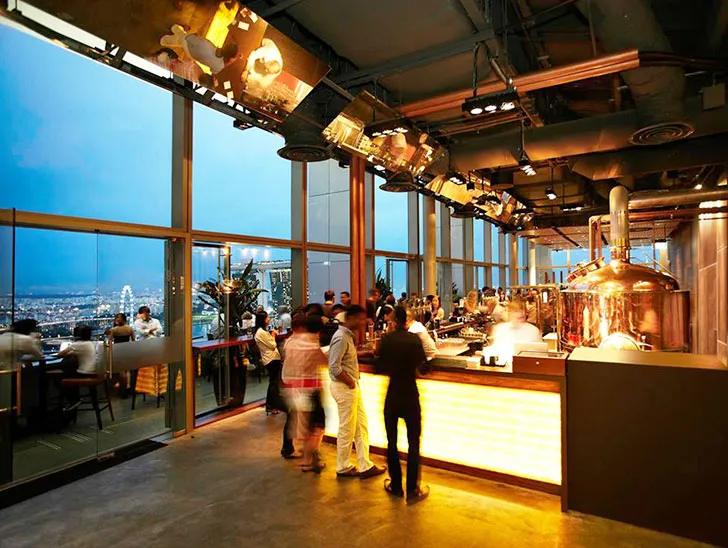 You could be accustomed to drinking commercial beers produced by major breweries, but it's time to seek respite and try out Craft Beer. Craft Beers are produced by small local and independent brewers using traditional ingredients resulting in rich, unique flavors.
Imagine the feeling of chilling in an ideal craft beer bar on a hot sunny day in Singapore to guzzle down a pint and blow some steam. The beauty with craft beer is you double your pleasure of drinking moderately and still derive health benefits from the pint.
Singapore is famous for crafting and brewing beer. Did you know that guzzling craft beer has health benefits? The good news for beer maniacs is there are various health benefits derived from craft beers, including: –
Improved body density
A reduction in heart disease
Reduction in kidney stones
Minimized inflammation
At Shariot, we present you with the best craft beer joint to help you embark on a love affair with an exceptional drink in Singapore to guzzle down a pint in Singapore. Though the experience may be different from nightclubs, it is exciting in itself.
1. Nickeldime Drafthouse
Nickeldime Drafthouse is an ideal craft beer for awesome brews, sumptuous meals, and memorable times with friends. The relaxed bar and restaurant are located at Novena Regency along Thomson Road.
Nickeldime Drafthouse is the first beer house in Singapore to produce 19 different craft beers on tap. You will enjoy craft beer sourced from various destinations worldwide, including Denmark, the USA, Japan, Germany, Belgium, and the U.K.
Nickeldime Drafthouse supplies the beer seasonally or two at a time in kegs providing enthusiasts with different and exciting pints on taps. You can reward your palate by sampling the sumptuous eats infused with various brews created at the Nickeldime.
You are assured of fresh supplies at Nickeldime Drafthouse since all items are handcrafted from scratch daily. The lip-smacking signature mains you can relish include Stout Braised Beef Ragu, homemade Sourdough Pizzas, garlic fries, and burgers.
Interestingly, Nickeldime Drafthouse is an ideal craft beer bar in Singapore to guzzle down a pint with friends since you can enjoy live soccer matches televised for ardent fans.
2. The Armoury
Another ideal craft beer bar in Singapore is the Armoury since it is a trendy watering hole with standard fares of beer from Europe, Japan, and the USA. The restaurant hails from the Beach Road in the Downtown Core.
The Armoury has installed 15 taps that pour craft beers from local and internationally acclaimed breweries, including whiskeys and bourbons. Moreover, you can reward your taste buds with tempting dishes featuring western cuisines at the Armoury.
You can relish iconic western dishes, including full-sized burgers or sliders, pizza and ragu dishes, fish & chips cooked with ale, and 24-hour duck fat fries manicured with traditional tartare sauce. The drinks range from whiskeys and bourbons.
Ensure to book your space early since the restaurant is a go-to destination for many Singaporeans. You can try out their legendary steak buffet, Wagyu Ribeye, tapas, and paella, which pair well with their craft beer and are guaranteed to live you with an aftertaste craving for more.
3. Little Island Brewing Co
Little Island Brewing Co is an awesome craft beer bar in Singapore that brews down-to-earth and tantalizing beer in Changi Village. The beer bar is a craft microbrewery, smokehouse, and restaurant serving the most iconic meals.
You can relish an array of craft beer brewed to appease local palates, including Singapore Pale Ale, which gives you a bitter oak-natured flavor. The craft beer bar is a perfect spot to guzzle down a pint under starry skies and twinkly fairy lights.
You are guaranteed to enjoy fresh, locally-brewed craft beer with delicious smoked beef brisket that will give you an aftertaste, leaving you craving more. The restaurant sits on a 10,000 square foot with a 400-seater capacity to accommodate beer enthusiasts looking for authentic brews.
Importantly, you can dance on the tables to the fine tunes played by an in-house Dj as you soak up the atmosphere. You will have an opportunity to talk to the brewers as they prepare and learn how they create authentic craft bears with various flavors and styles.
Some of the signature treats you want to try to include smoked beef brisket, fried sea bass, crispy pork, stewed ribs, oven-baked pork knuckle, paella rice, and suckling pig. You can choose to enjoy your pint in the indoor or alfresco seating area and allow your little guys to have a blast at the kids' playground.
4. Orh Gao Taproom
Orh Gao Taproom is one of Singapore's sought after craft beer bar to guzzle a pint. The Taproom is situated at the heart of Botanic Gardens. You can enjoy ice-cold beer served by baristas in snazzy aprons.
The bar is a famous go-to spot for craft beer lovers due to its steady flowing beer taps and no-frills line-up of Asian fares. You can tease your taste buds with sweet black mussels swimming in a mildly spiced umami-ladened broth with bright hints of lemongrass and garlic.
The mussels are served with sourdough to act as a sponge to help you soup all that yum yum sauce up. The best-seller at Orh Gao Taproom is the Pari Bakar, which is 2 slabs of meaty grilled stingray generously slathered with feisty in-house sambal.
You want to try the Shrimp Paste Chicken and Rempah Fried Chicken that will live you salivating. Furthermore, you can enjoy iconic craft beers, including Pale Ales, juicy New England India Pale Ales, or robust Stouts. Orh Gao Taproom has a fridge fully stocked with various craft beer cans and a modest natural wine selection created to delight every palate.
5. Level 33
Level 33 is an iconic craft beer bistro bar in Singapore providing a rooftop dining concept at Marina Bay. You can take your special person to the bistro bar and enjoy deliciously prepared meals and craft beer, thanks to the stunning views of the skyline.
After work, you can give yourself a treat by heading over to Level 33 to enjoy a beer with hearty snacks on the breezy rooftop terrace. You can relish a memorable experience guzzling down a pint of freshly brewed craft beers, boutique wines, and champagne at the Raw Bar.
At Level 33, you will be greeted by shiny, copper brewing kettles. Level 33 has everything for everyone, from executive lunches to finger food and beautiful weekend roasts to formal la carte dining. The bistro bar has a unique cuisine creative that integrates beer brewing elements into the dishes, using various beer ingredients.
6. Ziggy Zaggy
Ziggy Zaggy is a classic craft beer bar borne from Ngak's love and passion for beers. The catchy riff is hidden away in the forgotten sanctuary of Kampong Bugis. The gastropub provides you with soul-comforting American grub served with over 18 taps of carefully curated craft beer.
You can enjoy guzzling down a pint at the indoor space with a cozy rock vibe and unusual custom furniture perfect for group gatherings. Alternatively, you can head over to the outdoor veranda and relish your craft beef while admiring the stunning views of the sunset and enjoy some privacy with your special person.
Spice up your experience at Ziggy Zaggy with their special burgers, including smoky bacon, cheddar cheese, luscious foie gras, and a runny fried egg atop a wagyu beef patty, all sandwiched between soft buttered buns.
Ensure to reserve space for their signature flaky, buttery biscuits soaked in an addictive pork sausage gravy with a liberal slab of crunchy, juicy fried chicken. If you are craving meat, go for short ribs that are slow-braised with the bone with a smoky, tangy in-house marinade.
7. Druggist
Druggist is a trendy restaurant in Singapore serving hearty pub fare, craft beer, cocktails, natural wines, and Asian-inspired food. This interesting craft beer bar is one of the few remaining establishments in Singapore that retains the original element of buildings built before the 1940s.
The restaurant looks inviting from the outside and never disappoints when you step inside as you are welcomed and served by friendly and knowledgeable staff that will give the best recommendation on craft beer. Druggist has ample seating space inside and outside that accommodates various craft beer enthusiasts who frequent the bar.
The bar is located on the fringes of Little India and provides you with an array of craft beers to choose from, with over 23 taps lining the wall beneath a massive chalkboard. Druggist has the most killer bar décor to tempt you to take Instagram-friendly shots.
Druggist is housed in the same building as the Singapore Chinese Druggist Association, which promotes extensive selections of sour beers, IPAs, and imperial stouts. The local delicacies you can order at the restaurant include Szechuan pickles, sambal ikan bills, and coffee pork ribs.
8. American Taproom
An ideal craft beer bar in Singapore to guzzle down a pint is American Taproom. The American Taproom was founded by three beer enthusiasts with over 30 years of experience in the beer bar industry.
The craft beer bar has qualified bartenders who are certified beer servers. American Taproom aims to provide you with the largest selection of craft beers on tap, carefully curated to pair with comfort food hot from the kitchen.
The iconic gem has the most interesting beers worldwide with 32 active taps on spritely rotation and a kitchen that churns out the highest quality American bar food, prepared using fresh premium produce.
Top on the American Taproom menu is tons of IPAs, stouts, meads, and ales meant to make you quench your beer thirst. Although the bar name would make you think that all their craft beers are from the U.S., the American element in the bar's namesake comes from the food menu. You can enjoy all-American snacks like buffalo wings and burgers.
9. Almost Famous
Almost Famous is a perfect craft beer bar in Singapore to guzzle down a pint, thanks to its minimalist approach and aesthetics. Unlike other craft beer bars full of color, Almost Famous is just shades of grey on everything, including tableware, furniture, and walls.
Although Almost Famous looks more of a showroom than a beer bar, it is guaranteed to give you a unique experience because it is deliberately designed to allow your senses to focus entirely on beer.
You can treat yourself to a selection of 16 rotational craft beers on tap showcasing local and overseas breweries that include Pasteur Street Brewing Company in Vietnam, Young Master Brewery in Hong Kong, Pirate Life Brewing in Australia, and Brewlander & co in Singapore.
Instead of focusing on fame, the craft beer bar aims at providing a memorable experience through authentic craft beer and mouth-watering meals. You can relish sumptuous bar bite offerings of Chicken & Waffles, Crispy Kai Lan, Encierro Garlic Wings, A. Famous Duck, Luxurious Fries, and Onion Churros.
Are you wondering how to enjoy craft beer and food at the restaurant? Worry not; you can get help from the friendly and knowledgeable staff at Almost famous on how to pair your beers with different food delicacies.
10. Thirty-Six Brewlab and Smokehouse
The gastropub was founded to create an ideal relaxed ambiance for Singaporeans to come together and enjoy conversations over craft beer. This Singaporean craft beer bar is full of colors and purplish-pink neon lights and highlights craftsmanship in various forms, including beer, music, art, and food.
The state-of-the-art gastropub showcases 23 taps, pouring a selection of Singapore's finest and freshest craft beers. You can order in-house brewed craft beer at the bar or go for the rotating guest taps other local and international craft breweries provide.
Give yourself a memorable treat as you relish an open-flame inspired menu centered around a custom-built brick-fire hearth with meals focused on bold, local flavors and refreshing pub classics.
If you plan to establish a craft beer bar of your own, then head over to club Thirty-Six for a brewery tour meant to help you discover the brewing world and how to make magic happen.
Thirty-Six Brewlab and Smokehouse has a spacious beer hall with a sitting capacity of 120-seats dining space and a visible 500-liter microbrewery of fun and funky recipes. Among the craft beer you can guzzle down include Lion Brewery Co Straits Pale Ale- crisp, clean, and brightened with notes of lychee, or the lo-malt Kaiser Kolsh- perfumed with pear and apple aroma.
Although Singapore has had craft beer bars since time immemorial, most beer enthusiasts are ditching commercial beers and opting for craft beer due to its health benefits. With many craft gastropubs places popping up in Singapore, one would be spoilt for choice when selecting an ideal craft beer bar to guzzle down a pint.
Fortunately, the detailed outline provides you with an opportunity to make the wisest choice that satiates your beer needs. At Shariot, car-sharing and rental provide quality cars to take you to your desired craft beer bar at comfortable and affordable rates.