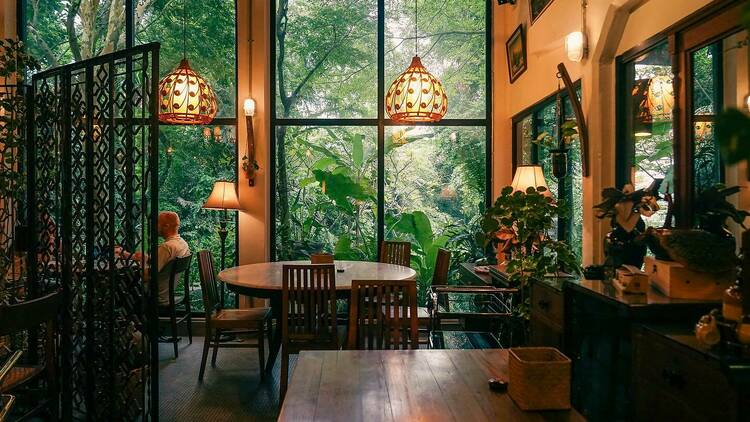 The Corona Virus-Pandemic changed how the world works and studies. With various restrictions like social distancing, most people have been accustomed to working remotely and studying online.
Are you tired of working from home as you stay away from the stuffy office? Your exams are around the corner, but the library is fully packed to the capacity to allow you to study! Well, do not fret. Singapore has the best cafes with free WI-FI to study.
The best bet is to enjoy your favorite cuppa at these quiet cafes while getting your productivity on. The cafes provide a perfect, peaceful place to get work done as the cozy environment changes your perception and creativity.
As the digital world makes working and studying convenient, internet costs rise. However, some quiet cafes in Singapore have an ideal solution to this challenge- free WI-FI.
With the internet becoming a necessity in daily living, Shariot car sharing and rental services have prepared this resource to save you the hustle of roaming around Singapore to spot the best quiet cafe with free Wi-Fi to work and study.
1. The Book Café
The Book Café is one of the best quiet cafés with free WI-FI to do work or study because of its cozy and inviting ambiance. The café is housed on the ground floor of a commercial building at the junction of Mohamed Sultan Road.
The good news for digital nomads and bookworms is that they can enjoy a home away from home experience during work and study sessions while drinking their favorite cuppa.
The key elements of the interior décor at Book Café are magazine racks and bookshelves fully packed with local and foreign books, magazines, and newspapers.
You can also grab a chair and table along the naturally ventilated corridor in front of the shop to enjoy maximum productivity in your work and study. At Book café, you don't have to worry about your laptop going off since there are plenty of power sockets to ensure your machine is fuelled.
Are you tired and in need of some distraction and comfort zone? You can relax in the lounge area on the plush coaches after tireless hours of work and study as you passive browse using the free Wi-Fi.
Besides free Wi-Fi at the Book Café, patrons can use the free printer available for any emergency document needed. Is your stomach grumbling? Do not sweat; you can keep yourself fuelled with an all-day breakfast menu accompanied by cakes, meat dishes, sandwiches, and pasta.
2. Grids & Circles
The minimalist Japanese café is a perfect quiet cafe with free Wi-Fi in Singapore to do work or study. The café is sprawled across three stories of a Chinatown shophouse. Grids & Circles offers splendid Wi-Fi and a cozy space to get your mind on the work or study mode.
The café has ample space for events, retail therapy, and workshops where you can make yourself comfortable at the large tables next to the plentiful power points. Before you embark on work or study, treat yourself to Japanese grub and locally roasted artisanal coffee.
The fan-favorite coffee is Clouds in My Coffee- a remarkably silky white cold brew. A must try signature foods is the tamago sandos or okonomiyaki rosti stacks. An important highlight at Grids & Circles is the Work@Grids program that allows patrons to work and study the entire day at their own pace with full access to free Wi-Fi.
3. Komyuniti
Komyuniti is a semi-bar that provides you with a social space to make merry, eat and drink. Almost everybody needs some liquid inspiration, but it takes self-discipline to focus on work and study as you wait for the happy hour to guzzle down a pint.
Komyuniti is a famous go-to place for digital nomads and students due to its high-speed Wi-Fi and various charging ports. The café is housed on the 10th floor of a tech-savvy hotel-Yotel which provides you with the best quiet space with free Wi-Fi to work or study.
The café has a fairly extensive menu for all times of the day, including flavourful teriyaki chicken rice, carbonara, mini sliders, and duck fat fries. After work, you can spice up your dining experience and study with coffee, organic teas, and cocktail concoctions.
4. Glasshouse
The Glasshouse is an iconic greenhouse-themed café famous for its artisan toasts and fresh brews. The café has a beautiful interior that is Scandinavian-inspired featuring elegant, wooden furnishing.
Glasshouse is one of the best quiet cafés with free Wi-Fi to do work or study due to its lush greenery, providing a calm and tranquil environment. The café has a secluded section with tables overlooking the corridor walkways of Chijmes- an ideal spot for you to work and study without distraction.
After the study, you can relish a treat from the cafe's assortment of toast, gourmet sandwiches, and aromatic coffee. The café is often frequented by remote workers and students due to natural light, glass windows, earthly-colored furniture, beautiful plants, and high-speed free Wi-Fi.
Therefore, if you think about a charming, quiet place and well-thought-out space to set your mind in the mood for focused working or studying as you slowly sip down your favorite cuppa, think Glasshouse.
5. W39 Bistro & Bakery
W39 is a hidden gem in the west, far away from the city, thus, providing you with a perfect quiet place to work or study. You will be greeted by bright-red interior decors and flavourful smells wafting from the kitchen at the cafe entrance.
Before beginning to work, fuel your body with mouth-watering spreads of fresh-baked crab cakes. The cakes are made with juicy crab meat, capsicum, and spring onion, guaranteed to keep you hooked and craving more.
Another highlight of W39 is the BBQ Beef Brisket Sandwich, which can motivate you to work or study. Can you set a goal to complete a certain amount of work or study material at a given time and reward yourself for this tantalizing treat?
The finger-licking meal has an inviting appearance that will tempt you to take shots and feature it on your Instagram feed, thanks to the high-speed free Wi-Fi at the café. Among other delicacies you can relish at the café include European-styled dishes prepared with local and international ingredients, tapas, and bread that you can bite as you work or study.
6. Kara Café and Dessert Bar
The café is located in a shophouse in Bukit Timah and has a warm and inviting ambiance dedicated to satisfied tummies and high-speed internet. You only need your computer and its charger to get the job done, thanks to the accessible free Wi-Fi and power sockets under every table at the café.
Besides Kara being one of the best quiet cafes with free Wi-Fi to work or study, it is famous for serving mouth-watering dishes and desserts. However, be careful. The tantalizing smell of the delicious food will not tempt you to keep ordering and biting, which could lead to brain fog and inactivity.
During your break at the café, you can snuggle up in the beautiful private space that features a cool loft which will give you a piece of home feeling. You can relish comfort food at the café, including melted cheese, grilled toasties, and hearty pasta.
After a productive day at Kara café, treat yourself to healthy eats such as Tempura Fish Kimchi grain bowls, crispy battered Fish with Mentaiko Sauce & Cabbage Slaw, Braised beef with Roasted Potatoes and Quinoa, and Chicken & Avo salad.
As you check your Instagram page using the free Wi-Fi, give yourself a sugar rush to replenish the energy lost working and study with their Warm Peanut Butter Cookie- baked in a skillet or homemade mochi waffles intolerant flavors like Matcha Berry
7. Working Title Burger Bar
The café is nestled beside Singapore's longest river and surrounded by luscious greenery, natural light, and alfresco seating guaranteed to make your work or study experience memorable.
The interior of the café is inviting and creates an ideal place for working because of its iconic mismatched chairs and electric murals, thus, making it a perfect quiet café with free Wi-Fi to work or study.
Thanks to the stable free WI-FI, ample power sockets, and work-friendly tables, you can stay at the café as long as you want to double down on your deadlines. The café has a spacious room that is smoke-free and air-conditioned to ensure you focus on your work or study.
After a long day of productivity, and stress, eat all you want with the sumptuous, fresh farm-to-table meals served at the café. The café is popularly known for the Best Burgers in Singapore, offering 13 unique burger selections. A must-try cuppa is the Bandung Latte that pairs well with their burger.
8. Thus coffee.
Thus coffee is a cozy café nestled in Sembawang Hills estate specializing in roasting and serving specialty coffee in Singapore. The elegant café is beautifully decorated with wooden touches and has a polished concrete floor, thus boasting a charming interior perfect for you to work or study.
The café has an ideal hideaway with cozy seats dedicated for patrons looking to work and study using the free wife and several power plugs. The café is frequented due to its signature coffee brewed using in-house roasted beans.
The powerful aroma of the freshly roasted coffee beans will delight your nostrils and distract you from work or study, so go ahead and order coffee to maximize your productivity.
Besides the iconic cuppa, you can relish sumptuous dishes like an in-house breakfast plate featuring sous fluffy muffin eggs paired with apple cider sausage, mushrooms, back bacon, and baked bacon beans.
Alternatively, opt for the Salmon & Kale Toast- a fluffy brioche, smoked salmon, avocado, creamy eggs, and a spinach and feta salad. Remember to take shots of this charming Instagram-worthy haunt for a memorable experience at the café.
9. Rabbit and Fox
Rabbit and Fox is one of the best quiet cafes with free Wi-Fi to do work or study since it is a two-level space with various charging points. If you are looking to work or study quietly, you can seat at the single-person booths for maximum concentration.
Otherwise, if you are working with a team or having a study group discussion, you can go for the sharing tables at Rabbit and Fox. You can relish their Teapresso as you work or study to ensure you maintain mental alertness.
Rabbit and Fox have an all-day brunch selection, including Pork Bratwurst Rosti that is served alongside a tangy Caesar sauce, grilled mushroom, and salad.
10. Twenty Eight Café
The café is tucked in a heritage building in the Mount Sophia area and is a famous casual bistro thanks to its robust coffee and heaty all-day fare. The elegant café has a beautiful vibe, complete with greenery, hanging lights, and high ceilings.
Twenty Eight Café is an ideal quiet café to do work or study because of the several power plugs available, spacious communal tables and seats, and free Wi-Fi meant to make your day productive.
Apart from working or studying, you can have a gastronomic experience from their brunch favorites such as Egg Benedict and Avocado Smash, robust sandwiches including the 28 signature Burger& Pigout sandwiches, and hearty mains like Kimchi Beef Rice Bowl and Cold Truffle Pasta and healthy salads at pocket-friendly prices.
A must-try at Twenty Eight Café is their crowd's favorite dessert-Indian Churros, with roti prata twists coated with cinnamon sugar and their sumptuous house-made pancakes.
Although most countries in the world have lifted the Covid-19 Restrictions, remote working and studying will continue thanks to the availability of the internet and mostly free Wi-Fi in various cafes in Singapore.
Do you lack a conducive environment for work or study at home? Are you looking to spice up your work or study experience by getting a different scenery? Do not sweat; the above resource provides you with the best quiet cafes with free Wi-Fi to do work or study.
Interestingly, you can relish delectable food selections from these quiet cafes as you embark on your activity. Shariot car sharing and rental services are your dependable associate, providing you with reliable cars that you can drive to a quiet café of your choice at suitable and budget-friendly rates.