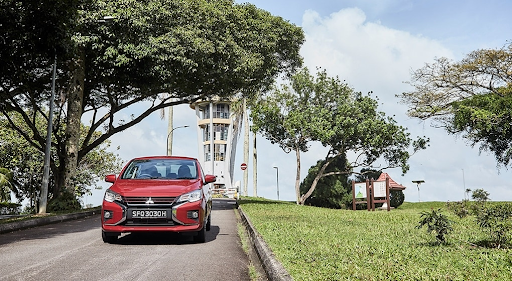 Are you tired of city life and would want to take a break? Long Drives can help take your mind off work and other problems and greatly boost your mood. Scenic driving is one of the fun ways to destress in Singapore as you reset for the week ahead.
Whether alone or with friends and family, a good road trip can help you see your city from a different view as you explore various driving routes. With its various driving routes, Singapore makes for the perfect in-city trip. All you have to do is wind your window down, turn your music up and feel the wind as you drive along these scenic driving routes in Singapore.
1. Ocean Drive and Ocean Way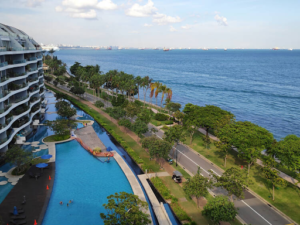 As the name suggests, this road isn't named after the ocean for anything. As you coast along with it, you will see amazing sea views, stunning turquoise waters, jaw-dropping sprawling houses, and estates that line both sides of the ocean drive through your car's window. Ocean drive gets more stunning during sunset hours. Many locals and tourists consider it one of the best places to watch the sunrise and sunset in Singapore.
You may be fortunate enough to catch spellbinding sunsets in beautiful multi-colored purple, blue, and pink hues. The waters glisten in the sunlight, and the waves produce soothing sounds as they crash onto the rocks while they ebb and flow.
Ocean Drive is a gorgeous stretch on Sentosa filled with natural and artificial things such as playgrounds and nice yachts parked on the quay. One can also stop over for a bite or enjoy a relaxing walk along the coastline on Quayside Isle.
Ocean Way extends off Ocean Drive, giving a tranquil road trip experience. The drive is enjoyable, relaxing, and serene as it has long stretches without traffic. You can experience the full beauty of nature at this place as it has no high-rise buildings making it possible to stare at the perfectly blue skies and greenery. These scenic driving routes in Singapore attract locals and tourists who enjoy the Island's natural beauty and peaceful ambiance. At Sentosa, you can expect to find the perfect harmony needed for the ideal weekend as there's the sun, sand, and sea!
2. Lim Chu Kang Road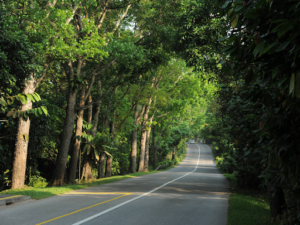 Lim Chu Kang is one of five Singapore Heritage Roads. It is joined by Mount Pleasant Road, South Buona Vista Road, Arcadia Road, and Mandai Road. It is a tranquil rural road that evokes a kampong ambiance. It is lined with heritage trees such as Common Sendudok, Broad Leaf Mahogany, Angsana, Rubber trees, and the thick shrubbery of Simpoh Ayer. To enjoy fully, drive at a slower speed to capture the picturesque lush greenery that will surround you!
The road was built in the 1900s to serve the pepper, rubber, and gambier plantations dotting the north-western countryside but later became the main connection between villages and city-bound roads of Bukit Timah and Choa Chu Kang as the population grew. The area is characterized by attap and zinc-roofed houses built way back and sheltered by the same mature trees still standing today.
3. Mount Faber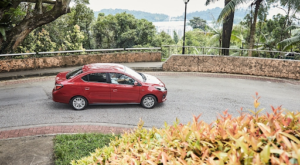 Although there are no mountain roads in Singapore, Mount Faber – the second highest hill in Singapore- comes close by offering stunning driving routes in Singapore as one weaves through the narrow, winding, peaceful road framed by lush greenery. If you have not been to this side of Singapore, you may think you are in another world.
The drive allows you to experience natural beauty even at night when the skies turn dark while listening to gentle chimes from old houses shining through the trees. At the peak – Mount Faber Park – you can take a birds-eye view of Singapore's city skyline and coastline. You can also make a pitstop at Henderson Waves on your way up. This is the most exhilarating drive in all of Singapore and looks amazing regardless of the time of day!
4. Mandai Road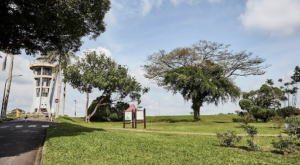 Constructed in 1855, this road is one of Singapore's heritage roads that link agricultural villages, such as Bukit Mandai, Sungei Mandai, and Nee Soon village. It is a beautiful road in the West that makes for an incredibly relaxing drive.
It is lined up with majestic trees on either side of the road, forming a green canopy that eventually leads to the stunning view of the Upper Seletar Reservoir. This lake speaks of tranquility. It is a quiet enclave that beckons one to stop and just sit by the waters and watch the world go by. You will find the iconic Upper Seletar Reservoir Tree with which you can take an Insta-worthy photo. You also get an opportunity to explore the Seletar Rocket Tower.
5. Bayfront Avenue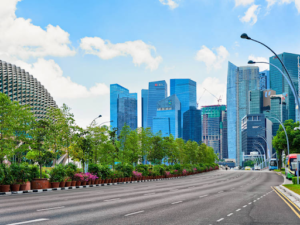 Driving along this road allows you to access Singapore's CBD while taking views of Singapore's city skyline. It spans the whole stretch lined with Singapore's iconic landmarks such as Esplanade, Marina Bay Sands, the Helix Bridge, Fullerton Hotel Singapore, and the Singapore River.
Over the Singapore River, one is treated to a picturesque view of the country's city skyline. While it is impressive during the day, the city lights in the evening bring it to life, making it one of the most photogenic roads in Singapore. The architecture, busy traffic, and scenic backdrop create a picturesque experience that cannot be replicated anywhere else. If you have any family members or friends visiting from abroad, driving through Bayfront Avenue would be best to introduce them to Singapore's most popular locations.
6. The Marina Coastal Expressway (MCE)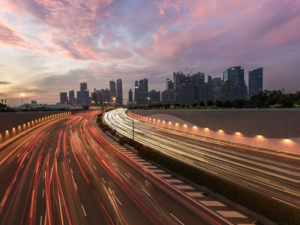 MCE is undoubtedly one of Singapore's most stunning expressways. You can expect to see the city's beautiful port views at the end of the tunnel. This is the ideal spot to wind your windows down and turn the music up and pretend you are the main character as you view the city's skyline appearing in the distance.
It links the western and eastern parts of Singapore to the New Downtown. Expect no traffic thanks to the five lanes in both directions that sufficiently handle home, office, and recreational commute. Part of it travels under the seabed, making Singapore's first undersea tunnel.
7. Mount Pleasant Road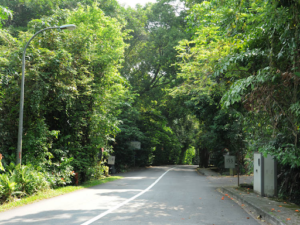 Do you love Architecture and Nature? Mount Pleasant Road is another Heritage Road that offers you an outstanding scenic driving route in Singapore. Enjoy a slow relaxing drive as you navigate the serene and meandering road full of mature Saga trees. The road is also marked with black-and-white bungalows built in the pre-war era to house families of Police Force officers during Singapore's colonial era. It is also home to the iconic Mount Pleasant residence, once owned by Mr. G.H Brown in the 1860s. The residence shared the same name as the hill it was situated on – Mount Pleasant. Wild sown trees such as palms, figs, and cinnamon are planted in front of the houses. Cemetery grounds now cover the hilly slopes along the Lornie Road.
8. Tanah Merah Coast Road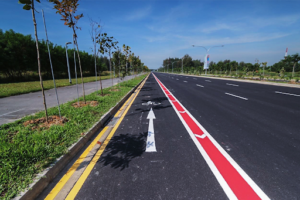 This road starts at Changi Coast Road near Changi Beach Park and ends at the ECP entrance near National Service Resort & Country Club. Tanah Merah Coastal Road is an ideal place for a mini-road trip away from the busy urban crowds. This road is thrilling to the adventurous and those who want to explore lesser-known corners of Singapore. It is a gorgeous drive and has a dedicated 10km cycling lane. One can rent a bicycle and explore Changi Jurassic Mile. During the day, this road is accessible with public transport via bus service 35 (however, it is important to note that there are no stops for roughly 8km).
9. Kranji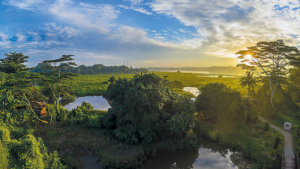 Step away from the hustle and bustle of the city and head to Kranji, which is Singapore's rural destination and home to sprawling farmlands, lesser-known restaurants giving authentic farm-to-table experiences, and a beautiful reservoir park. It has orchards and well-kept rice paddy fields, and a wild rice farm where you can taste the difference between wild rice and domesticated rice.
The suburb is peaceful, and you can also spot Singapore's natural wonders. This trip can make you come back feeling more Zen and with an appreciation for locally grown produce. The food here is also delicious and affordable, making it a great spot for sightseeing and good meals. This combo makes for a great road trip! Nature lovers can explore Kranji Marshes, Kranji Reservoir Park, and Sungei Buloh Wetland Reserve.
Kranji Marshes
Kranji Marshes is home to 54 types of butterflies, 170 species of birds, and 33 different kinds of dragonflies, making this nature reserve the perfect recreation area to watch and enjoy the Island's wildlife. Occupying 57 hectares with a range of natural and green habitats, it is Singapore's largest freshwater farmland. It has been in existence since the 70s when the Kranji reservoir was dammed, forming a wild diversity of terrains such as grassland, marshland, and secondary forests. The small mounts and green grass reminds one of Hobbiton from Lord of the Rings, especially at sunrise or sunset during the golden hour.
Kranji Reservoir Park
Kranji Reservoir Park offers one of the best hiking trails in Singapore and allows visitors to soak up nature-related activities such as fishing in the designated areas and picnics on the wide-open fields. Early risers can also catch sight of the breathtaking sunrise somewhere near the Kranji dam. In this place, you will also find a memorial plaque that pays tribute to the brave soldiers who lost their lives in the Battle of Kranji during World War II.
10. Sungei Buloh Wetland Reserve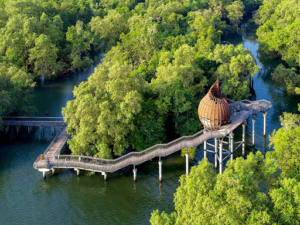 Trudge through the swamps of Sungei Buloh Wetland Reserve to learn more about flora and fauna found in this mangrove forest. It is one of the two ASEAN Heritage Park found in Singapore. One can rent binoculars to bird-watch or take a spot at observation hides. There are also nature trails to spot monkeys, mudskippers, and climbing crabs on the mangrove boardwalks. The boardwalk allows you to walk on water and have a pleasant view of the Johor Bahru skyline across the border in Malaysia.
11. Arcadia Road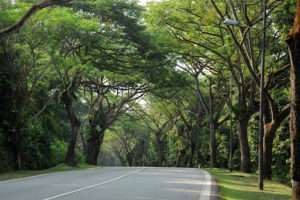 Arcadia Road is another Singapore Heritage Road. It is part of the conservation of the National Parks Board. This road transports one away from the HBD flats and the typical high skyscrapers that populate Singapore's lands into a scenic avenue lined with mature rain trees and a jungle-esque environment. Enjoy a calming drive as you navigate through Arcadia's green tunnel. Slow down and take in Adam Park estate's old civil service residences, a lasting legacy of Singapore's colonial past hidden amidst the lush forests of the nearby MacRitchie Reservoir. Arcadia road offers residents and visitors a peaceful and quiet drive under the shady canopy of the majestic rain trees. The area is secluded, and you could find you are the only car driving down this road. This makes for a tranquil ride to forget and escape your worries.
Final Thought
If you plan on making your next joyride or photography or family picnic road trip, make sure you have the right kind of car that allows you to go further with no worries. If you don't own a car, don't worry, Shariot car sharing and rental services got you covered. Our state-of-the-art cars allow you to access even secluded areas in Singapore. We want you to enjoy the beauty of this country with joy.
Other scenic driving routes that didn't make it to the list but are amazing and deserve a notable mention are:
Kent Ridge Park
Old Upper Thomson Road
South Buona Vista Road
Raffles Marina Lighthouse
Coney Island
Pasir Panjang port
Punggol Waterway Park
Regardless of where you live in Singapore, there are plenty of scenic driving routes you can venture into for a mental break. These places may not be easily accessible by Singapore's world-class, efficient bus or MRT system, but they can be fun to explore while driving. They are mostly free and nature-related. It's time to go for a drive and start exploring Singapore today!