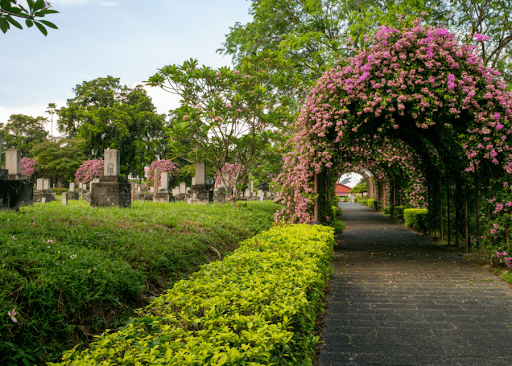 When thinking of beaches, most Singaporeans fantasize about the famous Sentosa Island and East Coast Park. These spots are bustling with many people who enjoy basking under the sun during the weekend. However, if you are a person who delights quiet and secluded beaches, then the good news is that Singapore has the best-hidden beaches that you can visit. This article not only beautiful hidden beaches but also parks and trails not so frequented. These places are also gems worth exploring for an ultimate experience.
Hidden Beaches in Singapore to Explore in 2022
Most beaches provide you with beautiful views, blue water, white sand, and an opportunity to relax. The beauty about hidden beaches is that you don't have to deal with crowds, listen to music you don't find relaxing, rather you enjoy awe-inspiring seclusion. Though these hidden beaches may vary in climate, ease of access, surrounding landscape, they are all similar in one thing: privacy and tranquillity. Scroll through to explore some of the hidden beaches in Singapore.
1. Palau Hantu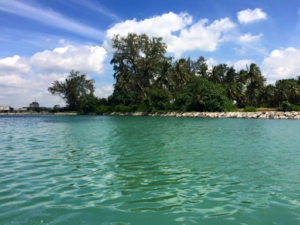 Palau Hantu means ghost in Malay, don't be scared; there are no ghosts on the island. Are you planning to get away from the noisy city life? Palau Hantu is the perfect destination for a vacation with your family. You will have an opportunity of exploring an excluded swimming pool with beautiful sheltered beaches.
The rich marine life on the island makes it a favorite hangout for divers, anglers, snorkelers and provides a perfect camping site. Therefore, pack your bag and head down to this unique island for a tranquil experience.
2. Tanjong Rimau Beach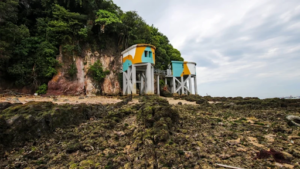 Tanjong Rimau beach is unique since you can access it on Sentosa island, but most Singaporeans are unaware of its existence. Why haven't people noticed this sleeping beauty despite frequenting the famous Sentosa? Tanjong Rimau is often covered with water, noticeable only during low tides.
Are you a photo maniac? The beach is a beautiful spot for snapping Instagram-worthy photos ideal for those high megapixel cameras. Furthermore, explore the crabs, octopuses, and coral reefs hidden on the rocky beach.
3. Lazarus Island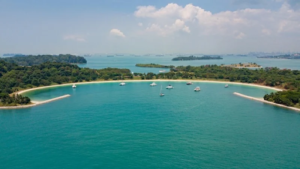 Lazarus Island is one of the most picturesque hidden beaches in Singapore. You can enjoy strolling around this beach barefoot as you get massaged by its golden powdery sand as you gaze at its calm water. However, as you pack your bag, ensure to carry snacks, mosquito repellent, sunscreen, and plenty of water since there are no shops on Lazarus Island.
Remember that this beach is adored for its cleanliness, so don't be the first to destroy this reputation by haphazardly throwing food leftovers all over the island. Authorities at the Island may not give you a smile for such uncouth behavior. Therefore, keep your litter in the rightful places or carry it to your home bin.
4. Punggol Beach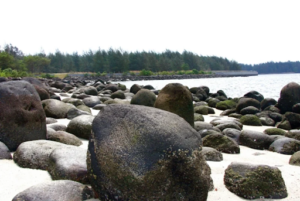 Are you a spontaneous person? Do you enjoy impromptu beach days? Punggol Beach is the perfect destination for you since, despite being a hidden beach, it is easily accessible. The beach's shores are bestowed with rocks of various sizes and shapes that make it attractive. You could enjoy a beach picnic with your family by using the stones to makeshift chairs and tables along the scenic shore.
Moreover, the beach provides you with an opportunity to enjoy and learn about Singapore's history during World War II. Read through the many memorial plaques around the coast to understand the tragic events.
5. Sembawang Beach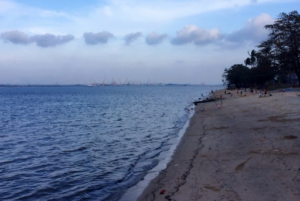 If you are looking for a romantic get way island, Sembawang beach is the perfect charming destination for you and your sweetheart. The beach is surrounded by various sizzling barbecue pits ensuring you enjoy a romantic evening dinner as you gaze on the shore.
Additionally, you will have a perfect view of Malaysia's Johor Bahru skyline from the beach. Explore the red-brick colonial houses found in Sembawang beach that will enlighten you about colonial times.
6. St. John's Island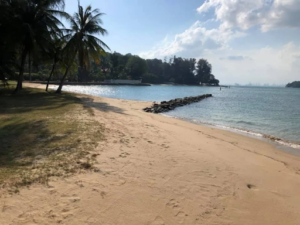 St. John's Island is a hidden hotspot beach perfect for picnics and kite flying with your family. The beach is crescent-shaped and filled with inviting aquamarine waters that would draw you to hop in and enjoy a swim. You will improve your knowledge of marine life by visiting Marine Park Outreach and Education Centre at the island.
You will meet several cats roaming around the island shores if you are a kitty lover. However, go slow in your enthusiasm to feed them since volunteers often take care of them.
7. Coney Island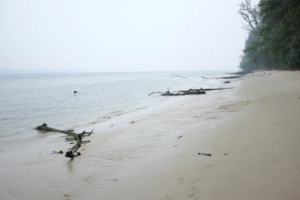 Coney Island is a perfect place for a family day out since it is adorned with lush greenery, sandy shore, chirping insects, and sounds of waves from the beach. This adventurous spot is a favorite hideout beach for cyclists and trekkers who occasionally come here to unwind. The serene environment presents with you a perfect opportunity to enjoy bird-watching hides. The island guarantees your privacy because it contains five different beach spots. Therefore, take a break from the famous touristy beaches you are familiar with and hop on a ferry to hidden Coney Island.
Hidden Parks in Singapore to Explore in 2022
Singapore has more than 350 parks, allowing everyone to explore and enjoy nature. However, some people enjoy exploring mother nature in secluded spaces since it allows them some time for meditation and tranquillity. Continue reading through and identify the road less traveled to hidden parks in Singapore.
1. Chestnut Nature Park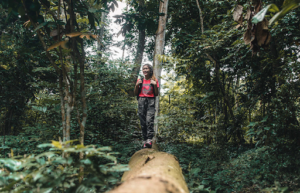 This park is the largest hidden nature park in Singapore, covering 81-hectare. The park is manicured with native tree species through habitat enhancement programs, thus allowing you to breathe in the fresh air and enjoy the tranquillity. You could explore native trees, including braided chestnut trees, JelutongDyera Costulata, and Singapore walking-stick palms. Additionally, you can engage in various unwinding activities such as bird watching, mountain biking, and hiking in this hidden park.
2. Duxton Plain Park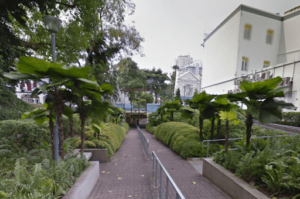 Duxton plain park is bestowed with lush greenery providing an ideal space for peaceful rest and privacy. Exotic restaurants and bars surround the park; hence, you can hop in to sample their sumptuous meals and iconic cocktails after strolling through the park. If your legs allow you, walk and tour through the park and rest on its many benches in the shaded areas and watch pigeons. Additionally, meet and learn about the stray black cat that loiters around the park and lazily basks, enjoying the sun.
3. Telok Blangah Hill Park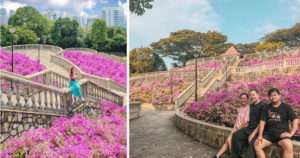 This hill park is a fantastic spot for outdoor picnics since it is fully equipped with tables placed under tall shaded trees such as Alstonia, Eugenia, and Rain trees. You will explore mother nature from the peaceful environment as you watch butterflies, squirrels and birds. This hidden park is an ideal trekking spot due to its long-elevated walkway and heads through the earth trail.
In addition, you don't want to miss the Terrace Garden at the top of the park since it is a picturesque island for wedding couples due to its breathtaking view of Singapore. A visit to Telok Blangah hill park is never complete without crossing the Henderson waves, which is the highest pedestrian bridge in Singapore
4. Thomson Nature Park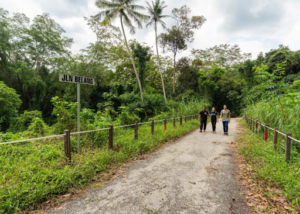 This unique hidden park is rich in floral and fauna species consisting of outstanding trails. The fig trails will enlighten you on the heritage of the Kampung village of the past as you explore their conserved ruins. Moreover, the streams and Ferns trails will help you appreciate the diversity of freshwater habitats in the park.
Ensure to adhere to the trail etiquette of the park. Some of the rules include no fishing, no pets allowed, no skates or skateboards, no bicycles, or any mobility devices; otherwise, you might get into trouble with the authorities and ruin your adventure at the park.
5. Zhengua Nature Park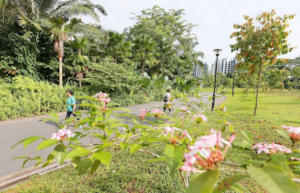 This fantastic hidden park is surrounded by green scenery and is ideal for families to unwind and explore. The park is bestowed with various facilities, including a children's play area, exercise station, a pavilion, public toilets, multi-purpose event lawn, jogging, and cycling tracks.
Moreover, bird-watchers and animal enthusiasts will be delighted to meet and admire various wildlife like long-tailed macaques, monitor lizards, flame-back woodpeckers, pink-necked green pigeons, Olive-backed Sunbird, and squirrels. You will improve your insight by learning bird and butterfly-attracting native plants, starring Tembusu and Jejawi incorporated in the park through habitat enhancement programs.
6. Ann Siang Hill Park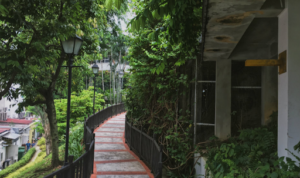 If you are looking for a tranquil park to escape from the hustle and bustle of everyday life, then Ann Siang Hill Park is the place to visit. Although Ann Siang hill park is near colorful shophouses, such as antique shops, fabulous boutiques, and famous restaurants, it is still hidden. The park is close to Chinatown and provides you with wonderful green spaces hidden away from everything. It would be best if you wandered through the hill park to gain ultimate peace and enjoy a beautiful shade from the sun.
Hidden Trails in Singapore to Explore in 2022
Though Singapore is a modern city bustling with beautiful beaches and lush greenery parks, various hidden trails are yet to be discovered. Scroll through and gain insight into some abandoned places and landmarks that have been forgotten but are ideal for fresh air and good hiking trails.
1. Seah IM Bunker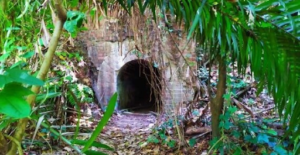 If you are an adrenaline junkie, then buckle up your trekking shoes and explore Seah IM Bunker for an adventure of a lifetime. Nevertheless, there is scanty information about the origin of this hidden trail; it was likely used as a storage bunker for wartime equipment or imprisonment of prisoners during World War II. The bunker had been forgotten since it was covered by wild vegetation but has recently been rediscovered. This bunker is an ideal hotspot for hikers passionate about exploring mother nature. However, ensure to bring a bright torchlight and some friends along as you brace yourself to explore some critters and reptiles inside the bunker.
2. Mandai T15 Trail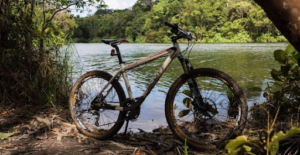 Mandai T15 trail provides you with a unique adventure from the norm of major attractions, including Night Safari and Singapore Zoo. This trail is hidden, rougher, and less curated. The path is a perfect spot for hikers and cyclists, so ensure you stay alert to avoid bumping into the various road bikes cycling along the track. Explore the rivers and ponds in the trail but ensure you have a mosquito repellent handy; otherwise, you might be bitten all over if you hang out there for long.
3. Tampines Quarry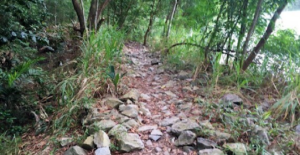 Tampines quarry is a hidden trail ideal for joggers and hikers due to its easy trails and a stream along the path. Since it's an abandoned sand quarry, it has collected rainwater for a lake over time. You can enjoy a picnic and a nature walk as you make stops now and then to admire critters.
4. Keppel Hill Reservoir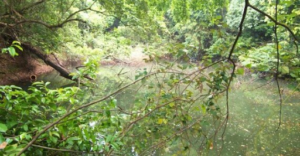 This hidden trail is ideal for people who love alone time and meditation since it is full of calmness and tranquillity. Keppel Hill is full of lush greenery and flora and fauna, thus providing a perfect place to take Instagram-worthy photos. The reservoir had been abandoned and missing from government maps, but it was rediscovered. This allows you to explore the trail and discover its forgotten past and deep history about Singapore's colonial era.
Shariot Discovers the Hidden Singaporean Fun Spots
Though Singapore is a modern city with various skyscrapers that define its city skyline, there is still more to discover in the hidden beaches, parks, and trails. Shariot gives you a list of these places in this article. We also provide you with comfortable and convenient means to reach there, and our cars are well-maintained to help you maneuver through these terrains without hiccups. Go ahead and book your Shariot today and discover the best of Singapore.