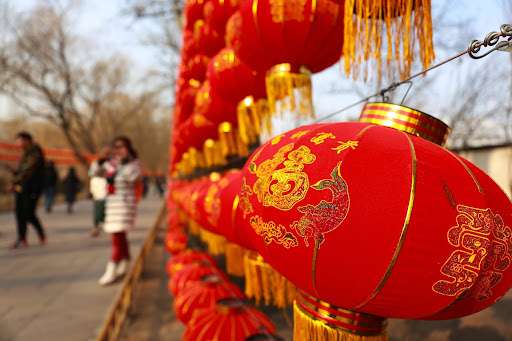 Singapore is a multilingual nation consisting of Chinese, Malaysian, and Indian ethnic groups. It is notable since the entire county joins up together to celebrate the cultural traditions of each ethnic group. The Chinese residents make up 75% of the population; however, the whole nation will celebrate the Lunar Chinese New Year 2022.
The Chinese Lunar calendar determines the date of the celebration, with the 2022 holiday being held on February 1st. Are you wondering how to make the Chinese New Year 2022 celebration memorable and impressive? This article discusses some of the breathtaking places you can visit to mark this historic event in style.
What is the Chinese New Year?
The Chinese New Year or Lunar New Year is an annual festival held for 16 days once the new moon is sighted. Each year the celebration is represented by a different animal as featured in the Chinese zodiac. The animals include Rat, Ox, Tiger, Rabbit, Snake, Horse, Dragon, Goat, Monkey, Dog, Rooster, and Pig. This festival, also known as the spring festival, is often characterized by red envelopes, getting together with family for a feast, and blessings for everyone. The Chinese people consider red a lucky color during their celebrations; therefore, expect Singapore to be painted red on February 1st as the Chinese New Year 2022 kicks off. The tiger represents the 2022 Chinese New Year animal sign.
Where to Go During Chinese New Year in Singapore 2022
Whether you are an adventurous or a reserved person, you definitely would love to usher in Chinese New Year 2022 in merrymaking. You can have fun with your family as you visit fancy places that will give you an adrenaline rush and out-of-this-world experience. Singapore is bestowed with some of the exotic places in the world that will enable you to soak up in the Lunar Chinese New Year 2022.
1. Jurong Point Chinese New Year 2022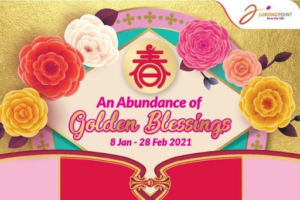 Jurong Point is one of the biggest shopping malls located in the western part of Singapore. Are you planning to get a colorful outfit? Do you want to make mouth-watering reunion dinners? Or are you interested in sprucing up your home with beautiful décor items? Then Jurong point is the place to visit for all your Chinese New Year 2022 shopping needs. Moreover, there are many goodies to be won during the festive season for all shoppers visiting the mall.
2. Explore Art Science Museum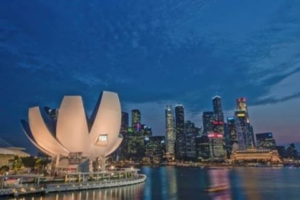 Celebrate your Chinese New Year 2022 creatively and interactively by vising the art science museum. The museum uses interactive digital installations to feature art, science, culture, and technology. Start your exciting journey of discovery in the exhibition of the big bang data and the journey to infinity as you enjoy popup food and beverages from the art-inspired stalls.
3. Spring in the  S.E.A Aquarium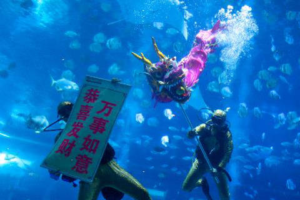 During the Lunar Chinese New Year 2022, you can plan to explore the marine realm and discover over 100,000 sea animals across 1000species. You will also get an opportunity to walk and breathe freely in the ocean realm exploring the marine life sea trek, an experience that you will not forget. You could also embark on a daring adventure by getting in the water inches away from dangerous predators like sharks.
4. Visit Chinatown for Chinese New Year 2022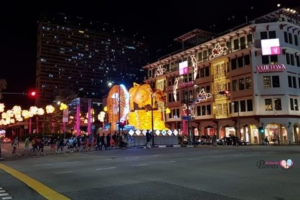 Chinatown is a bustling haven of fun during Chinese New Year celebrations because of the vibrant street culture, tantalizing traditional cuisine, and striking red and gold colors that paint the neighborhood. With many beautiful displays on the venue, you will be drawn in the festive mood and have a memorable experience of the Lunar Chinese New Year 2022.
5. Visit Singapore Chinese Cultural Centre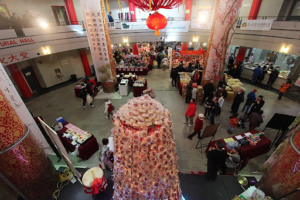 Singapore Chinese cultural center provides you with an opportunity to enjoy performances, seminars, talks, exhibitions, fairs, workshops, and cultural activities to spice up your Chinese New Year 2022. They create friendly and appealing content to accommodate a multi-cultural identity, thus helping everyone maintain a connection to the festival. There is no better way to welcome the Chinese New Year 2022 with your family than to visit this remarkable exhibition.
6. Explore Singapore Botanic Garden
Are you an adventurous person who loves nature? Singapore botanic garden will be ideal for ushering in the Lunar Chinese New Year 2022. This is because it is bestowed with many gardens along the route, including an evolution garden, fragrant garden, and healing garden, providing you with a memorable smell and breathtaking view of each one. Furthermore, the park features animals, flowers, beautiful lakes, and various plant species, such as ancient trees and rare orchids. During the upcoming lunar year, you could become a tourist in Singapore and learn about different forest habitats as you enjoy outdoor activities with your family.
7. Visit Asian Civilization Museum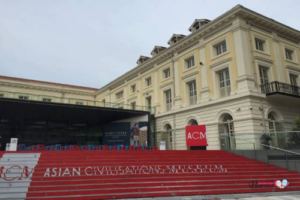 The Lunar Chinese New Year 2022 is a noteworthy event decorating people's lives in Singapore. Allow your young ones to visit and explore the Asian civilization museum, enabling them to understand the interactions and connections of Asian cultures in Singapore throughout history. Through decorative art and exhibitions, your family will also learn the history of trade that resulted from international commerce and how Singapore brought people of different multilingual cultures together.
8. Book the Fullerton Bay Hotel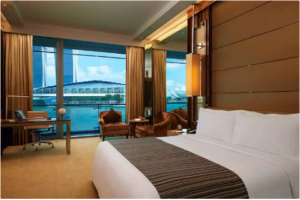 Most people would want to begin the Chinese New Year 2022 awesomely. Delicious food, vibrant entertainment, and the right amount of enthusiasm top list of things to set the celebration tone. Fullerton Bay Hotel will ensure you have a great view of the Singapore skyline and Marina Bay Sands since it is built with phenomenal rooftops. Since it is customary for the Chinese people to set up fireworks and firecrackers at the crack of dawn during the near year celebration, this hotel's rooftop will give you a better view.
9. Visit Singapore Zoo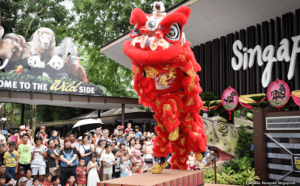 Singapore Zoo will spice up the Lunar Chinese New Year 2022 with several activities involving animals. Your family will have the privilege of stuffing food in red packets to ensure the animals also take part in the lunar celebrations. You will enjoy viewing the animals' amusing behaviors as they unwrap their goodies and celebrate the Chinese New Year as well.
10. Explore at Snow City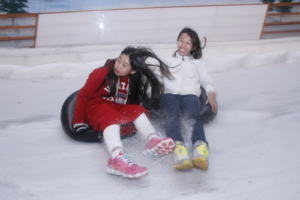 Snow city provides a good atmosphere for families to enjoy winter in an indoor setting despite the scorching heat in Singapore. You can engage in various entertainment activities, including dancing, mountain climbing, basketball, snowballing, and zorbing. Consequently, the best way to usher in Lunar Chinese New Year 2022 is to have a blast in the mesmerizing atmosphere of a charming snow-filled paradise in the snow city.
11. Board the Singapore Flyer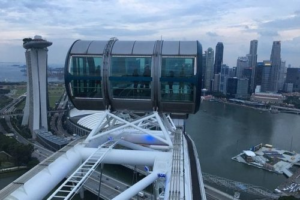 Boarding the Singapore Flyer offer you an opportunity to welcome the Chinese New Year 2022 in style with a bird's eye view of the city's prosperity as you dine and sip champagne on board.   You could also be fortunate enough to spot the furthest landmarks like Sentosa Island, Changi Airport, and parts of Indonesia and Malaysia. The 30-minute scenic flight with Time Capsule will give you a magnetic experience since you will travel 700 years back in history and fast forward to a future full of aspirations and dreams. You can enjoy the lovely day and night scenes with your loved ones that are memorable for a lifetime.
12. Jurong Lake Gardens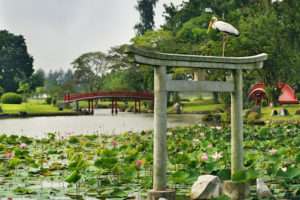 The ultimate way to unwind and enjoy during the Chinese New Year 2022 is to visit Jurong lake gardens. The garden is a haven of thriving plant life and green spaces that contributes to its beauty and verdant glory. The Chinese New Year 2022 helps you reflect on the past year and sets new resolutions for future possibilities. This requires a calm environment. The Jurong lake gardens will provide you with an ideal setting due to its quiet stroll along the water edges for meditation.
13. Stroll along Pang Sua Pond at Bukit Panjang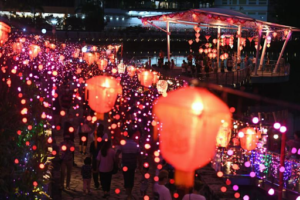 During the Lunar Chinese New Year 2022, the Bukit Panjang walkway will be dazzling red with fairy lights all around. Furthermore, the surrounding trees and bushes will be shining with colorful lanterns and vibrant lights, providing you with an ideal spot for Insta-worthy photos for the entire family. These public decorations heighten enthusiasm among Singaporeans as they prepare to celebrate the spring festival with their loved ones and the community. Children are also not left behind as they write adorable messages and festive greetings pinned on the walkway.
14. Singapore Sports Hub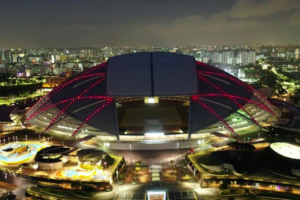 Begin your Chinese New Year 2022 by staying fit, having fun, and discovering hidden treasures at the Singapore sports hub. The sports hub will provide you with outdoor recreation activities, dining facilities, and sporting events to ensure that everyone in your family, including the ones, is perfectly entertained. You will also get an opportunity to learn sports history by viewing the kinetic art installation. With numerous thrilling workouts at the sports hub, you can build the type of body you envy and admire.
15. Visit Singapore Universal studio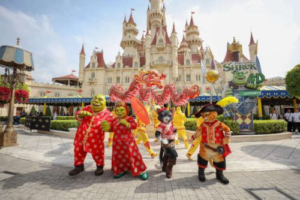 Usher in the Chinese New Year 2022 with various activities at the Universal studio with your preferred characters dressed in festive costumes. You will rub shoulders with multiple characters, including the adorable minions, mystical dragon, and sesame street. You will also see the hatched Dr. Rodney, Egyptian loyalty, puss in boots, and Madagascar, all attired and ready in the lunar new year. Activities like 3D rides, street entertainment, stage shows, international cuisines, and shopping will give you a memorable new year with your loved ones.
16. Dahlia Dreams at Gardens by the Bay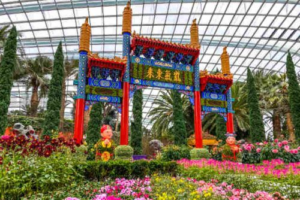 Dahlia dreams is one of the exotic places in Singapore with the most adorable flowers, such as Azaleas, Chrysanthemums, and the Dahli that are grown in-house in the garden. A visit to this garden during the Chinese New Year brings prosperity and fortune, making it a popular place to start the celebration.  An outstanding feature to view in the park is the lion's dance display and a zodiac fortune corner towards the exit of the dome. The flower dome is beautified during the lunar year celebration using lantern displays that become more conspicuous at night, spicing up the festivities.
17. Attend the Chingay Parade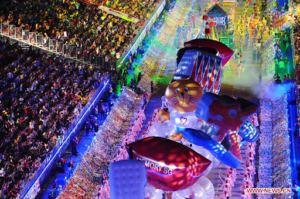 Dazzling performances and festive music often characterize the Chingay parade festival, and its stunning costumes make it ideal for Chinese New Year 2022. The festival will be showcased on a digital platform while incorporating modern technology and traditional art to give Singaporeans a memorable experience. You will enjoy feature videos of 100 lion dance and pole act performances involving local and overseas troupes from various countries and cities.
18. Istana Open House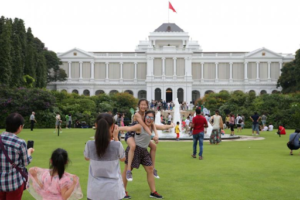 Celebrate the Lunar Chinese New Year 2022 by attending the Istana open house that bustles in musical performances by youths, sand art workshops, and face painting. The house allows visitors to enjoy a relaxing day at the venue admiring the striking beauty of the historic milestone. A unique feature of the Istana open house is the function rooms that tell stories of royalties and presidents who have visited the venue. Additionally, most dignitaries have been hosted in the Istana halls and been accorded with gifts at the Lion City, which you can view on the extraordinary display, enabling you to understand Singapore's global friendship.
19. Marina Bay Sands Hotel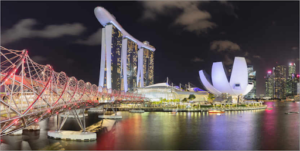 The perfect way to experience infinity during the Lunar Chinese New Year 2022 is to book yourself at the Marina Bay Sands hotel. Fireworks characterize every new year event to scare aware the evil spirits; therefore, as you soak up in the largest infinity pool in the hotel, you can enjoy a better view from the rooftop. You will have an out-of-this-world experience at Marina Bay since you can dine, wine, shop, and access entertainment all under one roof, making it an ideal venue to celebrate your new year hustle-free.
We Take You to Destination of Choice in Singapore
When you have a variety of destinations to visit during the Chinese New Year 2022 festivals, it can prove challenging to choose one that could spice up your celebrations. Examine your desires and personal needs to guide you in choosing an ideal destination. Shariot car-sharing and rental services offer affordable and convenient rides to your destination. We are here to make your Chinese New Year exciting, ensuring your family remembers every part of the celebration.