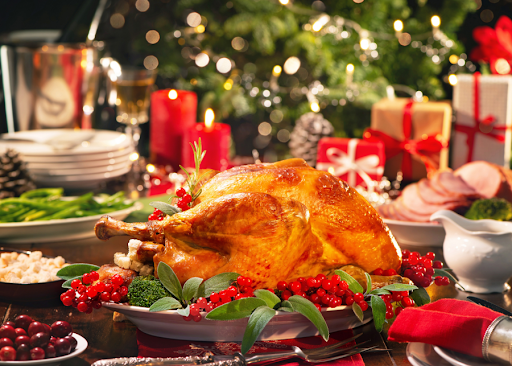 Singapore is a multi-racial country with a 19% population of Christians. However, most Singaporeans, both Christians and non-Christians, unite to celebrate Christmas at the end of the year. The city glitters in December with beautiful Christmas decorations, music, food, as it light-ups every street. Most families are filled with joy and are merrymaking as they look forward to the celebrations. The anticipation of mouth-watering foods and drinks spices up the city as it awaits the ultimate holiday feast. This article provides you with a guide on some of the exotic Christmas dinner places you can visit and sample some of the best Singaporean cuisines.
Christmas Dinner Places You Can Visit
Singapore has some of the best exquisite restaurants in Asia. Although many people are unsure about dining regulations this Christmas, most families prefer to dine out in restaurants as they sample the sumptuous delicacies on the menu. Traditional Singaporean cuisines prepared during the Christmas holidays include glorious meat, decadent log cakes, festive pastries, Christmas pudding, delightful salads, and the famous roast turkey. Make your picks by scrolling through the Christmas guide outlined in this article.
1. Escape Restaurant Singapore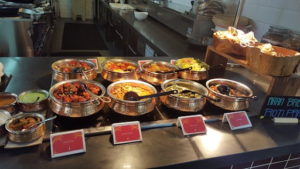 Are you salivating for roasted meat this Christmas? Then the ideal Christmas dinner place for you is the Escape Restaurant. They slice up individual portions and share portions with your friends and family. Their Christmas menu often consists of several delicacies, including spicy Szechuan spring chicken and cheese sausage snails, juicy pork knuckle, and signature sauces. You will also enjoy their accompanying sides like curry kale salad, horseradish cream, and sauteed spinach with wild mushrooms. At the end of the meal, you can taste their dessert of a rich Christmas fruit cake topped up with rum ice cream.
2. Koma Singapore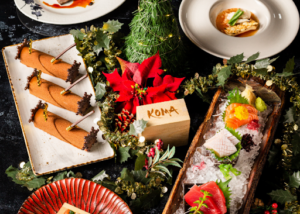 As you search out the perfect Christmas dinner place for you and your loved ones, why not try Japanese cuisine at Koma and taste their dining experience. Travel across Japan through their Christmas menu while dining at Koma Singapore. You will kick off your digestive system with a fragrant flower crab soup with barley and mushrooms. Their Christmas main course includes abalone mixed with mushrooms, beef sirloin with sansho sauce, or pan-fried soy-braised duck with beet sauce. You do well to reserve some space for their excellent Koma sushi jewel box containing five types of fish. Before you leave, ensure you crown your experience with a Christmas log cake coated with Manjari dark chocolate mousse, vanilla Cremeux, and nashi pear jelly.
3. Basilico Singapore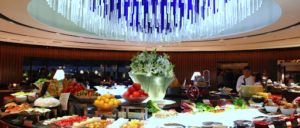 Treat yourself to an array of signatures dishes and authentic Italian cuisine at an exotic dinner restaurant at Basilico. They are experts in-house-made pasta, great anti-pasta, desserts, mains, and comforting pizzas, and they offer heirloom tomatoes, cold cuts, creamy burrata, and mozzarella for starters. You will enjoy a dish of roasted wagyu beef sirloin with seasonal mushrooms as the main course. Dinner cannot end without their traditional sweet fritter drizzled with acacia honey and topped with colorful sprinkles referred to as Struffoli Napoletani. With such mouth-watering delicacies, you will enjoy an unforgettable Christmas.
4. Brasserie Les Saveurs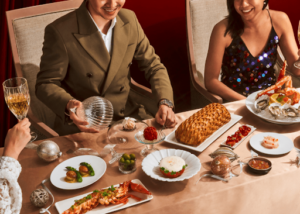 Brasserie Les Saveurs is a fantastic Christmas dinner place, allowing you to enjoy a gastronomic tour of France while in Singapore. Here, you will be treated to roasted turkey on wheels, brussels sprout, prime beef rib, and honey-gazed gammon ham. You can also order beef wellington, accompanied with seafood including freshly shucked oyster and Alaskan king crab legs. Sum up your dinner with a sugar treat dessert with a fruit cake, cherry yule log cake, and a bar of milk chocolate.
5. Beach Road Kitchen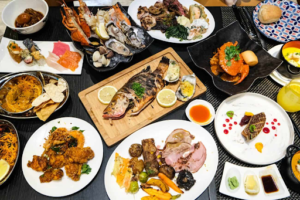 The covid-19 pandemic has changed the way we interact and dine. The ideal Christmas dinner place should adhere to safety measures by ensuring social distance and minimizing contact between the diners and the staff. Are you looking for a place offering delicious meals and healthy interactions with loved ones this Christmas? Worry No more. Beach Road Kitchen provides incredible seas foods on ice and smoky grilled meats, gourmet pizzas, and local cuisines with the assistance of friendly Chefs-on -show.
6. Opus Bar and Grill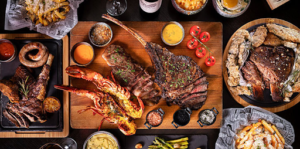 If you are a meat fanatic and enjoy your prime steaks and seafood grilled and smoked on white-hot coals, then Opus Bar and Grill is the place to dine this Christmas. You can expect their secret recipe for Singaporean juicy meat. How do they achieve such an addictive plate? The secret is in the charcoal grill and high-quality ingredients, including the Himalayan salt and healthy spices. Furthermore, you can pick the main dishes of your liking from lemon-crusted Chilean seabass, pistachio-stuffed turkey roulade, and braised wagyu short ribs. Their desserts are impressive, ranging from artisan cheeses, festive log cakes, Maine lobsters, and oysters. During some selected days, including the weekends, expect a free flow of wine from 7 pm to 9 pm as you order an opus steak. Fortunately, Christmas this year falls on a Saturday; why not pop in at the bar and grill and enjoy a glass of wine after your dinner.
7. Racines and 1864 Lobby Bar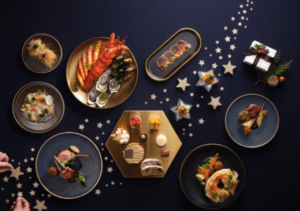 Are you fully vaccinated against Covid-19? Then you qualify to dine at the Racines and 1864 Lobby bar this Christmas, where the government restrictions are strictly adhered to. You will feast on a mix of French and Asian delicacies, thus making Racines a perfect choice for a Christmas dinner place. Some of the delights served include smoked turkey breast with fingerling potatoes, roasted rack of lamb with sauteed French beans, and natural jus and morel sauce with cranberries. If you have a sweet tooth, their vanilla cream, Frasier Swiss roll with homemade berry jam, and coffee chocolate almond tart will blow your mind. What a way to have a sassy Christmas dining at the lobby bar with your family for a memorable celebration.
8. SKAI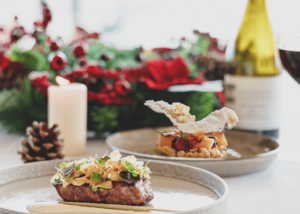 Imagine feasting at one of the tallest buildings in Singapore for the Christmas festivals. Skai is located on the 70th floor of Stamford, allowing you to have a glimpse view of the city skyline as you enjoy loftier cocktails or Japanese-tea set. During the Christmas holidays, a special package consisting of seared Hokkaido scallop, grilled prawn, burrata, Miyazaki A4 wagyu beef, and orange jaffa marmalade are available. Additionally, you could enjoy the black Angus steak and appetize your meal with lemon meringue or warm lava tart. Interestingly, their menu consists of plant-based alternatives to ensure vegetarians are not left behind in the feast.
9. Andaz Singapore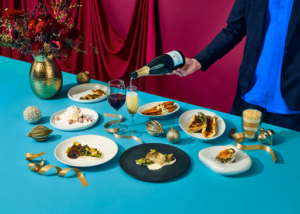 Good meals at an affordable package are essential when looking for a Christmas dinner place. Andaz Singapore is pocket-friendly while still allowing you to soak in the festive atmosphere due to its rich culture of Singapore and fresh mouth-watering cuisines. Fresh meals offered during this festive season include lobster thermidor, Jerusalem artichoke velouté, roasted bone marrow, and New Zealand snapper. They also provide specially roasted turkey roulade with mushroom stuffing, beef wellington, and fresh sashimi. Dining at Andaz allows you to enjoy your meals as you gaze outside the beautiful views of Singapore.
10. Grand Hyatt Singapore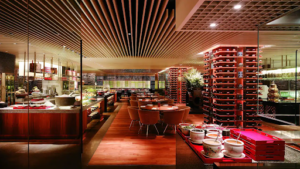 Are you a family person and wondering the ideal Christmas dinner place to accommodate your big family? Relax. This Christmas, the Grand Hyatt Singapore will be blissful since they have a family-friendly environment to keep everyone happy. This year they have generated a special themed menu to ensure every guest is satisfied and soaked in the merrymaking. Their menu consists of international delicacies, including honey-baked ham with roasted beef rib, Chinese roasts, dim sum with roasted turkey. Italian foodies can enjoy burrata with parma ham, porchetta with chestnut stuffing, and baked turkey calzone. Therefore, enjoy touring internationally at your dinner table this Christmas at Grand Hyatt Singapore.
11. Se7enth at Oakwood Premier AMTD Singapore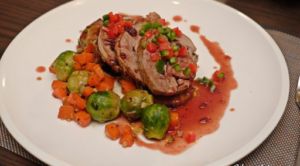 Most people love good food accompanied by friendly service. At Se7enth premier, the staff welcomes you with a friendly tone and attention to each visitor's needs, ensuring you enjoy relaxed dining. Christmas blossoms with such a cozy environment, allowing you to enjoy yourself with your friends and family. Their food is delicious and flavorful as they specialize in a slowly prepared festive dish. This Christmas, enjoy the roasted bacon chicken roulade with a creamy turkey mousse, accompanied with butter-glazed brussels sprouts and topped with raspberries and marshmallow gratin. You are sure to enjoy a memorable dinner this Christmas season at the Se7enth.
12. Stamford by Alvin Leung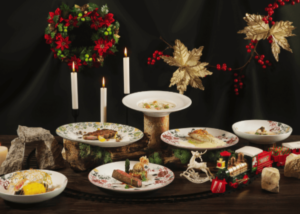 The ideal Christmas dinner place with an Asian touch is Stamford since the menu blends Asian cuisine with international dishes. Enjoy a different taste combination for starters, including burnt butter and parmesan. If you miss fruit appetizers, their coal charred beetroot with pine nut, Asian sea bass with palm sugar, red chili, and lime coconut milk will satisfy your craving before the main dish. They offer Stamford Rotisserie Chicken Rice and Pork Prime 'Bak Kut The for the main course. After a hearty meal, you could cap your dinner with delicious desserts showcased at Stamford, such as Yeung Ji Kam Lu and Rotisserie Pineapple masala. Dining at Stamford will take you through a whole new experience of healthy foods, allowing you to make the right choice.
13. Sofitel Singapore Sentosa Resort and Spa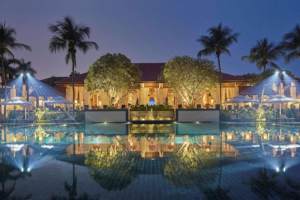 Experience ultimate tranquillity as you bask on the horizon with stunning sunset views at Sofitel Singapore Sentosa resort and spa. Christmas cannot be complete with various sumptuous dishes offered at Sofitel, including fresh seafood. You can taste their exotic streamed Dungeness crabs, oysters, lobsters, snow crabs, and sushi selection. The resort also serves glorious meats such as grilled lamb T-bone, roasted suckling pig, and handmade meatballs. Remember to have a taste of Asian and Indian cuisines here as you cap up your dinner with a sweet dessert fruit cake, chocolate fondue station, and a log cake with a local twist of wine.
14. The Marmalade Pantry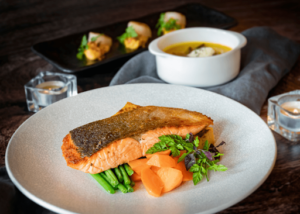 At Marmalade Panty, you will enjoy heaty Asian-inspired delicacies, such as the famous kimchi fried rice, curry barramundi, and their signature cupcakes. For starters, you are presented with an appetizer of sweet potato fries or truffle fries, pumpkin soup, and truffle mushroom soup. They spice up the festive season with house-made spice rub grilled chicken accompanied by truffled mac and cheese. You could also order Moroccan lamb chops with garlic mash, Brussels, and grilled salmon-trout with a polenta cake. If you are a vegetarian or gluten intolerant, you can also comfortably dine at Marmalade Pantry since their menu accommodates your preferences.
15. Artemis Grill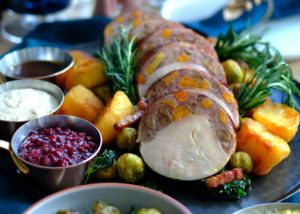 Artemis is a Mediterranean-inspired restaurant, making it a popular Christmas dinner place. They embellish their menu during the Christmas festive season to fit the occasion. You can begin your Christmas diner experience with unique appetizers, such as lobster thermidor gratin and wild mushroom consommé. The main dishes are tantalizing, including roasted challans, duck confit leg with pickled red cabbage, parsnip puree, and turkey breast with traditional pork stuffing. Don't be shy to order their seasonal side dishes- roasted brussels sprouts and fat roasted potatoes with gravy. Are you a sugar fanatic? You can indulge yourself with milk chocolate ganache, candied chestnut, and vanilla Chantilly cream. What an excellent way to make merry as you eat your heart out at Artemis grill. Shariot Takes You to Your Christmas Dinner Place
The truth is, you could cook Christmas dinner and enjoy it right at your home, but can you imagine the satisfaction that comes from allowing someone else to do the cooking? Most of the exquisite restaurants across Singapore offer amazing delicacies that enable you to soak up in the Christmas festive mood. This article has presented you with ideal Christmas dinner places in Singapore; your role is to make the best pick that caters to your needs and those of your loved ones. If you wonder how to reach your preferred destination, worry no more. Shariot car-sharing and rental services ensure offers you affordable and comfortable rides. We have different car models catering for various classes of people. You can be sure we have a car that suits your Christmas party. So, book now and let us take you where you want to have your dinner.