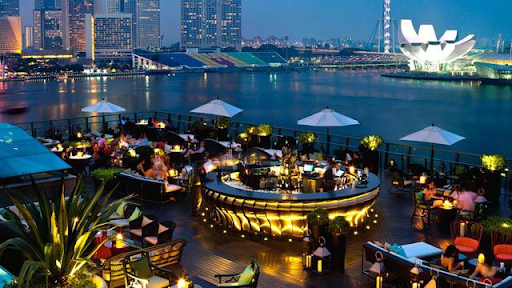 Work can be exhausting with crazy deadlines to meet, and the constant worry of bills can take a toll on anyone's soul. The busy schedule sometimes robs parents of playtime with their kids, hence the need for a relaxing weekend and holidays. Singapore provides you with charming boardwalks that accord you and your family playtime in peaceful environments. You can also relieve your stressful week with refreshing drinks and healing meals at several rooftop hotels. The view from these restaurants will make you feel like you are on top of the world. Let's begin by examining the best boardwalks in Singapore.
Best Boardwalks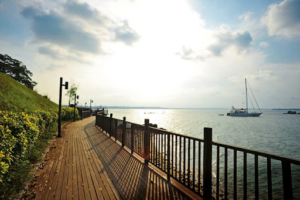 The best bit about Boardwalks is that they are free to explore, and you can bring along your entire family to join in the fun. Additionally, the little guys will enjoy playing at the boardwalks and learning from nature. Scroll through to discover some of the best Boardwalks in Singapore.
1. Labrador Nature and Coastal Walk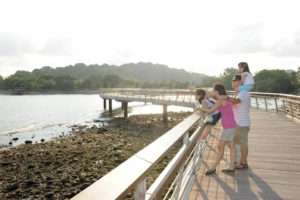 Labrador Nature and Coastal Walk are located 2km within Labrador Park in the southern part of Singapore, providing a leisure activity for the entire family. The coastal walk consists of three distinct segments: Alexandra Garden Trail, Berlayer Greek Mangrove Trail, and Bukit Chermin Boardwalk.
You will explore several habitats at Labrador Nature and Coastal Walk, including mangroves, mudflats, rocky shore, coastal forest, and Adinandra Belukar (a type of secondary forest). At Labrador Nature and Coastal Walk, you will experience Singapore's heritage by exploring the old fort walls and tunnels which served as underground storerooms for ammunition for the British. The truth is, you will enrich and thrill your senses from the myriads of activities you will experience at the boardwalk.
Embark on a stroll along the coastal boardwalk to experience breathtaking views of the expansive waters at Keppel Harbor, lush greenery of Bukit Chermin, and rocky cliffs of Sentosa island. When the boardwalk is experiencing low tides, you will catch a glimpse of seagrass beds and various species of crustaceans found in the mudflat, including different types of fish.
2. Changi Point Coastal Walk
The boardwalk connects the scenic Changi coastline from Changi Beach Club to Changi Sailing Club. Changi Boardwalk consists of 6 different sections, including:
Sunset Walk, surrounded by lush greenery and the sea on the other side, provides you with the best sunset view.
The Kelong walk-a segment of the boardwalk with Kelong stilts built over water.
Cliff walks- this is a boardwalk segment with lush greenery with viewing decks that provide you with an elevated panoramic view.
Sailing Point Walk- the longest segment on the boardwalk that gives you open views of the sea.
Beach Walk- this is the second-longest boardwalk segment that faces Changi Beach.
Creek Walk- a segment on the boardwalk that lies on the southern bank of Sungei Changi.
You can visit Changi Point Coastal Walk late in the afternoon to get a stunning view of the sunset and stake out the marine life and birds present on the boardwalk. The good thing is you can explore the boardwalk with the little guys since it's easy for them to enjoy a walk.
3. Lower Pierce Trail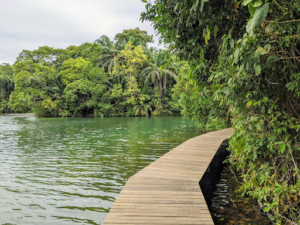 Lower Pierce Trail is a 900m boardwalk located at the edge of the Lower Pierce Reservoir. The boardwalk runs through one of Singapore's last remaining mature secondary forests. Lower Pierce Trail is an ideal spot to enjoy a walk with the entire family since it only takes 45 minutes to complete the trail.
Moreover, you will enjoy and learn as you walk through the trail as there are several informative signboards along the boardwalk which will enlighten you about flora and fauna in the forest. The boardwalk is an essential habitat to the biodiversity of mother nature, including more than 900 flowering plants, 250 animal species, and 100 ferns adapted to the forest surroundings. You will encounter different wildlife, such as mammals and aquatic creatures, along the tranquil boardwalk if you are fortunate enough.
4. Pasir Ris Mangrove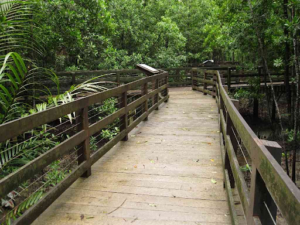 Pasir Ris Mangrove is a 6-hectare boardwalk ideal for nature lovers due to its lush greenery and variety of wildlife. The boardwalk allows you to explore the mangrove breathing roots, wild cinnamon trees, and wildlife, including otters, vipers, and giant mudskippers.
You will have an opportunity to enjoy birdwatching in their various species, including little Egret, white collared Kingfisher, and Oriental Pied Hornbills. The best part is that you can clamber the three-story high lookout tower for an elevated view of the mangrove boardwalk and the birds. Alternatively, you can enjoy stunning views of the surrounding canopy trees from the bridge near the entrance of the mangrove boardwalk.
If you are fortunate enough to be at the boardwalk at night, you can spot the one-eyed Buffy fish Owl and a family of three spotted wood Owls making their hoo sound. The Pasir Ris Mangrove has one of the largest playgrounds in Singapore, allowing families to have fun to the full.
Ensure to walk until you reach the end of the boardwalk to admire a jetty overlooking Sungei Tampines. Your little guys will enjoy spotting different forms of wildlife, including herons, kingfishers, water monitor-lizards, gliding lizards, various fish like halfbeaks and archerfish, and dog-faced water snakes. Therefore, head down to the mangrove boardwalk and explore mother nature close to its inhabitants.
5. Punggol Promenade Riverside Walk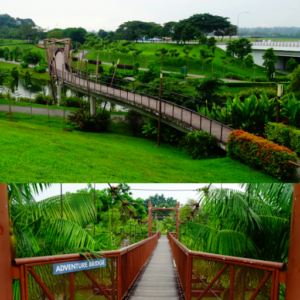 The boardwalk is a waterfront recreational spot that connects Punggol Point to Punggol east and provides access to the rustic northeastern coastline. The boardwalk is divided into Riverside Walk, Nature Walk, and Punggol Point Walk. Each of these segments will provide you with a distinctive experience and allow you to get closer to Serangoon Reservoir.
When you embark on a stroll along Punggol Promenade Nature Walk, you will be treated to a stunning view of various flora and fauna and observe a meandering trail that is dotted with fishing platforms and rest shelters. You can linger at the boardwalk until dusk to admire the unique design features of fibre optic lights that bring Punggol Promenade to life.
The red and classy Lorong Halus Bridge is a unique feature at the boardwalk, which resembles an old steel railway bridge. Your little kids will have a blast playing and dancing among the tall cattails growing around Lorong Halus Wetland and get enlightened on how the rainwater is collected and treated before it reaches the reservoir. The best bit of your adventure at Punggol Promenade Riverside Walk is you don't have to starve yourself to death since there is a cluster of food and beverage outlets at Tebing Lane adjacent to the boardwalk.
Now let's examine some spectacular rooftop hotels that will calm your soul even before eating or drinking anything offered.
Best Rooftops Hotels in Singapore
Singapore is globally recognized because of having the best rooftop hotels with impressive infinity pools. The luxurious hotels provide you with a breathtaking view of the skyline that is sure to blow your mind.
6. Hotel Indigo Singapore Katong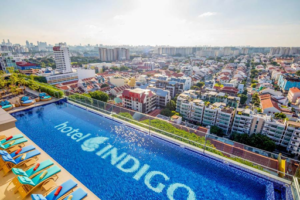 Hotel Indigo Singapore Katong is a modern hotel inspired by the Peranakan culture, close to the East Coast Parkway Bridge. You will enjoy an out-of-this-world experience by accessing the 16th floor of the hotel, where you find their marvelous blue-tiled rooftop infinity pool.
The rooftop infinity pool is a perfect spot to unwind with a dip as you cool down from Singapore-intensive heat. The best bit is you will swim as you relish an obstructed view of Singapore's historical slope houses and the panoramic view of the sunset behind Katong Skyline.
The hotel is encircled with vibrant coloured sun loungers and comfy day beds that add to its beauty as a rooftop dream. You will enjoy various amenities at the hotel, including free WI-FI, weekly rooftop yoga classes, a 24-hour fitness centre, and a function room where you can enjoy leisure.
Are you hungry and thirsty? Pop in at their neighbourhood café and restaurant, Baba Chews, and enjoy modern-Singaporean, sumptuous Western classic, a breathtaking cuppa, and alcoholic beverages.
The hotel is strategically located, with the East Coast Park and Malls being a stone's throw away. If you take your Shariot from here, you will arrive at Singapore Expo, Jewel Changi Airport, or Singapore's financial district in 15 minutes. These amenities add to its awesomeness.
7. Parkroyal Collection Pickering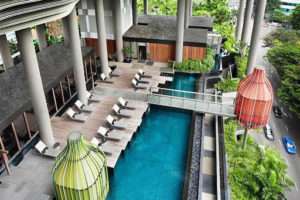 This charming eco-friendly rooftop hotel is situated near Chinatown. Though it might not offer a rooftop infinity pool, its services are undoubtedly exciting. It is dressed in like a vertical garden, offering soul healing services. For instance, its fifth-level terrace is reserved for wellness, with equipment made for healing and relaxation.
The surrounding is rich in lush greenery, while its terrace has a beautiful infinity pool with incredible views over the city's skyline and the Hong Lim Park. After swimming, you can enjoy the sun rays on your skin as you lie back on the pool's comfy sun loungers.
Moreover, you can head here to work out at the pool terrace's gym box. The glass view from the gym will undoubtedly give you the motivation to go on. If you only want a light workout, you could take the 300m long garden walk from the restaurant above the hectic streets of Singapore.
8. Courtyard by Marriott Novena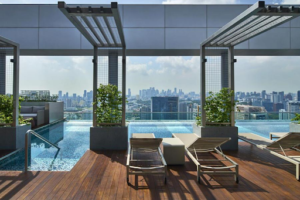 At the outskirts of Orchard Road lies an excellent rooftop hotel, Courtyard by Marriott Singapore Novena. This hotel is connected to the Novena subway station, offering visitors an ideal starting point for city exploration.
When you explore the hotel's rooftop, you may think twice about leaving. You will be seating 33 floors over the city, giving you an aerial view of city life.
This hotel has a refreshing and crystal-clear rooftop infinity pool; you could take a plunge into this rejuvenating water. Since it is near MacRitchie Reservoir Park, the greenery nearby builds to the hotel's beauty.
The surrounding pool's sun loungers and a nearby fashionable Urbana Rooftop Bar make you stay enviable. You can imagine having a glass of champagne while relaxing at the loungers above everything else.
9. Oakwood Premier AMTD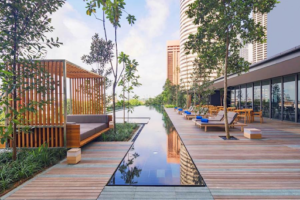 Do you want to enjoy a rooftop dining experience at the heart of town? Think Oakwood Premier AMTD Singapore, and it comes with a magnificent rooftop pool.
The hotel's infinity pool is on the 7th floor, surrounded by stylish wooden terraces. You will find many modern loungers here. The cabans, coupled with nature-inspired elements and greenery, give the surrounding added beauty.
The experience at this hotel is likely to soothe any arching pain in your body, setting you fresh for another week of productivity. The evening and the night's view is even more spectacular as the surrounding skyscrapers and rooftop pool light up.
10. Andaz Singapore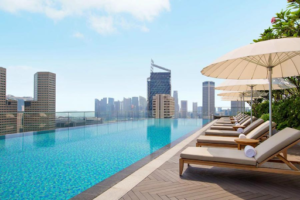 This landmark hotel is located between the vibrant district of Bugis and Kampong, offering visitors the ultimate rooftop fun. If you want the best views from this hotel, go to the 39th rooftop floor at Mr Stock bar. You can have a refreshing drink as you channel the future.
However, if your interest is the pool for relaxation and mixed views, you can stop at the 25th floor. The restaurant's guests can take dips in the beautiful rooftop infinity pool at this pool.
After a couple of swims, you can relax on one of the stylish and comfortable sun loungers with an umbrella saving your skin from baking. The poolside bar offers drinks to add to your pool experience.
11. The Fullerton Bay Hotel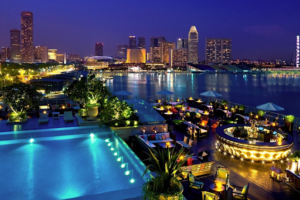 The Fullerton Bay Hotel is not left behind in the rooftop pool race in Singapore. Though its altitude is low (8 floors up), this fancy five-star offers a fantastic view from its pool terrace over downtown skyscrapers and Marina Bay.
If you are looking for a beach club experience or a roof garden, the Fullerton Bay terrace will offer you this experience. It is located in a lovely lush surrounding, giving you an incredible view from the top.
Its rooftop swimming pool is open to guests, meaning you do not have to worry about overcrowding. Nevertheless, the public can still chill out at the Lantern rooftop bar by the poolside. All are welcome to enjoy the luxury of Singapore.
Shariot Your Preferred Travel Partner to Your Preferred destination
Whatever you want to go, be it boardwalk or relaxation at one of the best rooftop hotels, Shariot is your ideal partner. We help you prepare for these visits with such articles and offer you affordable means to go there. Our car services are available 24/7, meaning you are never late to book for travel. Whether you are going to or coming from these places, you can be confident of our convenience and availability.