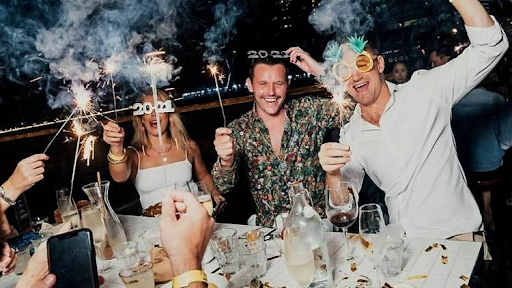 Covid 19 disrupted the 2021 New Year's Eve celebration, confining people to their homes as they welcomed the new year. The situation will be different as we cross over to 2022. Singapore looks forward to celebrating this momentous occasion with friends and family and in public places- albeit with some caveats since we are not out of the woods with the pandemic.
With the vaccination rates and the implementation of social distancing protocol, Singapore will be livelier as welcomes 2022. There are plenty of events you could attend or spectacular places you could be to witness the fireworks. To close the curtains for 2021, here are several places you can be to usher in 2022.
1. Smoke & Mirrors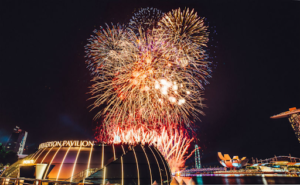 You do not want to miss out on what Smoke and Mirror presents during this NYE. The celebrations start early from 3 pm, so clock off work early and enjoy their Fizz, Pop, and Clink count down. Drinks will be abundant- 2 hours of cocktails, including a toasty monkey, mulled wine, cranberry negroni, Perrier Jouët Brut champagne, Prosecco, selected white and red wines, and beer on tap.
Of course, there are solid foods to accompany the free flow of drinks. The festive platter will be going for $148, coming with tiger prawns, lobsters, and Canadian oysters. You will have a good stomach foundation before indulging in the drinks. You can wait for their signature mocktails after the sale of beverages closes at 10:30 pm. Smoke and Mirror will provide you with a merry way of ushering in 2022, be there and enjoy the boos.
2. Marina Bay Singapore Countdown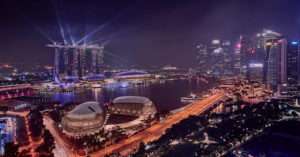 There is no New Year's Eve Celebration if Marina Bay countdown is not part of it. There are no fireworks here; instead, you will witness spectacular two-beaming light shining brightly into Marina Bay's skies.
The Shine a Light display will be breathtaking from the Promontory, featuring rotating 60 lights. The circular lights from the skyscrapers will beam to the sky, symbolizing resilience, unity, and positivity as the country looks for a better year from the pandemic.
Share the Moment light will present inspirational artworks projected on the walls of the ArtScience Museum, the Fullerton Hotel Singapore, and the Merlion. The light display will glow magenta on New Year's Eve, signifying the united spirit of Singapore.
Marina Bay begins engendering the NYE celebration from December 1st. From 26th to 31st, the Share the Moment will display students' artworks projected on the facades of Marina Bay's three landmarks- the ArtScience Museum, the Fullerton Hotel Singapore, and the Merlion.
Marina Bay will have light projections at its waterfront promenade to add to the flare. You can catch this incredible display of colors on a galaxy, treetop canopy, and abstract clockface projection. The lighting from Marina Bay will beam brightly from a far distance, with some visualizing from their homes.
3. Ce La Vi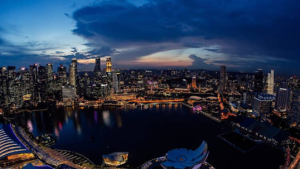 The Glitter Disco Party at Ce La Vi will welcome 2022 in style, rocking with music and dance from the 70s. You can spend the last golden hours of 2021 at their rooftop Sky Lounge with bottles of Champagne and beers.
On December 31st evening, rock with your gorgeous dress and come to an adults-only Glitter Disco party to celebrate New Year's Eve. The rule is that if you are coming to Ce La Vi, pull out your best dress of the year-shiny and bright. It is a party of stealing the show, so come prepared.
You will also have a chance to taste Ce La Vi's tasty dishes to balance with the drinks. The Discoholic package goes for $690 and is suitable for five. The package comes with ten Hoegaarden bottles, a Veuve Clicquot Yellow Label, Mixers, and one magnum Grey Goose bottle.
The dishes accompanying these drinks include grilled wagyu beef burger, black truffle (sushi rice) risotto, oyster ceviche, Hokkaido Scallop, and cast-iron roasted Tuwinga. End the meals with Enjoy with You celebrate t lime pearls, margarite foam, key lime curd, and vanilla almond cake topped with coconut crumble.
If you feel comfortable with a formal sit-down, the Ce La Vi's lavish NYE five-course dinner will be perfect for you. With meals like scallop sashimi, Triple Celebration, Fine de Claire oysters, storm shell clam from the Chef's selection, and grapefruit vinaigrette, you will feed to the full. The drinks are also flowing, so do not shy away from drinking 2021 with red wine glaze, seagrapes, and different Champagnes and Kombucha puree.
4. Super Loco Restaurants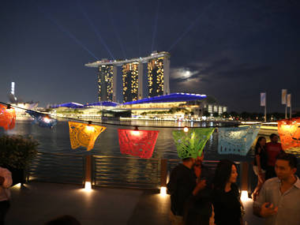 Super Loco Customs House is a perfect place to be during the NYE. Here, you and your family can have a family dinner party as you say goodbye to 2021. The restaurant offers a free flow of drinks, including prosecco, margaritas, wine, and beer. You can expect a Mexican fiesta, with the opportunity to travel to tropical rainforest, and upon coming back, you will enjoy a four-course Mexican dinner.
The countdown has begun early, and on December 31st, you can order their special NYE dinner treat. At the restaurant, you can spend a romantic time with your partner as you sip on the sunset cocktail.
Since it is not exclusively adults, your kids can also enjoy various foods and drinks, making the beginning of 2022 a family occasion. The New Year's Eve countdown begins at 9 pm, so do not leave early before you experience the joy of welcoming a new year with friends.
Furthermore, the restaurant has a custom house (Super Loco Customs House), offering delightful scenes worthy of NYE. This modern Mexican Bar and Cocina provide you with stunning views of the waterfront and Marina Bay Sands. You will double the chance of experiencing the event at Customs House and witnessing the spectacular beaming lights of Marina Bay.
At the Super Loco Customs House, you can have an outdoor seat at the sunset and delight in an abundance of drinks and food. They will serve you the usual four-course Mexican food, including seafood starters, flavorful taquitos, appetizers, and desserts before the main course. You can then culminate the experience with a Cancun sunset cocktail made especially for NYE.
5. Monti
You know where Monti's Gold, Glitz, and Glam event is if you know the Marina Bay waterfront. 2022's New Year Eve party will be held here in style, allowing visitors to indulge in an extravagant five-course dinner spread at $258. Spoiling yourself as you usher in 2022 is forgivable as you get the royal treatment at Monti.
Their elevated Italian plates, such as crispy tilefish, homemade strozzapreti pasta served with rare octopus, wagyu beef, citrus sorbet, and beef brisket, are the ultimate dishes you can wish for during New Year's Eve celebration.
If the rooftop dinners are your thing, Monti has it all, offering you a platter menu at $120 for two. The plate comes with chicken satay, freshly shucked oysters, truffle caviar, and Kueh pie tee. The drinks are also available in abundance, including Champagnes, red and white wines, prosecco, beer, and rose. If alcohol isn't your way of celebration, you can indulge in the soft drinks and juices available. Reward yourself for your hard work during the pandemic with a once-in-a-year celebration at Monti.
6. Celebrations at Mr Stork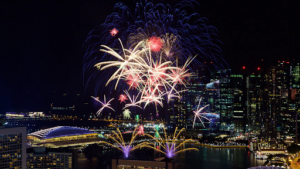 Do you dream of welcoming 2022 at a restaurant offering a rooftop bar? The Andaz Singapore signature bar at Mr. Stork is your ideal location. This year, they offer an NYE Celebration package, starring unlimited bar snacks, such as Steak Sandwich, Chicken Karaage, and Truffles French Fries. They will also be providing triples' selection, including wines, Delamotte Champagne, house-pour spirits, and beers.
The environment is also suited for the New Year's Eve celebration with stellar lights displays projected to the skyline and the Marina Bay area. From drinks to food to dances, Mr. Stork gives you memorable New Year Celebrations worth savings for.
7. New Year's Eve Cruising Dinner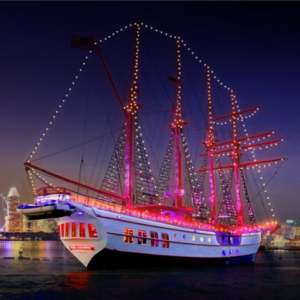 Train or Yacht, which one do you like? You can end your 2021 in style by enjoying your last supper aboard the luxury trail ship- The Royal Albatross. Onboard, you will indulge in drinks and delicious dishes as you view the beautiful landscape of Singapore's Southern coastline.
What can one eat on this fantastic ship? Food characterizes any celebrations, and The Royal Albatross has two dinner options: the New Year's Eve Dinner Cruise going for $245 per person and New Year's Countdown Cruise at $295. With these prices, They will serve you a six-course menu, free-flow drinks, a bottle of Champagne for two, and mocktails. If you go for Countdown Cruise dinner, you will enjoy your stay to midnight and have the opportunity of welcoming 2022 at sea. If you are affected by seasickness, you can enjoy your sea dinner experience while sitting.
Drive to Your New Year's Eve Party with Shariot
Shariot Car-sharing and rental services have been here for your all year and help you finish in style. You can book your shariot to your favorite destination comfortably. Our cars are modern and top class, helping you have a New Year's Eve entrance of kind. Wherever you want to go in Singapore, your family can enjoy Singapore's finest places with us.