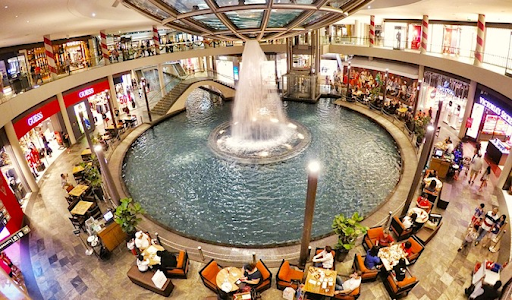 Singapore is a beautiful island bestowed with beautiful brunch spots, posh outdoor restaurants, and splashy rooftop bars that can give you a memorable vacation. However, this gives it a reputation as one of the world's most expensive places to visit. Have you ever heard a common adage that the best things in life are free? While Singapore may well fit the bill despite its reputation as an expensive country. This article will enlighten you on some exotic places you can visit without paying a penny and still have a blast in this beautiful country.
1. Wander Through Gardens by the Bay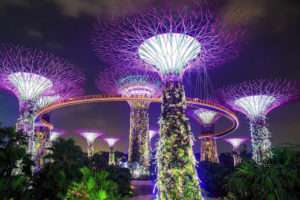 If you are a nature lover and your budget cannot allow you to explore nature, then Garden by Bay has your back. Entrance at the bay will cost you no dime, and you will have the opportunity to get a glimpse of the gigantic super-trees. You require your legs to wander through the bay and your eyes to glance at some of the tallest trees strikingly lit up during the light show.
However, the bay also houses a flower dome and cloud forest attractions that should be paid for before the entrance. Therefore, to spice up your wander through the bay, ensure to carry a few cents that could enable you to explore the trees at a closer range.
2. Climb the Hill at Fort Canning Park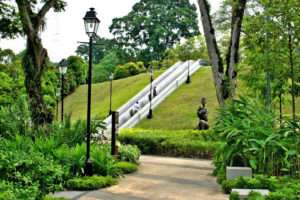 Fort Canning Park has several beautiful attractions, including various flowers, plants, trees, and hills, making it a perfect place for dog walkers and joggers. You will have an opportunity to escape the city life and enjoy a peaceful green environment and city views without paying a cent. Once you climb to the top of the hill, you explore war tunnels that will enlighten you on the history of the fall of Singapore since the fort was once a military base during the second world war.
3. Fly a Kite at Marina Barrage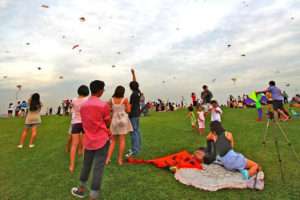 Marina Barrage is one of the spots to glance at the city skyline for free since it's also one of the windiest places on the island. You will also enjoy seeing dozens of kites filling the sky as you get to the top of the park via the lift or long ramp. During dusk, most city lights are turned on since temperatures have dropped, hence the best time to enjoy the kite views at Marina Barrage.
4. Explore Singapore's Ethnic Enclaves on Foot
Put on your walking shoes and get ready to explore Singapore's cultural diversity. All you need to carry with you is a snack to keep you energized, a good map, and a bottle of water as you embark on your journey to explore various enclaves for free. Some of the places you will traverse within the city center include bustling shops and lively side cafés of Kampong Glam, spiritual temples, old-age medicine shops of Chinatown, vibrant sights and sounds of Little India.
5. Walk through the trees at MacRitchie Reservoir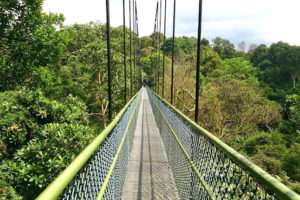 Enjoy Reservoir treetop walk along MacRitchie Reservoir. Most families visit this place because it accommodates various activities. You could enjoy exploring the trees from the boardwalks during wetter days and skip the forest trails.
6. Have a Day at the Sentosa Beach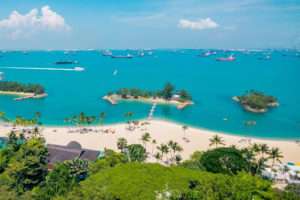 Sentosa beach is surrounded by state-of-the-art restaurants and bars that allow you to have fun for free. There are plenty of activities to enjoy. Take a walk along the Sentosa boardwalk to get a better view of the beach. You could also enjoy beach sports, including football, swimming, volleyball, and ultimate frisbee. Take a look at our discussion of unique destinations to visit in Sentosa.
7. Watch the Light Show at Marina Bay Sands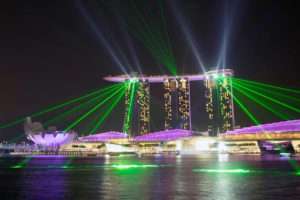 The Marina Bay provides you with a rare opportunity to watch the spectacular light and water show every night for free. Most shows are slated to begin at 8 pm and 9.30 pm, with an additional show over the weekend at 11 pm. Enter the bay and get a catchy spot that will enable you to enjoy the iconic multicolored lit lasers without paying a dime.
8. Grab a Photo next to Merlion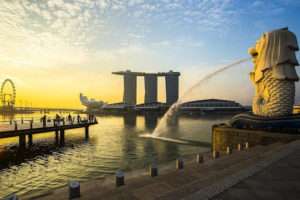 Photos create memories for a lifetime, and there's no better place to grab a great snap than next to the Merlion statue. The statute is a famous landmark for many visitors who enjoy seeing it and taking photos for free. Since it is located at the Marina Bay Signorina, you will take your pictures as you enjoy the cool breeze from the bay.
9. Get your Culture Fix at Esplanade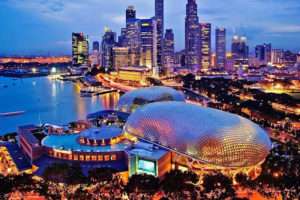 Due to diverse cultures, most Singaporeans enjoy live performances and shows at the Esplanade absolutely for free. People flock to the durian during the night to witness theatre performances, live bands, and dance shows without paying a penny. Watch the Chinese orchestra in their auditorium and later get to their rooftop to take Instagram-worthy photos. Therefore, check their website regularly to find out what concerts they have since most are free.
10. Go Green at the Singapore Botanic Garden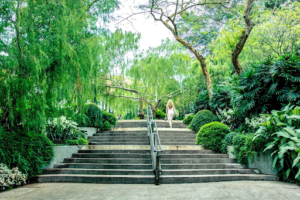 The garden is a shelter to the world's biggest tropical orchids, with around 1000species and 2000 hybrids. Explore the scenic ponds, neatly pruned garden trails, and luxurious green lawns entirely for free. Additionally, learn about various wildlife in the garden, including ducks, black swans, geese, spotted wood owls, pied hornbills, stork billed kingfishers, and crimson sunbirds. Since the garden is open until midnight and is free, hurry up and bring your family along for an adventure of a lifetime. Take a peek at our best picnic sites in Singapore.
11. Explore Singapore's Free Museums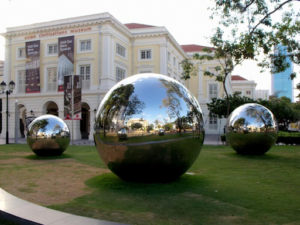 Most of the museums in Singapore are free for locals, thus providing you with a cost-effective way of exploring their inspiring art pieces and exhibitions. You will be enlightened on how Singapore emerged as a fishing village to its modern metropolitan city by visiting Singapore City Gallery. You will enjoy various galleries in the museums with beautiful visual displays and video presentations featuring historical events, oral storytelling, and real-life experiences of people. Moreover, most museums organize festivals, lectures, workshops, and live performances to keep you entertained and educated.
12. Trace the Historical Singapore River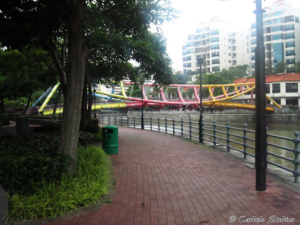 Are you wondering about an exotic place that you can explore with your date for free? Then Singapore River provides a fantastic route for a day or night walk. The river is usually open 24-7 and provides you with beautiful views to take street photos. Even though the river has wooden bumboats that require a small fee to ride on, tracing the river on foot gives you're an exceptional experience and saves you pocket.
13. Get a View of Singapore from Above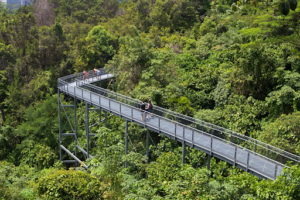 Singapore is awash with breathtaking aerial places that provide you with refreshments entirely for free. One such place is Mount Faber which is Singapore's second-highest hill. If you love hiking, you could enjoy taking a walk up to its peak as you get refreshed by the sea breeze from the southernmost point in Asia. You could also have a better glance at the skyline and the island by accessing the rooftop of Skyville@Dawson, which is open to the public without paying.
14. Explore Singapore's Heritage Neighbourhoods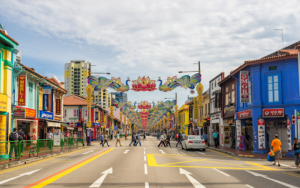 Tiong Bahru is among the oldest housing estates in downtown Singapore. This gives you an activity that will leave you enlightened and refreshed for free by exploring their heritage. The estate is surrounded by family-owned shops, trendy cafes, and modern art galleries that give a history of this neighborhood. Learn more about Peranakan, a blend of the Malays and new migrants, by heading east of Singapore to Joo Chiat and Katong. The Katong people make traditional beaded shoes and are known for the famous spicy Katong Laska.
15. Walk the Southern Ridges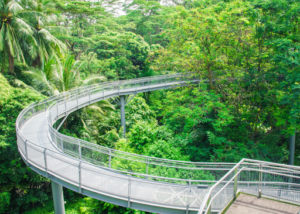 The southern ridge is a beautifully manicured and constructed recreational trail that connects several parks in Singapore. You will explore its magnificent landscapes that include unusual flora and fauna, impressive walkways, and jungle-like canopy trees for free. Additionally, bring along sunscreen, a hat, a bottle of water, some snacks, and comfortable walking shoes since the southern ridge presents you with a long walk measuring 10km. Enjoy watching your favorite birds in their habitat and take beautiful photos of flora and fauna along the trails.
16. Follow a Public Art Trail around the Civic District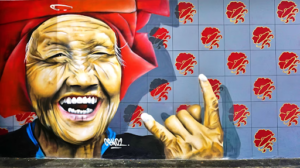 If you are a person who loves outdoor art, then the Civic district provides you with the ultimate artwork. You will get an opportunity to admire the nine works of famous artists in Singapore showcased along the trail. What better way to journey back into the colonial period as you explore Singapore's important memorials and monuments than popping in at the Civic District trail.
17. Watch for Wildlife at Sungei Buloh Wetland Reserve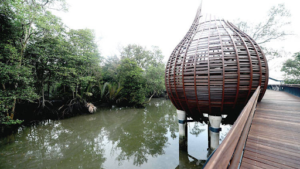 You will acquire enlightenment and experience fun with your family as you explore this nature reserve simply for free. The reserve can also be accessed via public transport, providing an opportunity for people working on a shoestring budget. Some of the features you will view include mudflats, ponds, mangroves, water snakes, crabs, monitor lizards, and odd crocodiles. You could watch most of the world's migratory birds at this reserve. Another essential benefit of this reserve is that people with mobility issues can navigate it since its trails are flat.
18. Go Wild for Freebies at Changi Airport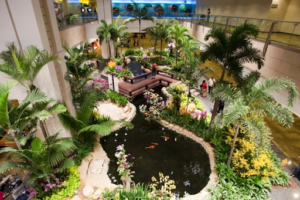 Most Singaporean families flock to Changi Airport without a flight to catch, with no passport or backed bags on board. This is because the airport is one of the busiest globally and acts as a hotspot of entertainment for locals and travelers. They keep you entertained for free by providing many freebies, including sample drinks, Singapore city tours, butterfly gardens, browsing the internet, movie theatres, interactive artwork, massage chair, plane spotting, and snooze lounges. Even if you have no scheduled flight at the airport, take advantage of this exceptional opportunity to explore several activities provided by the Changi Airport. Check out our list of things you can do at Changi Airport to learn more.
19. Stargaze at Seletar Rocket Tower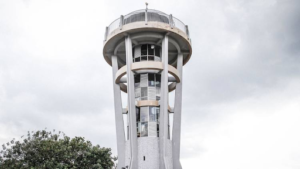 Most couples aspire to rekindle their love without breaking a bank to visit lavish and expensive restaurants. Seletar rocket tower is the ideal love hotspot for couples who want to stargaze intimately under the moonlight without paying a dime. Additionally, you could snap Instagram-worthy photos on this tower as you gaze at the starry sky, which will give you an exceptional experience. The tower's scenery is stunning, with mountains, rivers, birds, and a fantastic spot to catch the sunset. You don't have to join a gym membership to enjoy a quick cardio workout; climb the tower to the top, and you will automatically burn some calories while enjoying a panoramic view of Singapore.
20. Go for a Waterside Stroll at Changi Coastal Walk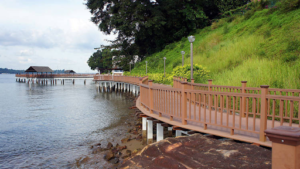 Changi Coastal presents you with a relaxing seaside stroll as you experience the crashing waves and tranquil sea breeze simply for free. Explore mother nature while glancing at the magnificent sea by strolling along the coastline. If you are fortunate enough, catch some wildlife from the walkway and look forward to a stunning view of the sunset.
Conclusion
Most people can relate to experiences in their lives when they visited exotic places. These places create tranquillity and enjoyment and are educative without paying a penny, thus providing a memorable experience. With various places to visit and explore in Singapore, you are spoilt for the choice to select an activity and venue that will create a lasting impression of a lifetime. Indeed, the best things in life are free; therefore, hurry up and decide your destination because Shariot car-sharing and rental services are ready to drive you to your preferred destination at an affordable fee.