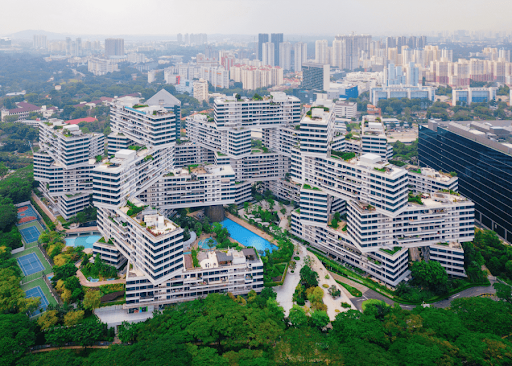 The first thing you will notice about Singapore is its skyline and buildings. Singapore is a city packed with beautiful, awarding-winning historical places and architectural wonders.
Are you awed by the engineering work of designing a jaw-dropping architectural building? Singapore will provide you with more than wonderful buildings. At Shariot, we present you with some of the cool buildings in Singapore and the means to visit them. Our vehicles are available 24/7, allowing you to visit more than one of these buildings.
Changi Airport/Control Tower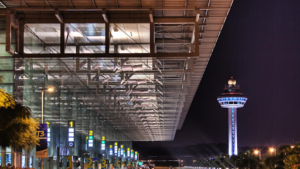 In 1981, this iconic tower stood at around 81 meters and catered to about 1,000 aircraft movements per day. It is visible as you approach the airport inviting you to the ultimate eye-treat. Most Singaporeans agree that it is Changi Airport's most recognizable and iconic landmark.
Changi Airport has two terminals that give a 1970s hotel vibe, with the lobby having plush carpets. This airport is rumored to hold the world's record for holding the most cabs in an airport. Terminal 1 has a swimming pool accessible from other terminals for passengers heading to the UK or Australia at a fee. The swimming pool has showers, towels, and a complimentary non-alcoholic drink. This is a must-see, especially for passengers who tend to make the mistake of arriving early at the airport.
Jewel Changi Airport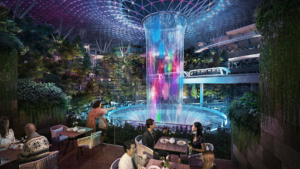 This gigantic and majestic dome houses the tallest indoor waterfall (40 meters) and over 280 retail and dining outlets. This place is ideal for shopping and dining at American fast-food A&W or Five Spices.
You can also catch a movie at 24-hour Shaw Theatres or the hourly sound and light show at the HSBC Rain Vortex from 7.30 pm to midnight. Other attractions include an indoor garden spanning 5-stories, Shiseido Forest Valley, and the Canopy Park at the topmost level featuring gardens and leisure activities.
It has play attractions that promise fun for young ones and those young at heart. If you wonder what activities to enjoy at Jewel Changi, read about our guide on what to do at Jewel Changi Airport.
The Merlion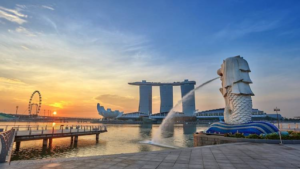 This is the city's world's famous half-lion and half-fish mascot. It stands 8m tall and spouts water into the bay around the clock. It is characterized by souvenirs and many postcards fashioned by a local craftsman.
The Merlion is widely used to represent the city-state and its people in branding, advertising, and sports teams. It was first used as a logo for the Singaporean tourism board. The name Merlion is a result of combining 'mer' meaning sea and 'lion.' The fish part represents Singapore's origin as a fishing village. In contrast, the lion head comes from Singapore's original name, 'Singapura.' It is one of seven commissioned Merlions in Singapore. It was rebuilt in its present location in 2002, drawing tourists all day.
Golden Mile Complex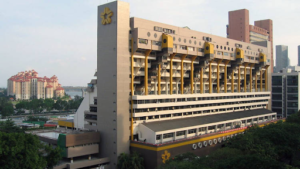 Golden Mile Complex is home to karaoke lounges and a treasure trove of authentic Thai eateries, grocery stores, occult stores, and residential apartments. The 16-story building designed in the Brutalist was once hailed as a cultural and architectural marvel.
Its shallow, staggered design aimed to provide protective shade and improve ventilation. The landmark remains prominent due to its typewriter-Esque appearance peppered by bright yellow hues. Although its future is still uncertain, this monolith is worth checking out as you try a plate of pad Thai.
The Cathay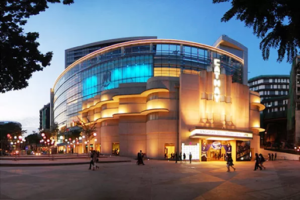 This is a hangout spot for art students and moviegoers. Its façade with the signage 'Cathay' is a remnant of what was known as Malaya's tallest building. Frank W. Brewer designed it as the first skyscraper and air-conditioned cinema in Singapore.
The 16-story building was completed in 1941. Only the front facade remains, with the rest being replaced by a modern glass-clad structure. The building houses food and beverages outlets, retail, and an 8-screen Cathay Cineplex. Cathay residences were also opened towards the end of 2006.
OCBC Centre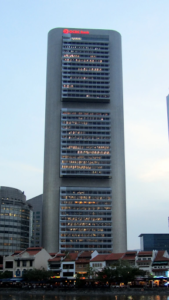 This OCBC Bank headquarters was once the tallest building in Southeast Asia in the 1970s. It has two attention-grabbing semi-circular reinforced concrete cores and three lateral girders, symbolizing permanence and strength.
The lateral girders also made construction faster. It comprises three sections as the steel trusses were constructed off-site and then put into position. It has also been coined 'the calculator' due to its flat shape and windows that mirror button pads. It has a distinct characteristic of light coming out when the specific offices are occupied. Despite its simplicity, this building testifies its strength as a timeless classic.
Reflections at Keppel Bay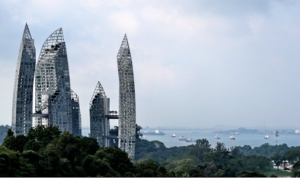 Designed by Daniel Libeskind, Reflections at Keppel Bay is a residential masterpiece stretching 1.2km of the shoreline with six soaring curved towers. The alternating heights coupled with the luminous surfaces of the towers create a mesmerizing perspective of shifting light planes and airy, light-filled spaces. Reflections at Keppel Bay is regarded as the epitome of luxurious waterfront living. The residential complex also offers the best panoramic views of Mount Faber and Sentosa.
Hill Street Building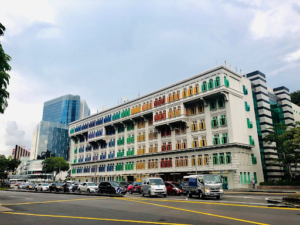 This 6-storey Hill Street building which used to be a police station and barracks, is currently home to the Ministry of Communications and Information, Ministry of Culture, Community and Youth. Its design is the neo-classical style of 1930s England. This colonial landmark boasts an asymmetrically designed façade with arcades, columns, vast courtyards, and balconies. Its best known for its double-leafed louvered, rainbow-colored windows and houses large-scale visual art exhibitions and performing arts events.
Park View Square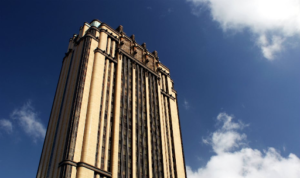 This skyscraper, resembling Gotham City, is the perfect place for Batman fans wishing to live out their superhero fantasies. This building is dressed in bronze, granite, lacquer, and glass near Bugis MRT station and is open to the public visit.
It is characterized by effigies of famous icons such as – Mozart, Plato, Isaac Newton, Winston Churchill, Pablo Picasso, Shakespear, Albert Einstein, and Salvador Dali – sculptures of gargoyles and elaborate fountains similar to Piazza San Marco in Venice. The square also houses Atlas bar, which is dedicated to gin and stocks hundreds of rare or limited varieties of gin.
The Colonnade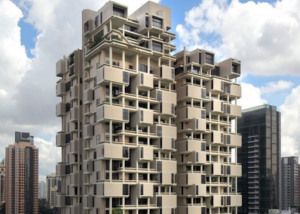 This is an eye-catching condominium placed in a quiet corner of Singapore. Its columns are unusual and are divided into four regular quadrants, with the base lifted off the ground through two pillars of closely-spaced columns. This effect results in the quadrants being placed at different levels creating a zigzag appearance.
Every unit is 2-story high with an open plan living and dining area, spacious kitchen, and a restroom on the first floor with a lovely view from the tub in the ensuite and balcony. The upper floor has two extra bedrooms. It was designed by the late architect Paul Rudolph, renowned for his cubist building design. Although the building dates way back to the 1980s, the design still looks fresh and modern.
Peranakan Museum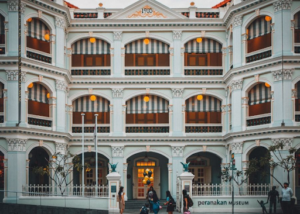 Built as the Tao Nan School in 1912, this street building later became the Asian Civilization Museums (ACM). It is a museum and gallery in the museum district of Singapore that specializes in the country's Peranakan culture.
It is the sister museum of the Asia Civilizations Museum. In 2008 it was further redeveloped into the Peranakan Museum as an extension of the popular Peranakan exhibition at ACM. Its official opening was in 2008, having ten permanent galleries highlighting the main themes of Peranakan life.
A central feature is the Peranakan Wedding Bed which belonged to Mrs. Quah Hong Chiam of Penang and where she later gave birth to the first of her 11 children. Its façade is eye-catching as you walk down its Armenian street in Singapore. Why not read about the best secret museum worth exploring in Singapore.
The Mill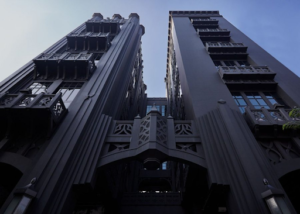 This attention-grabbing building is an all-black, neo-gothic building that makes you feel like you are in Europe. It came about due to the fusion of influences from post-industrial American architecture. It stands as a metaphor for the melting pot of cultures that Singapore upholds.
One of the tower's designs looks familiar to most people as it was designed by the same architects who worked on Parkview Square in Bugis. This tower is the work of Singaporean architects who designed other landmark buildings like Goodwood Park Hotel and St. Andrew's Cathedral. Tenants of this iconic building are interior design firms and a bespoke tailor.
Park Royal Collection Pickering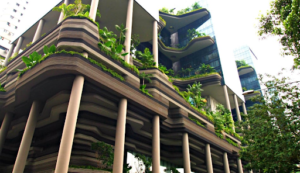 Designed by WOHA – Singapore-based architects, Park royal Pickering stands out like a thumb with its hotel-in-a-garden concept. The hotel is gorgeous with lush sky gardens, plant-covered terraces, cascading waterfalls, and massive contoured surfaces that make up the dramatic-looking podium.
The hotel prides itself on a dedicated wellness floor with a gym, outdoor pool, and a 300-meter garden walk above the street level. It offers free Wi-Fi. The air-conditioned rooms are furnished with a flat-screen cable TV, a personal safe, and a minibar. You can expect to get a bathrobe, free bath amenities, and a hairdryer.
The hotel operates a 24-hour front desk providing laundry and babysitting services and luggage storage. It offers conveniences such as a business center and meeting facilities. Guests can also enjoy relaxing and pampering massage at the spa.
Its location is ideal as it is a few minutes away from the bustling Raffles Place, Clarke Quay, and Chinatown, Singapore's nightlife district. It is also a 15-minutes drive away from the popular shopping district of Orchard Road and a 20-minutes drive from Changi International Airport.
The Helix Bridge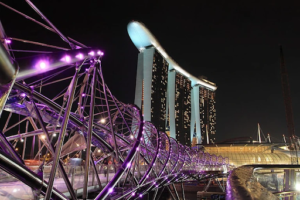 Singapore is home to unique, breathtaking bridges. One such bridge is the Helix bridge. Designed by Australian architects from Cox Architecture, this double-helix-shaped footbridge is made with steel and glass elements that seamlessly run through the entire structure, forming a creative shelter from the sun and rain.
The footbridge connects Marina Centre and Marina South. At night, when it lights up, the letters c, g, a, and t are visible, and they describe the four core components of the DNA. These are cytosine, guanine, adenine, and thymine.
It is built next to Benjamin Sheares Bridge and is also accompanied by a vehicular bridge called the Bayfront Bridge. It has four strategic viewing platform locations that provide stunning views of Singapore's skyline and events within Marina Bay. It is noteworthy that the design is intentional left-handed DNA, the opposite of normal DNA on earth. This design won first place in The Left-handed DNA Hall of Fame in 2010.
Bishan Public Library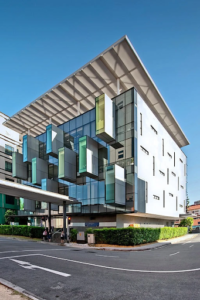 The Bishan Public Library is famous for its cantilevered rectangular pods that readers use as quiet spots to read and work. The spaces are also found internally to promote learning and still be a space for quiet contemplation. Its treehouse design allows like-minded people to work and discuss, creating an atmosphere beyond what most libraries offer. Readers can also enjoy the natural light that comes through the glass façade.
The design of this Library has won several awards for its architecture locally and internationally. These include the President's Design Award in 2007 and the International Architecture Award in 2009.
It serves a population of around 90,000, including several nearby schools such as Kuo Chuan Presbyterian Secondary School, Raffles Institution, Guangyang Secondary School, Catholic High School, and Raffles Junior College.
It is easily accessible to residents through buses that move to and from Bishan Bus Interchange, although users have to walk a short distance to enter the Library. It is a walk's distance from the Bishan MRT Station.
Funan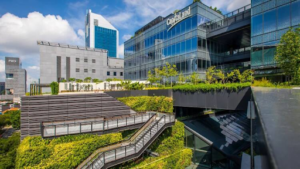 This mall is home to craft, tech, fit, play, taste, and many chic brands. The aesthetic of the mall is based on industrial chic characterized by many vibrant corners and spaces within the mall like the Kinetic Wall, Tree of Life, a seven-story green wall, and an urban farm managed by an edible rooftop garden. Besides eateries and retail stores, other services include Golden Village offering a premium cinema experience and boutique gym TFX. You can go for an intense workout here before diving into the pool.
Visit Your favorite Building with Shariot.
Singapore has got it all when it comes to interesting architectural buildings. Shariot car-sharing and rental services allow you to marvel at some cool buildings easily breezy as you get around the island. Without a doubt, Singapore's skyline is eye-catching. Take a trip to Singapore and spot the jaw-dropping and iconic architectural structures!