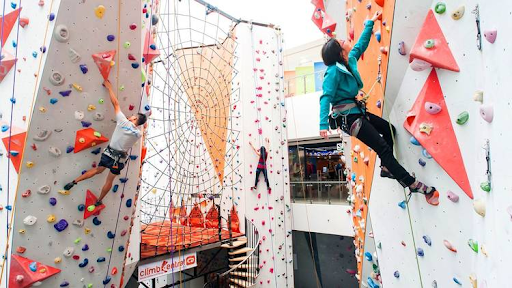 Are you tired of hitting the gym every day? Do you at times feel that the gym is more of a chore? Worry not. You can try something new in some of the best rock climbing and bouldering gyms in Singapore that will allow you to have fun as you build your strength and stamina.
Rock climbing and bouldering gyms will ensure you burn fat healthily and obtain a lean physique. You will have an opportunity to unleash your inner spider-man as you take on bouldering to scale short walls without the harness or rope, but the beauty is that safety mats on the ground will cushion your fall.
The best thing is you will receive training at the rock climbing and bouldering gyms, which will enable you to pump up your fitness levels. Shariot car sharing and rental services have prepared this article to help you get fit while having fun with the best rock climbing and bouldering gyms in Singapore. Scroll through the article and identify the best gym to help you enjoy the activity.
1. The Cliff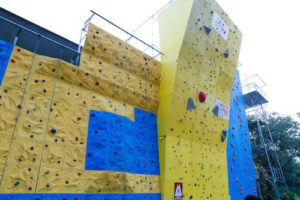 The cliff is a first-of-a-kind climbing wall found at the Snow City complex in Singapore. The facility comprises 10 climbing lanes with various difficulty levels ideal for lead and speed climbing. Additionally, the facility is spacious enough to accommodate 20 climbers simultaneously.
Local and regional competitors often use the cliff, including South East Asia climbing circuits, due to its towering at 290 square meters. When you embark on a course at the cliff, you will have an enjoyable, safe, and informative introduction to sports climbing.
Beginners are introduced to the equipment, climbing techniques, checking procedures, belaying for top-toping, and climbing calls. You will be awarded the Sports Climbing Level One Certificate at the end of the course.
Your little guys can enjoy climbing in the indoor boulder specifically made for kids. Moreover, they will discover new climbing skills and develop their motor skills. The best way to break a sweat is to head over to the cliff and ensure to pack your comfortable cotton t-shirts, pants, and sports shoes to enjoy climbing activities. Rock climbing at the cliff will help you develop agility, flexibility, and strategic planning abilities, as you will need to decide which rock to best grip or step on.
2. Climb Central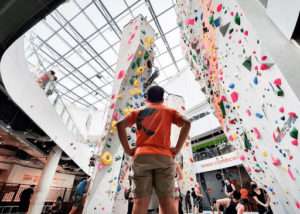 Climb Central is a popular indoor wall climbing studio in Singapore located in three cities. Although each outlet has its own special features, the center at Funan has the highest climbing walls in the civic district. You will enjoy more than 200 outdoor-inspired climbs, ranging from scaling high walls to enjoying high-intensity short climbs in a dedicated boulder unit with a Kilter Board.
The facility has curated individual courses and sessions meant to help beginners cultivate the art of rock climbing and bouldering. The good thing is you can start climbing on your first visit with the easy-to-learn safety systems and a 15-minute safety briefing despite not having prior experience.
With regular visits to Climb Central, you will advance in your skills and challenge yourself to climb 16 meters up from 4 meters and choose between a top rope, boulder, lead climb, or the auto-belays.
Climb Central. Provides climbing classes to improve your technique, which extends to persons with disabilities in their special outreach program, Adaptive Climbing. The little guys can engage in rock climbing at Climb Central as long as their parents accompany them. Climb Central rewards its frequent clients with multi-passes that can last for months or years. Therefore, ditch the ordinary gym and head down to Climb Central studio to break that sweat and tone up your body.
3. Kinetics Climbing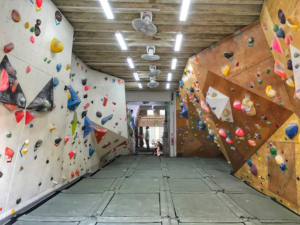 Kinetic Climbing is a popular studio in Singapore that provides a shared facility for beginners and veterans looking to enjoy rock climbing and bouldering. The studio has varied wall surfaces specially designed for quality bouldering. Additionally, Kinetics Climbing has a top rope wall dedicated to rope-climbing and various courses.
The studio at Kinetic Climbing updates its routes frequently to ensure you have the safest and the best experience during climbs at all levels. You can benefit from regular classes on Climbing, bouldering, private coaching sessions, and climbing kinetics to enhance your skills.
You will learn how to traverse plywood and textured wall surfaces and enjoy complimentary training areas. Kinetic Climbing provides you with corporate team bonding sessions and certification classes. You can benefit from climbing consultancy, including building services, wall design, and a shop for all your gear. Consequently, if you plan to construct a climbing gym on your premises, Kinetic Climbing has expertise in that area.
4. The Rock School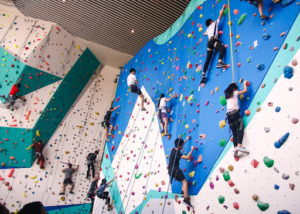 The Rock School is one of Singapore's best rock climbing and bouldering gyms. The studio offers numerous programs, from school needs to personal training for kids. If you have never set foot on any wall can benefit from a 2-hour workshop meant to enlighten them on the basics of rock climbing.
The Rock School allows you to burn up some calories and develop your personality and improve your focus. The facility has a special Double Up Workshop where parents and their young ones can participate together.
You can explore various surfaces at the Rock School for different climbing experiences, including 13m Spaceship Wall, 10m Tower wall, and 4.5m Boulder wall. The beauty about Rock School is that you can access it from two premier locations in Singapore, one located at Bedrock CC and the other at Tampines.
5. Ground Up Climbing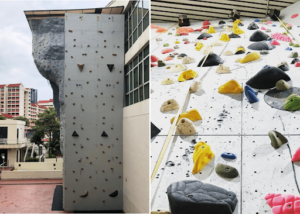 Ground Up Climbing provides you with one of the best bouldering gyms, indoor rock climbing, and outdoor lead climbing in Singapore. If you are scared of heights, you can embark on bouldering which allows you to climb walls that are 5 meters in height without using a rope. Additionally, the boulder area is lined up with thick and comfy crash pads to cushion you in the event of a fall.
Ground Up Climbing gym values the safety of its client to ensure they get the best rock climbing and bouldering gym experience in Singapore. Moreover, the instructors at Ground Up Climbing are all certified by the Singapore Mountaineering Federation, with each having basic knowledge of first aid.
The facility provides beginners with a taster session and customized climbing courses that can help kickstart their rock climbing and bouldering activities. What's more, you can opt for private coaching or fun climbs to certified courses climbing.
6. Boulder Movement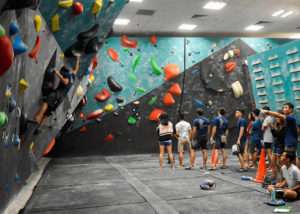 Boulder movement is the first rock climbing and bouldering gym in Singapore located in the CBD. The fitness zone consists of complete exercise equipment like TRX, hang boards, campus boards to train your grip, and facilities like shower and changing rooms and personal lockers. The studio consists of various outlets which aim at making rock climbing accessible to everyone.
You will enjoy rock climbing and bouldering in Singapore with a passionate, supportive, and friendly community to all their clients. The staff at the Boulder movement is friendly and ensures that the gym environment is clean. The best deal at the Boulders Movement is that you can rent space for a corporate event for your organization.
You can get private coaching on rock climbing and bouldering at Boulders Movement, where you will learn about strength and mobility conditioning. The facility provides classes daily, making it convenient to enroll yourself based on your schedule.
7. Clip 'N Climb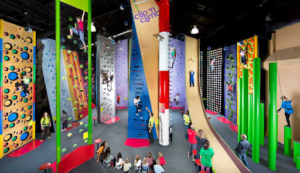 Clip 'N Climb is an indoor Climbing themed park with 19 colorful challenges and varying difficulties suitable for all climbers. The gym climbing theme park consists of walls in the likes of Tetris blocks and Jenga stacks. Clip 'N Climb is a famous go-to place for adults and seasoned climbers. Amateur climbers should not be intimidated since Clip 'N Climb gym takes a thorough safety briefing and basic rock climbing and bouldering training. The gym facility was voted the best climbing theme park in 2018 under Family-friendly products and services.
Remember to carry your covered shoes from home since Clip 'N Climb gym does not rent our rock-climbing shoes to its climbers. The unique thing about Clip 'N Climb gym is that there is only an automated Belay system that ensures the safety of all customers. Therefore, climbers are often lowered to the ground with a machine instead of a belayer, thus saving time and lots of hassles.
All seasoned climbers can explore the three varying difficulty levels for climbing walls represented by the number of carabiners, which are a bit tougher to scale. Clip 'N Climb staff gives a safety briefing and encourages all to start with a warm-up at the colorful circular wall.
Are you looking for an enjoyable way to keep fit? Head down to Clip 'N Climb for the best rock climbing and bouldering gym experience in Singapore and have fun.
8. Onsight Climbing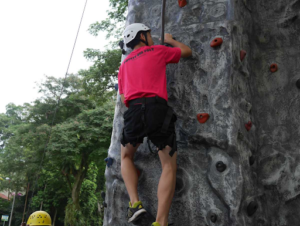 Onsight Climbing is one of the biggest indoor gyms in Singapore. The gym covers a space of 10,000sqft, boasting 2000sqft bouldering surfaces, 43 lanes with over 100 routes, and a 15m speed climbing wall. You can enjoy rock climbing and bouldering courses, coaching, and training services at the Onsight climbing gym. Additionally, you can purchase sports climbing equipment and apparel at Onsight.
The gym facility has a training academy for kids called Onsight Climbing Academy that teaches them rock climbing techniques and proficiency. The staff at Onsight climbing is friendly and promptly guides all its clients to enable them to enjoy activities at the gym.
9. Boulder World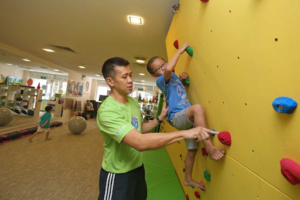 Boulder world is one of the largest bouldering gyms in Singapore, spread across 7000sqft. The gym specializes in bouldering, free wall climbing without a harness or rope as a full-body workout. Boulder World ensures its climbers are safe by placing a mattress at the bottom in the event of a fall to cushion the impact.
You can explore more than 100 boulder problems of different challenges ranging from beginner to advanced. Boulder World provides an ideal gym to make friendly climbs and have fun while working your muscles. Boulder World gym consists of a fully functional fitness room, training boards, and showers where you can freshen up after every workout.
The facility hosts corporate events on behalf of organizations and educates you on fitness and wellness programs. The best bit is Boulder Movement provides bouldering programs for your little guys to ensure they enjoy the thrill of rocks. Therefore, head down to Boulder movement to get your adrenaline fixed and tone up your muscles.
10. Upside Boulders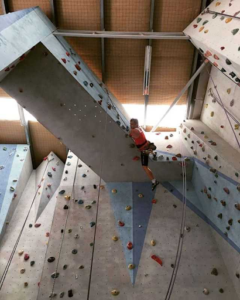 Upside Boulders provide you with an adventurous activity session where you can enjoy rock climbing and bouldering. Although the gym is safe and comfortable for climbers of all skills and levels, it caters to first-timers. The facility has instructors at hand that will guide you through the basics of bouldering. Do not hold back if you are a beginner.
You will enjoy a memorable rock climbing and bouldering gym experience in Singapore at Upside Boulders by exploring their 6 different walls of routes available for all ages and levels. The routes at the gym are simple, and their instructors are friendly and patiently ready to help out all their clients enjoy the bouldering experience.
After a long day of hard work at the gym, you can rest and enjoy reading a book, playing board games, and Tv while revitalizing on comfortable bean bags at the gym. The prices at Upside Boulders are pocket-friendly, and the gym closes late, allowing you to climb all night long.