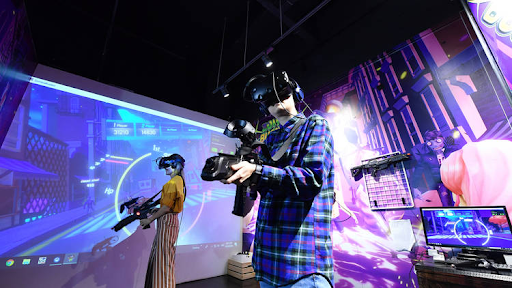 Work stress can take a toll on us, and all we need is to escape from reality into the virtual world. Virtual reality (VR) and augmented (AR) games provide us with a window into the alternate world. These games amuse young ones and adults in Singapore.
They are one of the ways to relieve stress in Singapore, helping you clear your head on the weekend or after a day of hard work. Buckle up and protect the planet against aliens' invasion, or be the greatest time-traveler of our era. You have endless options with VR and AR games.
What are VR and AR games?
Technology continues to revolutionize how humans relate to their environment and conduct business. We have seen advancement in the transportation sector with the invention of electric cars, trains, and bikes. However, tech is not restricted to the serious stuff; the gaming and entertainment world is also basking in its fame.
Augmented reality combines game visuals and audio content taking into account the player's real-time environment to create an artificial environment. AR is a tool for creating a playing zone in the established artificial environment.
On the other hand, virtual reality is a technology used in the gaming industry to create a simulated environment. It allows the user to enjoy the best of the artificial world.
Instead of watching the actors on the screen, VR enables users to interact and engage with the 3D worlds. All your senses, including touch, vision, hearing, and smell, are stimulated.
Virtual reality and augmented reality do not task your brain with looking for clues or solving a puzzle. Do you want to blow up some steam by shooting zombies on the battlefield? These games allow you to let your imagination run wild.
You can also come with your teammate and play a game of fire dodgeball.
These games were only open to the privileged and the rich in society. However, they have been accessible and affordable for everyone who wants to experience it.
If you are looking for the best AR and VR arcades to take you into the auto space and back, worry no more. Shariot, your best car-sharing, and rental services partner, has combed through Singapore to give a treat. Read on to find out more.
HeadRock VR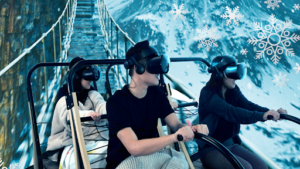 Sentosa is known for awesome beaches and kids' playgrounds, but it is not content with these facilities. It is also home to one of the best VR theme parks, providing residents with exciting indoor adventures.
HeadRock VR has invested in cutting-edge technology, featuring 11 rides where players raft through seas with strong currents, brave a stormy blizzard, and fire at evil bots.
It is not just imagination and visuals; you will also move at the park. Prepare to get wet as you are splashed with water and ice-cold wind blowing on your face so that your experience is complete.
Some of the exciting VR games at HeadRock VR include the Skyscrapers, suitable for those afraid of heights. The game enables you to battle with your robotic enemies at the high altitude of a skyscraper.
Music lovers will enjoy Beat Saber, allowing them to slash the beat with the music rhythm. You and your kids can play the Zombie Busters as you struggle to save the planet earth from an impending apocalypse.
If you love Kayaking, enjoy Jungle Rafting as you try to evade an attack from T-rex. The Extreme Train is another exciting VR game from HeadRock, allowing you to seek hidden treasure on an island in the skies. Children are also not left out. HeadRock VR presents exciting games to your children to improve their creativity.
Zero Latency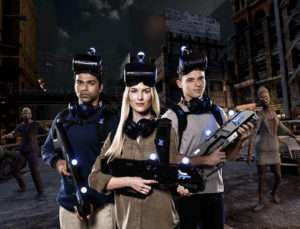 Zero Latency Singapore is considered the mother of all stages where the real virtual reality games go down. It is probably the largest VR gaming arcade in Singapore, providing a world-class gaming experience.
When you enter Zero Latency, you will realize that the gaming levels are above the normal Daytona gaming machines. Melbourne's Zero Latency gives virtual gaming a new definition by adding elevated virtual reality.
You will enjoy stimulating and nerve-wracking storylines that will get your heart racing in no time. Your adrenaline will be higher than ever as you tackle zombies in fields only depicted in horror movies.
Zero Latency prides itself on state-of-the-art equipment. This equipment is custom-made with players in mind, resulting in maximum immersion. The Razer headset surrounds the sound, enabling players to communicate effectively.
Some Zero Latency games include Undead Arena, rated 18+, meaning only mature persons aged 18 and above are allowed to play. The game takes slaying zombies with your friends to new heights. You are given an adrenaline stimulating experience as you fight for life to survive the zombie-initiated apocalypse.
Other games you can play at Zero Latency include:
Sol raiders
Zombie survival
Find the cure Outbreak origin
Infinite possibilities Singularity
Impossible worlds Engineerium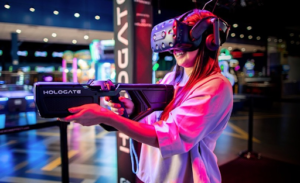 Are you afraid of chanting your way through a different realm alone? Worry no more, Virtual room arcade offers a team-based adventure that can accommodate between 2 to 22 individuals. Bring your buddies along to enjoy the ultimate gaming experience.
You can book shariot, share the cost, and travel to this gaming zone, ready for an adventure. Each player in the team is given their own room with puzzles and challenges to solve together. You are allowed to consult your teammates on the best way to overcome the challenge.
Virtual room prides itself in its 3D cinematics combined with an escape room concept to give players a mind-blowing and immersed experience.
You can play one of their three popular games: Time Travel chapter I and II and "Are We Dead?" You can drop by the area for a free demo to determine whether virtual reality is your thing.
Virtual room team play is a good play for families. It offers you the opportunity to bond as you corporate to conquer the mission and save the world. However, the game has a twist, with players not knowing they are in a team-building exercise.
If you have a corporate or team-building event, your team will have exclusive access to the arena. Furthermore, Virtual room can also organize catering services for your team if you request.
Hado Singapore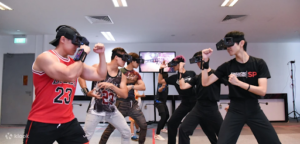 Are you looking for a place to get active and have fun? Hado Singapore allows you to move your body, lose weight and have fun. This augmented reality show involves throwing fireballs and dragons in the real world.
This esport employs motion sensors and AR tech, meaning you can play without being tethered to a gaming system, cables, or controllers. The motions that look like a smartphone are worn on the wrist, while the AR device is fixed on the head for a thrilling digital experience.
Players have free movements in the real environment as they interact with the digital items activated by the AR headset. The game requires swift movements and great agility to evade enemy attacks. You will be competing against zombies, and the set of 80 seconds sets the clock.
Hado Singapore requires a combination of strategy and physical skills. As you play, you will constantly move by bending, diving, and squatting to dodge the energy ball thrown at you by your opponents.
Whether old, young, or physically challenged, Hado Singapore presents you with an AR game to keep you active and have fun. The starter pack for newbies and group activities is affordable, meaning your family and friends can join forces to play with each other.
V-Room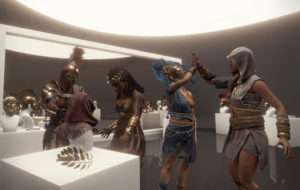 When you hear cheap thrills, you know you will part with huge money, but V-Room provides you with cheap thrills at an affordable rate of $12 an hour. You can choose over 30 options of single or multiplayer games.
Are you in love with music and looking for a virtual reality arena to showcase your styles? V-Room is the place to be. Here, you can challenge yourself with the Beat Saber game, allowing you to slash obstacles as the beat plays.
If you come with a team and want to play together, you can test your corporation with Sam and Dan: Floaty Flatmates as you solve puzzles. Thrill-seekers can get their hearts racing by playing a multiplayer game that involves horrific monsters, lots of shooting, and fun at Arizona Sunshine.
If you plan on team building, you can book the multiplayer games and become the hero you have always dreamed of. Newcomers are required to sign up for a lifetime membership for as little as $5. You will be rewarded with a tutorial on using the VR system.
Note: underage below 17 years are not welcomed into this adult game unless they accompany a parent or guardian above 21 years. Come to V-Room only when you want to pay for the experience. They do not allow looters who come to watch the game.
Sandbox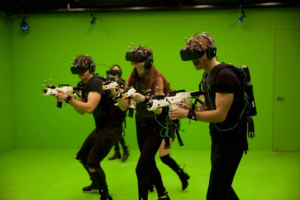 Sandbox takes the VR game to a new level moving players from being immersed in the play to being in the experience. This international VR arcade is inspired by a la Holodeck from Star Trek. The game makes players feel like they live in the movie or game because they transform into real players.
The experience has been endorsed by various celebrities like Kevin Durant, Justin Timberlake, Will Smith, and Katy Perry. Sandbox designers employed cutting-edge technology to incorporate movie qualities, seamless actions, real-time motion, and captivating storylines, making players feel like participants in a sci-fi movie.
The full-body motion capture technology allows players to jump, run, and celebrate with teammates as they trek through space or destroy zombies coming their way.
The arena can accommodate 6 players playing as a team against impeding zombies. With 3D precision body trackers, Hollywood motion capture cameras, haptic suits, and custom hardware, you transform in ways not possible anywhere.
Some of Sandbox's exciting games include Curse of Davy Jones- suitable for kids and adults who wants to fight spooky supernatural creatures on the high seas to escape the curse.
Amber sky 2088 is another interesting multiplayer that teams you with your friends to defend the earth against alien attacks. Star trek discovery takes you deep into the alien world to find the lost starlet ship with your friends.
Conclusions
The gaming industry continues to bask in technological advancement, providing gamers with exciting experiences. At Shariot, we unearth the best places in Singapore to make your weekend awesome. It doesn't matter which side of Singapore you want to access; our cars are available 24/7.