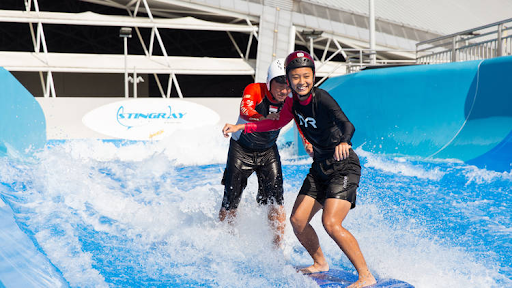 The relentless scorching sun in Singapore can leave you longing for cool water places to give your body a break. Singapore has numerous pools, beaches, and waterparks to help you get wet and wild. However, if you long for more exciting activities than splashing around at water parks and beaches, you can go for a water sport to beat the heat.
Singapore provides ideal opportunities for beginners and experts to enjoy basic water sports, including kayaking and sailing. There are also windsurfing and wakeboarding for those craving speeds. These water sports will keep you on your toes, allowing you to enjoy the cool breeze and warm sunshine.
Shariot presents you with ideal places to pursue water sports during this hot season in Singapore, thus allowing you to have fun with family and friends. Get ready to burn some calories and give your skin a healthy treat. Here are some to go to places for water sports in Singapore.
1. Water Sport Center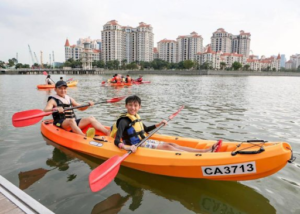 The water sports centre is located at Kallang's massive dome (Singapore Sports Hub). Water Sports Center is a perfect place for people of all ages. You can also come with your children, allowing them to dip their toes in the water or enjoy a ride on a paddleboat.
These little ones will forever remember the fun time here as they learn unique water sports. If you are an experienced canoer, you can enhance your endurance by participating in the 500-meter-long canoeing course.
The Water Sports Center mall also has beautiful wave-like contours and a vertical playground to raise your heart rate before heading for the water. Furthermore, the stadium features several training and competition pools open to the public. You can enjoy dragon boating and kayaking for the ultimate experience.
Suppose you feel like reenergizing with some excellent meals after having fun on the water. In that case, the stadium has a wide range of food options, including restaurants like Burger King and Popeyes, Curry Times, Astons, Poulet, and Manhattan Fish Market.
2. Splash N Surf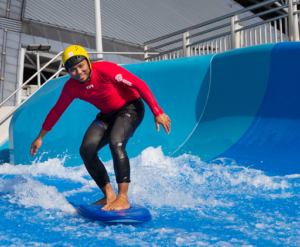 It is located on the roof of Kallang Wave Mall, offering adventure and a variety of water sports such as Kids Water Playground, Lazy River, and Stingray. These facilities make it easy for beginners to bodyboard and skimboard through the artificial wave pool. The instructors will guide you through practice movements before you can plunge into the water.
The water playground is the best kid-friendly escape adventure on the mall's third floor. It is characterized by vibrant, colourful slides that are easily visible from afar. It is open-aired, providing an oasis for your kids to cool off. The Water Play Area and Kids Pool are divided into two sections.
This winding river characterized by the gentle current with low water pressure is designed to allow visitors to ride leisurely along while admiring the dramatic skyline against the Singapore Sports Hub. It has ample width to allow enough room for floats to drift along comfortably and a depth of 1m to ensure children's safety. The lazy river is an attraction you don't want to miss!
The Stingray waves test your balancing skills and offer a fantastic bodyboarding experience, and you can also learn half-pipe surf. Rash guards and a helmet are provided, and a participant must be at least 1.2m tall.
3. NSRCC Sea Sports Centre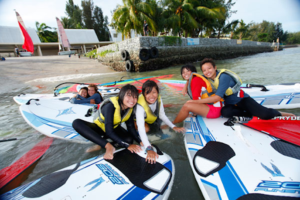 Are you unable to choose between surfing and sailing? Windsurfing at NSRCC Sea Sports Centre allows you to enjoy a mixture of both sports. Beginners are welcome to try it out, and those interested in mastering windsurfing can undertake the Basic Windsurfing Course at $300 for four lessons, each 3-hour long. The course entails learning how to steer, sail & manoeuvre the wind.
You will also learn loops, freestyle jumps and spins as you surf through Changi's waters with constantly blowing wind at the NSRCC Sea Sports Center. Your kids may discover a new passion and register at the sea sports and sailing school or sign up for Singapore Open Windsurfing Championship.
NSRCC provides members with an ideal opportunity to enjoy the sea, sun, and surf through various competitions and programs. The place is also endowed with beautiful boardwalk seating, allowing you to catch a breathtaking sunset as it peeps through the gorgeous skyline of the harbour and city. Imagine dining at this seating area with the love of your life and feeling the magical rays from the sun warm your skin!
Furthermore, you can utilize their rental and storage facilities for sailboats, including Laser, Laser Bahia, Laser Pico, and various windsurfing equipment. Book your Shariot and head down there for a good time.
4. Singapore Wake Park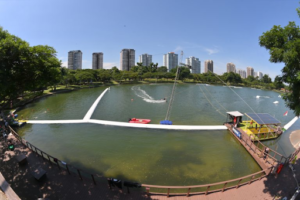 This park is built in a lagoon at East Coast Park and is home to a cable-ski park. It is suitable for rookies and experts seeking an adrenaline fix through wakeboarding. It has three cable systems for beginners and children, intermediate and full-sized. The first two are operator-controlled to allow users to learn and master balancing on the board at their own pace. Safety equipment is provided, including helmets, wakeboards, vests, and kneeboards. Beginners desiring guides can top up payment for lessons on the basics of wakeboarding. If you are a frequent participant, you can take advantage of the 'Share the Fun Pass,' enabling you to share this experience with family and friends.
Singapore Wake Park guarantees all fun levels and challenges, featuring three cable systems. The full-size single cable system is designed for experienced riders, whereas the two straight-line cable system is for armatures and intermediate riders.
For post-workout fuelling, you can enjoy tantalizing local and western food such as battered Otah and chicken tikka pizza at the Coastal Rhythm café. If you want an exciting full day of fun with friends or bonding time with your family, look to Singapore Wake Park, and this high-energy playground will leave you and your family kids satisfied.
5. Ola Beach Club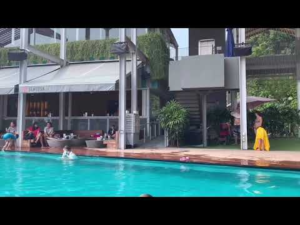 Ola Beach Club is home to water sports like paddleboarding, single and double kayaking, doughnut ride, and banana boat. This is what to expect from the various sports;
Paddleboarding – this workout buster gives you a water adventure that keeps you fit by paddling standing up while enjoying the waves of the sea and gentle breeze.
Kayaking – allows you to row down Siloso beach in the single and double kayaks and enjoy scenic views of Southern Singapore. Life jackets and paddles are provided, along with guided tours.
Banana Boat – the 10-passenger inflated banana boat allows you to cruise through Siloso's waters and soak up the breeze and energy from the sun. Life jackets are provided with the doughnut ride; no experience is required.
Doughnut Ride allows you to experience wave action as you are pulled by a speedboat while sitting on a fast-moving doughnut. Life Jackets are provided, and no experience is required.
Its most exciting sport is jetpacking, whereby an individual is propelled 30 feet into the air using controlled water pressure. It is like experiencing parasailing, scuba diving, and jet skiing all at the same time. It provides a unique and fun alternative to old surfing or paddleboarding.
Ola Beach Club lets you relish gravity defiance as you express your superhero side. Don't worry if you have not done this before; the instructors will be on standby to guide you all the way.
6. Marina Bay Sailing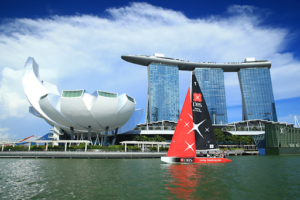 This program is facilitated by the Singapore Sailing Federation and DBS to bring sailing closer to the people and the city. Doing so unlocks urban spaces in fun and innovative ways. The sailing brings about vibrancy into the water spaces. The hassle-free fun sailing is done in two simple ways:
Everything is set, and all you do is hop on the boat and set off. Once you are done, you step off!
Plugs one in the sails and sets off.
There are two types of keelboats, the SB20 – 20-footer and SM40 – 40-footer.
7. Paddle Lodge
Do you long for a new water activity to experience with your family? Do you love water play but want to experiment with an activity besides dipping in the pool? MacRitchie Reservoir, operated by the Singapore Canoe Federation, offers everyone, including children, an opportunity to get experience in kayaking. The reservoir has calm waters that make it favourable for young children to experience unintimidating paddling. Beginners can use the sit-on-top kayaks designed with holes at the bottom to allow water to come in and drain out. This means a participant is advised to bring a change of clothes for later.
The area is divided into the novice paddling area marked by the yellow buoys and the competition lanes, in the centre of the reservoir where experienced paddlers can opt to participate in sprint kayaks and close-deck. The novice paddling area allows you to survey the landscape and explore the shoreline of MacRitchie Reservoir Park. You can also spot the Caldecott Hill, bandstand, and the hill where Lim Bo Seng is buried.
Paddlers must carry their canoes from the storage room to the water and vice versa.
8. Queenstown Water Polo Club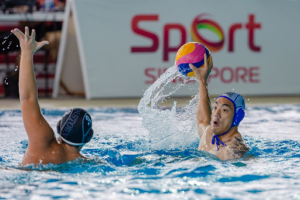 Water polo is an exciting aquatic sport that is not too extreme. It is suitable for beginners. It makes for a fantastic cardio workout by combining soccer, basketball, and hockey with swimming and wrestling. This works great in building teach strategy and endurance. Training sessions are offered through beginner, intermediate and elite programs.
9. Epic Ocean / Le Tara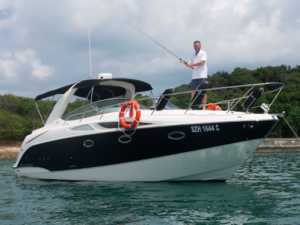 Are you looking for an inexpensive yet luxurious option? Epic Ocean and Le Tara offer you an opportunity to hire a private yacht or elegant sailboat for a photo shoot, filming, or any corporate-related event. The option is also available for those hosting a gathering of friends and family. The yacht's price is per 5 guests, but you can upgrade your yacht sailing package and have 22 guests. Customer service is a priority to ensure your cruise—the yacht cruises through Marina to Lazarus island and back to Marina.
10. Lazarus Island
This is a peaceful, beautiful island to the south of Singapore. It is ideal for family and friends getaways. Below are the activities to enjoy at Lazarus Island;
Fishing – the island is home to reef fishes. Visitors enjoy the beautiful marine view with reef fishes swimming in the clear sea during low tides. You can learn the theory and practical skills of fishing with My Fishing Frenzy Academy if you learn about fishing.
Swimming – you can cool off from the heat by jumping into the cool seawater or lounging on floats.
Water Sports – engage in stand-up paddling, kayaking, and water mats for a fun-filled, exciting splashing good time!
Add a thrill to the adventure by engaging in towable toys like flying fish and banana tubes. Enjoy the adrenaline-pumping experience as you glide full throttle across the water.
11. Wild Wet Water Park in Pasir Ris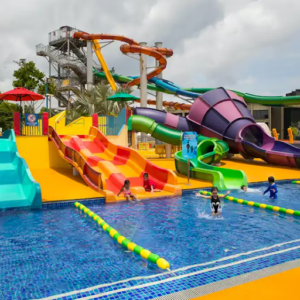 The waters of Pasir Ris offer the best water biking activity for cycling lovers. It is easy to paddle and steer. The water bike can reach speeds of up to 15 km/h, letting you glide effortlessly over the waters. One can rent the water bike between 1 – 3 hours for more exploration. It is safe and open for all seasons.
12. Sentosa Palawan Beach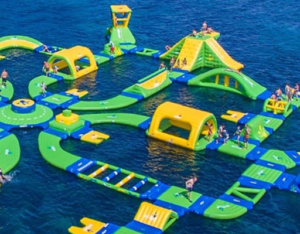 This beach offers the thrill of a lifetime with its unique floating aqua park. It provides four zones of thrill-seeking floating obstacles suitable for all ages. A participant can slide, climb and leap, and provide a safety briefing and buoyancy aid.
13. Pulau Hantu Island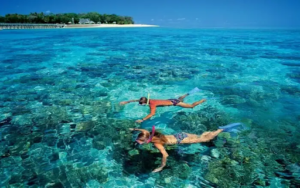 This island in Singapore provides a beautiful escape from the crowd and the city. Below are things to do in Pulau Hantu Island;
Scuba Diving – The island provides an attractive diving location. It is characterized by beautiful rising corals, clownfishes, and turtles.
Snorkelling – adventure junkies can dive deep in the waters and experience snorkelling with whale sharks and sea turtles. Clear visibility allows one to spot different species of fish and sea animals.
The location is perfect for avid underwater photographers—experienced local water divemasters guide diving.
14. Aloha Sea Sports Center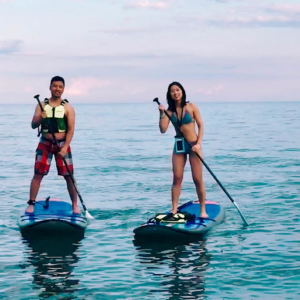 Experience windsurfing, stand-up paddling, wind foiling, and laser sailing at this amazing facility. It also provides storage, equipment rental, and courses for those interested in getting their adrenaline going on the sea and chasing the wind.
Conclusion
The next time you are in Singapore, instead of engaging in the usual activities of catching a movie or hopping in a cafe, rally your family and friends and try out a new water sport together. As we have seen, most of these sports are beginner and pocket friendly and will leave you with the ultimate experience in water sports as you combat the scorching sun!