When you think about Singapore, you may not mind the rural idyll. Current Singapore is famous for its state-of-the-art urban sprawl and soaring skyscrapers, and even the old Singapore was synonymous with the colourful shophouses.
Did you know that before brick and mortar dominated the construction industry and technology took over, Singapore was full of villages? Villages are called "kampung" in Malay. The kampung was a traditional house with thatched roofs made using Attap leaves.
The walls were constructed using overlapping hardwood planks. However, some roofs were made with zinc and iron sheets- you will likely see these types of roofs in Singapore's last standing villages.
Older people- grandparents or parents- will narrate to you how kampung life was bearable and straightforward before the cost of living on the island skyrocketed. You will probably listen to good old days stories where the elderly would sit in their verandas, visitors would come unannounced, and the whole village would rally behind you when you needed help.
The culture of camaraderie, generosity, and trust defined the kampung spirit. This spirit is still seen in the kampung, where villagers are close-knit, not what we see in HBD flats in the city. The increase of skyscrapers has led to the demise of many kampungs as they are bulldozed to pave the way for modern buildings. The future of the remaining kampungs is uncertain. With the government's ambitious plan to fully modernize Singapore, these heritage pieces could only be a memory.
At Shariot, we shed light on the last standing kampungs, and some renowned villages bulldozed but not forgotten. You can book your Shariot now and drive to these famous places for a taste of kampung life.
1. Kampong Lorong Buangkok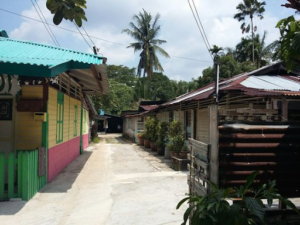 Though this piece of land has evaded redevelopment, its future hangs in the balance. You can take the opportunity to visit this village in the afternoon and experience Singapore life before HBD flats take over the island.
Before Kampong Lorong Buangkok became a kampung, the place was swampy. However, a traditional medicine seller (Sng Teow Koon) purchased it in 1956. Teow then rented small plots of land to the Chinese and Malay families to build houses in the region.
Kampong Lorong Buangkok has less than 30 families, including Teow Koon's daughter. Like old times, the community is tight-knit, meaning neighbours know each other very well. The kampung's spirit is seen in the way residents leave their doors open as a sign of trust and generosity. They love visitors, so feel free to explore their streets- be sure not to peer into their humble homes without permission.
Let's Go Tour Singapore's kampong Experience offer Singaporean the opportunity to visit the kampung houses and talk with the residents. With $200, you can book your space and enjoy this experience. The tour guide will walk you through the kampung, and you are unlikely to find modern laxities like wi-fi in this area.
Nevertheless, you will have fun playing old-school games such as beating the heat with handmade ice lollies and making zero-point rope with a rubber band. Alternatively, you can book your Shariot and drive yourself down here for self-exploration. Kampong Lorong Buangkok is a standing gem highlighting Singapore's beautiful simple life that can teach you and your family valuable life lessons; therefore, it is worth your time.
2. Pulau Ubin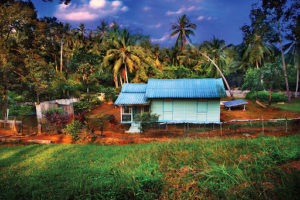 Apart from Kampong Lorong Buangkok, Pulau Ubin is another enduring kampung found offshore. This kampung has overcome odds since the 1960s, attracting foreign and local tourists. If you are looking for an off-the-beaten-track experience, Pulau Ubin is ideal. The region has many delightful old sites, including century-old wooden houses, rich flora and fauna, and winding woodland paths.
The village has approximately 38 residents, but its existence is also threatened by redevelopment. Pulau Ubin's history goes back to the 1800s when the earliest inhabitants: the indigenous Malays of Javanese and Bugis origin and Orang Laut, discovered it.
Pulau Ubin is the only place on the island you can experience a rustic way of life different from the city glamour. There is no running water or electricity in some of these houses, and water is collected from wells for domestic use. The residents survive on fishing and traditional farming, making life here challenging but exciting.
Do you want to peer on a typical Chinese kampung house and see what the inside looks like? Take the chance and visit kampungs in Pulau Ubin. Initially, a local shop owner owned it, but now it is conserved as a display space, showcasing old household items like cupboards, chairs, and cooking utensils. As you go for NPark's Kampong Tour, you will have the opportunity to learn from the old Singapore life.
Bulldozed but not forgotten
Some of the kampungs have been redeveloped and on their places now stand skyscrapers. However, history has not forgotten them, and these villages' memory is still edged in our minds. Let's look at some of them and establish how life was in these villages.
3. Kampung Khatib Bongsu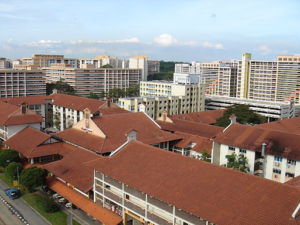 This village was probably established in 1889 in the forested area in Yishun. It hosted over 28 single-story zinc-roof buildings on land the size of three football fields. It was initially owned by the Sng family who lived in the village, collecting small tokens from the inhabitants as rental fees.
Khatib Bongsu had various papaya, tapioca, yam, and guava plants, meaning agriculture was a core economic activity. It was common to meet several animals like squirrels and lizards across the dirt roads, or witness guppies swim in Sungei Punggol. It was a perfect spot for nature lovers and birdwatchers.
However, by 2007, the bulldozed raided the village, demolishing the shanties for modern flats. The old village was gone with its spirit of camaraderie as the city expanded its stylish look. The Singapore Armed Forces (SAF) uses part of the region as a military training ground, while the remaining part forms part of the new nature park by 2024.
The good news is that the scenic stretch of Khatib Bongsu is still dominated by mangrove forests, enabling birdwatchers, cyclists, and joggers to enjoy the fresh air and beautiful scenes.
4. Geylang Serai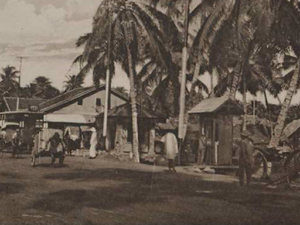 We can trace Geylang Serai's roots to the 1890s when the British colonials forced the Orang Laut and Malays to relocate further inland from their initial settlements at the banks of the Singapore River. They were forced to resettle at the mouth of Geylang and Kallang Rivers.
Residents of Geylang built their houses using stilts by the river basin, forming residential enclaves. During the Japanese occupation, the region was full of rubber and coconut plantations, later replaced by tapioca. Since it had many Malayans, it was known as the Malay Emporium of Singapore.
By the 1960s, the number of kampungs drastically reduced as modern development like HBD flats, cinema halls, and shopping malls gained ground. Until the 1980s, the Geylang Serai's old shanties paved the way for the modern residential district.
If you want to glimpse the former Geylang Serai, take a look at the architecture of Wisma Geylang Serai and Geylang Serai Market. These structures' designs and double-pitched roofs drew from serai Ketupat, plant, and Serambi on stilts.
5. Nee Soon Village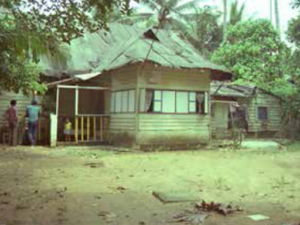 Nee Soon Village was situated at the current Sembawang Road and Thomson Road intersection. It was one of the oldest Chinese villages with a community centre, post office, and a public market.
The village's name originates from the Chinese merchant- Mr. Lim Nee Soon. He was a prominent industrialist and community leader who made his wealth by trading pineapple and rubber.
Mr. Lim bought land along the Seletar River to build his rubber plantations. They developed the area into an extended settlement housing Chinese immigrants that settled in Singapore as rubber plantation workers. These immigrants built houses, thus forming the Nee Soon Village and paying a token or rental fee to Mr. Lim Nee Soon.
In 1979, the famous Nee Soon Market was engulfed by fire, turning it into ash. The remaining part of the village was demolished in the 1980s and redeveloped into Yishun New Town. Part of the Nee Soon Village was Joined with the Springleaf Nature, hosting numerous biodiversity and providing residents with excellent scenic strolls.
6. Changi Village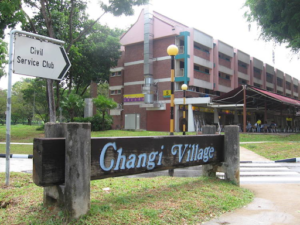 Changi village was a peaceful place during the pre-war years. However, between the 1890s and 1920s, the British army swept in, transforming the village into an economic zone. The military men, their families, and cheap local hunters gathered here for cheap goods. To gain access to the market, they built Attap houses until the 1960s.
When the British army withdrew from Singapore in the 1970s, the thriving market was badly hit economically. The government did not see the need to maintain the status quo, resulting in plans to reinvent Changi Village.
They used the land around this village to construct the world's best airport- Changi Airport. The kampung houses were substituted by modern hawkers' centre, a bus terminal, and low-rise HBD flats. The Changi airport and its surroundings continue to attract many tourists, reminding us of its old good days and glamourous present. Check out our guide on what to do at Jewel Changi Airport
7. Kampong Gelam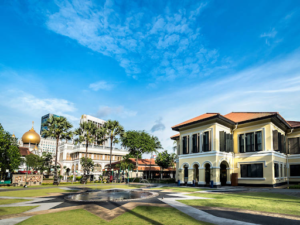 This village was located near the Rochor River, thus providing inhabitants with ideal fishing opportunities. Husain Mohammed Shah, a Malay sultan, had reigned Kampong Gelam since his entourage and family accounted for over 600 inhabitants.
The current Malay Heritage centre was Mohammed's place surrounded by tiny kampung houses. The Arabs and Malays lived in these kampungs, providing power and support to the king. They were known business persons, trading on various items, including jewellery.
Today Kampung Gelam is a neighbourhood with a mix of trendy lifestyles and old traditions. The "gelam"- a paperbark tree from which it owes its name from food seasoning, boat-making, and medicine. As you walk through the region, you will be awed by the majestic sultan mosque, built by Sultan Hussein in 1824.
Since its modernization, Kampung Gelam has been a thriving pot of many cultures from all over the globe. In this former kampung, you can see eye-popping street art, substantial cultural buildings, myriads of bars and restaurants, and trendy shops. Read more from our ultimate guide to Singapore's coolest neighborhood.
9. Pulau Tekong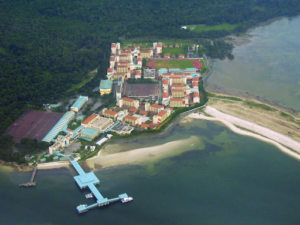 Pulau Tekong is Singapore's second-largest outlying island located on the northeastern coast of Pulau Ubin. In the past, the island was known as a trading station. Many civilians (over 5,000 inhabitants) had built their kampungs here to have a taste of the flourishing economic activities.
Today, the region is a military training base out of bounds for civilians. By 1987, the government relocated the last citizens living in the area, making it available for Basic Military Training. Additionally, it is home to several rarely seen wild animals, including Sunda low loris, leopard cat, and Sunda Pangolin.
10. Pulau Seking Village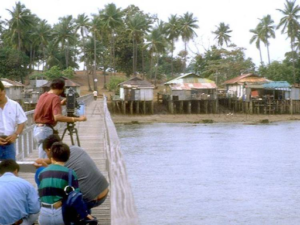 This kampung hosted the last southern Singapore kampong community. It had 44 kampung houses but no roads and cars. It is located 7 km away from the mainland, measuring approximately ten football fields. Pulau Seking was only accessible via sampan-taxi from Pulau Bukom.
The residents here regarded themselves as Orang Selat since the community inhabited the region even before the colonial times. In 1994, the Singaporean government acquired the land to establish a landfill, and the islanders were relocated to Telok Blangah and Bukit Merah. The government performed a land reclamation in the area to pave the way for the Semakau landfill station. Though this village is gone, its memory is preserved in Singapore's history books for all to read.
Final Thought
Singapore has experienced exponential urbanization in the past four decades, leading to the demolition of several villages. Singaporeans' lives have drastically changed as people embrace high-rise public flats instead of the kampungs. Gone are the days when people lived in rundown wooden Attap houses with constant worry about hygiene, water, gas, and electricity.
However, Singapore also lost the kampung spirit as people tend to close themselves in their condors and apartments nowadays. Neighbourly interactions have become rare. Modern children are not exposed to nature unless they visit parks and trails. Indeed, modernization is a double-edged sword!