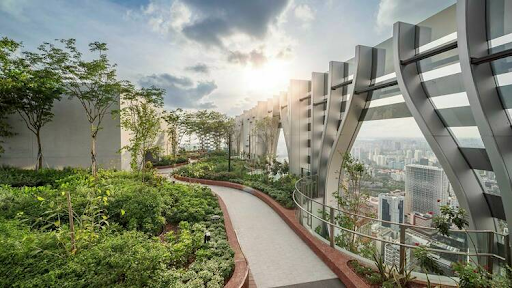 Most city dwellers in Singapore are constantly busy and rarely get the time to visit and explore nature parks. Although some stimulate nature in their living areas, they rarely succeed since there is limited space in the city. The good thing is you can explore some of the iconic rooftop gardens within Singapore and experience their stunning beauty.
The rooftop gardens provide you with several benefits, including ample green space, filtering air pollution, supporting diversity, reducing stormwater run-off, and alleviating overflow. You will enjoy an out-of-this-world experience dining and lounging in these outdoor lush green rooftop gardens. If you wonder where you can take a breather from the hectic city life, Shariot takes you through a journey to discover some gems in the best rooftop gardens in Singapore.
1. CapitaSpring Singapore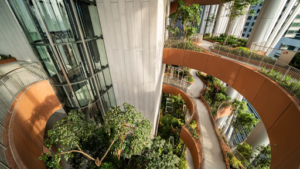 CapitaSpring is a 51-story rooftop garden located at Raffles Place, the tallest building in the area. The open-air terrace provides you with stunning views of Marina bay and 360 views of Singapore. CapitaSpring is a habitat to the highest urban farm where edible plants are grown, including spinach, turmeric, and radish. The green oasis provides Singaporeans with social activities spaces in the middle of the city where you can work, live and play while exploring mother nature.
Interestingly, CapitaSpring is geared towards healthy living and supports the government's vision of a car-lite society by creating a cycling path that holds 165 bicycles within the facility. Ensure to explore the sprawling green oasis at the CapitaSpring with an open area that houses 38 000 plants of more than 70 species. The garden is bestowed with twisting aerial pathways where you can stroll through without experiencing the scorching heat of the sun. Therefore, hop over to the CapitaSpring for fresh air and breathtaking views where your little guys can have a blast in the mini playground within the garden.
2. Edible City Garden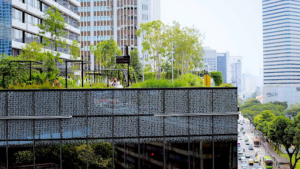 Edible City Garden is an urban farm with a retail jungle that provides locals with diverse space to take a breather and explore mother nature. The urban farm is located on the seventh story of Funan and covers an area of 18 000sq ft. The garden's primary focus is bringing social change through agriculture to ensure those city dwellers become self-sufficient in growing their food in rooftops and backyards.
The rooftop garden is home to over 50 different fruits and vegetables, including okra, edible flowers, basil, mint, watermelon, mushrooms, passionfruit, and lemongrass. Edible City Garden is a unique urban farm in Singapore since it is open to the public. You can learn about indigenous vegetables and fruits how they are produced and harvested.
The garden sits alongside a Japanese restaurant called Noka. Interestingly, Noka is a Japanese word for the farmhouse. The restaurant uses the local ingredient from Funan garden to make fantastic Japanese cuisines. Produce such as microgreens, oyster mushrooms, butterfly pea flowers, and basil are harvested from the rooftop farm and used in the restaurant to enhance tastes.
The produce from this rooftop farm is sold to the public at the mall. Urban farming in Singapore aims to relieve pressure linked to land scarcity and over-dependence on imported food, and the Funan mall garden shed light on Singapore's future urban farming.
Additionally, spiring gardeners can benefit from the various workshops at Edible City Garden, which will provide you with skills and practical tips on growing edible varieties that can grow well in Singapore. Remember to go dressed for outdoor activity and be ready to get your hands dirty with soil and plants to reap maximum benefits from the workshop.
3. Design Orchard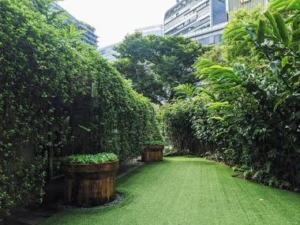 Design Orchard is a three-story building located in the heart of Orchard Road with an urban amphitheatre that provides higher visibility to and from the ground level. The second story of the building is beautifully decorated with lush greenery gardens accessible to the public. Since the rooftop garden is found in the core of Singapore town, you can take a breather and unwind from a long bustling day. The Orchard has spacious seating space with several umbrellas to shield you from the blasting sun.
The civic space at the rooftop garden occasionally hosts events, including outdoor fashion shows, performances, ice cream kiosks, and concerts. You can enjoy rooftop parties with free ice cream and a live band at the Orchard. The rooftop amphitheatre is a popular spot for designers who showcase and market their products during fashion and design events. If you are looking for a souvenir like key rings, notebooks, local tea, and chocolates, head down to Design Orchard, and you will be spoilt for choice. The rooftop garden provides you with a calm and inviting space with dazzling lights streaming through the lush greenery during the evenings.
4. Orchard Central Garden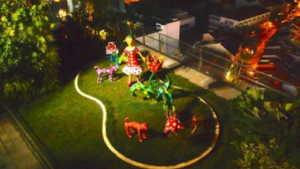 Orchard Central's rooftop has an unsuspecting garden staring at the city. The garden offers visitors a panoramic view of the island and soothing waterfall sounds in the background. After an exhausting workday, you can seek respite at this place alone to help clear your head.
Shopper and foodies of the yummy halal food by the orchard road can also rest their feet at this rooftop garden as they sip coffee, dine alfresco or take afternoon tea. The Orchard Central rooftop garden is planted on the 11th and 12th floors of Orchard Central.
The garden was designed by Japanese interior designer Takashi Sugimoto from Super Potato Design. On the 11th floor, you will find three living walls and a balcony rail, while the 12th floor features two lower green walls on the floor of the roof terrace. The designers planted living walls that create and complement an alfresco dining atmosphere. The walls serve as a coolant to the adjacent areas.
How did the engineers design this beautiful garden? They anchored pilasters by welding steel support beams onto the walls. They also employed the vertical greening module (VGM), where geotextile bags are filled with soilless planting media and pre-planted in a nursery to allow plant growth.
They then encased the plants from the nursery in support frames before mounting them on pilasters. The automatic fertilization and drip irrigation system ensures a healthy rooftop garden. The beauty of this VGM green wall system is that the plants can easily be mounted and unmounted, making it easy to maintain and even replace if necessary.
5. OUE Downtown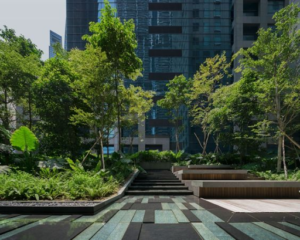 We get it; work can leave you exhausted, but the Garden Club at the OUE Downtown Gallery can help you. What is at the CBD, so you don't have to drive your Shariot too far before relaxing. It is probably a few minutes away from your workplace.
The garden provides a perfect weekday escape with an alfresco area and chic indoor seating for chilling with friends. Located on the fifth floor of OUE Downtown Gallery, this garden brims with lush greenery complemented by beautiful lights emanating from the bar.
If you are tired from a day of hard work, the evening live bands and DJs will serenade your soul with acoustic melodies. Romantic performances are available for lovebirds from Wednesday to Friday, beginning at 7:30 pm.
Vegetarians and vegans can choose from various menu serve of plant-based items. That does not mean meat lovers have no place since hearty meat and pasta are regular serves. You can whet your appetite with small plates such as smoked baby corn or grilled king oysters before indulging in the main dishes, including slow-cooked beef cheek and ragu fettuccine. Pocket-friendly drinks also exist to help you push the day and have fun.
6. National Gallery Singapore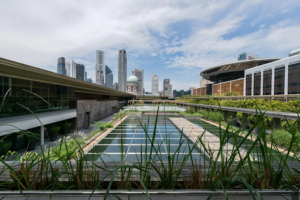 National Gallery is Singapore's largest art gallery, and it houses a beautiful rooftop garden. The urban jungle is surrounded by pretty green walls, a water feature, and breathtaking views of downtown Singapore. The National Gallery Singapore's rooftop garden consists of more than 30 plant species transported from land reclamation sites. The breathing art project is championed by Charles Lim, who replaces the garden's ornamental plants with lesser-known species found in southern Islands, Taus, and Changi.
You will find several plants featured in the rooftop garden, including giant sensitive trees, prickly sandbur, a stout shrub with stems growing as tall as six meters, and parasitic seashore dodder. Moreover, you will have the delight of seeing the unique tulsi (holy basil) that sprung up announced.
Visitors with an eagle's eyes will realize that this garden lacks such labels, unlike other gardens with plants labels. This omission is intentional to allow the public to personally connect in a less didactic manner with the unfamiliar plants. The management has produced a 30-minute podcast on the Gallery's website and App to help visitors get a complete understanding of the new installation and land reclamation process.
7. Marina Barrage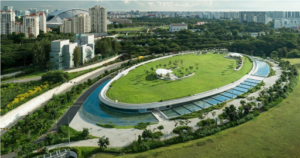 Marina Barrage stands alone with no obstructing skyscrapers, giving it a breathtaking 360º view. The huge rooftop garden is a popular attraction, drawing families and couples looking for a lush green playground. Kids delight in this rooftop garden as they can fly their kites. The gusty wind from the sea helps to propel the kites to the enjoyment of your family. If you are looking for a perfect picnic place, the Marina barrage rooftop field is where to be.
The newly established Keppel Marina East Desalination Plant provides visitors with a spectacular rooftop garden. The rooftop covers 20,00 square meters, an area of three football fields. Though it is smaller than the green Marina Barrage rooftop, it complements the Barrage with an additional playground.
With Shariot, you can visit these gardens on the same day since the Keppel Marina East Desalination Plant is connected to Gardens by the Bay and East Coast Park through Eastern Coastal Park Connector. It means that you can quickly cycle or jog to the green rooftop garden. Additionally, you can enjoy some delicious meals from the nearby restaurant after a hectic day with your family and friends.
8. Singapore Chinese Cultural Centre (SCCC)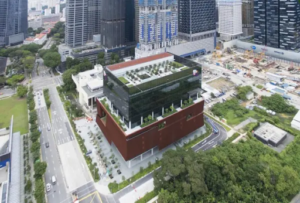 It is located on the top floor of the SCCC. The centre built this rooftop garden in collaboration with cultural groups, arts, and community partners to promote Chinese culture in Singapore. At  Singapore Chinese Cultural Center, you will find several fairs, exhibitions, and workshops throughout the year. The rooftop garden overlooking the city and the sea offers an excellent distraction with its bubbling life.
The garden is approximately 2,000 sqm enclosed with a 7m tall glass curtain wall, thus providing visitors with a fantastic sea view of Marina South and Marina Bay.
The SCCC rooftop garden also has unique, eye-catching features. The first feature is the stage area with a glass-made square structure and black tiled ground for holding events. The second feature is the cube-like centrepiece statue with several circular windows to enable visitors to see-through as they walk through the park. The park is endowed with different bushes and shrubs, giving the garden green and pink colour.
9. 313@Somerset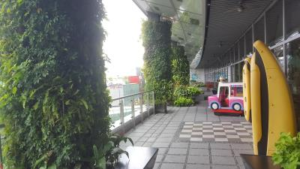 After your shopping spree at the food court, why not step to the adjacent rooftop garden for exquisite views and fresh air? The 313@Somerset, also called the Sky Terrace, is a green oasis with numerous pillars clothed with green foliage and lush, thus giving a delightful view of the hustles on the Orchard Road. You can come with your children; they will benefit from a mini playground in the garden.
These are our nine best rooftop gardens in Singapore worth exploring. At shariot car sharing and rental services, we conveniently provide you with ideal travelling means to arrive at your preferred destination. Take time and visit these gardens to enhance your learning and fun experience.