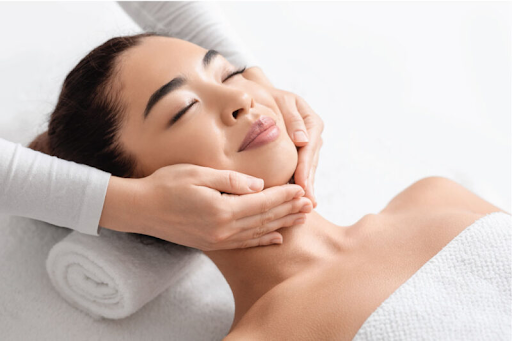 From snails on your face to facial chocolate smear, Singapore's unusual beauty and wellness treatment that leaves your skin glowing and young
Dozens of beauty products and treatments have been unveiled to help Singaporeans get rid of dark spots, dull skin, and aging signs. Although it is challenging to turn back the clock, most Singaporeans will stop at nothing to achieve and maintain a youthful appearance with the constantly evolving standard of beauty.
The best bit is that Singapore has an array of unconventional beauty treatments, including firming, brightening, lifting, and antioxidizing, that will leave you feeling younger and energetic. The wellness treatment is meant to accommodate people of all skin types without leaving a hole in your pocket.
Are you tired of spending billions of dollars each year to purchase an array of beauty products, which sometimes don't work? What price are you willing to pay to achieve that "perfect look"" Shariot car sharing and rental services empower you e to discover a handful of unusual beauty and wellness treatments to try in Singapore. Scroll through and select some of the iconic places where you can give your skin and body pampering.
1. Ikeda Spa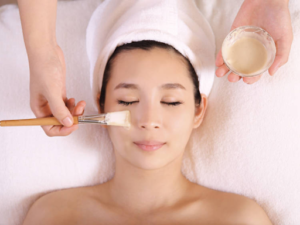 Ikeda is one of Singapore's best award-winning luxury spas, specializing in the traditional Japanese Onsen experience. The spa is located in Bukit Timah and is guaranteed to provide you with an escape space away from the hustle and bustle of the city.
The spa uses a unique highly-priced type of cypress wood called the hinoki. The hinoki is used for incense to release essential oils that provide a calming effect on your body as you soak in the hot bath.
Ikeda Spa is an ideal spot for unusual beauty and wellness treatments to try in Singapore. A must-try mysterious treatment at Ikeda Spa is their signature Geisha Organic Facial. The treatment includes organic ingredients like Azuki red beans, Rice bran, and powdered nightingale droppings.
Are you wondering how you can apply bird poop to your skin? Worry not; the nightingale droppings are sanitized by treating with ultraviolet rays to kill bacteria and then grounded and mixed with clean water to form a special paste.
The good news is that if you are seeking to exfoliate and repair damaged skin, Ikeda Spa will use the sanitized nightingale droppings, leaving you with a lovely glow, blemish-free, and even skin tone. Therefore, head down to Ikeda Spa for relaxing and pampering, giving you a mesmerizing experience.
2. Limmy's Aesthetics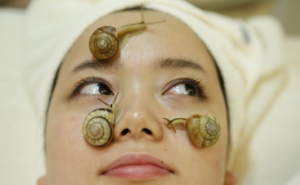 Another unusual beauty and wellness treatment in Singapore is Limmy's Aesthetics. The beauty salon offers an array of facial and skin treatments, semi-permanent make-up, and slimming services.
Limmy's Aesthetics solves all your beauty flaws with small yet powerful marvel snails, unlike ordinary salons that offer abrasive facials on your skin. The snails are not incorporated in their beauty products; however, they use live organisms for skincare treatment.
Although snail therapy is popular in Japan and Thailand, you can enjoy this anti-aging treatment in Singapore, thanks to Limmy's Aesthetics. The beauty salon has created a calming and intimate environment to ensure all clients feel at ease during a therapy session.
A successful snail therapy requires minimizing facial movements and noises to avoid scaring the snails. Are you scared that a snail might crawl inside your mouth when you open it or get in through your nose? Do not fret; therapists monitor the snail's movements closely and reposition them accordingly.
The snail's mucus acts as a natural moisturizer to give you glowing and clear skin. The snails at Limmy's Aesthetics are kept in good sanitary and growth conditions to enhance mucin production. You are only required to spend 90 minutes during facial therapy to achieve the desired complexation.
3. J Studios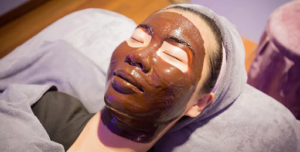 J Studios is an unusual beauty and wellness treatment to try in Singapore since it was the first to be awarded Bernard Cassiere Chocolate Anti-Stress Facial. The beauty salon is popular due to maintaining originality and professionalism.
Bernard Cassiere Chocolate Anti-Stress Facial is a unique treatment created using cocoa butter with orange essential oils, delicious chocolate fondue, and nectar combining vanilla and cocoa extracts formulated authentic natural ingredients from France. The treatment is rich in anti-oxidants and anti-free radicals, making it safe for various skin types.
Does your skin look stressed, dehydrated, and damaged by the sun's harmful UV rays? Head down to J Studios and indulge in a Chocolate Facial treatment guaranteed to detoxify, repair, moisturize and protect your skin for a glowing radiance.
Since the chocolate fondue mask is edible and delicious, you will not help but lick it off during the facial treatment. Although you will require an entire bottle of Chocolate Mask for a single use for one facial treatment, your skin is assured to remain soft and radiant.
4. Sugar(ed)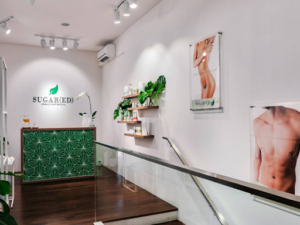 Sugar(ed) is the only professional body-sugaring studio in Singapore specializing in the all-natural hair removal technique of sugaring. Sugar(ed) has various outlets distributed within the city, classifying it as an unusual beauty and wellness treatment to try in Singapore.
The beauty of visiting sugar (ed) is you will experience the ancient technique of hair removal using 100% natural sugar paste made up of water, lemon juice, and sugar. Unlike waxing, the natural ingredients used in sugaring minimize the formation of dreaded ingrown hair.
The beauty technique is simpler since a warm honey-colored paste is applied in the opposite direction of hair growth before being stripped off in the reverse direction. Although hair removal from the root is often painful, you will experience less sting from sugaring treatment than waxing.
The truth is, you will relish a dolphin-smooth skin and slower hair regrowth at sugar (ed). The sugaring treatment is safe and eco-friendly, guaranteed to give smoother and brighter skin.
5. St. Gregory Spa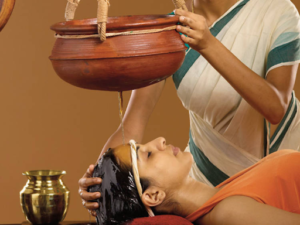 The spa uses a wellness treatment developed in India more than 3000 years ago which involves pouring oil over the forehead and down the hair. You should pop in at St. Gregory Spa to experience the unusual beauty and wellness treatment which is believed to relieve memory loss, mental tension, insomnia, and headaches.
The spa has a special room dedicated to Ayurvedic treatments where you can see a brass pot hanging from the ceiling. St. Gregory Spa has some who are friendly and professional therapists to give you a mesmerizing experience.
Before the session commences, the therapist warms a liter of herbal oil in a saucepan for head massage by rubbing oil into the hair and scalp. The soothing massage will send you to slumberland as the therapist draws circles and lines across your forehead with the stream of oil. You will not only have a clear mind after the massage, but your hair will glow as the oil nourishes it.
6. Priv'e Clinic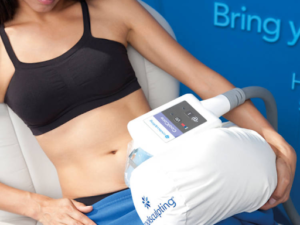 The clinic provides aesthetic services to people looking for unusual beauty and wellness treatment in Singapore. Priv'e Clinic has a professional team dedicated to providing accessible beauty tailored aesthetic treatments to all clients without leaving a hole in your pocket.
The clinic uses only clinically-proven machines and medical-grade products to ensure they give you value for your money. Priv'e Clinic is a one-stop medical aesthetic center that caters to overall skin, face, and body needs.
Priv'e Clinic is the ideal place to visit if you struggle with freezing your fat off. You will experience a non-invasive body contouring treatment that targets stubborn fat deposits through gradual controlled cooling of fat cells over one hour. Your immune system eliminates the crystallized fat cells; therefore, wait for the results three months post-treatment.
The core treatments you can relish at the clinic are dermal fillers, botox, thermage ulthera, cool sculpting, liposonix, laser hair removal, body sculpting, feminine rejuvenation, and medical facelift. Since the clinic has board-certified doctors and uses clinically-proven technology, you are guaranteed to get good and safe treatment.
7. Palm Avenue Float Club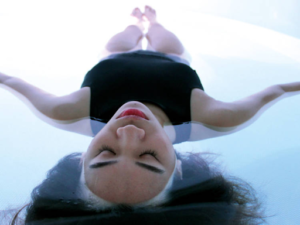 Are you wondering the best way to escape from all your anxieties? Palm Avenue Float Club is the best unusual beauty and wellness treatment you want to try in Singapore. You will float in a private tank filled with warm temperature-adjusted saline solution, allowing you to forget all your cares momentarily.
The tank is deliberately featureless with only a multi-colored light for illumination, thus alleviating bodily weariness and encouraging your mind on overdrive to disconnect and find calmness.
The float club is a popular spot for most Singaporeans aiming to get away from the hustle and bustle of the city and get relief from overwhelming situations in everyday living. You will get enhanced awareness of your surrounding as you float your worries away in the enclosed tank during the session.
The zero-gravity environment deprives all your senses as you float on the water's surface, which allows your body to relax and the mind to enter a meditative state. Despite being underwater, you can enjoy soothing music through special in-built speakers that will help you enter into a limbo state, like the moment before falling asleep.
Although it can be challenging to keep perfectly still inside the tank, you will get a pool noodle that provides neck support. Moreover, a spray bottle of water is available, and a dry towel to wipe away any saltwater stings your eyes. Palm Avenue Float Club encourages floaters to hang around the lounge to sip some dandelion or camomile to allow the experience to sink in.
8. Passage New York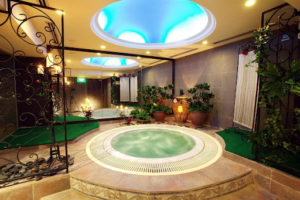 Passage New York is one of the best spas in Singapore since it has over 20 years of experience in the beauty and wellness industry. The luxury spa enables its clients to indulge and luxuriate in the lush and opulent surroundings as they receive therapeutic eye, neck, and body massages.
Are you a cosmopolitan woman searching for the finer things in life? Head over to Passage New York, where all your lifestyle needs will be catered to. The core services you will relish at the boutique spa are premium facial and body treatments, including pampering facial treatments, therapeutic eye and neck treatments, effective slimming therapies, and rejuvenating body massages.
The spa is an unusual beauty and wellness treatment in Singapore since it uses placenta facials. Placenta facial treatment improves the skin's elasticity, reduces wrinkles, and refines pores. The facial enhances collagen production and hydrates and lifts the face to give a glowing, youthful look.
Interestingly, Passage New York has a unique fashion atelier consisting of the latest apparel, accessories, and bags designed to make all clients feel elegant and beautiful. The spa provides trendy fashion items to cater to clients' various changing lifestyle needs and make them return customers. Consequently, pop in at Passage New York and reward yourself with a luxuriating spa experience.
Life is busy, and most Singaporeans need an escape plan to refresh and rejuvenate from the hustle and bustle. The list has outlined some unusual beauty and wellness treatments in Singapore.
Although you may be spoilt for choosing the ideal spot to select, you are assured of turning back the clock and dealing with anxiety better. Shariot car sharing and rental services is your ideal companion to take you to these unusual places conveniently and cost-effectively.