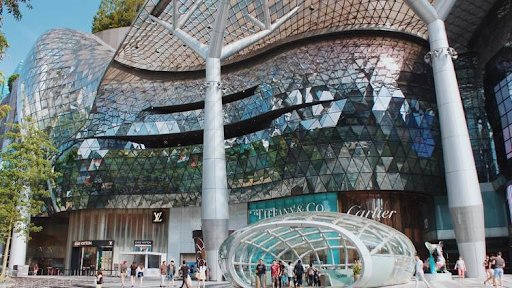 Singapore is bestowed with some of the most iconic shopping malls in the world. Most shopping maniacs walk from one shopping mall to another in search of the best deals and air-conditioned havens to escape from the city's scorching heat. Shoppers from all over the world and locals strongly embrace the mall culture in Singapore due to its mega-sized malls and never-ending experience.
The best part of Singapore's shopping malls is that you can find premium European brands, bookstores, furniture, and cosmetics all under one roof. Grab your shopping bag and explore the best shopping malls in Singapore, where you are guaranteed to shop till you drop.
Are you wondering which is the best shopping mall in Singapore for stocking up on groceries, camping gear, and shopping for your kids? Shariot car sharing and rental services have compiled this article to help you navigate some of the best shopping malls with outstanding ratings by many shoppers.
1. The Shoppes at Marina Bay Sands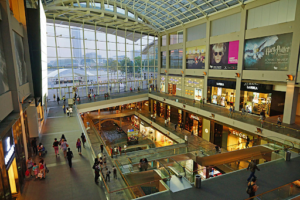 The Shoppes at Marina Bay Sands is among the best shopping malls in Singapore due to its highest quality and finest brands on display. The mall is located at the heart of the Central Business District and houses more than 270 shops and restaurants. The Shoppes at Marina Bay Sands occupies a space of 800,000 sqft, making it the largest shopping mall in Singapore.
The high-end shopping complex is best suited for people looking for the finest luxury brands in the world, including Burberry, Chanel, Dior, Armani, Hermes, Versace, Prada, Ralph Lauren, and Tommy Hilfiger. At the mall entrance, you will be greeted by a unique futuristic design featuring spacious glass windows raised to the ceiling and a beautiful indoor canal that surrounds the entire building. You will have a bird's eye view of the stunning architecture at the Shoppes, which makes it resemble a palace.
The unique features you will enjoy at the mall include a casino, skating, and a gondola ride (a rowing boat in the middle for a leisure tour around the mall). In addition, Shoppe has expert chaperones who can assist you indulge in personalized shopping and finding the right selections which meet your needs and match your preference. The best deal at The Shoppes includes getting yourself free parking by spending $100 on selected stores within the mall.
2. Ngee Ann City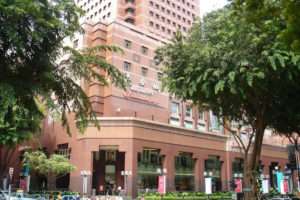 Ngee Ann City is a famous shopping mall in Singapore nestled on Orchard Road. The mall boasts 7 levels with over 130 unique stores, including restaurants, beauty salons, bookstores, and fashion stores. The remarkable thing about Ngee Ann City is that it was awarded the best shopping mall in Singapore for five consecutive years, contributing to its popularity. Interestingly, you find not only renowned luxury items at Ngee Ann City but also high street brands, including Sephora, Zara, mango, and Kate Spade.
Bedwarmers can enjoy visiting Ngee Ann City since the largest bookstore in Singapore and the second largest in Southeast Asia is located within the mall. Additionally, take a tour of Best Denki- the largest Japanese electronics outlet in Singapore. You can explore various eateries and restaurants in the mall that offer food ranging from local hawker fairs to a mix of oriental and western cuisines on their menu.
On the second basement to level 4 of the building, you will find the Japanese departmental store with various products like fashion, food, and household essentials. Ensure to save up some energy to explore the famous Takashimaya square- the hub of entertainment in the mall, which hosts an array of activities from live concerts to bazaars and fashion shows to carnivals. Therefore, head down to Ngee Ann City mall for an extraordinary shopping experience.
3. 313@Somerset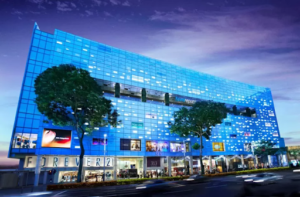 313@Somerset is ranked one of the best shopping malls in Singapore among the younger consumer market. The eight-story mall on Orchard Road showcases a cool vibe and a huge mix of affordable mid-market fashion brands, including Mango, Zara, and Forever 21. If you are working on a budget, head over 313@Somerset and get cheap shoes at various flagship stores for Puma, Ecco, Converse, and Aldo.
The mall's layout was inspired by the famous European streets, creating a popular Discovery Walk within the complex where shoppers stroll and imagine that they are walking in the breezy streets of Europe. You can pop in in some of the alfresco bars and restaurants along the Discovery walk and enjoy some of their sumptuous delicacies. Moreover, there are various hawker fares at 313@Somerset and a sizable food court on the top floor with a menu that can accommodate everyone's pocket.
4. Vivo City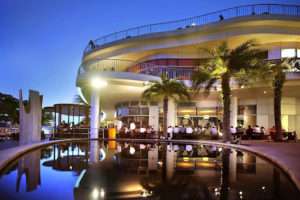 Vivo City is one of the largest shopping malls in Singapore, ideal for bargain shoppers and fun-seekers. Vivo City mall has 7-storey retail and lifestyle stores with various fashion brands, including H&M G2000, Charles & Keith, Mango, and Pedro. The mall has consistently received several recognitions from Asia One People's Choice Awards for 9 years, which has qualified it as the best shopping mall in Singapore.
You will have an opportunity to dine in the finest eateries overlooking the harbor as you glance at the sunset. Your little guys can have a blast at level 2 of the mall and enjoy the children's playground. Alternatively, you kids can experience a paddleboat ride at level 3 of the mall. Vivo City mall is a go-to destination for many tourists visiting Singapore since they are entitled to special vouchers upon presenting their passports.
Singapore's biggest multiplex cinema- Golden Village, is located at Vivo City mall, thus, allowing entertainment lovers to enjoy a delightful cinematic experience. The best experience at Vivo City mall is the cool sky park and rooftop arena where you can take a dip after shopping to cool down and relax. Consequently, head down to Vivo City mall for a mesmerizing experience.
5. Orchard Central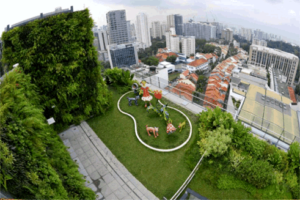 Orchard Central is one of the newest malls along Orchard Road, which has gained popularity among shopping enthusiasts. The mall stands out from other shopping complexes because of its architectural design. Orchard Central has a beautiful Rooftop Garden where shoppers can stroll along the Discovery Walk for 24-hours. You can soak in the view of the city as you enjoy sumptuous meals from any restaurants located in the roof garden.
Orchard Central mall showcases various collections of modern art installations in one of the best art exhibitions and many stores with affordable international and regional fashion brands.   You will enjoy a unique retail experience here due to its fusion between fashion and art. Most tourists visit the mall since they are offered a 25% discount from some selected stalls.
Interestingly, shoppers are awarded three hours of complimentary parking upon spending $50 at any shop in the mall. The good news for sports junkies is the mall houses the largest indoor climbing wall-Via Ferrata, where you can experience fun and adventure. The sixth floor of the mall houses a style yoga studio where you can burn up some calories and tone your body.
Orchard Central mall has various eateries which offer a mouth-watering array of delectable cuisines. Talay Kata is a Thai barbecue and buffet restaurant where you can enjoy seafood options such as king crab, lobsters, authentic curries, and Thai soups. Additionally, head over to K. Cook Korean BBQ Buffet on the seventh floor for authentic Korean food. Jewel Artisan Chocolate on Level two caters to all your sugar cravings with some of the best pies and cakes accompanied by their afternoon high tea.
6. Bugis Junction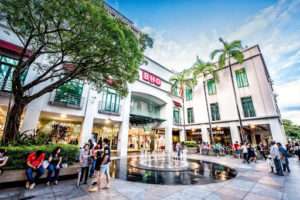 Bugis Junction stands out as one of the best shopping malls in Singapore due to its beautiful historical shophouses. Moreover, you can get an impressive mix of regional Asian boutiques and street brands, including book accessories, electronics, grocery, dining, fashion, and cosmetics at pocket-friendly prices. Bugis Junction Mall is the first and only sky-lit air-conditioned shopping street in Singapore that leaves most shoppers in awe as they discover this hidden gem.
The mall houses various boutique shops offering Korean and western-style clothing of good quality and at affordable prices. The mall's top floor provides shoppers with a cinema and different arcade games they can enjoy after a long day of shopping. The mall houses the best currency exchange store on its ground floor, which offers Singapore's best rates.
The best thing is that foodies at Bugis Junction mall can head over to Level three at the Food junction and have an array of hawker delicacies on their palate without leaving a hole in their pockets. For Asian cuisines, head over to basement 1, where you can find various restaurants, for example, the famous Crystal jade, patisseries such as Chocolate Origin and Breadtalk, and other cafes and coffee shops.
7. Ion Orchard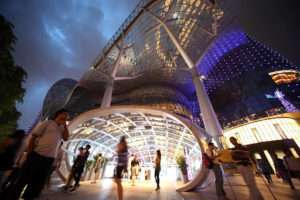 Another best shopping mall in Singapore is Ion Orchard since it is one of the biggest megamalls in Asia and a favorite tourist destination. All shopaholics can visit the 8-story haven and shop for unique luxury fashion items and highly sought-after brands like Dior, Prada, and Gucci. Impressively, the mall has a mix of brands and boutiques ranging from high-end, mid-range, and high street brands, which can accommodate budget shoppers.
Unlike other malls, Ion Orchard has concierge desks situated throughout the building to cater to all shoppers' needs. You can take your special person for a memorable dining experience at the renowned Salt Bar and Grill. After a tiring shopping day, you can enjoy a stunning view of Singapore through an impressive 360-degree observatory situated above ION Sky.
Ion Orchard is an award-winning shopping mall with more than 300 retail outlets where you are bound to get lost due to its never-ending array of stores. You can access luxury fashion items from levels 1 to 3 of the mall, specially dedicated to high premium brands. As you descend into the basement floors, you will find an array of mid-range designer brands like Calvin Klein, Guess, and Tommy Hill figure. Budget shoppers can head down to basement 2 of the mall; you will get high street fashion brands, including Zara, Mango, H&M, and Topshop.
The best bit for an ordinary person's budget is to head down to basement 4, where you will find hidden treasures at very reduced prices. Do not starve yourself at Ion Orchard mall; levels 3 and 4 have good dining options such as The Marmalade Pantry, The Ork Cellar, and Imperial Treasure. Ensure to get yourself a membership at the mall to allow you to redeem your purchases.
8. Plaza Singapura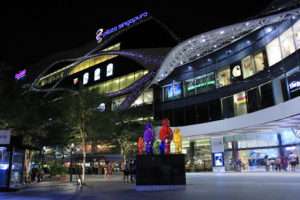 Plaza Singapura is one the best shopping malls in Singapore, stretched over 7 floors, and features a 170 m long frontage. The mall is a popular haven due to its unique, eye-catching sculptures at the Jelly Baby Family entrance. Plaza Singapura is often crowded during dining hours due to its various cafes and restaurants which offer sumptuous meals. You can find an eatery of your choice on every mall floor with varied dining options, including fast food, Asian cuisine, or Western food. Sports and fitness enthusiasts can head over to Level 3 of the mall and find various equipment and apparel from major brands, including Puma, Armour, Nike, and Adidas.
Plaza Singapura mall presents you with an opportunity to live a unique lifestyle by popping into their Level 5 for furnishing and home décors such as Englander, Spotlight, and V furniture. Head over to the seventh floor of the mall, which houses a big multiplex cinema- Golden Village and an arcade of games for your little guys. For all your household items and necessities, get down to basement 2 and find a huge supermarket. You can head to the mall with your kids since there are child protection seats and baby changing stations within the lady's lavatories on levels 2 to 6.
9. Paragon Mall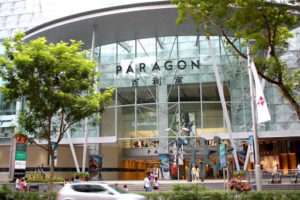 Paragon Mall is a famous haven for fashionistas where you can find international high-end fashion labels, including Gucci, Choo, and Burberry. Although Paragon is one of the biggest and best shopping malls in Singapore, everyone, including budget shoppers, can find something here. Most of the stores at the mall are mainly dedicated to health, lifestyle, fitness, and beauty.
Paragon mall provides parents with childcare experts who take good care of their kids as they shop to ensure they experience uninterrupted retail shopping. Most shoppers at the mall have the Paragon app on their smartphones to stay tuned to deals and promotions on offer. You can reward your palate at some of the best cafes and restaurants in the mall, including Krispy Kreme, Basil Thai Kitchen, Subway, and Krispy Kreme.
Paragon Marketplace is located in the basement of the building, and you can find household essentials, pharmacies, nutrition, currency exchange booths, banks, and ATMs. Levels 5 and 6 allow you to shop for your kids' clothing and toys and get a salon and beauty spa where you can pamper yourself with beauty treatments and massages.
10. Mandarin Gallery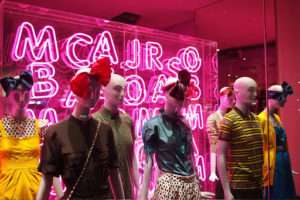 Mandarin Gallery is a high-end shopping mall attached to the Mandarin Orchard Hotel. An arcade is an ideal place for shoppers to visit and explore the most popular designer boutiques and various restaurants which offer Western and Asian cuisines for everyone's palate. You can relish diverse cuisines ranging from Japanese sushi to Chinese noodles and Parisian desserts to American Steaks.
You can satiate your craving for a taste of Paris at the French patisserie in Mandarin Gallery and Antoinette for the most decadent chocolate creations. You can pop in at Ippudo for a sumptuous bowl of ramen or Hashida for freshly prepared sushi and authentic Japanese cuisines. A must-try eatery is the Royal London Duck in Mandarin Gallery, and treat yourself to a whole crispy-skinned duck for a mesmerizing experience. The mall is rarely crowded; thus, shoppers can enjoy full attention and VIP service from the staff in each store at the mall.