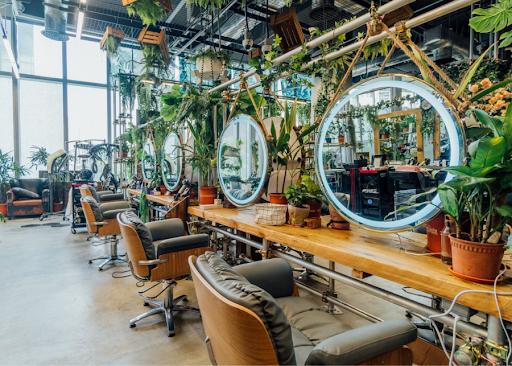 SEO Meta Description: The best hair salons and spas in Singapore, like Full House Salon, provide most Singaporeans with ideal avenues to improve their look and heal their soul.
Singapore is a country of stylish fashion display, and hair treatment is given utmost preference by women here. You want to look your best for evening dinners, romantic dates, or at your job, and that killer hairstyle that get the entire office ogling could do justice to your beauty.
Singapore is inundated with hairstylists and salon options to eliminate bad hair days and your struggle with frizzy or flat locks. Regardless of the weather conditions on the Island, you do not have to worry about looking shaky because of humidity and sweat. The salons are here to fix your air in no time, just hop into your Shariot and drive to one of the best hair salons in Singapore.
The pandemic and endless work schedules leave many Singaporeans emotionally, mentally, and physically drained. With your air already done, you can drive your shariot to one of the exotic spas in Singapore for rejuvenation. There is nothing soul-building like a whole-body massage with aromatherapy, facials, and wraps to keep your body and mind at ease.
Making your hair and treating yourself should not be left to International Women's Day, but should be a regular thing to reward yourself for a job well done with the week or month.
You can book a spa or hair treatment as a gift for your mum, children, and friends. Don't worry; Shariot cars have enough space to carry your family and friends to these locations. So, whether you want a sun-kissed balayage or go for the chop, this article presents you with the best salons and spas.
Best Hair Salons in Singapore
We present you with our best hair salon establishments in Singapore for blowouts, haircuts, and coloring.
1. Full House Salon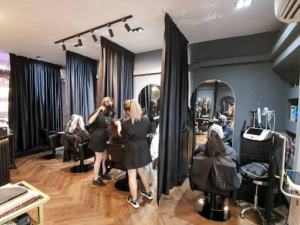 Are you looking for a salon that will give your hair a jaw-dropping look at a reasonable price? Full House Salon could be your to-go-to salon in Singapore. Established in 2007, this is one of the best hair salons in Singapore, striving to incorporate creativity and new trends to give you a desirable look.
When you walk into Full House Salon, you may confuse it with an expensive bar because of its many comfortable chairs and full-length mirrors to confirm your look before leaving for the world.
With their wide range of services, such as haircuts for men, women, and children, rebonding, foil highlights, hair styling, hair scalp treatment, hair treatment, and permanent waves, they intend to make your hair healthier and younger. They also offer professional hair coloring in shades like yellow, purple, or pink, giving a diva look.
You are safe in the hands of hairstylists here since they are well-trained in Joico Singapore and Vidal Sassoon London. The staff will demonstrate their passion for what they do by handling your hair tenderly while weaving or treating it to give you a memorable experience.
Full House Salon goes the extra mile and offers clients tips and hair products to maintain healthy hair. Besides hair treatment and haircuts, you can also benefit from their manicure services at reasonable prices.
2. Yann Beyrie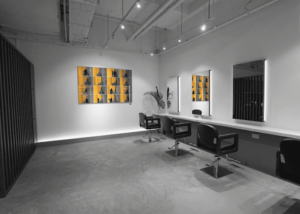 Do you want to rock with French-girl hair in the street of Singapore? Book your Shariot and head down to Orchard Road to Yann Beyrie and his team for the ultimate magic. Yann is passionate about hairdressing, which he cultivated under his uncle and mother at a very tender age.
He is traveled to Paris, France, to polish his art and gained experience by working with the best establishments in the world. With over 15 years of experience, Yann knows which hairstyle fits your strands- you are in safe hands.
The process of treating your hair demonstrated their professionalism and passion. Every client begins with a complimentary consultation to help Yann's team assess your hair condition and the style changes you prefer. You can book an appointment for a haircut with their stylists for a professional look.
Other services offered by Yann Beyrie include balayage, hair coloring, roots regrowth, hair SPA and treatment, waves and strengthening, and manicure and pedicure. If you have no idea what style fits your head or what color you want, worry not; Yann and his team will give you suitable suggestions to help you get a dream haircut or treatment.
3. BE salon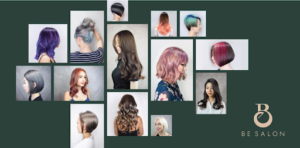 BE Salon specializes in a wide range of hair-do services. They are masters of hair coloring techniques, offering trending color splashes, natural-looking colors, and smooth gradient balayage. Their professional colorists will present you with various masterpiece alternatives suitable for you.
Since not all hair is the same, Be Saloon experts use customized hair treatments to suit their clients' styles. They even offer Airy Wave, a three-step procedure perm to provide a long-lasting hairstyle. Be salon's team is experienced in the hair profession (possessing between 10 and 21 years of experience), guaranteeing customers better hair treatment.
They will exceed your expectation with their 5-star services at a relatively reasonable price. You will meet a caring hairstylist to walk you through their hair treatment process to help you know how your hair will be handled.
4. LeeKaJa Beauty Salon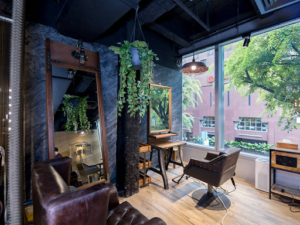 Though there are many Korean Salons in Singapore for a K-blasting look, LeeKaJa Beauty Salon is a unique Korean beauty parlor. From a distance, you may mistake this salon for a café because of its welcoming rustic interiors and a counter that mixes coffee and fresh juice for clients' refreshments.
The staff at LeeKaJa Beauty Salon are professionals with in-depth knowledge of hair and treatment. They will offer you solid advice on your scalp, hair needs, and how to take care of your precious strands before giving a new breathtaking look.
LeeKaJa Beauty Salon also offers good discounts for kids and teenagers, meaning you will likely spend less than the regular high-end salons. Every time you come to this salon, they promise satisfaction from their stylist team.
Their signature treatment makes your hair smoother, shinier, and stronger, giving you a healthy, long-lasting lock. The stylists will first wash your hair with protein-rich organic shampoo and then strengthen your strands with strengthening cream applied to your hair roots.
Furthermore, dissatisfied clients can have free retouching within 8 days of a haircut perming, coloring, and rebonding services. Other services at LeeKaJa Beauty Salon include manicure and pedicures, eyelash extensions, and makeup services.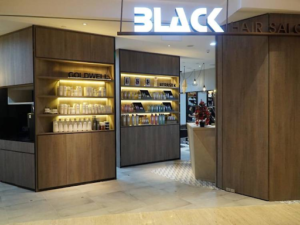 Twelve years ago, Black Hair Salon was established by its core founders, Antony Chu and Raymond Eng. Since then, this salon has built a stable base of loyal customers who knows they always get perfect hairstyles here. They relocated to a more ambient environment with clean and sleek designs and pendant lights at Capitol Piazza. Customers can have their hair professionally handled as they enjoy the beautiful scenery.
Their staff have years of experience in hair coloring and are trusted by regulars to provide unique coloring. You will find vibrant dyes of different colors such as blue, pink, green, and purple that can stay on a customer's head for a month.
Black Hair Salon emphasizes providing a vibrant environment and hospitality to enable customers to feel at home in the salon. Their creative team ensures that all customers are given a personalized experience. They aim to imbue their client with confidence and a sense of individuality.
After considering the best salons in Singapore that provide awesome experiences, let's consider some unique SPAs on the Island to help cure your soul.
Best SPAs in Singapore
Most Singaporeans are workaholics with little time for themselves. Nevertheless, the country is rich in various facilities. Your body, mind, and souls need a heavenly massage or facial. You will benefit by spending a day indulging in personal pampering with our guide for the best spas in Singapore.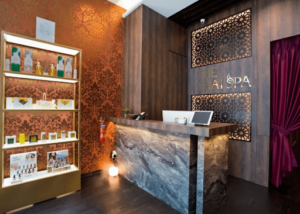 City life can be hard with bosses and clients constantly breathing on your neck with deadline demands. It may seem like your desire for freedom and relaxation away from city stress is far-fetched. However, you can take a break with a relaxing spa treatment to soothe your worries.
The Thai Spa, located in Suntec City, provides you with the ideal getaway after work. The spa combines traditional therapy, aromatherapy, and ancient rituals to give a lifetime experience to rejuvenate and revitalize your body.
Some of their unique services include sensational massages complemented by rose honey milk at a jacuzzi. With the traditional Thai-style massage, you could also bust your joint aches and muscles. You will be given special treatments here, including Thai reflexology, peppermint body scrub, deep tissue massage, Swedish massage, Lomi Lomi Massage, and various slimming therapies.
Additionally, you can have organic and herbal facial treatment that entails herbal face masks and extraction at reasonable prices. They aim to give you an amazing spa experience and stellar treatments through their private showers.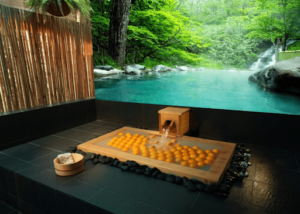 Japanese communities are masters of quality and pleasant experiences. The Ikeda Spa offers customers the best Japanese spa in Singapore. The facility covers an area of 3,000 square feet, offering ultimate luxury, tranquility, and serenity that sets in the mood before you begin the treatment.
If you want to melt away your stress aches, anxiety, and pains and detoxify your body, we recommend immersing yourself in the Hinoki onsen bath. In the past, this treatment was reserved only for royalty; however, now, you can have a taste of this royal healing with Ikeda spa's onsen experience.
This spa is equipped with real hinoki wood from Japan, the only spa using this technique in Singapore. You can choose from its onsen bath salts at Ikeda in a customized relaxing bath. Ikeda gives you a Japanese experience without flying to Tokyo!
8. g.Spa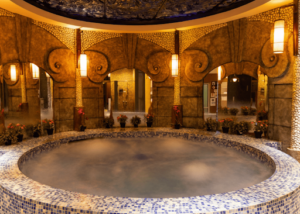 Have you ever been to the famous Chinese hot spring resort? If you haven't been there, don't sweat, g.The spa is a replica public bath resembling a Chinese resort. When you visit the spa, you will be directed to your gender side (male or female) and given a locker with towels, robes, and swimming trunks.
Before heading for the main treatment, you can choose the hot or cold pool, showers, and sauna as a starter. After hitting the healing bath, you can relax on the comfortable couches while watching your favorite show on personal TV screens.
Furthermore, you can enjoy their sample dishes at their restaurants, making spending a whole day here enjoyable. Other services they offer include standard deep-tissues massage and pressure-point massage.
9. Yunomori Onsen and Spa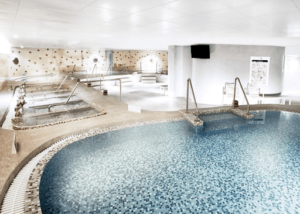 Source
Are you a fan of the traditional Thai massages and want to experience the Japanese hot spring treatment? Yunomori Onsen and Spa is the first facility in South-East Asia to fuse these two awesome experiences, giving its customers a taste of both worlds.
You can expect relieving muscular tension, improved skin health, and better blood circulation. The facility offers five male and female high-tech onsen baths, including bubble, soda, jet, silk, and cold bath. Yunomori Onsen and Spa treat each pool with hot spring minerals from abroad, and they constantly monitor their temperature.
At Shariot, we recommend starting with a carbon dioxide-filled soda bath at 39.5 degrees Celsius and graduating to higher temperatures with time.
With as little as $40, you can have all-day access to steam rooms, the onsen, and the sauna. In between dips, you can use a yukata and a towel they give you to lounge at your preferred location.
Most people enjoy the onsen with their birthday suits, but you can request disposable black underwear if you are uncomfortable. Though they are see-through underwear, they are better than nothing. Ensure to hit the showers before joining others in the onsen pools.
Though many people outside Singapore know its high-tech infrastructure, it has many beautiful gems for those who care to look. Singapore has many beautiful gems, from exquisite tourist attractions to soul healing spas and fashion salons. Shariot car-sharing and rental services offer ideal transportation services to any destination in Singapore. Download your Shariot app today and enjoy a convenient, comfortable, and affordable ride in Singapore.