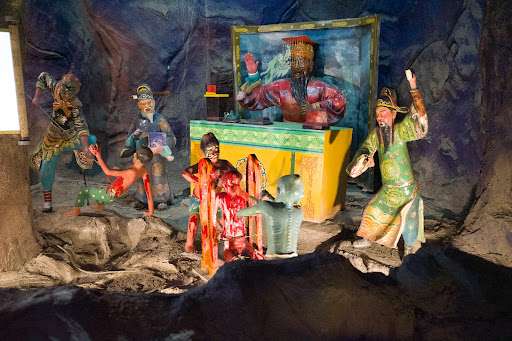 Singapore is littered with tourist destinations, so much in fact that it is virtually impossible to include all of them within one article. There are your usual destinations like Marina Bay Sands, Sentosa, and Universal Studios, each with their respective activities, but what about unusual destinations and unconventional things to do in Singapore?
People have gotten used to associating Singapore with specific spots and activities that they forget that there are other things they can do outside of the standard fare. Beyond the excitement and grand scale of well-known spots and activities lie places and things you can do that are off the beaten path, and that's where we aim to take you.
So throw your tourist guide and get ready for a unique adventure as we show you the 8 unconvetional things to do in Singapore.
1. Channel Your Inner Viking at Axe Factor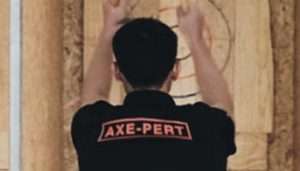 Are you looking to blow off a little steam while you're in Singapore? Axe Factor has got you covered. Axe Factor specialises in axe throwing, an activity that is slowly gaining steam worldwide and is on its way to being recognised as a legitimate sport.
Take a hatchet and do your best to hit the bullseye as you hurl it from 14 feet away. You can even get your friends to join in on the fun, too! Some establishments allow their guests to throw things like plates and cups to a wall, but with Axe Factor, do it Viking style–with axes.
For those looking for an unusual thing to do in Singapore and decompress in the process, give Axe Factor a try.
2. Experience the North Pole in Snow City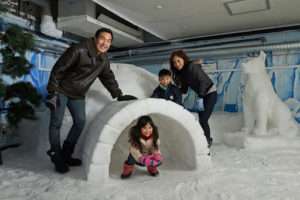 Have you ever dreamed of experiencing snow in Singapore? Now you can experience the snow and all the fun activities that come with it in Snow City. Snow City is Singapore's first indoor snow centre. Established in 2000 and renovated in 2007, the centre is still enjoying popularity as evidenced by its monthly visitors.
Enjoy activities like the winter shooting arena, where you can engage in some target shooting, soft archery, or even a close quarter battle with your friends. You can also take part in some bumper car action in Drift on Ice, which they affectionately dub as "Singapore's coldest bumper car arena."
If plain sightseeing is your thing, you can feast your eyes upon the Ice Hotel Gallery, complete with furniture and other items made out of ice. Snow City is an unusual and unique thing you can do in Singapore because of the novelty of having snow within the country.
Related: 20 Fun Places to go With Your Kids in Singapore
3. Visit Hell in Haw Par Villa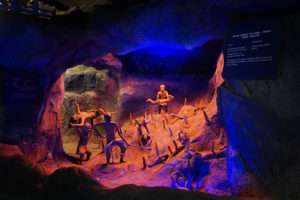 You'd be forgiven for thinking that the Hell's Museum in Haw Par Villa is just another horror attraction, but for those who decide to give it a shot, an introspective and exciting journey awaits. The Hell's Museum explores the themes of death and the afterlife from different religious and cultural perspectives and does a great job doing so.
Views of various religions like Buddhism, Taoism, Christianity, Islam, and even Zoroastrianism about death and the afterlife are on full display in this museum. You will have a chance to discover these things when you visit Hell's Museum.
One of the main attractions of Hell's Museum is the Ten Courts of Hell, which lets visitors "go through hell", so to speak, which makes for an unusual attraction in Singapore.
Related: 16 Hidden Gems You Never Knew Existed in Singapore
4. Dine in Complete Darkness in Nox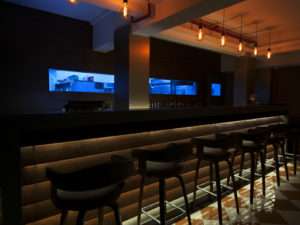 Hungry from all the activities you've had to do all day? Why not cap your night off by having dinner at NOX? NOX offers an entirely unique dining experience by serving everything within a pitch-black room. The idea behind NOX's unusual take on dining is to make the customers use their remaining senses while dining in complete darkness.
Customers will be guided by visually impaired or blind hosts throughout the whole experience, creating what they call a "transfer of trust" between the customers and the hosts. During the pre-dinner portion of the evening, customers will be given wine or cocktails to activate their palate, getting them ready for the main course.
Various dishes will be served during dinner, still in pitch-black darkness, allowing customers to use their other senses to enjoy the dishes. After dinner, customers will be guided to the lobby, where they can guess what they ate. NOX is the place to go for those clamouring for an unusual dining experience.
5. Visit Food Heaven in the Form of Hawker Centres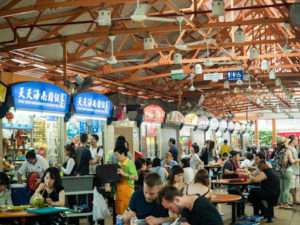 When visiting a foreign country, it is common to fall for tourist traps such as expensive and gimmicky restaurants that claim to offer authentic Singaporean dishes. Those looking for truly authentic and affordable Singaporean dishes might want to give hawker centres a try.
Hawker centres are comprised of food stalls that sell a wide variety of foods ranging from Indian dishes to Singaporean classics. Some of the dishes you can commonly encounter in hawker centres are Hainanese chicken rice, chilli crab, wanton noodles, and Laksa.
You can try different dishes in one go or keep coming back for your favourite, the choice is yours, and the best part? Everything is affordable! So if you've gotten somewhat tired of the typical restaurants, go for the unusual option of hawker centres in Singapore!
6. Belt It Out at Mini-KTVs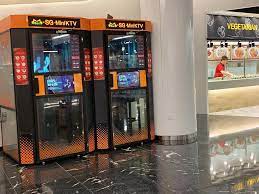 No one knows when inspiration and the desire for singing might strike, that's why having Mini-KTVs are suitable for wannabe singers out there. If you can get past the idea of singing inside a booth in the middle of malls and public places, you will be treated to a unique singing experience you can't get in regular KTVs.
Typically, mini-KTVs lets the users choose between 15, 30, or 60-minute intervals, and there's a wide variety of payment methods available. For those looking for a quick music fix, you can't go wrong with mini-KTVs.
7. Stay in a Minimalistic Capsule Hotel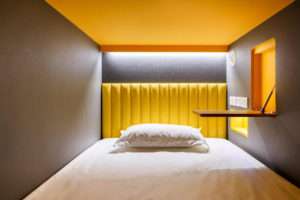 If you're looking for a place to stay that gets the job done with just a fraction of the cost of regular hotels, you might want to give capsule hotels a try. Capsule hotels come with the amenities you have expected in hotels, with the difference being their small size.
The rooms are fully airconditioned, there are laundry rooms, and you can also find smoking areas in these hotels. On top of that, guests get to enjoy a continental breakfast in most capsule hotels, so they still get to experience everything a regular hotel provides, save for the extra space of the rooms.
Capsule hotels are truly something to try if you want an unconventional and affordable sleeping experience, even at least once.
8. Enjoy a Cup of Coffee in The Cat Café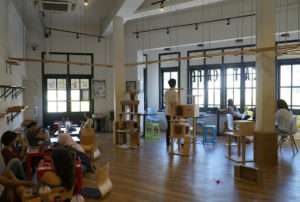 Engage in a truly relaxing activity as you drink your coffee while spending quality time with cats. The Cat Café features cats that guests can interact with while sipping their favourite coffee. The best thing about The Cat Café is all of the cats within the establishment are rescues.
You can find various artworks on the wall, including the cats' bios. Spend time playing with the kitties, sip your coffee, or do both as you enjoy the light and friendly ambience of the place. The café is spacious, allowing for comfortable movement for the cats and humans alike.
If you are looking for an unusual yet pleasing thing to do in Singapore, give The Cat Café a visit.
Conclusion
These are some of the unconventional things to do in Singapore. While some of them are already major tourist attractions in their own right, the novelty of experiencing these things is what truly makes them unconventional.
If you're planning to visit one, two, or all of these places, let us at Shariot provide you with the proper ride. We at Shariot aims to provide you with an affordable and easily accessible car-sharing service that will allow you to go where you need and want to go without the hassle of constantly maintaining your car.
Please feel free to browse our site for rates, promos, and other exciting blogs. For your travelling needs, rest assured that Shariot has got you covered.