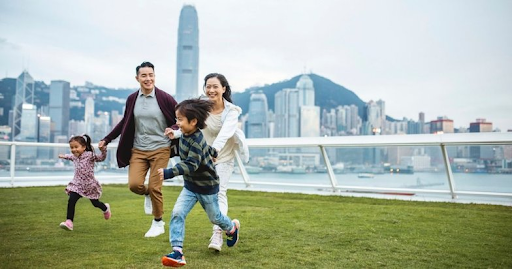 Thanks to the March and April Easter school holidays, most children in Singapore will experience respite from the hustle of going to school during the pandemic. The holidays offer parents ideal opportunities to play and bond with their children after work.
Are you wondering what activities will excite your kids, and have you engaged? Shariot outlines some exciting things to do with your kids during this school holiday regardless of their ages. The best way to keep your kids exhausted and entertained is to engage in various rollicking activities around Singapore.
1. Forest Ramble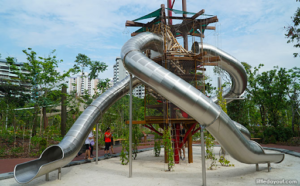 Forest Ramble is one of Singapore's largest nature play gardens, covering 2.3 hectares. Your little guys will have 13 different adventure stations to explore with unique features that enable them to mimic the natural movements of the creatures that inhabit freshwater swamp forests. The play garden has inclusive play elements, including swings, trampolines, giant spirals, and balancing logs, allowing all kids to play together in nature regardless of their health.
Interestingly, your kids can create their unique adventure play experience at Forest Ramble by gliding gracefully through the air like the Grey Heron, splashing around like the playful Smooth-coated Otter, and leaping around like a Squirrel. Some of the exceptional amenities you will enjoy at Forest Ramble include plenty of parking space, bathrooms, cafes, shopping malls, and hawker centres.
2. Kids Amaze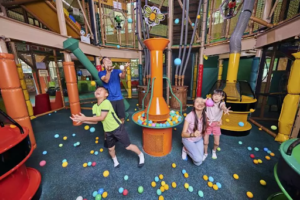 It is one of the largest indoor playgrounds for kids in Singapore. The best thing is that families with toddlers can head down to the SAFRA Toa Payoh branch, which consists of a toddler's play area. Some of the exciting features your kids will enjoy at Kids Amaze include climbing frames, swings,  ball pits, and suspended nets.
Another unique feature is the splash @ Kids Amaze, an indoor water park with slides, paddle pools, and fountains where your little guys can have a blast. Parents can enjoy a swim at the water park with their kids; therefore, remember to carry your swimsuit. However, if chilling out ss your kids play is your thing, head down to SAFRA Jurong and relax at the café within.
The best play to experience the true wonder of play with your kids is Kids Amaze since you can explore various features that will enhance your discovery and learning. A must-try is their fully themed interactive and visually stunning soft play centres that showcase multiple play activities and slides that will challenge your coordination skills while navigating through the play system. At Kids Amaze, your kids will be guided by friendly Playground Rangers, hence allowing them to be in safe hands as they play.
3. Bouncy Paradise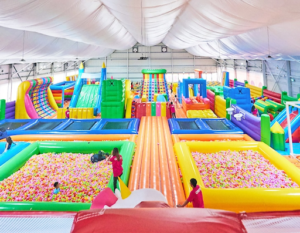 Bouncy Paradise is famously known as the world's largest indoor Bouncy Castle Playground. The Bouncy castle occupies an indoor air-conditioned space of 20,000sqft and is fully packed with several activities that can keep your little guys entertained. Bouncy Paradise provides you with a host of unique features, including trampolines, slides, climbing walls, obstacle courses, and bouncy castles. Parents can play with their kids at the bouncing castle, which is no walk in the park.
You can explore their 6-meter tall mega unicorn rainbow slide and get an adrenaline rush and fun out of this world. The rainbow slide will transport your kids to a massive ball pit near the trampoline zone, an experience that will make them go nuts. The best part of Bouncy Paradise is they have a toddlers play area dedicated for kids between 1.5 to 4 years that allows them to play and bounce safely with less challenging obstacles.
4. Kiztopia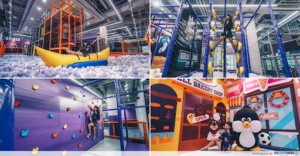 Kiztopia is a large indoor playground covering 18,000 square feet and themed around a cast of 11 original animated characters. The playground is one of the best in Singapore; it provides you with several activities to explore, from a Ninja Warrior Course to ball pits and train rides. Kiztopia consists of 18 play stations with specific learning objectives to help your kids develop social, emotional and motor skills.
You kids are safe at Kiztopia as they are guided around by friendly staff to ensure they have fun in different play stations. The best bit of Kiztopia is both parents can play and learn by engaging in their exciting programs that promote a healthy lifestyle and skills like creating artworks, building their robots, and cooking. You can have a new sensory experience at the playground by attending dazzling nights, often held in the evening, displaying special lighting effects and eye-opening light projections.
The toddler area is packed with several activities, including a ball pit, kiddie rides, and slides for your young ones. Lovable characters are showcased around the playground like a giant bear that you can bring home by purchasing at the store. You can rest and chill out for your kids while they play at the various seating areas distributed throughout the playground. Once your adventure at the play areas is over, you can hop in at Kith Coffee and enjoy tantalizing coffee and food with your little guys.
5. Hedge Maze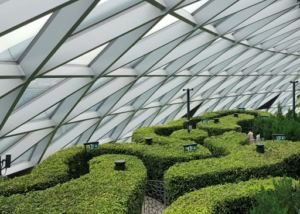 Hedge Maze is Singapore's largest maze located at Jewel Changi Airport. The maze provides you with a family-friendly activity to spend time with your kids and explore amongst nature. The Hedge Maze is inspired by English-style mazes bosting towering hedge walls, hidden swing gates to alter the path, and motion sensor flowers that pop up as you walk past them.
A quick dash through the maze is guaranteed to refresh your senses from the bustle and hustle of life. Your kids can explore Hedge Maze independently since it is not too difficult to navigate and is designed for the entire family. A beautiful watchtower at the end of the maze is meant to make your adventure more enjoyable. Once you dash through the Hedge maze and reach its watchtower at its core, providing you with stunning views of the entire maze as you guide your kids to find their way to you.
6. HydroDash Sentosa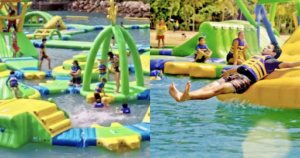 HydroDash Sentosa is the first inflatable water park in Singapore. At HydroDash, you can explore various adventures like sliding, climbing, bouncing, and leaping. The water theme park consists of family-friendly fun activities and excitement for all arranges from 5 years and above. You can beat the heat this holiday season with your kids by heading over to  HydroDash Sentosa.
HydroDash Sentosa is a haven due to its installed floating platforms that help you balance on along with steep slides to climb and slide down as you navigate the slippery obstacle course. This gives you the motivation to engage in friendly floating obstacle course challenges with your little guys. Although the obstacle course at HydroDash Sentosa is a real workout, the experience you will derive will last for a lifetime.
The best deal at HydroDash Sentosa is that your safety is assured because of the several lifeguards on duty who are keenly on the lookout to save thrill-seekers. The management requires that everyone at HydroDash be in good health and swim and wear a buoyancy aid while in the water theme park. The National Environment regularly monitors and checks the water quality at HydroDash to ensure maximum safety. Before play begins at HydroDash Sentosa, a compulsory safety briefing is repeated every hour.
7. The Pantry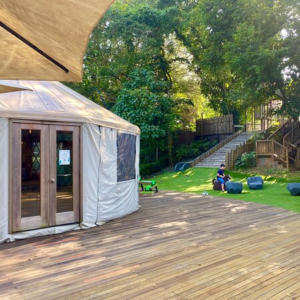 The Pantry is a hidden family-friendly restaurant within lush greenery located at Dempsey Hill. You can enjoy indoor and outdoor seating space surrounded by a beautiful natural setting. You can treat your kids to the Pantry's curated menu, which offers sumptuous selections of family favourites and relish a mesmerizing dining experience. The truth is, you will be spoilt for choice since their menu contains several delicious delicacies.
Young ones can enjoy simple dishes like cottage pie, woodfired pizzas, and salads. Why not try their signature Pantry Burger and Fish and Chips, a popular choice for most diners? Moreover, you can order their Moroccan roasted chicken, which is juicy and tender. Remember to save some space for their dessert that ranges from favourite bakes, including carrot cake, banana cake, chocolate cookies, and fruit tarts that will keep your little guys all smiley.
The best bit at the Pantry is that your kids can have fun after dinner by playing at the enormous treehouse-style playground within the restaurant. You can watch your kids running wild at the playground as you chill out at the alfresco seating. The Pantry also provides you with a special space that consists of play equipment dedicated to young kids and toddlers.
8. Museum of Ice Cream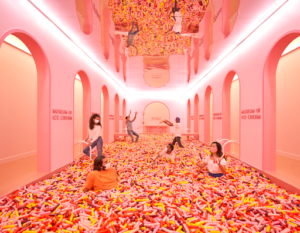 Museum of Ice cream is an international franchise where you can enjoy some of the wildest and most iconic ice creams at Dempsey Singapore. The venue occupies 60,000 square feet of space and is stunningly attractive, thus guaranteed to delight your senses and tantalize your inner foodie. Upon arrival at the Museum of Ice Cream, you will be guided through 14 ice cream-themed installations and be rewarded with unlimited sweets along the way.
You can give your little guys a treat of a lifetime by sampling their frozen servings of delicious flavours with a local twist, including Apple Pie Soft Serve, Lychee Bandung, Taro Milk Tea, Pulut Hitam, and Lemon Bliss Balls. The museum has several play stations, including the local-inspired Dragon playground, the pink and yellow banana jungle, and the largest sprinkle pool at the Museum of Ice Cream, offering your kids plenty.
The best part of your visit to the Museum of Ice Cream is you will enjoy five unique free ice cream treats as you are guided through the venue by the friendly and talented staff of the museum. Visiting the museum with your kids will enable you to rediscover the kid in you as you eat, learn, play and bond with them.
9. Snow City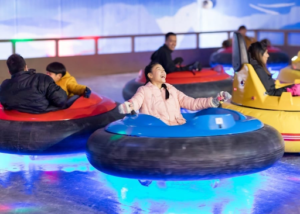 Snow City is Singapore's first indoor snow centre that attracts more than 250 000 visitors from all over the world. You can enjoy snow experiences all year round and benefit from enriching educational programs from the snow professional at the venue. Regardless of your age, you can remain young at heart by sliding down the ice ramp on a tire at the snow city.
You will have a mesmerizing experience at the snowpack thanks to the qualified lifeguards that are always ready to rescue you in case of an emergency. In addition, your kids can have a blast at the waterslides since they can be guided by the lifeguards, thus ensuring their safety and comfort. Some of the key attractions you will enjoy at the snow city include snow castles, igloos, snow mountains, snow tubes, snow rafting, and a snow dance floor. Snow city provides you and your family the opportunity to experience winter in Singapore, which is often a busy tropical city. Therefore, hurry and get yourself a bundle ticket that will afford you an hour's snow playtime, a bumper car ride, a winter jacket, and winter boots for an exceptional holiday experience with your kids.
10. Forest Adventure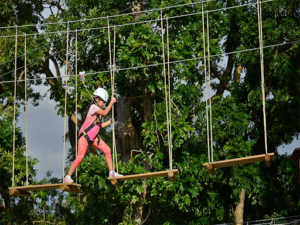 Forest Adventure is Singapore's largest treetop adventure park that provides you with an unforgettable outdoor activity guaranteed to increase your adrenaline rush and tremendous fun. The adventure park consists of three courses, two of which are dedicated to kids. The adventure involves crossing challenging obstacles, including wobbly bridges and riding ziplines over water.
Although all the courses at the Forest Adventure are unguided, you will be taken through a 20-minute safety briefing before you embark on the treetops to use your equipment and overcome the obstacles. The best thing is that the instructors at Forest Adventure are constantly patrolling the ground to rescue you if you get stuck. Everyone at the treetop is safe, including your kid, thanks to their continuous belaying system that ensures that all are connected to a safety line throughout the entire course.
Your kids are sure to have an experience of a lifetime through climbing, ziplining, and sliding through the thrilling obstacle courses. Younger kids aged 5-9 can embark on the more accessible and safer kid's course, consisting of 22 crossings and 2 fantastic zip lines. Moreover, your toddlers can play at the playground built on a sandpit. A must-try challenge for parents is a 300m zipline that will take you over water and help you rediscover the kid in you and give you an unforgettable adventure.
There you go with our ten exciting things to do with kids during this school holiday in Singapore. Are you looking for a reliable travel partner to help you take your family to these destinations comfortably? Look no further than Shariot car-sharing and rental services. We are available throughout the Island to serve you.