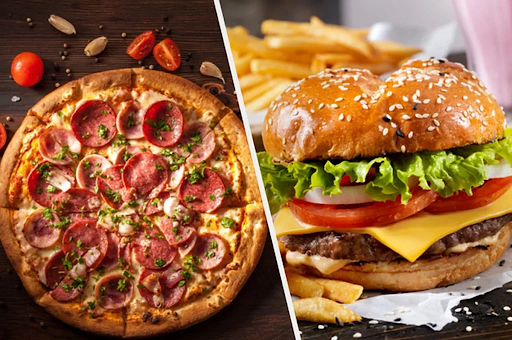 French fries, pizza and burgers are popular Singaporean fast foods loved by many people. Many people indulge in tasty burgers now and then. Meat lovers and vegetarians can enjoy the fluffy burn loaded with their favourite content- meat, vegetables, and other toppings.
Pizza is often preferred for lazy stay-in days with friends and family as you watch a thrilling movie or story. This fast food comes in many forms, including pizza Margherita, stuffed crust, or crisp thin-crust pizza topped with cheese and pepperoni.
Several joints in Singapore offer fabulous burgers and pizzas to help you satisfy your cravings. If your favourite joint is far from where you live, you can always request your Shariot and head there within minutes. After a week of hard work, why not give yourself a treat at one of these joints and rejuvenate for the coming week of activity? Here are some joints in Singapore worth considering to whet your appetite for pizzas and burgers.
1. 3 Monkeys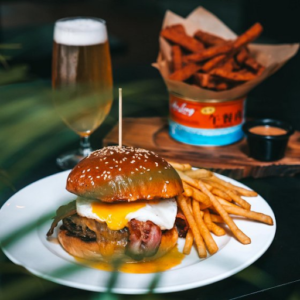 This restaurant is located among the Pasir Panjang neighbourhood along West Coast Highway. Cyclists riding along this highway love to come to 3 Monkeys for a taste of their burger. The restaurant's warm homely dinner, boasting their soul comforting burgers, thick shakes, and freshly pulled pints of craft beers, is a delight for all foodies at this place.
Besides the burgers, the owners also boast of their speciality in serving nostalgic cheesy baked rice and tasty bar grub. The King Kong burger for $16.50 is an ideal treatment with a 100% beef party. The burger is also loaded with caramelized onions and cheddar to satisfy you. The drinks that accompany the burger draw large crowds for lunch and dinner treats; therefore, come early for the ultimate experience.
2. Wild Child Pizzette
Italian restaurants often specialize in pizzas, and the Cicheti Group, with its chef-owner Lim Yew Aun, delight in fantastic pizzas. Lim had always dreamed of making playful pies when he was a little boy, and his dreams were realized when he discovered Wild Child Pizzette. This cosy 36-seater place is where water, flour, yeast, and exciting idea come together to create unconventional plates.
The dough is first fermented for three days before being assembled with pickled onions, Bagna cauda, and kale. With $19, you can enjoy a mouth-watering product with a creamy honey taste.
Since no wall encloses the kitchen, you can witness the action live or feel the heat from the oven. Besides the savoury pies, you can also enjoy a Bikini sandwich stuffed with cheese and beef cheeks; therefore, if you are craving pizza, head down to Wild Child Pizzette for a delightful treat.
3. MeatSmith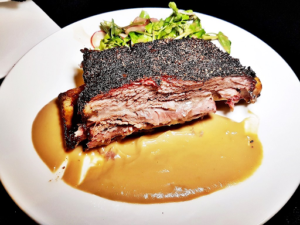 If you love your meat smokey and slightly charred, then this American Steakhouse located in Little India is the place to be for a tasty burger. The restaurant has two Telok Ayer and Little India locations, where customers can feast on brisket plates, barbecue ribs, and drinks.
While here, try their favourite Cheeseburger for $10. You can also order oysters covered in a cinnamon tomato, the veal brisket chapati, and chipotle sauce.
Food at this outlet is based on Southern American barbecue, where cuts of meat are marinated and smoked before they are stuffed in fluffy burns. If you feel a little thirsty, you can order from their range of beverages to wrap up your burger feast.
Even bigger groups have a place here with various plates available, including $75 for two, $195 for four people, and $495 for ten people. These deals guarantee satiety, leaving you stuffed and rolling to the road. The MeatSmith is the burger king in Little India, so pass by for a good treat next time you are around.
4. Blue Label Pizza and Wine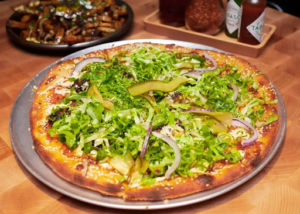 Blue Label is a self-proclaimed best pizza place in Singapore. It is loud and cocky about its pies, flaunting their pizza as the coolest on the Island. The restaurant is the American Chef Travis Masiero's handy work, following the same SG to NYC formula to success.
The J-Dog pizza for $32 is an excellent option for you and your family since it is an upgrade for meat lovers. It is tucked into bacon, pork sausage, cubed jalapenos, and pepperoni. It may look like a simple meal, but it gets you full and satisfies your cravings.
Why not try their Supreme cheeseburger pizza and experience the taste of a McDonald's? The dough used in making this pizza is sesame coated topped with special sauce for cheddar-bacon melt, overcooked ground chuck, and lettuce. With good music in the background, every bite taste is excellent.
5. Five Guys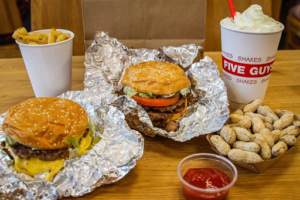 In December 2019, Five Guys' popular burger chain opened its doors at Plaza Singapura in Singapore. It is widely known for its hand-formed patties and crispy fries, but now you can also satisfy your cravings for burgers, milkshakes, and fries without moving to the East Coast.
Their menu includes plain burgers for $13 and those topped with cheese for $15. A bacon cheeseburger loaded with applewood-smoked bacon goes for $17. You can add several fix-ins of your choice to your burger for a greasy taste. If your cravings are still up, you can order their beef hot dogs for $10 and sandwiches for $8.
American diner is never complete without french fries, and Five Guys french fries are treated with superiority. The potato cutting and the frying are perfectly done to ensure they reach their full potential: crispy, firm, and yet soft when bitten.
After indulging in the burger, wash it down with a bottomless soda fountain drink for only $5 or the classic Five Guys shake for $10 for the ultimate experience. The classic rock music will keep things going smooth to enable you to pass the time and eat more burgers.
6. Chooby Pizza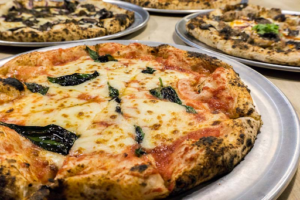 Chooby pizza may function as a café during the day serving various drinks, but it transforms into a busy pizzeria at night. They are specialized in Napple-style pizza with a thin and light crust loaded with mozzarella cheese and tomatoes. The dough they use to make their pizza is naturally leavened since it is left to ferment longer, thus creating a new flavour.
Crowds often clamour for pizza from Chooby, meaning you will need to book your piece early; otherwise, you could miss the pizza. Furthermore, you can taste several flavours, including the spiced coconut chicken from Thai. The accompanying coriander, spicy tom Kha sauce, and Grana Padano give the pizza a unique taste worth waiting for.
7. Ristorante Luka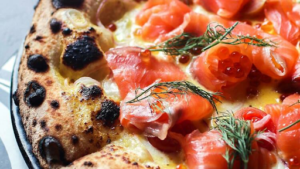 Japanese restaurant may not be the first place you think about when looking for pizza; however, Ristorante Luka is doing great with its wood-fired pizzas. This Italian-Japanese spot gives you a perfect fusion of Japanese and Italian cuisine. Some of its pizzas, like Bianca Biancheti, are inspired by Japanese cuisines. Vegetarians will love pizzas at this restaurant since it has several vegan pizzas for non-meat lovers.
Weekday evenings are often packed with several Japanese ladies and gentlemen sharing pizzas and laughter. The restaurant's signature dishes entail the House-made Wagyu Bresaola, serving as an appetizer, Plin Agnolotti ravioli, a dish of 62-Degree Egg with Wagyu, and Prosciutto e Rucola Burrata pizza. If the pizza is too tasty to eat only one, you can order takeaway for a midnight snack.
You could also try their tomato-based Bismark, which contains scattered mushrooms, mozzarella cheese, eggs, and bacon. Alternatively, you can begin your meals with the chef's Omakase Platter that comes with uni egg and foie gras dorayaki.
8. Shake Shack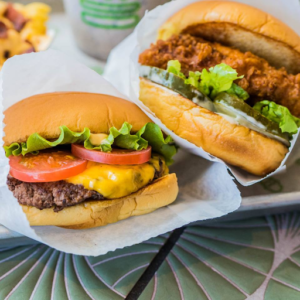 Shake Shack is a burger specialist with five outlets in Singapore showcasing its prowess as a world burger brand. Apart from the regular fries and burgers, each outlet has other foods on the menu, including hand-shaken lemonades and special concretes.
Shackburger is made from 100% natural Angus beef, while its Cheeseburger is perfectly baked using soft potato buns, tomatoes, lettuce, and the secret ShakeSauce. If things over the top are your favourite, you could order the Shack Stack with its deep-fried Shroom Burger layer. The burger is stuffed with Monterey Jack, Colby cheese, and tilsite cheese.
Shake Shack also features some exclusives such as pandan shake, coconut, and vanilla ice cream sprinkled with gula Melaka crumble. Remember to taste their mouth-watering deserts or Jewela Melaka. Jewela Melaka is a vanilla custard mixed with blended coconut, salted caramel, and Lemuel chocolate chunks. Since Shake Shack utilizes locally grown brands, they have penetrated the Singaporean market faster than most competitors. The taste for their burgers is worth the wait and the money.
9. DC Super Heroes Cafe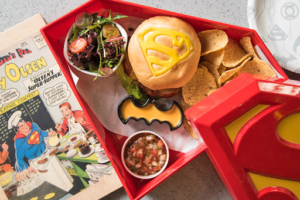 As we grew up, we all had fantasies of meeting our favourite superheroes and were elated at the thought of visiting a superhero-themed park. DC Super Heroes Café allows you themed meals featuring the likes of Superman, Batman, Aquaman, Wonder Woman, Cyborg, and The Flash. The restaurant is covered with faces and the logo of the Justice League with movies from the DC Comics Universe playing on the screens.
The restaurant is Halal certified with various meat and vegetarian burgers. Their menu and interiors boast over 150 mains, drinks, sides, and desserts- all rotating around the Justice League. The Batman's Dark Knight Beef Burger is the best seller here, and both children and adults love it for its taste and what it stands for. Pick your favourite superhero burger with different flavours (chicken patty, gouda cheese, beef, and sunny-side-up egg).
10. Ministry of Burgers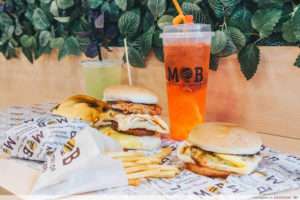 Ministry of Burger owners longed for a place to get a regular dose of reliable Ramly burgers. These burgers were popular in the streets of Malaysia but not in Singapore, thus creating an ideal business opportunity. However, their burgers are different from the Pasar Malam Ramly burgers since they use thicker patties and unique in-house sauces that you cannot duplicate anywhere else.
Famous burgers at this burger house include the Rainbow and the Thunder burger, stacked with four patties. These burgers have different flavours, including chicken, fish, eggs, veggies, beef, and the usual sauces.
Beef and chicken burgers are cooked using traditional Ramly style but with 80 grams thick patties. On the other hand, the fish burger undergoes careful cooking to ensure the outside is crispy while the inside remains soft and biteable. Vegans are also catered for with a delicious soy-based patty stuffed with tomatoes and lettuce. The egg Benjo burger also substitutes the meat patty since they are delicious and affordable.
You can know the quality of burgers at Ministry Burgers by the number of crowds they attract. People often crowd here in the evenings for a great bite after work before heading home.
11. Sonny's Pizza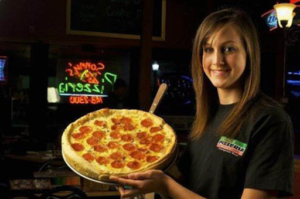 Nobody can question that pizza originated from Italy; however, its honorary town is New York City. You can be confident that pizza from New York will always be great with an irresistible taste, and New York's grab-and-go culture inspires Sonny's Pizza. Unlike most pizza houses, Sony's Pizza sells theirs by slices, and many people seem to love them.
They use low-gluten flour and fresh beer yeast, making the pizza friendly to gluten-intolerant individuals. Once you arrive at the restaurant, you can start with the slice called "I am Going Green," a vegetarian pizza. Since this pizza is stacked with mushrooms and served with bechamel sauce, its taste is as good as meat-based pies.
Sonny's pizza offers three unique pizzas for its customers: Large, Family, and Party pizzas. The menu has a wide variety of pizzas and accompaniments to choose from. Regardless of your cravings, you can get the exact taste you long for at Sonny's Pizza.
12 Citrus Bistro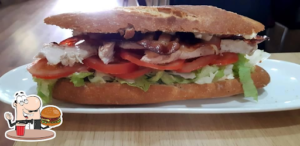 This burger place is located at a community centre with a swimming pool and sports fitness. This restaurant is Citrus by the Pool's branch and is 8 minutes' walk from Farmway LRT. You can enjoy alfresco dining at this restaurant as you gaze through a beautiful view of the environment.
It is an excellent place for children and families to have a tasteful bite and enjoy the best time at the water slides and splashing pools. After burning some calories swimming, you can reenergize with a post-swim meal at Citrus Bistro.
If you are looking for sumptuous western dishes such as steak, pasta, burgers, and sandwiches, Citrus Bistro is the place for you. They have three burger variations: Big Boss, Little Boss, and Da Burger Bomb. The Big Boss comes with two thick and juicy steaks, caramelized onions, cucumber, tomato, and chunky satay sauce. The Little Boss has similar ingredients but with a single meat patty.
These restaurants will undoubtedly put your burger and pizza cravings to rest. With Shariot, you can visit more than one restaurant as you sample the best of these restaurants. Your cheat day out for those on a diet is sorted out. Enjoy your day with family and friends bonding over burgers or pizzas at your favourite restaurant.