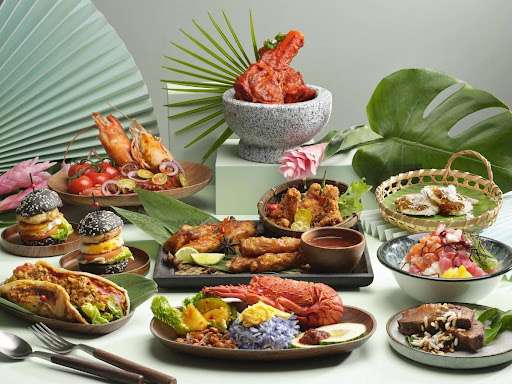 Ramadhan is a special month of the Islamic calendar dedicated to prayer, reflection and repentance. Fasting Muslims must abstain from all foods and drinks from dawn to sunset; hence, the need to reward oneself with a hearty meal after a long day of fast. Interestingly, non-fasting Singaporeans remain respectful and avoid eating and drinking in public during daylight hours but opt to eat out in restaurants.
Are you wondering which is the best restaurant to break the fast this Ramadan in Singapore? Worry not; shariot car sharing and rental services have prepared this article to assist you in finding an excellent restaurant of your choice to break fast this Ramadan. Most Muslim families prefer to eat out in restaurants and are not keen on cooking at the end of the day.
The good news is there are various Muslim-friendly restaurants in Singapore for breaking fast during Ramadhan, where you can make merry and round up your loved ones to indulge in well-deserved sumptuous meals. You can relish hearty buffets with various cuisines, guaranteed to reward your palate. With Singapore bestowed with myriads of iconic restaurants, you are spoilt for choice where to go this Ramadhan. Scroll through the article for the best restaurants to break fast this Ramadan in Singapore.
1. Asian Market Café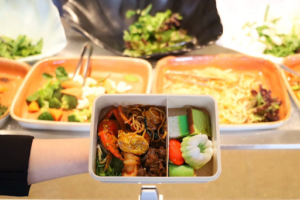 Asian Market Café is a popular spot among the Muslim community due to its Halal-certified buffets of local favourites and contemporary regional delicacies. You will enjoy an array of well-loved Southeast Asian cuisine that honours the region's diversity of flavours and cultures. Asian Market Café is one of the best restaurants where you can break fast this Ramadan due to its SG CLEAN certificate; thus, it is safe to dine at the cafe since it adheres to high standards of environmental public hygiene.
Asian Market Café provides a wide range of cuisines you can choose from, including Malay, Japanese, Chinese, and Indian. You will enjoy fresh cold seafood dishes during the Ramadan as you immerse yourself in various delicacies, including crayfish, prawns, clams, mussels and oysters. Ensure to reserve some space for their dessert, which includes local sweets with the standout of chilled durian pudding or opt for the Portuguese egg tart.
You can look forward to enjoying various dishes, including Japanese inspired sushi stations, live chicken Tikka station and a breathtaking Roasted Mandy Lamb station. Other delicacies you can relish include Wok-Fried Singapore Chilli Crab, Sir-Fried Kampung Fried Rice, Ayam Masak Merah, Long Bean and Braised Beef Rendang with a Brown Coconut Sauce. Book your Shariot and head down to Asian Market Café, to embark on a gastronomic experience.
2. 21 on Rajah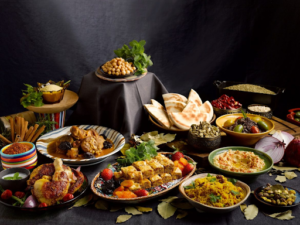 21 on Rajah is among the best restaurants to break the fast this Ramadan in Singapore due to its halal-certified since 2014. The vibrant restaurant represents the best of nature and modern architecture with a healthy and hearty Mediterranean cuisine menu. The hidden gem is surprisingly not costly and provides local favourites and South East Asian delicacies.
21 on Rajah is a clean restaurant with the best, friendly and caring staff who ensure that all clients have a memorable experience. The restaurant prepares various delicacies leaving you spoilt for choice this Ramadan due to their signatures and Mediterranean cuisine.
A signature dish to try at the 21 on Rajah is their Bubur Lambuk, a spiced rice porridge traditionally eaten during Ramadan. Some of the highlights at 21 on Rajah include Sashimi and Sushi spreads, Epok Epo, and Roasted Beef Rib-Eye Rendang Sauce. Since 21 on Rajah is known for its Mediterranean cuisine, you will be treated to grilled assortments, including beef kebabs, beef shawarma, and succulent lamb chops, satisfying all your cravings for meat.
3. StraitsKitchen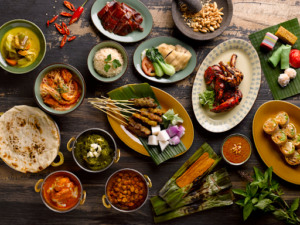 StraitsKitchen is one of the best restaurants to break fast this Ramadan in Singapore. The restaurant has a spacious dining room with a contemporary marketplace setting and an extensive menu featuring local dishes. You will enjoy authentic Singaporean cuisine with approximately 50 main dishes and 20 desserts. You will witness veteran hawkers whip up a colourful selection of local dishes at StraitsKitchen, including Chinese, Malay, and Peranakan delicacies.
Although StraitsKitchen is a hawker food, it has a posh and classy look with elegant furnishings and an air-conditioned dining room to protect you from Singapore's sweltering weather. The foods here are cooked on the spot in open kitchens; allowing waiters to replenish your plate promptly. The restaurant has a beautiful theatre kitchen which enables you to view chefs prepare your food behind the counters and hear various lively cooking sounds. Highlights at the StraitsKitchen include Hainanese chicken rice, laksa, satay, beef rendang, nasi goreng, roti prata and tandoori chicken.
4. Carousel Buffet Restaurant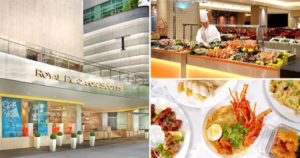 Carousel Buffet is among the best restaurants to break fast this Ramadan in Singapore because food is prepared in Halal-certified kitchens. The restaurant will serve you with global gastronomy that is appealing and guaranteed to delight your palate. You will be spoilt for choice due to the wide array of delectable cuisines, including Mediterranean, Japanese, Asian, and French Rotisserie and desserts, meant to pamper your senses.
Carousel Buffet is located at Royal Plaza on Scotts and has received awards for 7 consecutive years. The award-winning restaurant has friendly staff who warmly welcome their guest upon arrival to a table in a perfect setting. Carousel Buffet Restaurant is a famous go-to place among locals and visitors due to its sumptuous delicacies and elegant ambience.
Highlights in their menu include a cold seafood station featuring tantalizing dishes like scallop, lobster, prawn, oyster and crab. You can top up your meal with desserts ranging from chocolate fountains, Asian desserts and hot desserts. Head over to the Japanese counter and treat yourself to soba, sushi, tempura and sashimi. Do not leave your little guys behind this Ramadhan while dining at Carousel Buffet; kids between ages 4 and 11 will be charged at child price.
5. Aquamarine Restaurant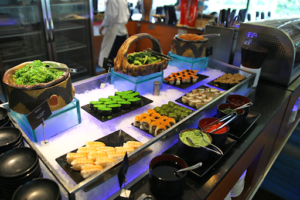 Aquamarine Restaurant is popular among diners since it offers sumptuous selections, including a Halal-certified buffet featuring Asian and international cuisines. The Aquamarine Restaurant is located at the ParkRoyal collection in Marina Bay. Aquamarine provides you with various lavish spreads, qualifying it as one of the best restaurants to break your fast this Ramadan in Singapore.
Aquamarine has a warm yellow theme, creating a tranquil ambience for enjoying special occasions. The restaurant has a glass-enclosed show kitchen that enhances its décor and allows diners to watch as the passionate chefs at Aquamarine prepare meals. The restaurant is spacious with a 260- seat capacity, providing an ideal spot to break the fast this Ramadan with your family and friends. Since Aquamarine is an international buffet restaurant, it is known for delivering high-quality food and service consistently.
Aquamarine Restaurant is a seafood paradise where you can satisfy all your craving with premium mussels, crabs, salmon and prawns. Head over to the Japanese counter and order a plate of mixed sashimi, fresh and delicious, guaranteed to make you lose yourself in the wonderful flavours. The good news about dining at Aquamarine Restaurant is international guest chefs will be invited during Ramadan to showcase their best dishes and spice up the occasion. Remember to reserve some space for dessert and relish chocolates, cakes, egg tart and durian penyat- the signature highlights at Aquamarine Restaurant.
6. Sakura International Buffet Restaurant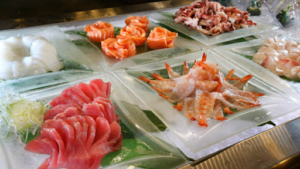 Sakura is one of the best restaurants to break your fast this Ramadan in Singapore since they offer an array of international delicacies at competitive prices. The restaurant provides budget buffets across its  7 outlets nationwide and has more than 100 delicacies making it an ideal spot to dine with your family and friends this Ramadhan. Sakura specializes in international cuisines, including Western, Japanese and Oriental food.
The Truth is, you will be spoilt for choice at Sakura due to the various delicacies on offer when choosing the best appetizers, mains and desserts. Seafood dishes are fresh and plentiful, such as prawns, crabs, oysters, scallops and mussels. Interestingly, Sakura is one of the few Halal restaurants that provides diners with vegetarian dishes; thus, if meat is not on your diet menu, they have covered you with this Ramadhan. You can take a gastronomic tour of Japan by ordering sashimi, sushi, chawanmushi and teppanyaki. You can top up your meal with yummy durian desserts, including durian puffs, durian buns, durian roll and their signature durian tempura.
7. Permata Restaurant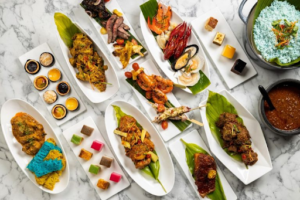 Permata is a Halal-certified Nusantara restaurant at Kampong Gelam that has stood the taste of time since it was built in the mid-19th century. You can enjoy Nusantara cuisine showcasing the vibrant diversity and indigenous ethnic flavours presented in a modern way.
Permata Restaurant serves up new spreads during Ramadan, featuring favourites like RendangRusuk Minangkabau, Nasi Opor Cakerawala, Satay Madura, Kuluban, Taman Sari, Avam Bekakak and Lalapan. You be treated to traditional Ramadan, including Lemang & Serundeng, Nasi Kuning Di Raja, Kolak Pisang and Bubur Som Som.
You will have the pleasure of meeting Chef Mel Dean, who creates Mee Maidin -the iconic signature dish of Permata Restaurant to ensure you have a mesmerizing Ramadhan. Other highlights include Kerabu salads, soups, ricsambal bajak, salted fish, and rice crackers. Consequently, treat yourself to an epic food adventure at Permata Restaurant, where traditional dishes are created with a modern twist.
8. Penang Culture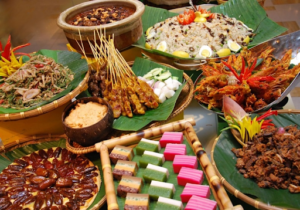 Penang Culture is one of the best restaurants to break your fast during this Ramadan since it is recognized as the first Penang-themed Halal eatery in Singapore. You can enjoy various street delicacies at pocket-friendly prices in a comfy environment. The restaurant's Head Chef Wong Thin Lipp will give you a memorable treat this Ramadan with fresh food that will bring comfort to your soul and keep you a regular in the Penang Culture.
The restaurant is popularly known as Street Food Paradise due to the sumptuous hawker delicacies, including Penang Fried Koay Teow, Assam Laksa BBQ Seafood and Rojak. You can dine at the restaurant this Ramadan with your love, enjoy Penang's signature Nasi Ambeng Feast and get a 50% discount.
Nasi Ambeng Feast features nine dishes, including succulent white garlic chicken cutlet, satay chicken, beef Rendang, spicy BBQ Stingray, Sambal Prawns, French Bean with Tempeh, Sambal eggs, Serunding and vegetable crackers with fragrant steamed rice to ensure to have a heaty Ramadhan. Suppose you are not planning to dine out this Ramadhan you can get this feast delivered to your doorstep and receive a complimentary giant bottle of Pepsi.
9. Tok Tok Indonesian Restaurant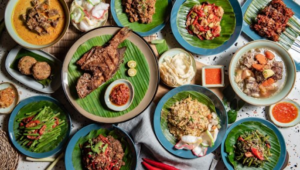 Another best restaurant to break fast this Ramadan in Singapore is Tok Tok Indonesian Restaurant, where you can relish mouth-watering Indonesian cuisine. The restaurant aims to bring out a nostalgic taste of Indonesia by creating an array of heart-warming dishes using original family recipes.
You can delight yourself with Tok Tok Indonesian Restaurant signature dishes like Ayam, Batagor, Dendeng Sambal Bali, Bakar Betutu, Buntut Goreng Sambal Matah, Ikan Bakar Bumbu Bali, Nasi Kambing, and Soto Betawi.
10. Golden Pillow 933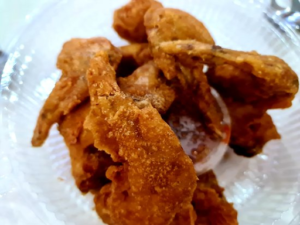 Golden Pillow 933 is a favourite spot among fasting Muslims during the holy month of Ramadan. The restaurant creates mouth-watering delicacies that are certain to delight your palate. The restaurant has a signature buffet- XXL Golden Nasi Ambeng crafted to feed more than five hungry folks.
Highlights at the restaurant include succulent Roasted French Ayam Bakar and the richly tender Beef Rendang. You can have your mains with a roasty urap, spiced serundeng, sambal goreng, paru goreng, whole salted egg, deep-fried salted fish, potato cakes and ayam masak lemak chilli.
With so many best restaurants to break fast this Ramadan in Singapore, you will be spoilt for choice. Your choice will make your Ramadhan adventurous and perfect for your stomach and soul. Shariot car sharing and rental services are your trusted companions to take you to the best restaurant of your choice to break fast this Ramadan in Singapore.
Shariot Celebrates Ramadan with You
Shariot car-sharing and rental services celebrate Ramadhan with our Muslim friends. Our services are available 24/7, providing you with affordable and convenient car-sharing services. You can take your family to any Halal certified restaurant in Singapore using our cars and break the fast your way.