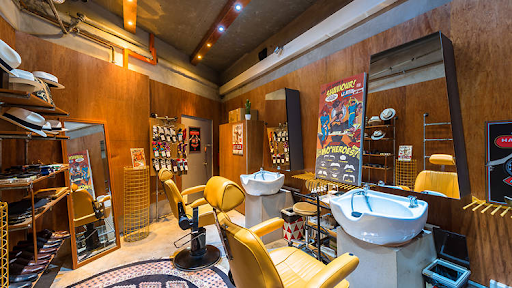 Grooming is part of human life, and for men, a good barber is essential. A man may wear the best suit or have a good physique, but it is all null and void if his hair is messy. In Singapore, skilled barbers are equipped to cater to all your grooming needs. They offer haircuts, head spas, and facial scrubs. At Shariot, we value how you look; therefore, we have combed through the Is men looking out to up their grooming game and style, below is a list of cool barbershops in Singapore that you can visit. All you have to do is sit back, relax and let these experts make you look exquisite.
Sultans of Shave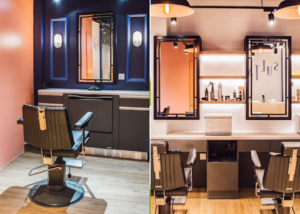 Starting in 2013, Sultan of shave prides itself in offering the ultimate shaving experience. Their services depict their passion and inspiration for male grooming and are coupled with great customer service. Sultan of Shave provides the modern man with the space to pamper himself and network in a relaxed setting.
They have four outlets in Singapore with over 60,000 customers. They aim to be the leading men's grooming providers in Singapore. They are centrally placed in prime locations, offer exceptional services, ambiance, and amenities, and specialize in beard and hair services with one of the best traditional wet shave services in Singapore.
Awesome Handsome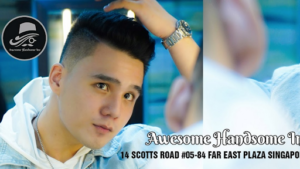 Experience an awesome hair day and shaving at Awesome Handsome Inc. They offer designer haircuts, gentlemen's haircuts, barbering, shaving, and grooming. Many experienced barbers offer classic or contemporary hairstyles or anything your heart desires. Their prices are reasonable and leave you looking sharp and fresh.
Recently they started catering for ladies' bridal hairstyling and events and stage performances.
Barber 25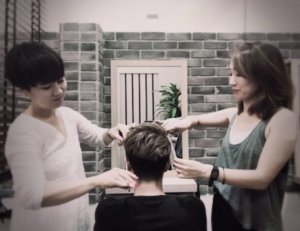 Are you looking for supreme barbering, hairdressing, or head spa services? Fret no more! Barber 25 have you covered. Following their brand name, which means 'smile' in Japanese, Barber 25 is committed to putting a smile on all of its customers by offering quality grooming services that inspire confidence in important events in life or business. They provide a complete range of services, including head spas in the comfort of a private spa room. Their high-level barbering and hairdressing techniques are coupled with impeccable Japanese and personalized services. Visit this 'one-stop' barbershop where quality is assured.
Haar Attic
At Haar attic, communication and thorough consultation is key to great results. It comprises experienced stylists, who believe in paying attention to their customer's needs. After ascertaining their client's wants, they use their technical know-how and aesthetic to give you an unforgettable experience. They view hair as a piece of art and diligently work to produce a masterpiece for you. Haar Attic uses the best products from the USA, France, and Japan. They also specialize in creative colorings such as ombre and bright and ash colors.
The Good Guys Barbershop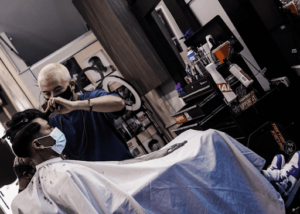 Located in Little India, one of Singapore's most bustling and vibrant neighborhoods, the Good Guys Barbershop is tucked away in a cozy corner that enables you to enjoy the pampered haircut you deserve. This barbershop was founded by a group of guys for people of all walks of life. The barbers are friendly and allow you to select the service you want, after which they work out their magic. Good Guys Barbershop will enable you to be daring, unique, and yourself with a good haircut.
Before And After Barber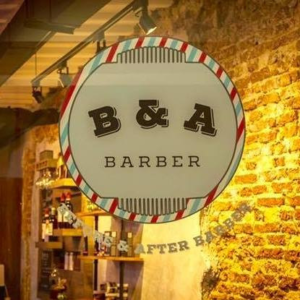 Before and after, barbershop provides all kinds of innovative and modern services in hair care. They offer a wide range of hairstyles, looks, treatments, and products that reflect customers' individuality and personal taste. The team at Before and After Barber make sure that customer satisfaction is their number one goal and tailor their services as per your specific request at fair prices. It is located strategically close to various MRT stations such as Chinatown MRT, Telok Ayer MRT, and Tanjong Pagar MRT, making it easily accessible.
Rogue & Beyond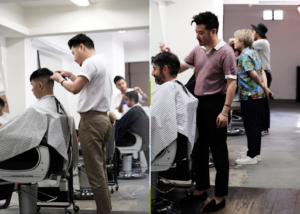 They are renowned for specializing in contemporary classic infused looks with effortless cool. They thoroughly study an individual's style and features before designing and executing cuts that are specifically tailored. They treat hair as a canvas to express their creativity for a sophisticated, contemporary look that can easily be recreated and styled at home. Rogue & Beyond educate clients on styling based on their hairstyle and texture. They focus on individuality rather than trends.
Autocutt Barbershop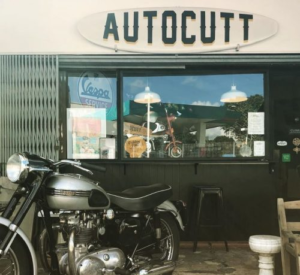 Autocutt Barbershop offers old-school haircuts and refreshing trimming sessions. The professionals are well-experienced and use the original fragrance Cologne while skimming clients' faces. They are excellent at hot towel shaves and beard trimmings. You can also book sessions for exceptional hair tattoo services. The shop also sells hair styling products.
Hombre Barbers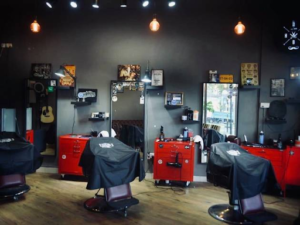 Hombre Barbershop has a reputation for excellence, and the store has a warm atmosphere. The team requires a pre-visit appointment in Singapore to receive barbering services. Barbers also provide excellent hair waxes to their clients. They strive for a clean workplace which leaves every guy feeling fantastic after a visit.
Splice Barbershop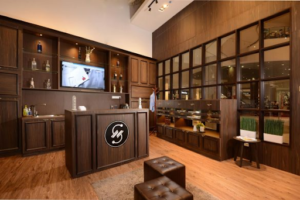 Splice barbershop offers modern and unpretentious looks. They are experienced in traditional hair-sculpting and ensure their clients leave completely happy with their appearance. They are located at Suntech City Mall, making it ideal to do other things while waiting for your turn. They also provide accessories such as neckties, cufflinks, timepieces, and lapel pins.
Red Panther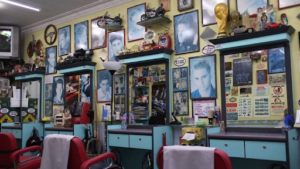 This shop is tucked away in a little hidden spot. In this barbershop, you get to sit in a small chair next to a loved one or friend while getting your haircut and recreate old memories of an old-school barbershop. The shop also has an amazing selection of vintage vehicles and miscellaneous collectibles that you can look at while you wait for your turn. The team has over 40 years of experience and affordable services.
We Need A Hero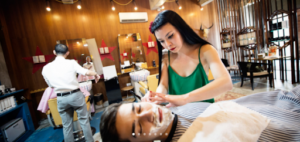 We Need A Hero offers brow grooming, AFT, waxing, and other services in addition to basic styling and haircutting. They aim to make you look like the hero from a movie scene or one the world needs. You can also enjoy massages and facial services at reasonable prices.
DeepCuts Barbers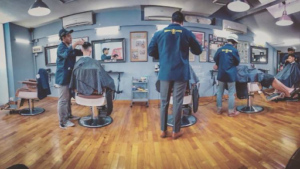 Recognized by several media outlets for their enthusiastic and genuine barbering and male grooming, DeepCuts Barbers offer shaves, haircuts, and beard trims/sculpts with special equipment. They help you create a conventional gentleman's look without breaking the bank. Their quality services have earned them local and international accolades.
Kings Barber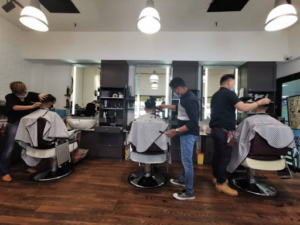 Kings Barber provides basic barber services like wet shaves and haircuts and complex hair coloring and facials, leaving you completely satisfied. Their barbers are trained and certified in the U, offering the finest grooming product essential to clients longing to maintain a cool appearance. They are Singapore's only Proraso Ambassador. In addition to their great ambiance, after visiting them and experiencing their services, you will leave looking like a king.
Truefitt and Hill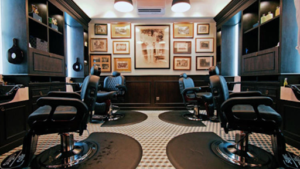 They provide various services, including hot towel shaves, haircuts, beard trims, hair colorings, facial hair shaves, relaxing, and perm treatments. They also have extensive nail care services such as acrylics, wraps, pedicures, and manicures. Visit Truefitt and Hill for overall grooming service.
Bipolar Barber Shop
Redzwan Aman founded it in 2016 to increase mental health awareness among the public. This barbershop offers a safe space for people to relax and talk about anything without the worry of being judged. Since Redzwan solely runs it, the barbershop operates on an appointment basis. It offers haircuts, wet shaves, and hair tattoo services for those interested.
Bodeiga Barbershop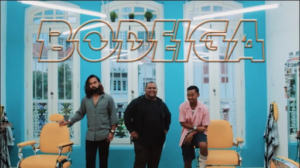 Bodeiga Barbershop derives its name from Bodega's small corner store that sells snacks, drinks, and other necessities. Bodeiga barbershop provides affordable barber services. It is run by three professional barbers and is a well-known business in Singapore for its outstanding services, skilled hands, and personalized approach to each client. Bodeiga has a calm ambiance and wonderful music.
YanCutsHair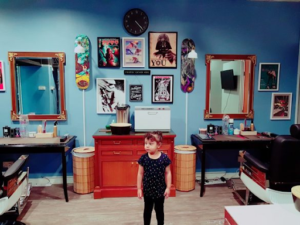 This is a great spot for Star Wars fans as the atmosphere is more than a simple barbershop. They have a Star Wars collection and other sci-fi helmets. The barbers are keen to detail and provide meticulous and intricate designs. YanCutsHair boasts itself in a rave of reviews and loyal customers.
One customer testimonial; Yan is an excellent barber and treats his clients like family. His skills are unmatched, and he deeply cares that all leave the shop satisfied. If you are a Star Wars fan, this is a real gem worth visiting!
The Panic Room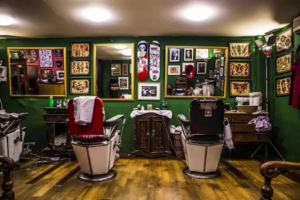 This edgy barbershop in Singapore offers good shaving and spiffy hairdos. It started as a web store selling pomades such as Shear revival, The Bluebeards Revenge, and Lockharts. Aside from pomades, it also features beard oil, mustache wax, and slick grooming products. It also has an amazing collection of vinyl records.
Jermyn Street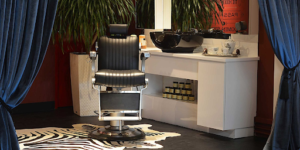 Deriving its name and austere personality of the historic Jermyn Street in London, this barbershop offers many services such as hot towel shaves, cuts and washes, and beard grooming at a premium. The services are done across six chairs by a team of four headed by Steve Chapman. Gents with constant hair needs can enjoy the VIP member package, which entitles one to 12 haircuts to be utilized within a year.
Empire of Steel

After spending 10 years in the hairdressing industry, Sean Ong founded Empire of Steel with the weird goal of giving one a 'wicked haircut' that will leave everyone ogling at you. At Empire of steel, your hair and beard are treated with the utmost care and respect. They also offer Aveda scalp treatment because they believe healthy-looking hair starts from the scalp.
LA Barbershop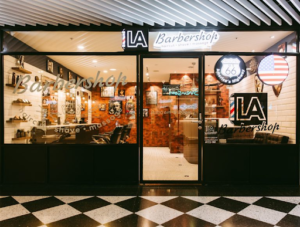 This barbershop boasts a vintage vibe and modern twists with its quirky ornaments and an eclectic collection of posters on its brick walls. They offer a wide range of services, including ear cleaning, at affordable prices. The ear cleaning experience starts with a thorough ear assessment before moving on to a series of feathering, stroking, and ear-tingling methods to prepare and relax the receiver for the excavation.
Some of the intriguing tools used in this ear cleaning are peacock feathers, horsetails, and goose down, which are first thoroughly cleaned and sterilized after each use. Sometimes 5 to 8 tools are needed to complete the task. Their Works Package includes a relaxing shoulder massage on top of having a haircut and shaving.
Grease monkey Barber Garage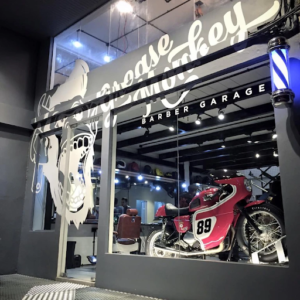 Despite their two-wheeler obsession, this biker garage-themed barber offers classic cuts, hot towel shaves, tattoo services, and braiding sessions. Bringing the American culture to Mayo Street, Grease Monkey Barbershop is a two-story joint where customers stare at the shiny monster bikes while getting their cut. Inside, graphic decals are adorned on walls, life-sized motorcycles on full display, and colorful helmets parked in neat rows.
They have The Overhaul Package ($70), an all-inclusive service comprising a haircut, a relaxing hot shave, and a thorough wash before styling your mane with a range of Japanese-imported hair products.
The Golden Rule Barber Co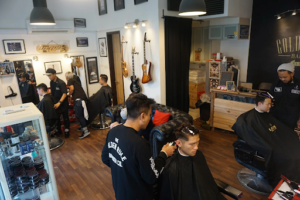 This barbershop is decorated with musical instruments such as electric guitars, and framed photos of legendary bands hang on the walls. It started in 2014 and has expanded to three outlets with 14 chairs and 19 barbers led by its director Yanto Sani and head barber Jiji Raif. They offer a variety of men's haircuts, not just the traditional ones- with washing and coloring services available only at their race Course outlet.
Try out their standard full cut and wash and beard sculpting. They also have house brand TGR pomades which come in three varieties – Matte, Firm Hold, and Stronghold- to cater to different hair needs. Other in-house merchandise includes zip hoodies, tees, straight razors, trucker caps, and pullovers.
Conclusion
Where is your favorite barbershop on the Island? Don't worry about the distance, book your Shariot today and let's take you to your preferred grooming king. Our cars are convenient and affordable. We value your time and travel experience to any destination within Singapore.