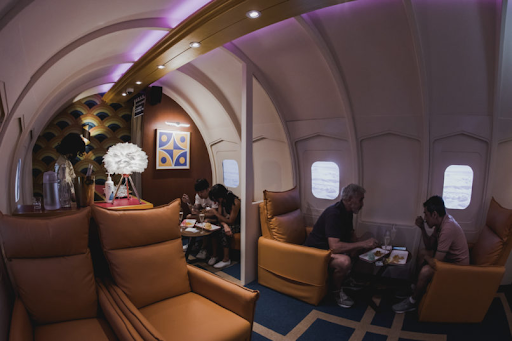 Singapore is a land full of resorts and restaurants with amazing cuisines. The island has everything one could dream of under the sun for food, drink, and fun experiences. The eateries range from sustainable dining, Spanish, rooftop, garden, fried chicken to Italian restaurants. You will always find somewhere suitable to satisfy your food cravings.
However, sometimes it is good to go an extra mile and be adventurous with a unique dining experience. Singapore is endowed with restaurants that take the dining experience a notch higher with cool café, themed dining for a memorable experience. Get your camera ready, book your Shariot, and let's explore dining in a wizarding world and other adventures.
1. Dining in the dark- NOX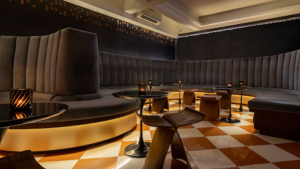 If you want a memorable dining experience, head to NOX for a meal in complete darkness without knowing what you are putting into your mouth. You will experience what it means to lose the sense of sight and how other senses are heightened to help you enjoy life.
It may feel scary to walk into a dark dining room with your partner, but it will be fun and an educative rollercoaster ride once you are at the table. You will not feel the pain of parting with $88- the price for this dining experience.
Interestingly, it is not necessary to book; even walk-ins are welcomed. The restaurant is located on electric Club Street in a two-story shophouse. The attendants will usher you to a fully-lit downstairs bar, where you will be served one of the bar's curated cocktails before you head to dining in the dark.
After warming your throat with a superb cocktail, you will deposit your belonging in a locker and place your hands on the trained visually-impaired waiter so that they can slowly lead you into the upstairs dining room.
Since your eyes are cancelled, we recommend tunning out the soft background music and the noise from your fellow diners to enable you to focus on your heightened senses of smell and taste. Remember not to spoil the surprise as several dishes are presented to you for tasting, many of which have contrasting flavours.
After the dining in the dark experience, you will be led downstairs to the light given a questionnaire to try and figure out what you have eaten before they show you pictures and the menu. Dining in the dark is an experience worth trying for adventurous diners.
2. British Hainan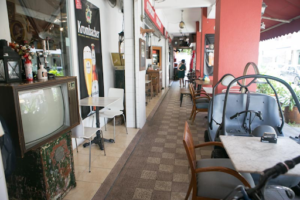 British Hainan tucked in Joo Chiat is a time capsule providing soul-comforting food. At this unpretentious dining room, you will see numerous trinkets and artefacts, each having a story to tell. The ambience and quietness at this restaurant will soothe your soul of all troubles before heading back to the real world.
The signature dish is the Braised Oxtail Stew discovered by Hainanese coolies while working at the British warship during the second world war. You will know why this stew is legendary when your taste it as the meat melts in your mouth and the flavour tingle your palates. The soft root vegetables and baguettes are thrown into the stew to help soup the leftover sauce.
You can choose between the famous lamb shank or traditional herbal mutton soup to accompany your meals. The Braised Oxtail Stew is a nourishing pot with a deep herbaceous taste. When it is served, the aroma will engulf the dining room even before you bite into the tender chunk of lamb on your plate. The stew comes with pieces of fried beans and ginger slices, making it feel like your grandmother's warm hug.
British Hainan also serves the controversial curry rice, a plate that many diners have different takes on. Some believe it is an exceptional dish to justify its pricing, while others consider it humble. You could also order the famous Hainanese fried pork with a biscuit taste with mildly spiced curry. Hainanese chap chai is another exquisite savoury and peppery dish that will leave you with a unique aftertaste. Crown your dining experience here with a homemade apple, crumble or cinnamon-spiked apples, and vanilla ice cream.
3. Absurdities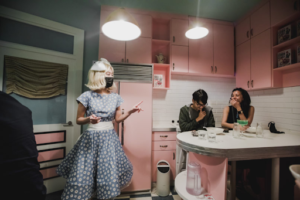 If you are searching for an exceptionally unique dining experience in Singapore, Absurdities by AndSoForth is on the top of the list. This restaurant is one of its kind in Asia, offering diners a mind-blowing gastronomic journey as it combines the love for food with an interactive experience.
The restaurant prides itself in serving experience-based novel dishes that resonate with diners. You must crawl and climb into different multi-room, including walking through hidden doors and an infinity mirror tunnel to places you have never been (Moroccan tent in a desert and mystical jungle).
You will have a six-course menu and two alcoholic drinks to keep you fully satisfied at the end of the two-hour affair. The culinary team also accommodates vegans, vegetarians, and pescatarians with different meals.
We recommend wearing comfortable clothes because you will be on the move most of the time. Sometimes you will climb or crawl into various multi-room. Book your slots and head to this secrete location where you can let your imagination run free.
4. Soek Seng 1954 Bicycle Café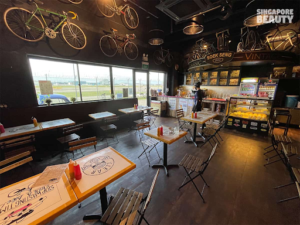 Get on your bike and cycle to Soek Seng 1954 for a fantastic dinner with an airport view. This Bicycle café has a unique wall that excites cycling enthusiasts with its meticulously restored cycling paraphernalia and bicycles. If you love bikes, dining here takes a different meaning; it looks like a cycling shrine. Since it is located out of the way, you will build up an appetite as you cycle your way there.
The restaurant is near Seletar Airport, meaning you will witness aeroplanes land and take off as you take your sumptuous meal. The dishes include a mix of Japanese and Western cuisines and local favourites. Soek Seng 1954 is a must-visit quirky spot for any serious cyclist in Singapore; however, do not forget to come with your lock.
They also offer various drinks, including Guinness, Erdinger, Strongbow, Kilkenny, Rokerdeling Ciders, and other beers. If the hard drinks are not your type, feel free to request an Ice Latte, Mocha, Cappuccino, Fresh coconut, or Camomile tea. Families can also have a blast here with small eats like cheese fries, seafood rolls, chicken wings, and yakitori.
5. Sushi Airways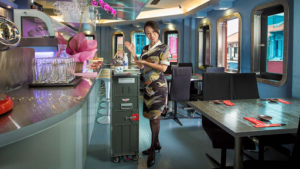 Sushi-Airways is an aeroplane-themed restaurant offering a unique dining adventure. Is it your dream to board a plane and enjoy first-class servings on board? Even without a passport and a plane ticket at Sushi Airways, you can attain this dream. The stairs on this restaurant resemble a boarding staircase to usher you to the flight mode.
The interior is retro chrome-plated and fitted with actual aeroplane overhead compartments and gallery meal carts. The waitresses are dressed like flight attendants to make you feel like flying.
The meals are prepared with freshly flowing Japanese ingredients. You can try their assorted sushi platter, Hamachi Kama, Sashimi, Kani Mentai Cheese Maki, and seasonal treats.
Drive your Shariot down there as heading for the airport and let the waitresses welcome you on board. With the in-flight ambience and state-of-the-art service, you will have the flying experience you have always wanted.
6. Smith Marine Floating Restaurant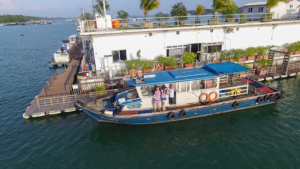 Having dinner in the sea is not an everyday experience. Smith Marine offers you an opportunity to dine while floating on the water between Changi point ferry terminal and Pulau Ubin.
If you are a little seasick, don't worry, the restaurant has a vast steel pontoon structure with ground stability. Smith Marine Floating Restaurant is part of the larger Smith Marine Fish Farm, covering 5,000 sqm. The farm harvests over 30 tonnes of fish annually, including red snapper, seabass, and grouper.
Why not take time and talk to staff in the restaurant to get a better understanding of what is involved in having fish or seafood at your dining table? Your little ones will undoubtedly find this dining experience educational.
Your stay here will be heightened when you engage in fishing your own dinner in a Sure Catch Pond filled with snappers and groupers. The restaurant will serve you with a fishing rod and bait, allowing you to catch your own meal, and you are guaranteed a fresh dinner cooked right after the catch.
7. Dinning at the Coastal Settlement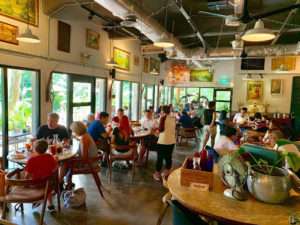 Coastal Settlement is located on the outskirts of Changi and offers unique, memorable experiences. This place gives you the vintage feeling in every plate with its interior and exterior decorated with vintage cameras, antique bicycles, and kerosene lamps.
You can enjoy your meals in their spacious indoor rooms or have an outdoor dining experience with a greenery view. Their menu includes mouth-watering plates like crispy pork ribs, har Cheong Gai, and wagyu cubes. Alternatively, you can order seafood selections such as grilled octopus, drunken Lala clams, and sambal squid.
8 Dining voyage on the waters- Royal Albatross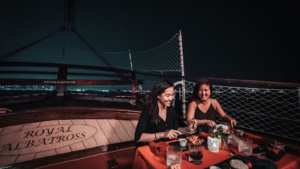 Have you ever wondered how it feels to dine like a king or queen on the high seas? Royal Albatross allows you to enjoy the good life by presenting you with their meticulously prepared sunset dinner cruise on their superyacht. Imagine having a romantic date on this yacht with the soothing sun rays gracing your skin as the cool breeze serenade you!
People often come to book for a lifetime adventure onboard this cruise during their anniversaries, birthdays, or wedding travel. You can even organize to pop the big question to your fiancée on board, and we are confident she will say yes. The dinner experience on this cruise is one of a kind, leaving you with a lifelong memory. Get ready with your camera to record this experience and take Insta-worthy pictures.
9. Central Perk Singapore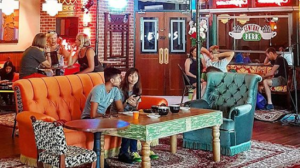 Central Perk Singapore is a F.R.I.E.N.D.S themed café located at Central Mall Magazine Road and occupies 3,300-square-foot. The café houses multiple sets modelled by the sitcom with iconic furniture from the show, such as Monica's kitchen, Pacman machine, and Joey's handcrafted cabinet. The coffee house provides a comfy meeting point where most Singaporeans hang out and catch up with their friends.
You will enjoy dishes inspired by the show, including cheesecake Mama's Little Bakery, which will remind you of the so good cheesecake that Racheal and Chandler ate off the floor. Additionally, order the Joey special, a dish made of two pizzas, and the Moist Maker will bring flashbacks of Ross' Thanksgiving sandwich. You can also get yourself a souvenir at central Perk Singapore like caps, t-shirts, and mugs.
The best bit of visiting Central perk Singapore is their signature coffee menu with 6 different roasts. You have an option to choose from a light nutty Phoebe roast or a smoky Chandler roast based on your taste. The menu also features frappuccinos meant to accommodate folks who prefer non-caffeinated drinks.
10. Cable Car Sky Dining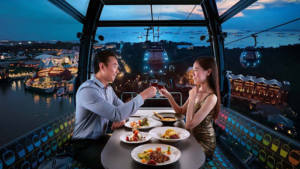 A must-try quirky restaurant in Singapore is boarding a private Cable Car with your special person to enjoy a cosy dinner amidst the sparkling night sky. You will be treated to a four-course meal and a 90-minute ride that will take you from Faber Peak to Sentosa.
Are you wondering where and how to pop that question? Do you plan to celebrate a special occasion with the love of your life? Or do you just want to demonstrate how much you love your partner? Worry not, board a Cable Car Sky Dining and cosy up as you stare at the glamourous city lights below as you relish a menu of posh eats and tempting drinks.
What's more, you will be treated to the Singapore Flavours Cabin experience as you dine on several sumptuous local cuisines and the luxe Champagne cabin that consists of bubbly and tapas nibbles at the comfort of your cabin car. The best part of your Cable Car sky Dining is that you will complete your evening by watching 'Miraculous,' a complimentary multimedia show at Arbora Garden, Mount Faber Cable Car Station.