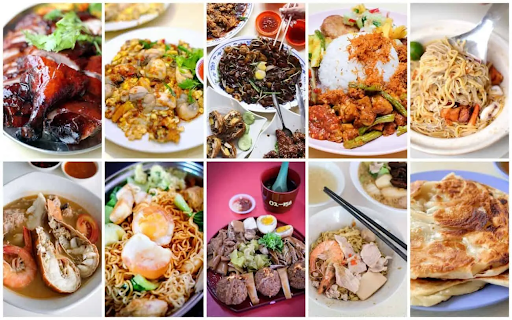 Singapore is ranked among the top expensive countries globally. The country has acquired this reputation due to its high cost of cars, insurance, rent, entertainment, and food. You may wonder, is it possible to feast on a dime in Singapore?
Yes, you can find cheap eats in Singapore, only if you know where to look. You can give your family a sumptuous dinner without spending a fortune on every plate in this expensive city.
We know money is a challenge to come by, and everybody is looking for ways to save more by spending less. Many Singaporeans with a tight budget consider dining at hotels and restaurants a luxury.
However, it doesn't have to be that way. At Shariot, we take you away from hawker's favorite Michelin-starred eateries to some cheap finds within the city with comfortable hearty meals at less than $10. We are not talking about some dingy places in an unwelcoming environment; these are comfortable places that will delight your family.
Whether you want a comfortable bowl of noodles or a heap of doughy roti prata or crispy, we present you with cheap hotels covering your favorite dishes. We want you to save the extra dollar so that you can splurge the rest on what matters most. Here are the 9 best cheap eats in Singapore.
1. Annalakshmi
Annalakshmi is a pure vegetarian Indian restaurant run by a charitable association. It is probably Singapore's cheapest place to eat in Singapore since you are not required to pay for what you eat.
The Temple of Fine Arts that runs this restaurant also finances music and dance centers. They require clients to donate what they can afford when they have eaten. Many clients leave S$15 after a delightful buffet of vegetarian delicacies.
You probably know how they pay their workers. The cooks and waiters are volunteers, cooking the restaurant's specialties- dosai filled spiced chutney and potatoes. You can also enjoy rice and lentil pancakes spread with chilies, onions, yogurt, and cauliflower.
Annalakshmi also serves indigenous Indian meals with natural Indian spices for better health. You can also have the wedding and mixed menu available with reservation. If you are looking for a home-cooked meal at a restaurant, head to Annalakshmi. The restaurant's staff are also welcoming and serve you with a big smile.
Ensure you book your place early, especially on the weekend; otherwise, you may miss a spot for a good vegetarian dish and a chance to donate.
2. Soi Aroy- Thai food
On their website, Soi Aroy asks, "who said natural healthy Thai food won't taste awesome?" That is a valid question for Singaporeans looking for healthy, cheap food.
Most restaurants offering cheap meals often serve fast unhealthy foods that bring more problems to the body. If you hear where you can spend less healthily, you do well to pay attention.
Soi Aroy is famous for its delicious dishes, rich soup, and tasty grub at cheap prices. With less than $10, you can have a hefty meal; the portions are generous.
For instance, its savory meat salad sprinkled with spices only costs $5.5, while basil pork served with rice costs $6.8. The restaurant's signature dish- Tom Yum Gung, served with a collagen soup base, mushrooms, prawns, egg, noodles, and vegetables, goes for $7. You can be sure that you will leave this place with a full tummy with little effect on your bank account.
Examine its preparation if you want to know why Soi Aroy's soup is to die for. It boiled for 12 hours to give it the collagen texture. Their grilled pork cheeks are seasoned for 24 hours to attain perfection. This dish's aroma will make your mouth watery.
The drinks like Thai Ice Tea, Aurora Cooler, Soi Aroy Cocktails, and Thai beer are pulled to perfection. Your family and friends can crown their dinner in style.
3. Tian Tian (Steamed chicken and rice)
That sounds delicious! The dish comprises rice, chicken, and chili. While many eateries serve this combo, very few get it right. Tian Tian is one such restaurant that has mastered preparing this treat.
The steamed chicken version from Tian Tian is tender and juicy. The rice is well cooked and packed with sesame oil, garlic, chicken fat, and chili flavors.
You can relish the experience by ordering a plate of claws, wings, or what they call here as spare parts. With only $5, you can eat a bowl of tender steamed chicken, soft white rice, homemade chili sauce, cucumber slices, and accompanying chicken broth.
Locals and tourists often crowd this place to have their bite, so expect long queues if you come late. Tian Tian restaurant also offers oyster sauce instead of chili sauce for those who love seafood.
Some of the restaurant's customers speak well of its Hainanese chicken rice. The taste and texture of this signature dish are something worth booking your Shariot for and heading to check out. The flavors in the dish are mild, enabling you to enjoy the real taste of rice and chicken.
4. Tendon at Tenya
Making perfect tempura requires a skill mastered over the years. In Japan, chefs take several years or even a lifetime to get it right with deep fryers. However, if you step over to Tempura Tendon Tenya, you will find that this process is condensed to two minutes!
The chefs at this restaurant utilize a special air fryer. This fryer is fitted with an automated machine that looks like a conveyor belt, consistently churning crisp tempura (approximately 1,000 pieces in an hour).
This equipment makes it possible for Tenya kitchen to serve a large quantity of tempura in a relatively shorter period. The result of this mass production is low prices. Fortunately, they do not compromise quality and quantity. Upon ordering, your bowl is prepped, meaning you will eat a fresh meal.
The cooking process is exciting, with the chefs using filtered water to prep the batter and ingredients fried in a temperature-controlled oil. The chicken pieces are then passed in an infra-red heater to dry the excess oil, creating a crispy light taste yet crunchy.
You have plenty of dishes under $10, including signature bowl tendon crowned with squid, redfish, French beans, and pumpkin. Other cheap side menus include the tori karaage, chawanmushi, and tomato salads.
As you enjoy these glorious dishes, save up space for desserts. For $2, you can taste their signature dessert; creamy Hokkaido milk.
5. Syohachi Wagyu Hamburg
Singapore is full of restaurants and eatery joints serving pizza and burgers, but most do not serve cheap. High-grade (A5) wagyu beef does not come cheap. Grade A5 is the highest-ranking quality, often associated with a hefty price tag.
However, at Syohachi Wagyu Hamburg, you can order burgers filled with this premium beef at relatively low prices. The restaurant is of Japanese origin, serving hamburg steak for less than $10.
It capitalizes on economies of scale to keep its prices low. Furthermore, the brand runs two cattle farms in its country of origin, providing a steady supply of quality meat.
Syohachi Wagyu Hamburg turns the unused and offcut cow parts into quality thick beef burgers loved by many Singaporeans. The petite hamburg steak only goes for $9.5, though it only comes with two bite-sized 60g burgers.
Don't lose heart; the restaurant also serves bigger chunks and lunch and dinner sets at reasonable rates. If you are within the CBD, you can stop by the restaurant to order the convenient grab-and-go dinner or breakfast of wagyu beef toasty at $7.7
6. Sabar Menanti
Sabar Menanti is a famous Malay restaurant in Singapore that serves you authentic Minanakabau (from West Sumatra, Indonesia) dishes. The restaurant has stood the test of time since it was opened 57years ago in the nasipadang belt of the famous Kandahar Street in Kampong Glam.
Sabar Menanti offers delicious dishes at pocket-friendly prices, leaving you with an after-taste craving for more. You will be spoilt for choice decided on which dish to start with due to the various meals on display. Sabar Menanti restaurant is self-service, with around 20 Minangkabau dishes to sample, including Assam fish, sour gourd, and smoked beef.
The signature dish at Sabar Menanti is Opor Nangka, consisting of the young jackfruit and beef tripe cooked in curry gravy. The jackfruit's flesh is soft, and its texture resembles a cooked pumpkin. You can enjoy their rice with chunks of beef which is tender, rich, and spicy.
Ensure to save some space for their must-try Ikan Bakar, which is topped with lots of onions; the charcoal-grilled fish is manicured with their secret barbecue black sauce, which is very addictive. The best thing about eating at this cheap restaurant is that you can heap your plate with delicacies guaranteed to satisfy you.
7. 328 Katong Laksa
Katong is one of the oldest Peranakan neighborhoods in Singapore that houses a friendly coffee shop. 328 Katong Laksa is where you can find Chinese ingredients with Malay spices and cooking to create Nyonya cuisine. These cheap eats are run by a former beauty queen and are famous for serving one of the best laksa soups on the island. 328 Katong Laksa has various outlets throughout Singapore, but the most famous is the one located along East Coast Road since celebrity chef Gordon Ramsay graced it.
The laksa soup is prepared using a delicious mix of spicy lemak coconut milk, prawns, cockles, tofu, beansprouts, and noodles. When you are hungry, make sure you order their traditional otak otak, a fish paste steamed in banana leaf, or nasi lemak, rice with crunchy anchovies, peanuts, cucumber, and a wicked sambal sauce. The unique thing about 328 Katong Laksa is that there are no forks or chopsticks given for your consumption of meals, only a spoon.
8. Andhra Curry
Andhra Curry is a cheap eat restaurant located east of Orchard Road in Little India. The restaurant is beautifully decorated and specializes in south Indian vegetarian delicacies. In addition, Andhra Curry is famous for its Hyderabadi biryani, Mysore mutton (cooked with green chilies and coriander), and a spicy fish pulusu (baked with tamarind and raw mango).
A must-try at the restaurant is the great Singaporean favorite- fish-head curry, which will reward your palate and live your craving for more.
9. Azmi Restaurant
When you think about chapati in Singapore, the first thing that comes to mind among many locals is Azmi Restaurant. Azmi Restaurant is owned by a Chinese but leased to Muslim chefs who make the best chapatis on the island. Azmi has been around since the Japanese colonial times; thus, you are guaranteed quality since the chefs have gained expertise over the years. The restaurant is famous for its chapatis and the classic accompaniment of Keema. Moreover, the chapatis are affordable and filling since they are thick on the side.
You will watch as your chapatis are made for you by the two aged men who assist each other in rolling and cooking the legendary delicacy. The restaurant prepares more than 20 delicious meat dishes; thus, you may be spoilt to choosing what you will eat with your chapati. Mutton Keema is the most ordered by clients, but their chicken curry is tasty and tender, which you should try.
You should reserve some space for their breast meat, fried chicken, and Chicken Masala. The Goat brain and the Goat intestine are a must-try, giving you an adventurous dining experience.
10. Chinatown Complex Food Court
Chinatown Complex Food Court is an eatery in Singapore that prepares traditional dishes with varied menus at pocket-friendly prices. Chinatown complex food center boasts more than 260 stalls serving sumptuous delicacies; thus, their prices are competitive and reasonable due to the various stalls selling similar foods.
Next time you are craving exciting fresh food in Singapore, step into Chinatown Complex Food Court and enjoy a gastronomic experience.
You can enjoy various dishes, including chili crab, black pepper crab, BBQ stingray, BBQ chicken wings, satay, carrot cake, char kway teow, Hokkien mee, chicken rice, bak kut the, frog porridge, dim sum, or mee, prawn noodles to kway chap and pork intestines. Ensure to reserve some space for their tantalizing dessert, including ice kachang chendol, tau suan, and soya bean curd.