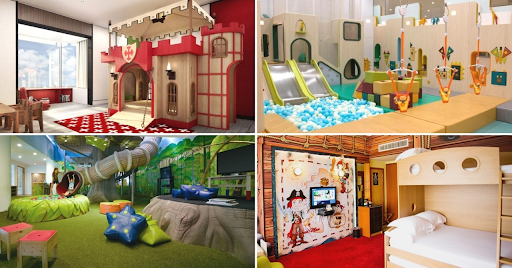 With schools closing in March, many families in Singapore are interested in spending the rare time with their children. Staycation is the new trend for the whole family to enjoy a delightful time together. Staycation offers you various amenities, including a swimming pool, hotel breakfast, high tea, kids' club, Tv in bed, and more.
If you are used to beach holidays, test out an exotic staycation near a veggie farm or on a yacht. Does your family love cultural trips? You can book a staycation close to kid-friendly museums. You can also book a staycation at a hotel that offers free tickets to an indoor playground.
What is more, some of these staycations offer fantastic hotel deals such as 1-for-1 or the second room you book comes with a 50% discount. If you wonder where to get the best staycation for yourself and your kids, worry no more; we have compiled a list of beautiful hotels with good deals.
1. Shangri-La Singapore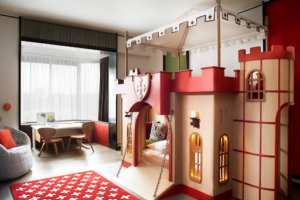 The Orchard Road is famous for many exciting things and activities, and it also hosts Singapore's Shangri-La Singapore. This hotel is more a city's restaurant with meals and accommodation, and Shangri-La Singapore has several family-friendly facilities that will make your staycation exciting.
For instance, its entire 9th floor has a family concierge dedicated to families. You can book one of its five themed family suites or one of its 19 deluxe family rooms. You have plenty of rooms to suit your family without somebody stepping on your toes.
Your kids will surely enjoy the buds, a giant indoor and outdoor play area. This area hosts different kid-friendly activities to keep them busy all day long. For example, the kids can play getting stuck in the mud, perform on stage, or practice cooking at the complete cooking studio.
Even toddlers will have a blast at the Toddler zone packed with slides, swings, piano floor, ball pit, and sensory walls. Furthermore, the waterplay fun at Splash enables your young one to play to their full. Take the opportunity to bond with your young ones as they engage in fun activities. You could return to your younger years and enjoy these activities with your kids.
2. Mandarin Oriental Singapore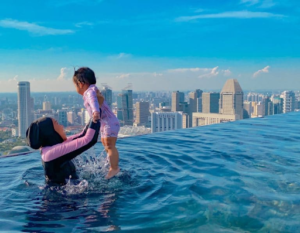 Are you looking for a staycation for your family but apprehensive about a hotel room and pool entertaining your kids? Mandarin Oriental clears all doubts. It has in-house amenities like baby cots, welcome gifts for kids below teens, strollers, rollaway beds, and car seats. You will agree that your young ones will go crazy over these things.
Don't worry if you have a baby that needs seating; Mandarin Oriental offers parents babysitting services through their concierge to allow you to have fun. However, remember to give the hotel a day's notice; otherwise, you may be disappointed.
You can enjoy a blissfully relaxing afternoon by the kid's pool before involving your kids in a soulful session at the Spa. The weekends at Mandarin Oriental also present kids with an exciting brunch with a Little Fan Land, where kids delight in a buffet spread organized by the chefs.
Mandarin Oriental is near Marina Bay, rich in thrilling kids-friendly activities such as NEEF Action Xperience at the square and Kiztopia indoor playground. You can hop onto Marina Bay, and your kids will have a blast as you sneak for a drink at the famous MO Bar! Hunger will be dealt with effectively with several dining options available in the vicinity.
3. Shangri-La's Rasa Sentosa Resort & Spa.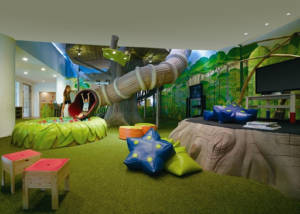 Sentosa is famous for its beautiful and serene beaches. However, it also has various family-friendly staycations worth exploring. Shangri-La's Ras Sentosa Resort & Spa is probably one of the region's most sought-after family staycation hotels.
It is situated right by Sentosa beach, meaning you enjoy an incredible view. You will have the advantage of enjoying many other things to do in Sentosa with your family. What can you expect at this luxurious hotel? This hotel has an excellent swimming pool with water slides; therefore, your kids can enjoy water play for hours.
Furthermore, the restaurant has other kid-friendly amenities such as the Cool Zone, providing a paradisaic environment with air conditions for kids below teens. Parents can also take advantage of the Toot Club, hosting kids between ages 5-12. This facility lets you bring your child for exciting, fun activities and come for them later.
Children aged 4 and below are not left out either. The Mini Toots Club lets parents accompany their children and relish a jungle-themed playground with coloured ball pits, giant block puzzles, and baby rockers. The kiddos can also have fun with several toys, storybooks, and movies available at the hotel.
Don't leave Rasa Sentosa without exploring the Nestopia, an open playground space with 17 play sections. The young ones will undoubtedly delight in games such as netted obstacle courses and slides at Sentosa Island's two longest slide areas.
4. Pan Pacific Singapore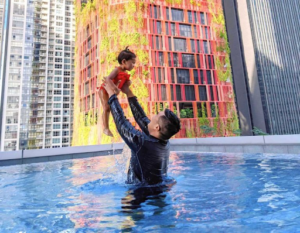 This hotel has opened its doors to its first-ever kids' playground and themed family rooms. At the hotel's level 4, you will see the Urban Jungle Village, an indoor play area, and a kids' club hosting numerous fun activities.
Your little ones can enjoy down slides, climbing an indoor treehouse, watching movies, and playing on the see-saw. Additionally, they can play educative games, read books in the library, hide in teepees, and more. If your kids want an extension of these activities to their staycation rooms, Pan Pacific can provide them with Urban Jungle Suites.
The Urban Jungle Suites present the parents with different city views while the kids can have fun with an inflatable rocking hippo, a treehouse bunk bed, and a tepee. If you book the Urban Jungle Suite, you will benefit from a welcome amenity, daily breakfast, kids bath toys, and Urban Jungle Survival Pack for the kids.
Additionally, your kids will have private access to the cabana using Kiztopia floats, exclusive Pacific Club privileges, and 3 hours tickets to access Kiztopia indoor playground. This package also guarantees you all-day refreshments with a 360º view of the cityscape from the restaurant's highest point.
5. Goodwood Park Hotel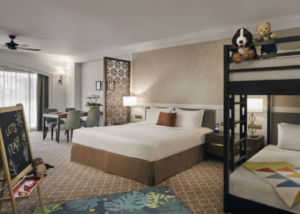 Goodwood Park Hotel may not be the most popular staycation in Singapore, but it has exciting amenities to keep guests smiling. With its lush green surrounding, your family will enjoy the best views of the city and fresh air. Moreover, it is a stone's throw away from the famous Orchard Road and its exciting actions.
Goodwood Park ticks all the boxes if you are looking for a complete staycation package for your family. Their meals are fantastic, leaving your family full yet desiring for more. For instance, their milk and cookies servings coupled with turndown will undoubtedly blow the little ones' minds, and the complimentary teddy bear will add to their joy.
After a delightful breakfast, the kids can enjoy a couple of old-school games, thus ensuring they are not bored. Adults are also cared for with enjoyable meals and exciting couples' activities. Your day will be thoroughly engaging, and you may not need to step out to the Orchard Road.
6. Sofitel Singapore City Center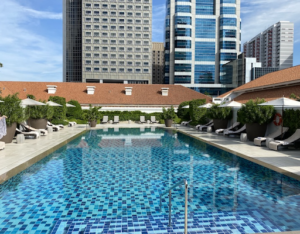 Did you know you can enjoy a fun, family-friendly staycation while discovering Singapore city? Yes, it is possible with Hotel Sofitel. The hotel has several getaway staycations offers to allow families to find Singapore. For instance, the Sofitel Discover Tanjong Pagar invites families to book for a curated journey that takes them through Singapore's beautiful art and culture.
This journey will excite adults and children in the family as you delight in the fascinating artwork and murals along Tanjong Pagar's walking trails. You can share what you learned through the journey in the evening as you bond with your family.
Sofitel Singapore offers its guest a complimentary welcome drink before showing you your staycation rooms. Rooms vary in size and accompanying privileges. For example, the prestige suite is larger (76 square meters) with a living room, dining area, and a powder room on one half of the suite. It is big enough to host a family with kids.
Other facilities to enjoy at Sofitel Singapore include a gym to shed some calories and a swimming pool to cool your body after a heart-throbbing exercise. This 30-meter-long swimming pool can accommodate your kid's afternoon splash. You will also love their premium quality breakfast served at their flagship restaurant Racines.
7. The Warehouse Hotel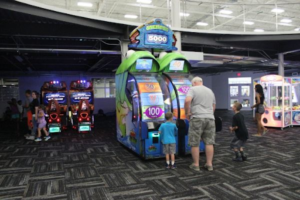 Are you tingled by the idea of staying in one of Singapore's oldest properties? Worry no more, the Warehouse Hotel, built-in 1895, has stood the taste of time and offers a vintage family staycation. The hotel's beautifully themed ceilings and the lobby's interior will leave you wowed for what is yet to come.
Though this hotel was built several years ago, its rooms are as good as new. Kids love water play, and the rooftop pool offers them just that. Other kid-friendly amenities available at the Warehouse Hotel include small kids' bathtub and toiletries.
Since the restaurant is next Robertson Quay area and the Singapore River, your family can enjoy afternoon or evening walks around the neighbourhood for fresh air. The learning experience at this vintage hotel is worth every coin.
8. Dusit Thani Laguna Singapore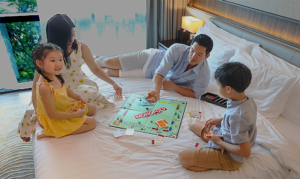 The Thailand-based restaurant Dusit Thani has set its foot in Singapore and is ready to roar. It is located east of Singapore within the grounds of Laguna National Golf & Resort Club. If you are looking for a secluded staycation with your family on the Island, book your Shariot and head down there because many people are yet to discover this cool place as a staycation destination.
It has a massive swimming pool for an exciting water play with your young ones. Since the restaurant does not have surrounding F&B, you will likely spend your staycation time inside the facility. However, this is not a problem considering the restaurant's family staycation package, which encompasses all-you-can-eat pizza, breakfast for four, dinner buffet with ice cream for four, chicken wings, mirror maze, and $30 net dining credit.
The hotel also provides Manulife walking attractions tickets and canopy park admission for 2 children and 2 adults at Jewel Changi Airport. There are plenty of exciting activities for the whole family at this restaurant worth staying for.
9. The Fullerton Hotel Singapore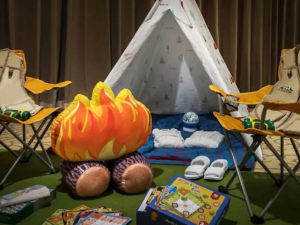 This beautiful hotel dates back to 1928 and is primely located near Marina Bay. It is environment makes it a perfect destination for a family staycation. Their kids-friendly packages will leave your young ones begging for more adventure and tasty meals. On arrival, they are guaranteed daily ice cream and children's meals in all their nine restaurants, resulting in a breezy dinner.
The Fullerton Hotel also has connecting rooms with various amenities for some children. The family staycation package includes one night in their premium courtyard room for a couple with two children below teen, breakfast, SDG dining credit, and complimentary parking. Other offers include a 20% discount on Spa treatment at the restaurant's Spa, a Maritime journey tour with Fullerton farm tour, and complimentary late check-out at 6 p.m.
Since the Fullerton Hotel is near Merlion Park, Gardens by the Bay, and ArtScience Museum, you can take a leisurely stroll along and enjoy plenty of activities that will keep the whole family entertained.
10. InterContinental Singapore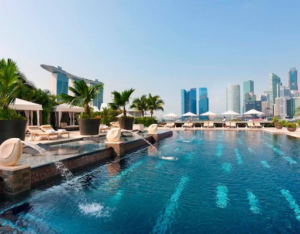 InterContinental Singapore is known for its unbeatable family-friendly staycation packages that ensure your kids have a blast. The little guys will enjoy an in-room tepee, a movie night of their choice chosen from the restaurant's extensive library. What is more, everyone gets free popcorn and a three-course prix-fixe dinner for 2 adults. The children can share one main course and the day's ice cream.
Suppose all you want is a staycation hotel with spacious rooms to bond with your family as you recharge for the following activities. In that case, InterContinental family first staycation packages will satisfy your needs, and several kids' amenities and delightful meals will leave you wishing for more days at the hotel.
At Shariot, we value family bonds and want to see happy faces despite hard times. We offer you affordable transportation to a staycation of your choice with all your luggage. Our state-of-the-art cars are reliable and convenient for anyone who needs a travelling partner. All the best as you take advantage of the school holidays to bond with your family.