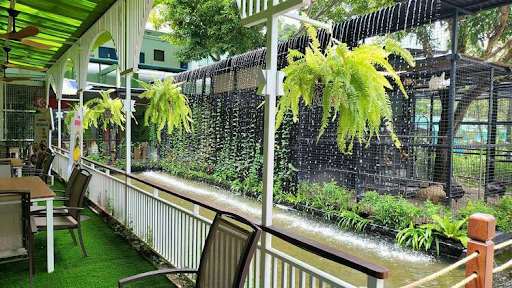 Are you tired of indoor dinners and hope for something better? The outdoor dinners with a cool breeze and fresh air at garden restaurants are here to enhance your eating experience. It is the ideal remedy for cabin fever.
Singapore is an island of fun, and if you have visited rooftop restaurants and bars in the city, it is about that time you spread your curiosity to garden restaurants. The dinner experience is no longer food, but the environment too. Having a meal at a restaurant while staring at the surrounding lush greenery in a beautiful garden is something worth your time and money. Shariot has hunted down the 10 best garden restaurants for an outdoor dining experience with your loved ones.
1. Wildseed Café & Bar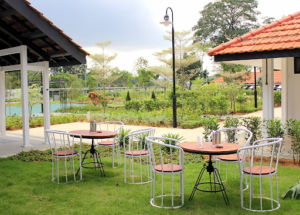 The café & bar is nestled atop the calm hill of Telok Blangah, providing you with a serene spot to get away from the stresses of the city with your loved ones, including your pet. Wildseed Café & Bar is beautifully created with an indoor air-conditioned garden with ample dining space. You can experience fresh air and breeze in the outdoor area with florals and plants that provides with you a scent-filled garden atmosphere.
The best bit of visiting Wildseed Café & Bar is you will relish a full dinner and chilled drinks with your special person due to its ambient lighting and excellent soulful music. Additionally, you will enjoy floral cakes and pastries, roasted coffee, hearty weekend brunches, and all-day fare at Wildseed Café & Bar. Their bar menu presents you with grills and hearty favourites featuring local delicacies, including Angus Onglet steak, whole chicken Leg, Soft-shell Chili Crab Linguine, and Kelong Prawn and Scallop Pizza. Ensure to take advantage of the beautiful lush greenery at the Wildseed by taking Instagram-worthy shots to spice up your experience.
2. Le Jardin Restaurant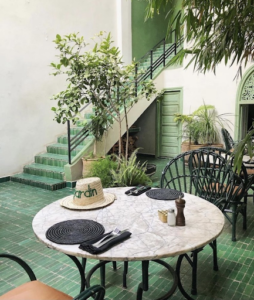 Le Jardin is a beautiful floral-themed restaurant located at the Fort Canning Art Center. The café has a unique ambience with its interior decorated with fresh flowers from their in-house florist section. You will enjoy French and European cuisine at Le Jardin Restaurant at their indoor or alfresco dining areas. The restaurant can accommodate many people due to its ample sitting area with a 120-seater space. The restaurant has vintage marble tabletops and retro-style rattan chairs with fresh-smelling flowers placed on each table that give you a dining-in-the-woods experience.
If an outdoor experience is your thing, grab a seat under the shade of trees or, instead, step indoors and dine in the company of lush flora and fauna. Inside Le Jardin Restaurant, you will be greeted with an interior with a Victorian vibe showcasing fresh flowers where you can purchase some from the florist section.
The restaurant is a signature hotspot for most tourists and locals due to its sumptuous and tempting meals. For breakfast, you can order their famous Croissant Waffle, reward your palate with their Ora King Salmon for lunch, and their bestseller Margaret River Black Angus Ribeye or Grilled Kurobuta Pork Lion will give you a mesmerizing dinner. A must-try is the Purple Fantasy, a favourite for most clients at the restaurant due to its glowing colour, a smoothie sprinkled with sweet potato powder, and desiccated coconut.
3. Hortus Restaurant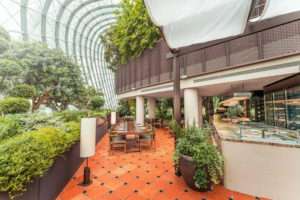 The restaurant is nestled within the Flower dome at Garden by the Bay and offers you iconic, fresh flavours of the Mediterranean. The restaurant is lined up with plants that give you the feeling of dining within a private garden. You can experience a calm and chilly temperature due to the cooled conservatory at Hortus restaurant.
Their menu will give you an out-of-this-world experience thanks to its vibrant salads, home-baked bread, and dips prepared with bright spices and fruity olive oil simmered over a woodfire. You can entice your palate with their house-made cakes, tarts, and pastries which are lightly and brightly prepared to invoke freshness. A must-try is their pumpkin and ginger soup which has a sweet taste balanced with mellow heat, and their mint-scented amberjack Crudo contains juicy pops of pomegranate.
Additionally, order their watermelon salad that is beautifully sliced into small cubes and dressed with basil, confit olives, and feta crumbles. It is worth trying their smoky grilled octopus with a squeeze of lemon and their coal-roasted sweet potatoes paired with slivers of pickled banana and chilli. Ensure to save some room for their tempting desserts, including velvety rice pudding covered with floral rose aroma and salted caramel tart decorated with toasted pine nuts for crunch.
4. Lucky Saigon Café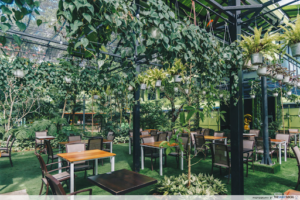 Are you wondering which garden restaurant you can visit and relish a unique outdoor dining experience? Worry not, Lucky Saigon Café is the ideal place to stay. The café is located at Tanglin and serves affordable Vietnamese cuisine in an entirely outdoor concept. The best bit at the café is to dine as you enjoy stunning views of ponds and greens that give off a resort vibe.
The café is surrounded by beautiful lush greenery, a cage full of birds, and a spacious outdoor space on a grass lawn where you can take Instagram-worthy shots. During the night, the whole place resembles a beer garden with its hanging plants and light bulbs that make it ideal for enjoying a romantic evening with your significant person. The staff at Lucky Saigon Café are often dressed in traditional national attire, giving you a feeling of dining in Vietnam.
The Vietnamese cuisine consists of various delicacies, including BBQ, Starter, Salad, Wrap and Roll, Baguette, Noodles, Rice, Vegetables, and Soup. A classic Vietnamese dish you must try is their traditional Slice Beef Pho which is topped with herbs, beansprouts, and onions containing thin beef slices on top of rice noodles in a clear beef broth that gives you an after taste.
5. Garden@ One-Ninety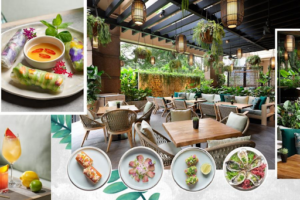 Garden@ One-Ninety is a breezy, alfresco terrace that provides a perfect spot for relaxing and socializing with your loved ones. Potted plants and wooden furnishes surround the restaurant as it draws inspiration from Singapore Botanical Gardens. Garden@ One-Ninety has a unique menu that focuses on fresh market ingredients, with plant-based selection, well-ness-focused alternatives, and DIY cocktails that live diners crave for more.
Some of the fresh delicacies you can relish at Garden@ One-Ninety include seasonal seafood tower, which consists of ocean-fresh flavours with Maine lobster, oyster, king crab, mussels, prawns, and Hokkaido scallops. Vegetarians can enjoy various plant-based selections, including Vietnamese summer rolls with green mango, papaya, and avocado; garden burger with chicken pea patty, charred cauliflower, almond pesto, and homemade coconut ice cream. The best deal at the restaurant is its inclusive menu which accommodates the diversity and personal dietary and lifestyle preferences of its diners.
6. Canopy HortPark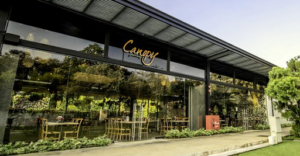 Canopy HortPark is a garden restaurant located at Bishan-Ango Mo Kio Park. The restaurant has several outlets, but Canopy HortPark is the biggest and complete with greens, indoor plants, and plenty of natural light. The outdoor appearance is enhanced with wood and teak materials, giving it a warm and welcoming ambiance. The restaurant is a perfect spot to dine with your family as you enjoy heart-to-heart conversations.
You can enjoy wholesome delicacies at the Canopy HortPark that will give you a biophilic dining experience. Their menu highlights include eggs Benedict and crabmeat linguine, pasta, pizzas, and burgers.
7. Corner House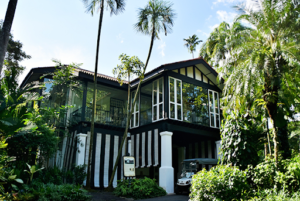 Corner House is located in the lush green Botanic Garden. It was established following the closure of Au Jardin, a restaurant that hosted several lavish celebrations and dinners for the city. You can even reserve a red-carpet treatment, especially for romantic or dignified occasions.
Corner House's setting is incredible, from the food to the furniture and the interior décor. The tables are cushioned to enable you to feel comfortable as you rest your elbows on them. If you intend to have a quiet romantic date here, you do well to confirm is your peace will be interrupted by other wild parties at the main dining room.
The meals are beyond reproach, providing dinners with a globetrotting experience. Many people have described Corner House's cuisine as gastro-botanic since it is significantly influenced by Mediterranean, South East Asia, and Latin American cooking. The careful cooking at this restaurant that respects proteins and veggies adds to its fame across the city.
Next time you visit the Botanic Garden for a picnic with your family, why not hop n at Corner House restaurant and have a taste of their meals. You can book a romantic night-out four-course dinner with an appetizer, a starter, a main course, and dessert. It does not mean that you cannot enjoy yourself alone at the corner house, and you could take advantage of their fantastic regular plates and feed to satisfaction.
The waiters are enthusiastic, responding to your questions promptly to ensure comfortability. The lush greenery at the Garden and the restaurant engenders fresh air, thus making dining at Corner House desirable.
8. Open Farm Community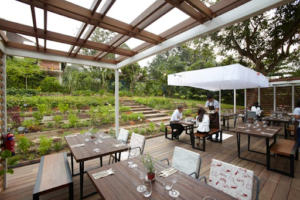 Like its name, Open Farm Community has a vast outdoor space for beautiful alfresco dining. It is situated in a blooming garden, thus serving as more than a picture-worthy backdrop. The farm next to the restaurant produces vegetables and herbs used in the restaurant. Open Farm Community is set in the middle of the edible Garden, providing fresh meals and air.
You can grab a seat at the outdoor tables and indulge in the farm feast dinner. The environment may remind you of the long-gone kampung-like surroundings. Since the farm for ingredients is a stone thrown from the restaurant, they have versatile meals. For instance, you can use freshly harvested basil in making a welcome drink, or baby radishes from the Garden can come coated with cream for a mouth-watering snack.
Corn from the farm can be grilled till smoky-sweet, serving as a welcome snack before the main course. The main course includes prickled, fried, and caramelized beef. The grass-fed meat, cooked for 13 hours, is soft that you do not need a knife to eat it. Accompaniment may include mustard-spiced mashed pumpkin, aromatic sesame oil, and local greens.
After a sumptuous fresh garden meal, you can wash it down with a wide range of drinks. Your appreciation for nature and agriculture is heightened as you enjoy delicious fresh meals outdoors.
9. Masons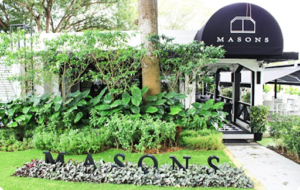 The quiet Gillman Barracks' ground is famous for its relaxing and scenic environment, and Masons' restaurant is housed at the refurbished British Army building surrounded by a lush greenery garden. You can grab the outdoor seats and delight in an electric menu during favourable weather, including handmade thin crust pizza, luxe-up classics, and fresh pasta. The interior décor is also good for historic dining as you glance at the photos of the former place.
The European cuisines strongly influenced by Singaporean and French touch attract huge crowds at Mason. However, you will still get a seat at the restaurant even without a reservation. Some of the French staples at Mason's includes duck confit and Coq Au Vin, while British classics include chips and fish.
Before delving into the main course, you can begin with starters like ricotta ravioli and macadamia nuts served on tender spinach leaves. The salad is spread with garlic cream sauce. Melted cheese is sometimes used as soup accompaniment to accentuate the acidic punch and balance the cheese's bitter taste.
Think of Masons with its modern presentation if you look for top-notch country-club food. The restaurant's desserts, such as Crepe Suzette coupled with vanilla ice cream and a slice of tangerine, have a European taste that will leave you craving more.
10. Hub and Spoke Café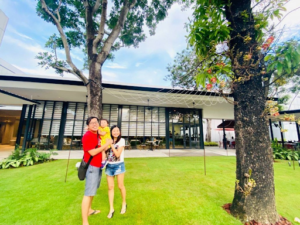 If you come from Kampong Gelam, you probably know this garden-themed café. It is hidden away from the crowds and heat, thus providing dinner with a quiet environment to enjoy their meals. The surrounding area is adorned with several hanging plants, botanical artwork, and blooms. Curious crowds, especially from the airport, throng this place for a tranquil escape to grab a bite and unwind.
With your Shariot, you can access the Open-air South Car Park restaurant. If you are using public transport, stroll past the closed Terminal 2 from Jewel Changi, and in fifteen minutes of walking, you will see the restaurant.
Since it is hard to access, the restaurant is serene and rarely crowded. The walls are mostly glass, allowing natural sunlight into the restaurant. As you sip your favourite drink or enjoy a freshly cooked meal, the cool breeze and beautiful view from an alfresco veranda rich in fauna will soothe your tired soul.
Since Hub and Spoke café is located near a transportation hub, its menu is rich in colour, catering to the multi-cultural crowds. You will find dishes like Kopi, toast, bubble tea, and eggs Benedict. Other popular flavours served here include mee siam and mee rebus. You can be confident of tantalizing hot meals and a welcoming ambience at Hub and Spoke café.
We hope you loved our selection of the best garden restaurants in Singapore. Feel free to visit any restaurant to enjoy beautiful cuisines and a relaxing ambience. Remember, you can always book your Shariot for a convenient and affordable ride.