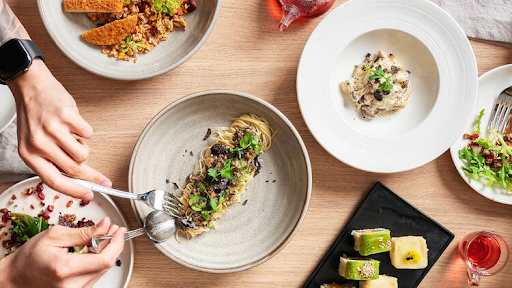 Though Singapore is a major importer of food, gone are the days when you would request something vegetarian and be served by a plate of uninspiring salad and mushrooms. Many people in Singapore prefer vegan meals for various reasons, including health and environmental issues. At the same time, others could be religious or interested in animal welfare. Regardless of your reasons, you can find plenty of vegan and vegetarian restaurants in Singapore.
We have combed this beautiful Island to present you with a range of fine-dining restaurants with organic dishes. The chefs at these restaurants go the extra mile to ensure customers are served their preferred healthy vegan meals. Since there are many vegetarian and vegan restaurants all over Singapore, it seems like an ideal time to ditch meat and go plant-based. Are you looking for hearty veggie dishes and burgers? Read through and discover ten plant-based joints to satisfy your craving across Singapore.
1. Analogue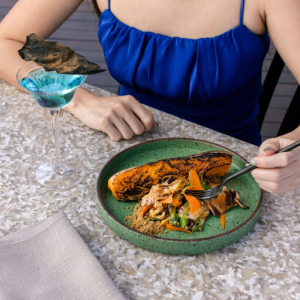 If cocktails help you think straight and relax you after a stressful day of work, then the new bar Analogue could be your resting place. This bar is also popular with its unique plant-based menu- one of its kind on the Island.
The sitting spaces are also uniquely designed to engender dialogue. Its fixtures (tables and chairs) are eco-friendly materials such as used plastic and mycelium. Apart from being environment cognizant, their dishes are breathtaking.
You can request a cactus drink at the bar, a thirst-quenching cocktail of prickly pear, Aloe Vera, and pink dragon fruit. Other vegan and environmental-friendly drinks include Spirulina from algae, a savoury, refreshing drink. The soursop is also served instead of the over-farmed honey to suit vegan customers. Vegetarians and vegans can also delight in Adzuki made with red beans' nutty aroma, but without the cloying sweetness.
Most cocktails at this bar are refreshingly light but heavy in their intent and thought. They initiate a new debate in the food industry and pair with accompanying flavoured plant-based dishes. You can try the hearty Jackfruit tacos or the creamy pumpkin dumplings before heading for the drinks.
At Analogue, you are mindfully presented with delicious old things in a fashionably new way. The bar relies on environment-conscious substitutes, but in so doing, they have created a unique and irreplaceable way of imbibing.
2. Genesis Vegan Restaurant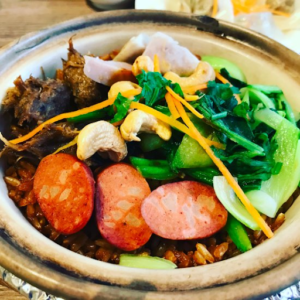 You do not need to give up your favourite local cuisine upon embracing a vegan lifestyle. This cosy restaurant at Havelock II serves delicious dairy-free and plant-based local fare at reasonable prices. They carefully select ingredients used in every dish to ensure you are served nutritious and flavorful dishes.
Many people's favourite meal here is the dumplings with capsicum sauce, and this dish is made with mushrooms, spring onions, and mock meat. You could also order their nutrient-dense seaweed rolls stuffed with purple cabbage, carrots, sprouts, romaine, and cucumbers. The crunchy almonds and the free cashew sauce make seaweed a delight for many Genesis guests.
If your favourite meal is Nasi Lemak, you need to check the day they feature it since it is only offered on special menus and not on the permanent menu. Nasi Lemak is served with mock meat, veggies, cucumbers, sambal chilli, and fried tofu. However, their Lasagna with delicious lentil layers, soy mince, and mushroom is regularly served.
Don't forget to taste their dumpling noodles and soup like meat. Local ingredients make this dish taste authentic. Interestingly, it is served with mock mushroom meatballs, and there is nothing no to like at this restaurant.
3. Porcelain Café by Gratefood Co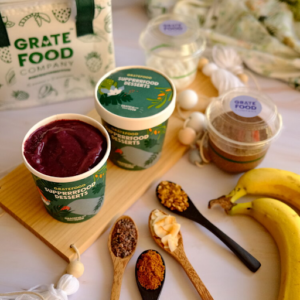 If you want to enjoy green smoothies, Porcelain Café is here to make what many people dread delightful. They perfectly blend the green with banana, dragonfruits, and other superfoods, turning them into a great smoothie that is easy on your waistline and eyes.
The ingenuity in the Porcelain Café's dishes brings home the soothing beachside feeling and ambience of gazing at the star-filled sky. You are tempted to think that the inventor of these mouth-watering meals got their inspiration from nature.
Jacqueline Koay is the brainchild behind Porcelain Café. She actualized an idea while running Gratefood Co. she realized that most joints in Singapore serving acai bowl functioned as a quick takeaway place. She saw a need to create an open, quiet place where people can sit and enjoy their frozen desserts unhurriedly.
The Instagram-worthy plated smoothie art bowl is a unique creation meant to be savoured. Have a taste of their unicorn dream; a mixture of orange acerola sorbet, coconut yoghurt, banana, full-time, and cholate oats. Alternatively, you can order beach paradise blended shimmering water, blue Spirulina, blueberries, and frozen banana. This drink is then adorned with chocolate oat milk and banana starfishes. The restaurant's signature acai blend is served in the Starry Galaxy.
4. Kind Kones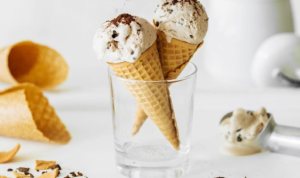 Healthy ice cream is a new trend in Singapore, with restaurants inventing new flavours and ingredients. Kind Kones is a newcomer in this field as it rolls out various health, vegan, and gluten-free ice cream. Their desserts and ice creams are made with chemical-free and natural ingredients.
Vegan eaters can comfortably enjoy these ice creams since they have no dairy or eggs products. The restaurant does not use preservatives or emulsifiers, and they substitute animal products with cashew, coconut, or almonds.
Every day comes with different flavours, though the signature (Blue Planet) with an earthy appearance remains constant. Don't think that lack of dairy products will make these desserts less sweet; your kids will love their taste.
5. Green Common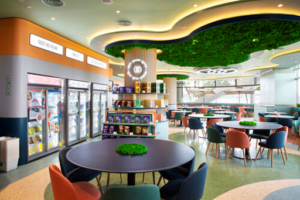 If you want a place that gives new meaning to vegan cooking, look no further than Green Common. It has several innovative vegan dishes artfully presented as you order, and green Common is often packed with plant-based dinners that love their fearlessness and friendliness.
Not often do you find an island restaurant willing to replace seafood and meat-heavy dishes with planet-loving equivalents on an island? Here you will find crab-free cakes, alpha nuggets, vegan sushi with all its unagi but free of meat and dairy products.
Families with children can also enjoy Green Common's versatile menu as the kids are rewarded with free colouring books and crayons. Besides family meals, you can also organize a reunion with friends for a stylish catch-up. Green Common presents taste and healthy vegan and vegetarian meals that will leave you wondering why meat-eaters haven't made the switch to vegan dishes.
Green Common's interior décor and ambience are superb, and it inspires confidence in what they believe in. You can also do takeaway burgers, pizzas, Omni luncheon fries, and Hainanese chicken rice. Book your Shariot today and head down there for the ultimate vegan meals.
6. Original Sin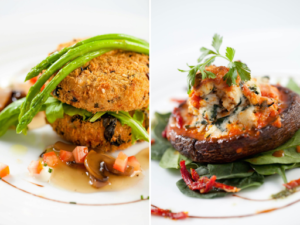 Let the name not deserve you into thinking some sins are committed in this restaurant. You probably have heard of the Mediterranean diet and its benefits. Original Sin is Singapore's pilot Mediterranean restaurant serving vegetarian and vegan meals, and it serves pure European vegetarian delicacies. Vegan or vegetarian Singaporeans consider this restaurant a gem, seen in the number of dinners that flock here. Original Sin is exotic yet casual, a place many people flock to for evening dinners with friends.
It offers a perfect alfresco dinner on a decorated mosaic table under the gliding stars. However, if you want a romantic dinner with your partner, you can book a table inside with glass murals, candlelit interiors, and sweet-smelling ornaments.
Like many exotic restaurants, Original Sin has an attention-grabbing décor that makes your vegetarian dinner tantalizing. Some of the delicacies you can treat your tongue to include a mezze platter with hummus carrot dip, pumpkin, and almond dip. Other dishes worth trying are fried potatoes, lentils, moussaka (baked eggplant layers), and tomatoes.
After a hearty vegan meal, don't forget to sum your dinner with Principessa salad. They also serve mushrooms, asparagus, bocconcini, French beans, and balsamic. Feel free to eat to your fill before you head home.
7. ADDA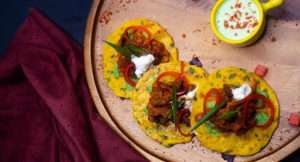 Vegan and vegetarians know that Indian Cuisines has an array of food options. ADDA Singapore is the centre of Indian vegan meals, offering the best meals with excellent flavours. Here you can enjoy Bollywood burgers slides or order a Vada Pav burger, often enjoyed as street food.
Their main courses like butter paneer pot pie, Bok Choy, and cottage cheese are people's favourites. You can also choose stalwarts such as the Dariya Gunj Eggplant Bharta and the Vegetarian Biryani Dum Pot. Alternatively, you can end your vegan experience here on a sweet note by indulging in the Vegan carrot Halwa. This delicacy is sticky and light spiced but very sweet, thus favoured by many lovers of Indian cuisines.
8. Little Farms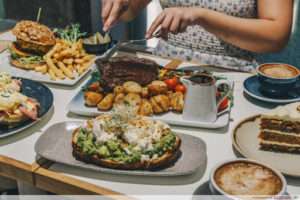 Little farms serve a dual purpose as a grocery store and a café. Its all-natural, freshly produced grocery options are revered, including their impressive avocados. Besides fresh products, you can also enjoy vegetarian and vegan dishes made using ingredients directly from the farm. The farm acts as a bank for a constant supply of quality produce, resulting in nutritious meals.
You can try their in-house smashed Hass avocado and baked dough. Another favourite for locals here is the sweet corn fritters coupled with homemade avocado salsa. As a vegan, you do not need to worry about variety. You can relish different assorted salads, including heirloom tomato salad and the farmer's salad.
Are you a wrap lover? You can enjoy the vegan burrito filled with spiced beans, organic rice, semi-dried tomatoes, mushrooms, house salsa, and grilled peppers. After tasting these delightful vegan foods, remember to stroll along their grocery aisles and pick available vegetarian and vegan snacks.
9. The Living Café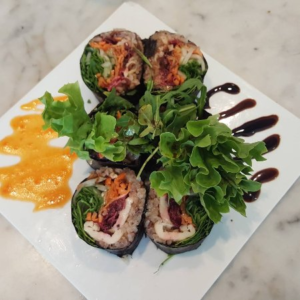 Living café is a vegan restaurant based in Bukit Timah serving various vegan meals. They aim to maximize food nutrients, including minerals and vitamin absorption, by serving raw food. They argue that cooking food will dilute nutrient content by destroying essential vitamins.
They only serve vegetarian dishes by eliminating dairy products, artificial additives, preservatives, red meat, and refined sugars. Though they serve a small amount of fish and white meat, most of their servings are raw vegan. We recommend the avocado cucumber soup sprinkled with chilli and lemon juice if you want to try raw vegan meals.
Alternatively, you can request a custom-made taco boat with mango salsa, guacamole, and raw walnut meat. Crown your dinner with raw chocolate or cheesecakes from their menu. You will undoubtedly leave this place rejuvenated and alive.
10. Afterglow by Anglow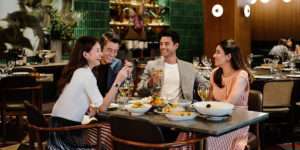 The #eatclean is a movement that has recently risen to promote raw food consumption. Afterglow is a vegan deli retailer at the forefront of this movement to propel the movements' acceptance in Singapore.
The restaurant collaborates with regional and local farmers to source crops for its innovative dishes. They serve delicacies such as pomegranate, dragon fruit, raw taco bowl dressed in salsa and cashew cream, mint dressing, and avocado salad bowl topped with chopped macadamia.
They are also known for raw lasagne, a layer of zucchini mixed with ground walnut. Afterglow's Cuban burger fitted with purple cabbage, flaxseed, and three-been patty are also people's favourites. Don't forget to try their avocado kimchi rolls- a signature serving at this eatery.
Have you ever tasted vegan cheese? Afterglow makes its vegan cheese using cashew nuts, drawing crowds in the evening. You can also enjoy high-end drinks from craft beers and wines to whiskey to accompany the sumptuous healthy cuisine.
Travel to Your favourite Vegan and Vegetarian Restaurant with Shariot
Shariot car sharing and rental services are your number one travelling partner, helping you visit any destination you want in Singapore. Our services are available 24/7, meaning you are sorted even late at night when you are from a party. We guarantee you convenience and comfort as you travel from one place to another. Enjoy your vegan and vegetarian dining experience at a restaurant of your choice.