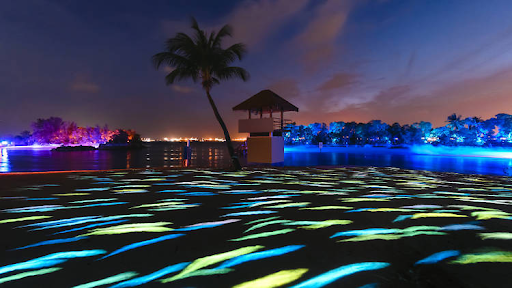 Regardless of the time, you will always find exciting things to do in Singapore for free. The economy may be a little hard on everyone, and free exciting things can add flavour to life.
It is a comm to pull an all-night stay in Singapore. People take sundown strolls, enjoy dinners at hawkers' centres, and catch up with acquaintances at Spanish restaurants.
As other cities go to sleep at night, Singapore is still sight at night buzzing with activities. Shariot presents you with several excellent places to spend your waking or cycling hours rather than your money.
RECOMMENDED: THE BEST FREE THINGS TO DO IN SINGAPORE
1. Marvel at the immerse light and water show at Marina Bay

The Americans will flaunt for you the flares of Las Vegas and its great water shows. However, the Marina Bay light and water show is a free Las Vegas show that can give you chills.
This free light and water display happens outdoors at the Event Plaza. You will relish the four-part story presented in a symphony of fountain jets, laser shows, dazzling visual projections, lava, and mist effects as the orchestral soundtrack plays. The display may take 15 minutes but is spectacular, especially at Merlion.
Sitting in front of The Marina Bay Sands hotel as you stare at this masterpiece of entertainment can produce an epileptic seizure in some individuals. Guest who stay at the hotel with rooms looking towards the Spectra delight in this breathtaking view.
After the show, you can take a free walk around the Bay and breathe the fresh air from the sea as the cool breeze sweep through your hair. You can also do some window shopping at the nearby Marina Bay Shoppes.
It is a free show beginning at 8 pm and 9 pm for 15 minutes, so come early before the front seats are filled. So, if your cycling or walking route takes you to Marina Bay, do not miss the mesmerizing light and water show.
2. Dance and Sing at Live Concert at the Esplanade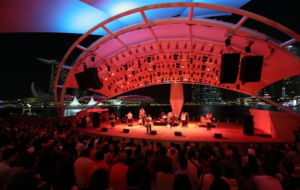 Music is healing to the soul, especially on the quiet nights in Singapore. However, concerts can be expensive and out of reach for many Singaporeans. Well, don't worry, The Esplanade offers free concerts with some stunning performances on the Esplanade Concourse.
Renowned performers from various genres, including rap artists, rock bands, indie-pop singers, urban soul, and R&B singers. You will undoubtedly find your taste at this place.
As these musicians perform, you can sing along and relieve any anxiety on your mind. What is more, you may even be invited by your idol to sing along to one of your favourite hits.
If you want to bring your family along on some free night fun things in Singapore, The Esplanade is the place for you. It offers kid-friendly shows ranging from music, dance, and theatre pieces. You can check out their regular updates for the upcoming performance at their official website.
Moreover, you could take a break from the dance and climb to the rooftop for fantastic skyline views at night. Carry your digital camera for a perfect photo or selfie.
3. Feed your Senses at the Magical Shores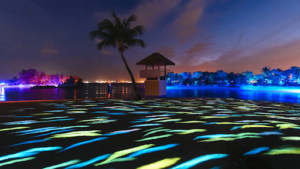 Besides the light and water show at Marina Bay Sands, you can also enjoy breathtaking illumination at Siloso Beach every weekend, starting from 7:30 pm to 10:30 pm. The immersive light and sound display present you with a magical feeling by the shores.
The lighting allows you to interact with a depiction of light art inspired by various elements from marine creatures to water flows. As you stare at the glittering sand, you will see striking visual effects that keep changing.
When night falls, Siloso's shores come alive with a mix of magnificent lights and sounds. You will see nature and marine life in a whole new light, thus awakening your sense of wonder.
Another wonder with these instantly changing lights is the imagery they create on the nearby greenery park. While at the beach, you could take a breather and pay attention to the enchanting sound symphony that heightens Sentosa's beautiful landscape. Before heading down there, remember to book a slot online since an email confirmation is needed at the entrance.
4. Witness the Supertrees dance at Garden Rhapsody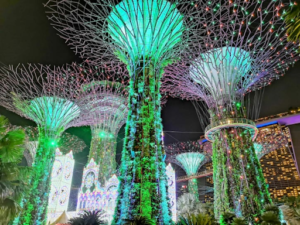 Garden by the Bay was not featured in Crazy Rich Asians for nothing. The Supertrees in the area come to life with Garden Rhapsody, offering night onlookers a free light show.
Taking a night walk through the enormous gardens encircled by glittering foliage at the Gardens by the Bay is refreshing. The illuminating sports lights and the accompanying musical soundtrack showcase a once-in-a-lifetime experience for visitors.
The lights on the Supertrees change their color with every musical beat as if they're dancing to the tune. If you want to catch the show, be there every day at 7:45 pm and 8:45 pm. There are different themes, including the Star Wars edition. Few things are as memorable as the free illuminating Supertrees at Marina Bay Sands. Singapore has made good use of its technological prowess to provide its citizens with spectacular free shows.
5. Cycle past Rower's Bay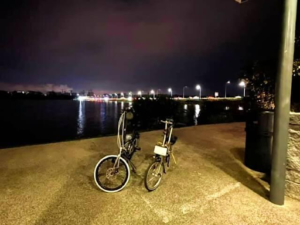 Night cycling in Singapore is exciting, enabling you to enjoy quiet time as you burn some calories. Since most people are asleep, the roads are less busy and more enjoyable.
You can hop onto your bike and take the 60-kilometre route to Rower's Bay. This route is part of the Round Island Route, covering a 150-kilometre park connector. The route connects Yishun to Punggol, allowing you to see the city's beauty in the dark as the cool breeze blow through your hair along the boardwalk.
Before dawn, nature lovers can soak at the lookout pavilion, wetland area, and Swales. On your ride to Seletar Aerospace Park, you will find shelters where you can charge your phone. You will also see vending machines where you can buy bike equipment, as well as a self-help repair station to mend your bike in case you experience a breakdown.
Apart from Rower's Bay, you can also enjoy cooler nights cycling to other areas. You can tone your leg muscles as you cycle to Changi Village, Ulu Sembawang Park Connector, or Punggol Waterway. You can read about safe cycling routes in our article Night Cycling Routes in Singapore to Admire the City After Dark. Don't forget your cycle lights and a helmet and wear bright-coloured clothes; you want other road users to see you from far. All the best exploring Singapore at night for free!
6. Do an open-air movie with MovieMob.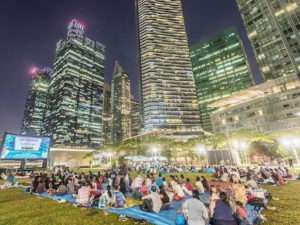 Watching a movie with friends and family can be fun, but doing so with total strangers is on another level. Movie Mob gives movie lovers an exciting experience with the best outdoor movie-watching experience you can hope for.
Whether your thing is a night-out movie with family or a romantic date with a partner, Movie Mob plans several outdoor movies that will suit your needs. What is more, it is a free-screen cinema staged at different locations across the Island.
You can book your Shariot and head to your favourite movie location, where you will find fellow movie partners waiting for the show to begin. If you are walking around, Movie Mob also presents non-drive-in movie screenings at heartland screenings like Bedok Central and the fields outside White Sands.
Furthermore, Movie Mob allows viewers to pick and flick as they choose the movie to be displayed. Since its debut in 2009, MovieMob has had over 200 Drive-in cars per event and approximately 800 participants in every MovieMob Picnic Event.
You can join the over 8,000 fans on their Facebook Fans page or register with the Community of MovieMobbers, boasting over 40,000, and vote for your favourite movie before showing begins.
7. Marvel at Jewel Changi Airport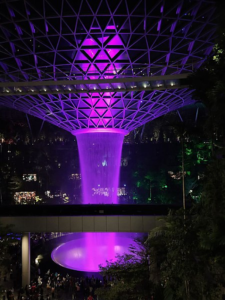 Jewel Changi is Singapore's famous airport, and for a reason. It houses some good restaurants with exotic meals that can take your money; however, we are interested in free things to do here.
Jewel Changi Airport hosts HSBC Rain Vortex, the world's largest indoor waterfall. The waterfall is regarded as the crown of Jewel Changi Airport, taking centre stage with its dazzling display. Many visitors marvel at its futuristic designs, as the shower pours from the circular opening in the middle of the glass roof and falls at the basement pool- a 10 story worth of fall!
At night, beginning from 7:30 to midnight, the HSBC Rain Vortex becomes a sound and light show canvas. You will witness a spectacular display of different colours as the water plunges to the pool, creating a perfect place for Insta-worthy selfies.
You could come with your fiancé for a walk around this beautiful light show and make a romantic impression. Yes, Jewel Changi Airport also has free things, even though it is a place where money changes hands frequently with each passing minute.
8. Stargaze at Seletar Rocket Tower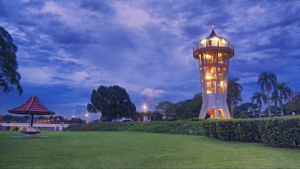 Stargazing is an old habit that never gets out of fashion. We are all awed by the wonder of creation above us and the calm night vision is a perfect condition to soak at the beauty of the sky.
Though some love stargazing at Alfresco restaurants and bars as they sip a glass of wine, the Upper Seletar Reservoir provides you with an ideal location to catch astronomical wonders that are second to none. The 18- meter-tall tower resembles a rocket ship and stands out in the region for epic stargazing.
Additionally, you will burn some calories as you climb the tower's meandering stairs. When you reach the top, the view of the surrounding greenery, the park's water body, and starry night sky will be rejuvenating. Come with a group or your partner and learn from the heavens above as you identify your favourite star.
You can get more locations for free stargazing on the article:
9. Wander at the Botanic Gardens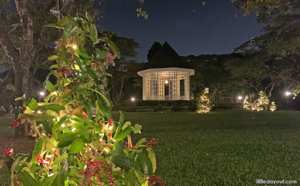 Wandering in the gardens at night may not be a good idea in many countries. However, the Botanic gardens in Singapore is a one-of-a-kind location, allowing visitors to enjoy nature's beauty at night.
It is a well-maintained UNESCO World Heritage site, where you can wander at night. The Edenic greenery garden is vast but a safe free, night-time attraction. You can request a Shariot and drive down there for a secluded date with your lover as you stroll through the lush green.
The Botanic Gardens is rich in various unique and rare plant species. Some of these species give different colors at night. Moreover, you can also enjoy free shows at Shaw Foundation Symphony Stage within the gardens. The show ranges from Okinawan dances to French films and disco music. Remember to carry your picnic basket with snacks to last you until nightfall; you could even catch some exciting shooting stars.
RECOMMENDED: A Complete Guide to Singapore Botanic Garden: What to do? and Best Picnic Spots in Singapore
10. Fly an LED kite at Marina Barrage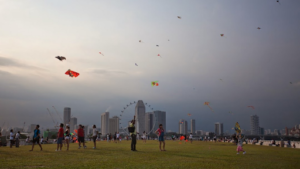 Most Singaporeans remember Marina Barrage as the only place offering a breathtaking 360 degrees view of the beautiful bay area. It is also an excellent spot for picnics for families, especially on the weekends. Marina Barrage maintains its vibrancy at night as the location provides families with a perfect ground for flying kites. There is even a kite shop at the Barrage Cove on the ground floor. You can pick your LED kite to illuminate the night sky and enjoy some fun.
You could have time bonding with your children, which many households have neglected due to busy schedules. So, why not sacrifice some sleep and play with the little guys at Marina Barrage? The children will not forget their time here and how that made them feel.
Besides the flying kites, Marina Barrage also hosts jogging, yoga, and kayaking. If you are hungry, you can get cheap food at nearby restaurants.
There you have it, the ten best free things you can do in Singapore at night. Book your Shariot and enjoy these free things stress-free. You can enjoy several free stuff with our modern cars before heading home without worrying about time.