It has been that the world and its creatures are a bunch of artwork and designs, and the human body is itself pure artwork at its best. If you have not paid keen attention to the best art exhibition in Singapore, you have been missing out, and it is time you step up.
Singapore has several museums and art galleries filled with stunning virtual exhibits from new and old artists that will undoubtedly keep you captivated. You could even buy a piece that impresses you to make a statement at the office or home.
2022 began well with lots of exciting exhibitions for art lovers. January saw the return of Singapore Art Week, presenting big-scale affairs with international artists. The local artists also represented in the Light to Night Festival, encouraging Singaporeans to visit local exhibitions for inspiration. Shariot offers you the best art exhibitions on the Island to make your fun day out enjoyable.
1. Nam June Paik: The Future is Now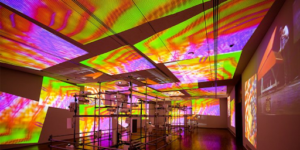 Nam June Paik (1932-2006) was regarded as an international superstar and played a vital role in the avant-garde movements in the 20th century. This visionary artist is revered for promoting fine art on television, treating video art as a multisensory and tactile medium and object.
At this exhibition, you will have a look at Paik's extensive work. Visitors will be given a treat of presentation in over 180 projections, installation, video sculptures, modified television, and robots.
You will delight in several of Paik's inventive ideas and unearth some of his archive materials used in music training. The archives also include materials he used in various movements like Fluxus. As you walk through this art exhibition in Singapore, you will reflect on how technology relates to other disciplines like music, nature, and religion.
Before the highly anticipated exhibition climax, you can catch the virtual series of the whole program from 17th to 19th September 2022. The virtual presentation will highlight Nam June Paik's legacy in reading, text performances, and artistic interventions.
You will be awed by Paik's contribution to the art industry as he figuratively passes the button to local and international artists by influencing present works. This exhibition seeks to immortalize the father of video art and his fantastic contribution to advancing art.
2. Attack on Titan: The Exhibition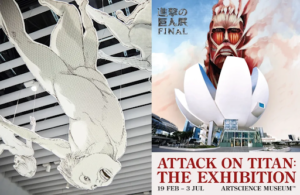 Begin February 19, 2022; the titans are coming to Singapore. If you are a fantasy lover, you will love Attack on Titan because it is one of the best-selling dark fantasies of anime and manga series. The famous Hajime Isayama wrote and illustrated Attack on Titan, impressing his global fanbase with the creation.
The fantasy depicts a world where humans live in cities surrounded by three massive walls, protecting them from gigantic man-eating humanoids. The perfect fantastical theme, nuanced characters, and unique plot have made this animation a world-class cultural phenomenon.
Attack on Titan allows fantasy lovers to dive deeper into the fictional world. SpaceLogic of the ArtScience Museum is the organizer of this exhibition. However, before the exhibition begins, you will enjoy an 11-year publication run and the recent manga conclusion to mark the end of an era.
Interestingly, the fourth and the last season of the animated TV series will be aired when the exhibition is underway, serving loyal fans with a bittersweet experience. Apart from the animated TV show, visitors will delight in over 180 of Hajime's artworks, ranging from Manga's early days to the present. You may even witness the unveiling of exclusive new art pieces that have never been shown anywhere in the world.
The exhibition allows Titans' fans to touch personally Hajime's sketches and drafts, the manga objects used, and the characters. The display will help you walk through the master's thought process as he created this sprawling dystopia. You can even meditate on the final battle sequence in the Great Titan Theatre.
3. The Observatory: REFUSE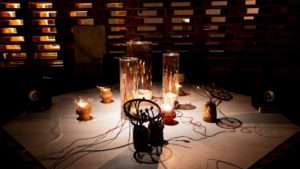 The Netflix documentary entitled The Secret Life of Mushrooms delighted food enthusiasts and non-enthusiasts. If you loved this film, then I believe you will want to know that apart from serving as food, mushrooms also create music when they emit other gasses like carbon dioxide.
The relocation of the Singapore Art Museum (SAM) to Tanjong Pagar Distripark due to renovation works has provided artists ideal environment. Tanjong Pagar Distripark is a container terminal, thus endowed with heavy machinery, cargo lifts, and rough concrete floors. These factors give a holly grill for exhibitors to showcase their work. The high ceiling, hipster vibes, and oodles of space are what make an exhibition outstanding.
SAM took advantage of these factors to display their recent art show REFUSE. Lovers of nature and biology will delight in the REFUSE exhibition. The local band The Observatory showcases their interest in mycelial network and fungi to explain the twin concept of decomposition and composition from musical and biological perspectives.
This exhibition combines several facets such as mycology design, archive, scenography installation, guest curation, and moving images. Designed characters play these facets.
In this show, SAM brings to light mushroom bio-rhythms as it releases gases into space to produce music. The audience can see why mushrooms sing fungi through motion sensors and servo motors. This phenomenon has promoted the design of mushroom-like instruments in real-time, thus producing inter-media space within the gallery.
4. Antony Gormley at the National Gallery Singapore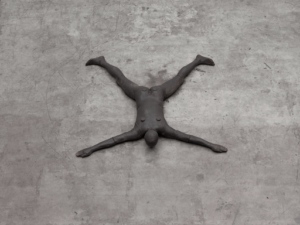 Antony Gormley has a new large-scale installation at the roof garden top of the National Gallery Singapore. The exhibition will display sculptures tracing 40 years of Gormley's practice. This will include Sense of 1991, Close V of 1998, and Ferment of 2007.
The sculptures will be stationed at strategic places within the gallery, forming a sequence of what artists describe as "acupuncture" within the building. They start from the surrounding, thus inciting connection with the audience.
As you examine the exhibition, you are introduced to Gormley's extensive work. He drew inspiration from various traditional concepts and ideas such as philosophy, Buddhist sculpture, quantum physics, and minimalism.
Most of Gormley's work incites viewers to shift their attention inward and examine their perception and movements based on the surrounding space. Like the famous Leonardo da Vinci and Michelangelo, Gormley presents difficult concepts through art to invigorate thinking. The exhibition is rich in lessons for all who take time to attend the exhibition and marvel at Gormley's works.
5. Gallery Children's Biennale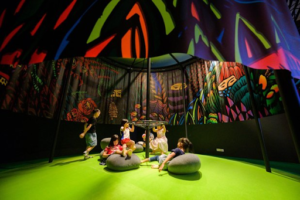 Art and gallery visits are not only for adults; children too can enjoy art exhibitions. You never know; you may awake the sleeping talent in your child by taking them for relevant exhibitions.
The Gallery Children Biennale third edition offers parents the opportunity to unlock their children's creativity. The Covid-19 restriction meant that most exhibitions did were not open last year; however, with the restrictions lifted, parents can expect a big comeback for the exhibition.
Instead of showcasing the usual labyrinth involving interactive artworks, they will return with a hybrid edition beginning May 22, 2022, to December 2022. Your child will have the multi-sensorial art experience of a kind at the National Gallery Singapore.
The exhibition's inaugural edition starts with an online display through a kaleidoscopic microsite on May 22. The on-site art installation will be on September 4 at the National Gallery Singapore. The Biennale's microsite staged online will go live worldwide for the first time, exposing Singapore's artistry to children around the globe. You do not want your child to miss this golden opportunity to join the rest of the world in celebrating art.
Gallery Children Biennale will be shown on the inquiry "Why Art Matters" to indicate the value of diversity, home, environment, and time using imaginative play and art. Through an interactive online adventure, digital art-making, and storytelling sessions, your curios kids will have a delightful experience. They will hear and see from local and international artists and other kids from different nations.
Furthermore, Biennale is full of eye-catching on-site and online works that your family can engage with. Some of the artists involved in these creative works include Jeremy Sharma (Singapore), Dinh Q Le (Vietnam), Khvay Samnang (Cambodia), Isabel and Alfredo Aquilizan (Philippines/Australia), Nandita Mukand (Singapore/India), Sandra Lee (Singapore), and Nona Garcia (Philippines).
The world is rapidly changing, and technology is conquering every land. The Biennale wants to inspire children across the globe to channel their path through life with confidence and empathy. They also intend to nurture children's creative ability and critical thinking through skills like character-building and curiosity.
6. New World's End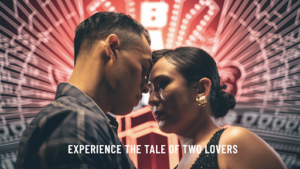 If there was a time travel machine that would take you back to the good old day, would you board it? I guess you would. However, you do not have a time machine to accomplish this audacious goal. OH! Open House has an exciting art experience that will take back in time so that you can relish in all of it.
You only need to strap up a pair of comfortable shoes to develop good listening habits, inquisitive eyes, and a curious mind. Following the success of its "Sleepwalking" digital display, the independent art organization is inviting you to a multisensory walk-in Jalan Besar.
This year's theme is entitled New World's End. The support of the Tourism Board makes this night tour even more exciting. Nevertheless, you will need to wait until its launch on July 2.
Historians and fiction lovers will learn a great deal from the audio-guided walk that reveals the history of the iconic New World Amusement Park. You will also learn several historical facts and the heritage of Jalan Besar.
The exhibition will start at OH! Open House at 85 Road and take you down the alleys. You will pass through hidden rooms and imaginative spaces to uncover fascinating romantic stories between Kiran and Rosa.
7. Story of the Forest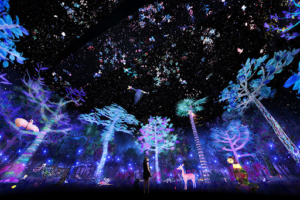 Art lovers fondly remember the works of William Farquhar. Art exhibitors responsible for Future World also stage art installation that brings to light the six-nine works of this great artist. This art exhibition in Singapore is displayed at the National History of Drawings at the Glass Rotunda.
Visitors can look forward to digital flora, roving animals, and seasonal forest weather on the screen. These displays are the products of the Japanese digital art team, and the art exhibition tells visitors of Singapore's journey from the pre-colonial period during the Japanese occupation to its modern-day modernity.
8. Art of Southeast Asia: Between Declarations and Dreams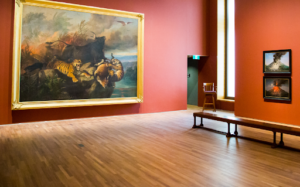 The UOB Southeast Asia Gallery has been staging art gallery exhibitions since the 19th century. This year, the art exhibition presents over 300 artworks that showcase the Southeast Asia artistic impulses.
Visitors are given a treat of the art history in Southeast Asia beginning in the mid-19th century to show how the region's artists discovered new meanings of art through aesthetics and vernacular expression. This exhibition also highlights how art is engraved in the region's political and social history.
This year's title is from Chairl Anwar's poems written in 1948- Krawang-Bekasi. Chairl Anwar was a famous Indonesian poet known for his intriguing poetry. In this poetry, he laments the merciless killings of the residents of West Java by the Dutch Colonial army. He echoed the desire for independence at the time. These sentiments represented what other artists felt and experienced as they were caught between declarations and dreams.
9. The Tailors and the Mannequins: Chen Cheng Mei and You Khin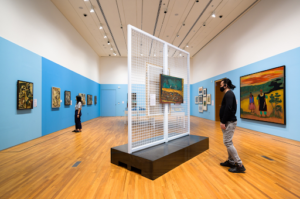 If you are a lover of fashion, you will undoubtedly want to see the works of two fashion icons, Chen Cheng Mei and You Khin. These individuals had very individualized lifestyles and led unconventional lives. They have been featured in several art-historical accounts.
Though You and Chen did not meet or know each other, they loved portraying daily scenes in various locations such as South Asia, Africa, and the Middle East. As shown in their art, they had great respect for human diversity, concluding that culture cannot be fully explained outside.
The Tailors and Mannequins exhibition features artworks, sketches, and photographs retrieved from the archives of these artists. These illustrations will help viewers connect between Southeast Asia, Singapore, and other decolonizing nations beyond the Western region.
Do not be left out on the fun accompanying the best art exhibitions in Singapore. Book your Shariot now and take your family on a comfortable driving and learning experience. If we have left out your favorite art exhibition, let us know in the comment section below.