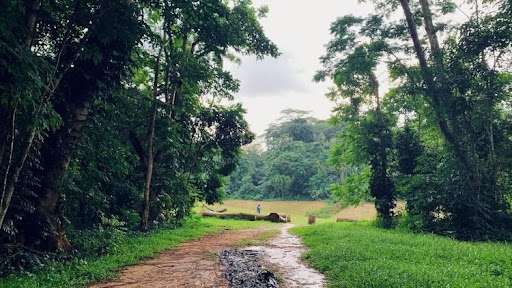 Singapore is a bustling urban jungle known for its tall green building to conserve energy, reduce carbon footprint and protect the environment. It also has several attractive nature parks and beautiful hiking trails on its shores—no wonder this Island is known as the Garden city.
Hiking helps citizens discover places they have never been, have fun with family and friends, and is an excellent way to shed some pounds. Hiking trails in Singapore are often combined with exciting outdoor activities, providing a host of health benefits for all participants, including the elderly. Some of the health benefits of hiking trails include enhanced bone density, improved cardiovascular health, lower risk of heart disease, reduced stress, and improved core strength and balance.
Singapore has beautiful parks and nature walks that have excited locals and tourists for years, including the Botanica gardens and picnic sites. However, in this article, we focus on Singapore's best hiking trail to add to the list of places you should check out while visiting this Island.
Since there are many hiking and trekking trails in Singapore, you may be wondering where to start, don't sweat; we got your back. We will show you that behind the city skyscrapers that have flooded the internet as the face of Singapore, many nature reserves and parks exist on this Island waiting for you to explore.
If you are a hiker, you will discover hilly forests and swampy wetlands in Singapore to keep your heart rate up. We present a list of the twenty best hiking trails in Singapore that will draw you from the urban center to the beauty of nature. Take a look at our list and let us know which one you want to try in your next outdoor activity.
1. The Southern Ridges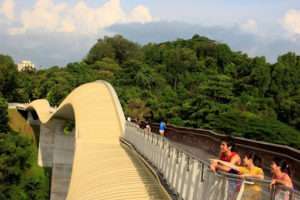 Singapore's southern ridge is a 10-kilometer trail connecting the southern parks and is home to various green trees teeming with wildlife and diverse flora. If you plan to get away from the hooting and bustling of the city to clear your head, the Southern Ridges offers you an opportunity to connect to nature and attain peace of mind.
The trekking and hiking trail this place offers you a perfect panoramic view of the harbor, the southern Islands, and the city. Furthermore, the Southern Ridge hiking trail stretches across the green open space, covering the hills, parks, and garden, thus providing a hiker the advantage of exercising next to nature.
You will probably stop by Telok Blangah Hill Park, Mount Faber Park, Kent Ridge Park, HortPark, and Labrador Nature Reserve. The Southern Ridge will also take you to the iconic bridge, the Henderson Waves. Before you are done hiking, you will also enjoy the Canopy and Forest walk to witness nature's finest.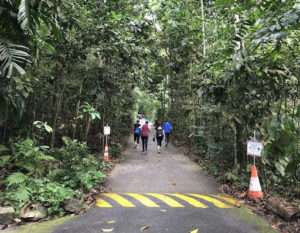 The Bukit Timah Nature Reserve is one of Singapore's unexpected gems and a host of several green plantations. When beginning your hiking trail, you will learn about various fauna and flora in the Bukit Timah Hill Visitor Centre Park. The gallery display will inform you of the forest's ecology and nature's diversity, including different birds and monkeys.
The Bukit Timah Nature Reserve is also home to Bukit Timah Hill, Singapore's highest hill. This hill offers hikers a 163-meters high slope, enough challenge for a hiking trail experience. The hiking trails are easy to follow since they were revamped in 2016, providing new boardwalks, rope railing, and steps.
The Reserve also has walking routes with varying difficulties for exploration depending on whether you want a full workout or leisure stroll. Parents and children can also bond over the I heART Nature workshop series as they appreciate nature walks in the Reserve. If you are interested in this educational journey with your kids, you can sign up from here.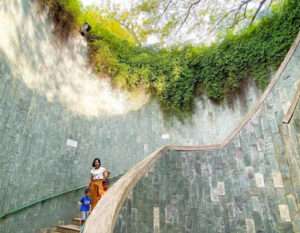 Many Singaporeans know Fort Canning Park as a site for picnic and music festivals. However, there is more to this Park than meets the eye. If you slide a little deeper into this Park's lush greens, you will discover the remains of the Park's untold cultural history, such as the Battle Box. Archeologists have found some of the old building blocks believed to have been used by ancestral kings. The hiking trail on this hill will educate you about the past and increase your heart rate as you climb for better health. It is a must-see for anyone who loves history and longs for a great outdoors in the museums.
4. Clementi Forest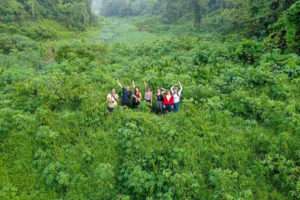 Clementi Forest isn't listed among famous Singaporean forests. Yet this untouched forest is rich in green nature, thick foliage, open valleys, Jurassic Park vibes, and old train tracks. As you and the hiking team prepare for this exciting hiking trail, remember to put on appropriate hiking gear.
You will experience the excitement of traversing the mud, steep or slippery ground. This forest does not have official hiking trails, offering hikers the opportunity for a completely unique adventure. The team will mark their path as you pave the way through the jungle, and your adventure will lead you to some beautiful sceneries along the way. The Clementi Forest experience is not a regular experience in Singapore; hence it is worth checking out.
5. Keppel Hill Reservoir
This reservoir, also called the Forgotten Reservoir, is interesting if you want some light hikes. This place disappeared from Google maps until it was rediscovered in 2014. Keppel Hill Reservoir provides hikers with the privilege of traveling back to the reservoir's dark past.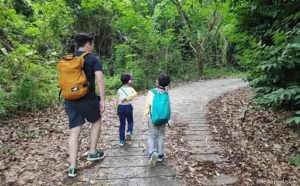 You will experience the thrill of walking past empty roads and solitary tombstones. It is believed that the reservoir was used for the spooky diving board and recreational swimming. Since the waters are murky, it is challenging to discover how deep it goes.
History also suggests that the Tanjong Pagar dockyard used the reservoir as a water source in the colonial era. When visiting this place, ensure you have the proper gear for the reservoirs green dense roads and pathways.
6. The Rail Corridor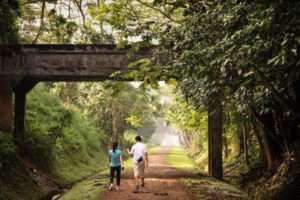 This corridor is approximately 24 km; however, its recently reopened central stretch is almost 4 km long. You can decide to take different routes on the Rail Corridor as you engage in various activities along the way.
Apart from the beautiful landscape, you will experience its rich heritage—this railway line used to connect Singapore and Malaysia for good transportation and commuting between the two countries until discontinued in 2011.
As you walk through its hiking trail, you will see the revamped Bukit Timah Railway Station and Singapore Quarry, where you will see fishes, rare bird species, monitor lizards, and turtles. If you are interested in more wildlife, you can trek to Dairy Farm Nature Park, Hindhede Nature Park, and Bukit Timah Nature Reserve. Expect beautiful nature that pleases the eyes and educates as you walk along its hiking trails.
7. MacRitchie Reservoir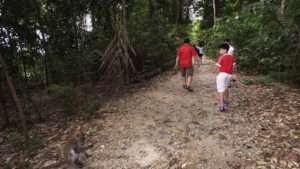 The MacRitchie Reservoir hiking trail connects you to the rainforest, offering an easy boardwalk along with the surrounding scrubs and one of the challenging hiking trails of 11 km.
It is Singapore's most popular and oldest nature park. The Reservoir hiking trails are favorite for weekend strollers, joggers, and families for an exciting nature walk. Ensure you visit the suspension bridge, HSBC TreeTop Walk, hanging 25m above the forest floor to provide you with a panoramic view.
You will also see various wildlife as you hike through the forest, from tree pangolins and frogs to flying lemurs. You might also see the rare long-tailed macaque monkeys; however, take care, for these monkeys can be ferocious.
8. Chestnut Nature Park
The Chestnut Nature Park's hiking trail covers 5.6km, while those with bikes can enjoy the 8.3km of biking for increased heart rate. This Park will take you two to three hours of walking.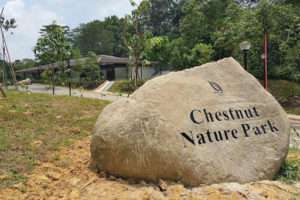 The Park covers 81 hectares, splitting the South and the Northern regions, making it the largest nature park in Singapore. The Chestnut Nature Park has two distinct mountain biking and hiking trails already marked so that you can find your way. Its hiking trails also have winding slopes for the ultimate experience of the nature walk.
9. The Thomson Nature Park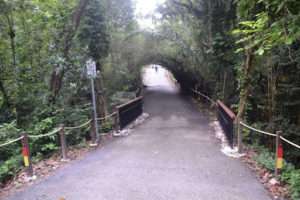 If you live near the Thomson area, you can burn calories from the café through Thompson's hiking trail. It is located between Upper Thomson Road and the Old Upper Thomson Road next to Windsor Nature Parks and Springleaf.
At Thomson Nature Park, you will find five easy hiking trails 3.8 km long to keep beginners in fine shape. This Park has beautiful sceneries and green nature full of wildlife. As you walk through Thomson Nature Park, you can also take note of heritage attractions of the former village spanning from the Runs and Figs Trail. If you're lucky, you could even spot the endangered Raffles' Banded Langur.
10. The Green Corridor
This corridor was remade as a hiking trail for Singapore's trekking enthusiasts. Like the Southern Ridges, this trail connects various parks, including Kranji Wetlands and Bukit Timah. As your team walk along the trail, they will witness streams, grasslands, and marshes brimming with life. This area is relatively untouched, providing hikers with exciting opportunities to meet with nature.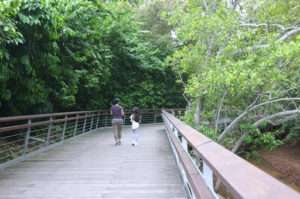 The Labrador Nature Reserve offers hikers the opportunity to see local wildlife in their habitat as they visit sites of World War II. At this Reserve, you will see 70 kinds of birds, several species of trees, and 11 species of butterflies.
Here you are up for a treat of fascinating historical war sites, such as the WWII fort, built by warriors in 1878 for defending Keppel Harbour. The fitness stations distributed throughout the Reserve provide health fanatics with jogging and hiking trails for an increased workout. The Labrador Nature Reserve boardwalk brings hiking past mashes, cliff sides, and secondary forests, giving hikers a proper view of Singapore's coastlines.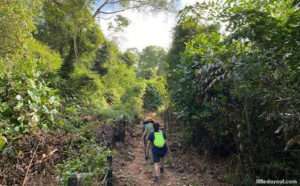 Pulau Ubin is the meeting point of nature and history, located on Singapore's north-eastern coast. You can find tranquility here from the stresses and hurry in the city as you walk across this sanctuary. Visiting all exciting sites in Pulau Ubin can be daunting on foot; you could contact Shariot car-sharing services to give you a ride to these exciting places before you begin hiking.
You could begin with the eastern hiking trail, offering you the opportunity of witnessing six different habitats, such as the rocky beaches, coastal forests, and the mangrove swamp. As you walk towards Chek Jawa, pass by the Ubin Fruit Orchard, housing over 350 trees full of breadfruit and mangroves. Ensure you have a good pair of boots before heading to Chek Jawa wetlands as you trek through its great ecosystems.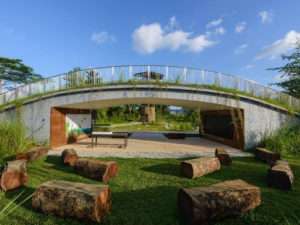 The Kranji Marshes is one of Singapore's largest freshwater marshes, providing a perfect destination for wildlife lovers looking for the best trekking and hiking trails. The marsh is rich in a wide range of insects, aquatic plants, birds, and fish. This nature area provides you with a rare opportunity to see endangered bird species, such as the Grey-headed Fish Eagle and the Changeable Hawk Eagle. Through Kranji Marshes, you not only hike through challenging trails but also learn about nature.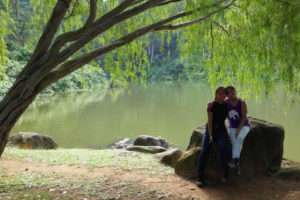 This Park may not have a crazy hiking trail; however, it will give you a treat of greenery like no other park. The Bukit Batok Nature Park offers families and teams who want laid-back walks as they enjoy spectacular views. You will get closer to nature and see crystal-clear lakes situated at the abandoned quarry site. If you are a hardcore hiker looking to increase your heart rate and burn some calories, you could adventure into the beaten paths as you explore the less-traveled forest paths.
The C2C trail is a 36 km long distance covering Singapore's coastal lines. It stretches from Jurong Lake Garden to Coney Island Park. This hiking trail will take you through various parks, nature areas, park connectors, and urban spaces, including Bishan-Ang Mo Kio Park and Sengkang Riverside Park.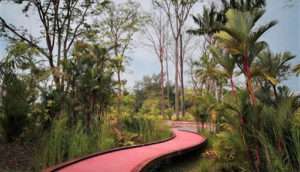 You could choose your starting point at Jurong Lake Gardens and follow the hiking trail to Coney Island as you make your way to Rower's Bay Park. Since the C2C hiking trail cuts through many parks and park connectors, you will have a great adventure as you take up one of the most audacious hiking challenges in Singapore. We encourage you to download the C2C Mobile App to help you plan the route you will take and learn about wildlife you could meet along the trail.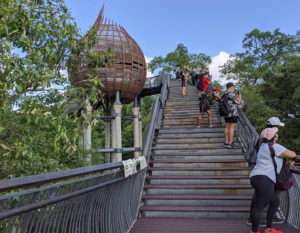 The Sungei Buloh Wetland Reserve is Singapore's first wetland reserve, hosting thousands of riverine species, such as mudskippers, ferocious estuarine crocodiles, and water monitors. This Park has many visible hiking trails during the migratory season, allowing you the pleasure of seeing flocks of shorebirds, such as plovers and sandpipers. Hikers also have the privilege of seeing water snakes, monitor lizards, otters, herons, and kingfishers. The Sungei Buloh Wetland Reserve promises challenging hiking trails and an opportunity to learn and appreciate nature.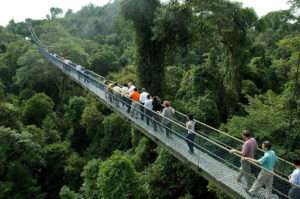 If you don't want to sweat but enjoy an easy-going coastal trail, consider this tranquil Park. The hiking trails at the Upper Peirce Reservoir Park will not leave you puffing and huffing for breath; nevertheless, you will have the opportunity to stretch your legs as you engage in a conversation with your partner away from the city's busy life. This forest houses the long-tailed macaque, ready to snatch your snack in a whisker. This would form part of the hiking trail experience you do not want to miss.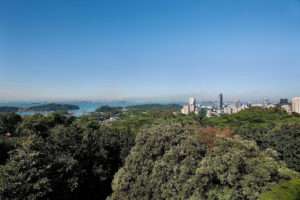 Mount Faber is the second highest hill in Singapore, offering hikers the opportunity to experience one of the most exciting attractions on the Island. There is a dining and entertainment facility at the peak of this mountain, offering you hearty meals for a tired soul. The peak of this mountain also enables you to have a breath-taking view of the Island.
The government transformed the cable car on the peak of Mount Faber into a tourist destination, offering drinks at popular restaurants and bars while experiencing the best views in the country. You will be treated to challenging hiking trails, but you can still access Mount Faber via cable cars if you are not the hiking type. The green forest below will provide you with an unforgettable experience and a perfect panoramic peek of the city.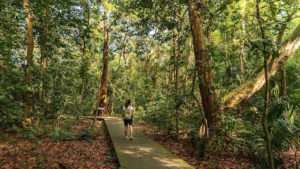 Windsor Nature Park allows hikers to experience boardwalks, greenery, freshwater streams, and cobblestones to add to their hiking journey. It has three different hiking trails totaling 3.85 km long. You could also enjoy leisure walks at the Drongo trail and Hanguana Squirrel as you enjoy dense vegetation with rare trees and wildlife. Furthermore, you can trek to the Treetop Walk for a better panoramic view of the landscape.
20. Changi East Boardwalk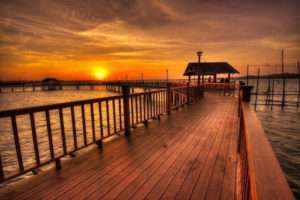 The Changi East Boardwalk is a 2.2 km trail stretching the coastline and is a must-visit for romantic sunrise or sunset. Its six unique locations: Beach Walk, Creek Walk, Kelong Walk, Sunset Walk, Cliff Walk, and Point Walk, offer hikers a beautiful scenic view. It is one of the best hiking trails in Singapore, allowing you to experience the peace of nature's world with various fauna and flora. With your partner, you can have an ideal romantic leisure stroll evenings or early morning view of the sunrise for that proposal you have been waiting to pull.
Final Thought
Next time you visit Singapore, do not stick with the city only, have the opportunity to experience the Garden City. We at Shariot offer your car-sharing services to take you to your preferred hiking trail destination in minutes. Our affordable rates make it exciting to enjoy Singapore's nature without breaking the bank, adding to your peace. We believe in preserving Singapore's nature and endangered species that continue to attract several tourists and locals.