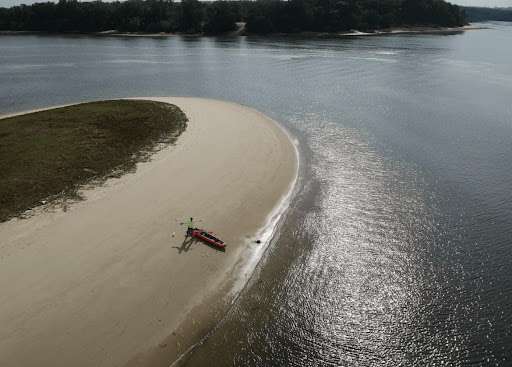 Singapore is globally recognized as having the best beaches, parks, cafes, and restaurants. Most Singaporeans and tourists are often spoilt for adventure, meal options, and exploring mother nature. Are you bored of visiting the same eateries, beaches, and parks within the city? Worry not.
Shariot car sharing and rental services have prepared this article to help you discover some of the ulu places in Singapore to escape from the city chaos, where you can relish sumptuous meals and unwind with your loved ones. Additionally, you will enjoy a relaxing ride with your family as you explore some amazing places in Singapore you never knew existed. Are you worried about venturing into these ulu places when you don't have a car? Book your Shariot now and enjoy the safest ride with your trusted companion.
1. Cacio e Pepe Italian Restaurant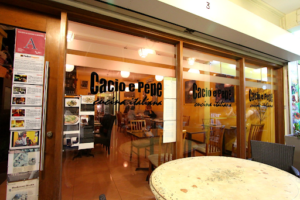 Are you craving some Italian Cuisine? Head down to Cacio e Pepe Italian Restaurant since it is one of the ulu restaurants in Singapore that prepare and serve the best Italian delicacies. Although Cacio e Pepe is an Italian word meaning cheese and pepper, you will enjoy delicious meals more than that.
The hidden gem is located at Bukit Batok's residential areas, and you are guaranteed to enjoy a heart-to-heart conversation with your significant other in this quiet restaurant. Cacio e Pepe Italian Restaurant will provide you with a pleasant ambience that feels like eating into a family-owned trattoria in Italy.
The best bit of visiting this ulu restaurant is you have various options to choose from, including pizzas, antipasti, and risottos. In addition, if you are fortunate enough, you can relish fresh seafood such as codfish and their sweet, excellent burrata cheese. You are sure to satisfy your craving for pasta, from their extensive pasta menu, including Tagliatelle al Tartufo and Tortelli al Granchio.
Ensure to reserve some space for their mouth-watering dessert, such as the Rum Lava Cake with Macadamia Nuts. Therefore, waste no time but drive now to the Cacio e Pepe and give yourself an authentic treat with their Italian delicacies.
2. Sembawang's Malta Crescent Bunkers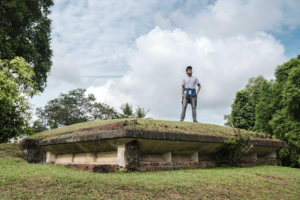 Are you an adventurous explorer? Sembawang's Malta Crescent Bunkers is ideal for visiting and exploring these underground tunnels in Singapore's colonial history. The bunkers are not visible and rarely attract attention since they are entirely covered by grass.
The underground bunkers were home to the British naval base for safely keeping their storage facilities and air-raid shelters. Although the bunkers are quiet and chaos-free, it is impossible to get inside the underground tunnel since it is cemented to keep people out. The best thing is you can still locate distinctive features aboveground, including steps leading to the bunker since the place is unrestricted.
Since the area is completely isolated with no people, do not go alone to the bunkers, have some friends accompany you to ensure you enjoy the experiences and landscapes of this ulu place. Moreover, carry some snacks and enough water to keep you energized. Sembawang's Malta Crescent Bunkers is ideal for taking iconic shots because of its tranquility due to less human traffic and clear contrast between civilization and nature.
3. Rider's Café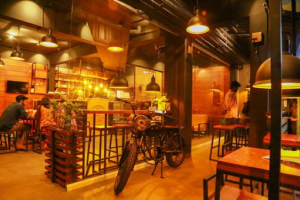 A popular ulu café to explore in Singapore is Rider's Café, where you enjoy delicious food in the comfort of a casual, relaxing space away from the city chaos. The café is located at Bukit Timah and manicured with lush greenery ensuring you enjoy your meals besides nature. The café is built with the colonial-style architectural design and represents Singapore's heritage giving you an ideal spot to enjoy your meals outdoors.
You will relish your sumptuous meal as you admire adorable horses in action at the Bukit Timah Saddle Club next to the café, which has an unrestricted view. If you love caffeine, drink their hot cuppa and enjoy their brunch delicacies, including Brioche French Toast with Burnt Bananas. At Rider's café, you are spoilt for choice when it comes to western dishes, such as pasta and steaks, delectable desserts like Death by Chocolate Cake with Vanilla Ice Cream to satiate your sugar craving.
Since Rider's café is not accessible via public transport, book your Shariot now to ensure you enjoy the most comfortable and affordable ride to this cosy café. There's plenty of secure and free parking available, thus ensuring your long drive to Rider's café is not in vain.
4. Kranji Marshes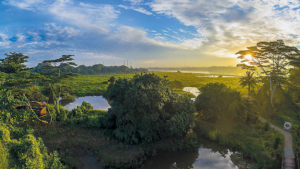 Kranji Marshes is among the largest freshwater marshes in Singapore. It is located along the northwest shore of Kranji Reservoir and covers 56.8 hectares. Although the freshwater marshland is rustic, it is a habitat to unique biodiversity, including a rich array of flora and fauna, more than 170 bird species, 54 types of butterflies, and 33 dragonflies species.
You can escape to this ulu place and explore the freshwater marsh, woodland, and grass habitats for an adventure of a lifetime. The best bit of Kranji Marshes is an iconic bird-watching tower where you can observe while enjoying the scenery. Kranji Marshes is an ideal place to visit with your entire family, including the little guys, since there is ample space to play and run around as you explore mother nature.
You can enjoy a walk along with Neo Tiew Woods and stake out birds and reptiles, like monitor lizards and woodpeckers. If you are fortunate, you can see a Changeable Hawk Eagle or White-bellied Sea Eagle perching on one of the tall trees. Did you know that birds are shy? Head down to Marsh Station and get into one of the bird's hides to observe shy marshy birds, including the Purple Swamphen and Common Moorhen. The migratory season is from November to March, where you will have the opportunity to observe visiting species such as the Japanese Sparrowhawk and Black Baza.
5. The Coastal Settlement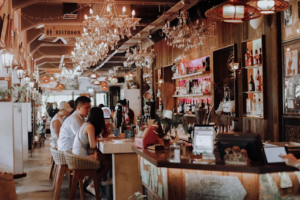 The Coastal Settlement is a casual dining eatery and bar in Singapore that allows you to enjoy nature as your wine and dine since it is surrounded by lush greenery. The restaurant offers indoor and outdoor dining options and is perfect for brunch, a lunch date with your significant other, and dinner with your loved ones.
The first thing that greets you at the entrance of this restaurant is its breathtaking intricate décor with rustic and contemporary elements, which creates a tranquil and comfy ambience. The experience at the Coastal Settlement will help you reminisce Singapore's heritage back in time with items, including retro memorabilia, antique furniture, Vespa scooters, and vinyl players.
The restaurant menu is well-curated with local flavours while preserving a modern twist. The Coastal Settlement provides you with an extensive menu, including Garlic Prawns, Thin Crust Pizza, Ribeye Rosti, Spam Fries, and Hae Bee Hiam Mentaiko Salmon Pasta. Therefore, book your Shariot now to the Coastal Settlement and enjoy a ride to this ulu place to sample their sumptuous meals.
6. Woodlands Waterfront Park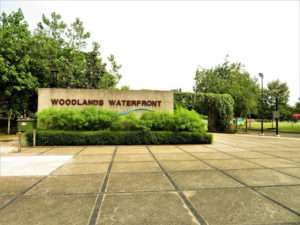 Woodlands Waterfront Park is an ideal ulu place where you can experience tranquillity and a breath of fresh air. The park is located at Admiralty Road West in Singapore near Malaysia. The scenic park is a popular getaway destination for tourists and locals. It provides panoramic views of the entire coastal park and Straits of Johor Bahru from the vantage points.
Additionally, the park is bestowed with a large playground and equipment, making it a perfect destination to visit with your loved ones to enjoy various recreational activities. If you are an exercise maniac, spring over to Woodlands Waterfront Park and explore their undulating terrain fitted with jogging and cycling tracks for an adventurous and challenging experience.
Alternatively, you can enjoy a stroll down the 1.5km waterfront promenade as you admire the breathtaking views of the sea, especially during sunset. Your little guys will have a blast at the playground situated next to the promenade. Since the park has several scenic views, including Johor Straits, flora and fauna, and gorgeous sunset, do not forget to take Instagram-worthy shots for a memorable adventure. Consequently, Woodlands Waterfront Park is a perfect ulu place that helps you escape from all the city chaos and clear your head off all anxieties.
7. Bistro Gardenasia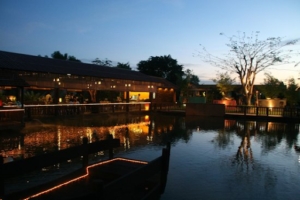 Bistro Gardenasia is a farm-oriented café located in Kranji, the most ulu part of Singapore. The lounge houses a café, farm stay, and event space all in one establishment. The café provides you with a perfect opportunity to escape from the city chaos and enjoy a serene environment. Bistro Gardenasia is an ideal countryside getaway with your loved ones where you can play and dine while exploring mother nature.
The best thing about staying at the Bistro Gardenasia is that their farm stay villas are hidden gems away from the cafe, thus providing privacy and a mesmerizing experience. The restaurant offers you a high-quality farm-to-table dining experience, ensuring that all their meals are made from the freshest ingredients.
The Truth is, you will be spoilt for choice with their delicious menu displaying an array of delicacies, including salads, steaks, pasta, and local dishes with a blended twist. You are sure to delight your palate with their Char-grilled Ribeye Hor Fun and some serving of meat. Their salad serving is a must-eat since their portions are generous and consist of fresh and crunchy leafy greens.
In addition, reserve some space for their healthy farm-fresh beverages, such as Aloe Vera lime juice or ice-cold roselle with react cactus extracts which will leave you refreshed and combat Singapore's heat. What's more, if you crave lamb, they make the juiciest and flavorful food at the diner. Although the place is inaccessible without your own transport, you don't have to board a plane or train to get you there; book your Shariot today and experience the perfect getaway all-in-one package.
8. Keppel Hill Reservoir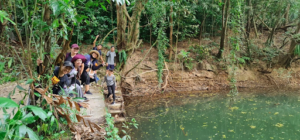 Keppel Hill Reservoir is a significant ulu place to venture for adventure lovers since it serves as a perfect reminder of Singapore's colonial past. Moreover, the reservoir is deep within dense and undeveloped terrain and was completely abandoned and wiped away from maps. Impressively, the reservoir was rediscovered by the National Heritage Board Researchers in 2014; thus, it is safe for the public to explore.
Since still waters and mother nature surround the Keppel Hill Reservoir, it makes it a tranquil place to clear your mind and escape away from the city chaos. You need to wear comfortable shoes to the reservoir since it requires a bit of trekking through the vegetation. Ensure to pack some snacks and enough water to keep your energy up and hydrated for maximum experience at the reservoir. Although the reservoir has a swimming pool, it is not safe, so keep off and enjoy other features in the surroundings.
9. Dutch Colony Coffee Co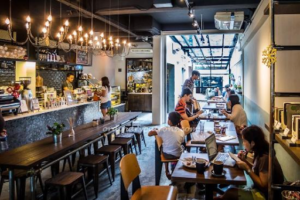 Dutch Colony Coffee Co is an iconic place to enjoy a good cuppa since it's located in a quiet neighbourhood. The ulu place is secluded far from the city, giving you a perfect getaway to explore with your particular person. Dutch Colony Coffee Co is decorated with dark wood furnishings and pleasant lighting, giving you a homey feeling.
The Dutch colony provides you with a mixture of sweet and savoury options to ensure you satiate your taste buds. You can try their delicious French Toast and House Pancakes or Five-Spiced Beef Chilli Fries. Additionally, they can make for you a custom-made cuppa with their Brew Bar, where you can select the type of coffee beans and brewing method -either Hand brew or Machine brew.
The best deal is their cold brew coffee which comes uniquely packed in a chemical flask. What's more, you can drink it with a Speculoos Cheesecake or Rainbow Cake for a sumptuous tea break. Since you cannot afford to visit Dutch Colony Coffee Co every day, grab some coffee beans, brewing gear, and unique merchandise at the store to satiate your cuppa craving at home.
10. Changi Beach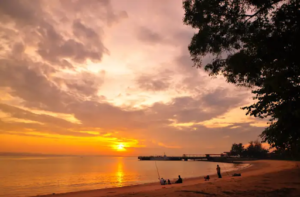 Changi Beach is among the oldest ulu places in Singapore and still retains a Kampong ambience. The white beach still retains coconut palms, park benches, shelters, BBQ pits, making it an ideal getaway for families to explore.
Are you searching for a quiet place to unwind and clear your mind? Head down to Changi Beach, a perfect escape to utopia. The beach is secluded far from Singapore city; thus, it is less crowded and provides you with a calm and tranquil place to enjoy your visit. You can enjoy a bird's view of the sunset at Changi Beach as you listen to the calming sound of the sea wave gracing the shore.