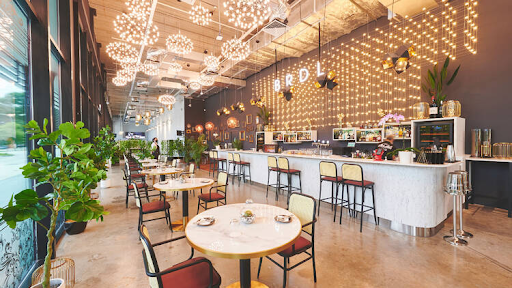 Singapore is bestowed with some of the most iconic bars and clubs where you can enjoy the best perfectly shaken classics with your friends. Most Singaporeans relish the cocktail hour by putting their time and energy into good use during the evenings and weekends. The best bit is that you can satiate your craving for a martini, a gin, and a tonic or cocktail of your choice at this new watering hole in Singapore.
Although the holiday seasons are over, the city never sleeps and drinks keep flowing. Since many joints differ in their pricing, you are sure to find an excellent spot that caters to the size of your wallet—wondering where to enjoy one of these nostalgic drinks in Singapore? Shariot car sharing and rental services have prepared this article to enlighten you on the most exciting new bars in Singapore where you can enjoy a drink in the city. Scroll through and select the ones that deserve a spot on your drinking to-do list.
1. Gone Rogue Brewing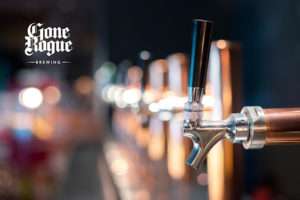 Gone Rogue Brewing is a new waterhole in Singapore located in Bukit Batok that serves locally brewed flavours and was opened in July 2021. Interestingly, their beer gives you a fresh and exuberant taste since it does not go through the yeast-killing process of canning and bottling.
The interior of Gone Rogue Brewing is beautifully decorated with indoor trellis and hardwood tables providing you with an ambience where you can refresh your soul after a busy day at work or have a heart-to-heart conversation with your particular person. Gone Rogue Brewing is the first Bar in Singapore to provide an array of quality craft beer in the suburb. Moreover, it has 18 unpasteurized beer taps on its premises of locally brewed beer consisting of various flavours to satiate every palate.
At Gone Rogue Brewing, you can relish unconventional beers with contemporary flavours, including the Lychee Lassie, a fruit beer, Hazelnut Trove that contains hazelnut and toffee, Vanilla Cream, and Rauchbier smoke which is brewed with beechwood-smoked malt. Therefore, head down to Gone Rogue Brewing for exceptional and distinctive brews for a splendid experience with your friends.
2. Firangi Superstar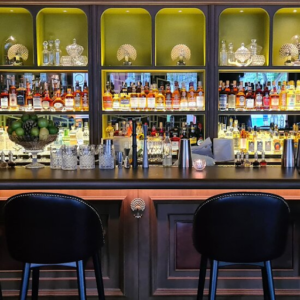 Firangi Superstar is located along Craig Road and is barely a year old in Singapore. In addition, Firangi Superstar is one of the busiest new restaurants in the city with outstanding services. If you are craving spicy Indian inflexions, Firangi bar is the place to visit and reward your palate with exciting cocktails.
The restaurant has a softly lit interior with friendly staff who welcome you and take you on a field guide inside the premises. The Officer's club is a well-themed space that provides you with a perfect spot to enjoy your favourite tipple. Prepare your tastebuds to sample their classic cocktail -the Curry Leaf Boulevardier that is sweet and spicy, which consists of coconut bourbon and a garnish of dried curry leaves. You can chew the curry leaves and experience an intriguing vegetal taste.
Another great drink you need to sample at Firangi Superstar is their unique milk-based cocktail, the famous Chai Masala Milk Punch. The drink is prominent despite having milk since milk solids are extracted through a clarification process to help remove the creaminess. Subsequently, vodka and gin, masala chai, lemon, pineapple, and coconut water are added, including a sweet malty biscuit to garnish the cocktail.
Alternatively, taste their Fenugreek Manhattan for an extraordinary drink, featuring cognac infused with ghee using a sous vide machine. Fenugreek-infused vermouth is added to the drink for a sweet and nutty flavour. The end product of Fenugreek Manhattan is a smooth cocktail with a buttery sweetness that gives you an after-taste. The truth is, the cocktails at Firangi's will have you craving for some bites. Worry not. You can enjoy nostalgic dishes at Fenugreek Manhattan, which provides excellent choices that blend well with your cocktail.
3. Roxy Bar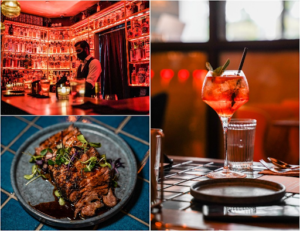 Roxy Bar is the new Bar in Singapore that aims to ensure that rock and roll will never die. Despite opening its door during the pandemic, the New York-inspired bar is a favourite go-to haven for many Singaporeans inspired by its 70s rock music. The Bar is beautifully decorated and themed with red neon, which adds life to the well-lit dancing floor creating an ideal environment for romantic moves. Roxy Bar cocktail menu resembles a Spotify playlist than a drink list, with the best jams by Tash Nayar behind the velvet curtains.
You can order their intriguing cocktail made using vodka as a base, fresh lemon and egg white for the body and added Rinomato vermouth and cherry liqueur to give it a familiar yet new taste. Their tasty Negroni cocktail is built on a mezcal base, giving it a smoky flavour yet a smooth tipple. It would be an injustice not to sample their classic cocktail- Manhattan, which has added Tempus Crème De Cacoa to give it a bittersweet chocolate finish. Consequently, Roxy Bar provides the ultimate place to take your particular person where you can dance as you sip up their tantalizing cocktails.
4. Flow Bar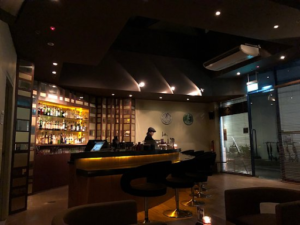 Flow Bar is a classy club in Singapore surrounded by lush greenery and wood tones. The Bar is established above Michelin-starred Restaurant JAG and has ample space to accommodate crowds of cocktail lovers. You can choose to make yourself comfortable on their Chesterfield sofas to relish an intimate seating with your significant other. Alternatively, you get yourself an ideal space at the front-row seats of the Bar, which will allow you to enjoy their marvellous mixology.
Without wasting more time, peruse through their detailed cocktail menu divided into three categories: Living Room, Garden, and Playground. Under the living room menu, you can choose the Burnt Lemon Whisky Sour, prepared using fresh and burnt lemons to maintain its flavour and a frothing agent, thus making the cocktail vegetarian friendly. The Garden menu is prepared with fresh Citrus, made with Bobby's Gin, lemongrass, kaffir, and seltzer to quench your thirst after a hot sunny day.
The Playground menu will give unique creations like the Cinnamon Girl, which uses apple bourbon, a French apple Liqueur (Pommeau), fresh lemon, and caramel giving you an apple pie in a glass. In addition,  on the playground menu is the famous Jesse James, a spirit-forward cocktail that combines smooth Balvenie 12-year-old scotch and rye whiskies with sweet vermouth guaranteed to make you feel on top of the world.
The signature drink at Flow Bar is Expresso Martini, prepared with Nikka vodka and house-brewed expresso. Dulce de leche is overlaid on top of the drink, giving it a sweet, creamy taste that is sure to provide you with a mesmerizing experience.
5. Writers Bar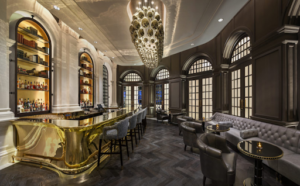 Writers Bar is a new bar in Singapore set inside the spectacular Raffles Hotel. The Bar has launched a new menu of cocktails inspired by the crime novel The Raffles Affair, and the drinks have adopted mystery names like Smoking Gun and Poisoned Pen, which are themes in the book. Writers Bar creates several iconic cocktails that will leave you spoilt for choice in identifying your best flavour.
The Bar is decorated with great colonial interiors, making it an ideal spot for business meetings, a date night with your loved one, or a fancy girls' night out. A must-try drink is their famous Cold Case created from Chalong Bay Thai Sweet Basil Rum, peach orgeat, coconut, and lime.
Moreover, their Million Dollar Cocktail is truly compelling as it uses Raffles 1915 Gin created with jasmine, fresh pomelo, lemongrass, kaffir lime leaf, nutmeg, and cardamom. The drinks at Writers Bar have complex flavours and give you an after-taste. The best deal is that you can enjoy your cocktails with some sumptuous bites, including samosas, truffle fries, and cheese spreads.
6. Club 5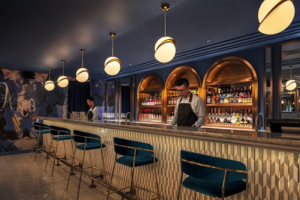 Club 5 is an exotic bar located on the first floor of Park Royal on Beach Road that was given a tasteful revamp in 2020, transforming it into a modern cocktail bar. Although Club 5 is hidden, it is a go-to haven for most locals who learned about its fame purely by word of mouth. The cocktail menu at Club 5 is inspired by the culturally rich areas of beach Road, Arab Street, and Bugis Junction.
You can order Nasi Lema'rgarita, created from the Arab Street theme using coconut tequila, citrus, aromatic pandan, dry Curacao, cucumber, Ikan bills, and peanut, giving you a not so pronounced taste of pandan. Alternatively, sample their Boogie Street, which crowd-famous gin sour created using London Dry Gin, mezcal, citrus, apricot brandy, agave, and Violette. A must-try at Club 5 is their refreshing Calm Waters Mocktail with a touch of tropical created with pineapple, citrus, galangal, and Thai ginger beer. What's more, you can relish their sumptuous bites with their signature dish- homemade wagyu satay with hazelnut dip that is everyone's favourite at Club
7. The Levant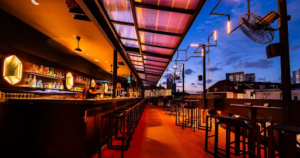 The Levant is a new breezy alfresco oasis that makes you fall in love with Singapore as you enjoy its enticing cocktails. The joint is located on top of the hotel ST Signature in Tanjong Pagar. Levant bar has plenty of seating areas due to its 360-degree space, thus accommodating love birds, group parties, and co-workers without creating interference. The urban paradise is a popular joint for many looking to unwind from a busy day after work or looking to have a heart-to-heart talk with their sweetheart.
The Levant cocktail menu is the Mediterranean- inspired to please different palates with their sweet, fruity, savoury, and intense flavour. If you have a sweet tooth, order their Levantine Shore, which is created with a refreshing twist of pisco, bergamot, and fruity Fassionola. On the other hand, if you crave a tangy twist, try their II Rhubarb Sour with Monkey Shoulder whisky created using rhubarb and hints of cinnamon and hibiscus. Suppose you are a Gin maniac, Blossom Mist made with Japanese Roku gin, and a subtle touch of chamomile, elderflower, and Calamansi are sure to satiate your craving.
8. Neon Pigeon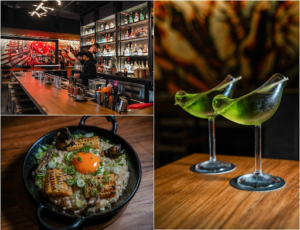 Neon Pigeon recently opened a new outlet in Singapore's Carpenter street. The Bar has a fantastic ambience with beautiful art displays, incredible music, iconic drinks, and friendly staff who ensure they give you the best service to make you a regular at Neon Pigeon. You can sample their unique cocktails that keep the crowd coming to Neon Pigeon, including Kosupure, Boshi maker, and Ichi-Go Lightly.
You will enjoy their Kosupure, made with Midori (melon liqueur) and Applejack, with carbon dioxide added for bubbles. Neon Pigeon spice up your experience by serving Kosupure with an iconic bird glass. If you crave a delicious tipple, grab a glass of their Ichi-Go Lightly created with a creamy, strawberry gin-based drink sprinkled with seaweed.
9. Junior The Pocket Bar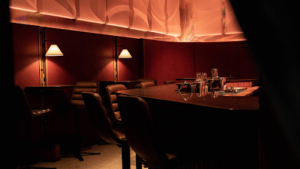 Are you wondering where you can enjoy a drink with your friends with less crowd in Singapore? Junior The Pocket Bar is the place to visit since it is discreetly located in Ann Siang Hill, and as the name suggests, it has a capacity of 25 seats. The new joint is ideal for a romantic date with your honey due to its dark, cosy, and intimate vibe.
Junior The Pocket Bar has a unique cocktail menu that changes twice yearly and a mainstays menu available all year round. The best bit at Junior The Pocket Bar is their Homebrew and Highballs, which are house-fermented tipples that are alcohol-free. A must-try is their Lacto Lime Soda created from salt-cured citrus, lime leaf, soda, tequila that will satiate your palate. A good cocktail blends well with some savoury bites, and with their sandwich, you can never go wrong to ensure you experience a messy explosion of flavours.
10. Anouska's Bar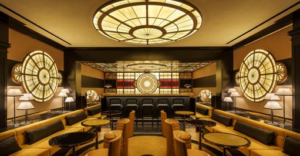 Anouska's Bar is a cosy bar discretely located in Duxton Reserve at Tanjong Pagar. The Bar is charmingly decorated with bold colours, including gold, black and yellow creating a tranquil and inviting ambience. Anouska's Bar has ample space allowing you to choose whether to sit on their comfy loungers sit at Bar for an up-close cocktail.
You can explore their diverse menu that features premium wines, a small selection of beers, top-shelf spirits, and signature Chinese-inspired cocktails. Some of the drinks you can sample include Castellblanch Cava Brut from Spain, Chen Pi Collins, a mandarin-infused gin, Canton Sour, a mix of whisky, and amaretto with a dash of bitters, and Escape to Kaifeng, a floral aperitif with Tanqueray London dry gin.
Do you need a ride to or from these exotic bars? Book your Shariot now and enjoy a comfortable and convenient ride to your preferred destination. Our vehicles are available 24/7, so you do not need to worry about late-night travel.