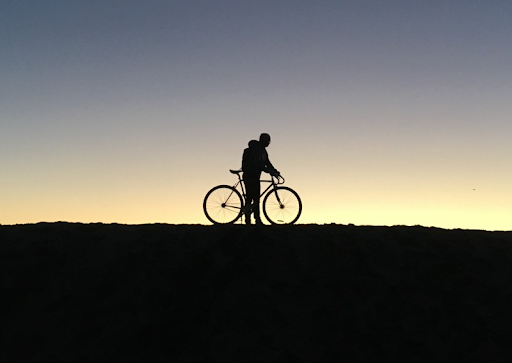 Singapore offers you beautiful cycling routes after dark, whether you enjoy a couple in tandem or solitude bike riding. As you take your bike through these routes, the city's skyscrapers and lighting will endow you with awe.
Cycling is often fun for bike enthusiasts, but if you struggle to master this art, check out our 24 beginner's guide to cycling for more tips. After nightfall, you can ride for hours to clear your head from the day's office drama and shed some pounds. Riding will also enable you to explore Singapore, including some places unreachable by car.
You could meet other rides on these trails, meaning it is safe even after dark. We take you through various exciting trails to improve your riding experience away from neighbours' eyes.
You may even become a regular of these routes after dark, and should you tire out far from home, don't worry; Shariot will bring you home. Though not all trails are safe after dark, we present you with the best and safe night cycling routes to help you unwind.
Eastern Coastal Loop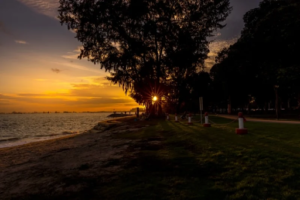 The eastern loop takes you through iconic landmarks in Singapore, including Garden by the Bay, Marina Barrage, and Singapore Flyer. You will go through the bayfront circuit by night as you discover Singapore's sleepless streets.
If you are hungry, you can take alternate paths to East Coast Park and then to East Coast Lagoon Food Village to quell your hunger pangs in the middle of the night.
The North Eastern Riverine Loop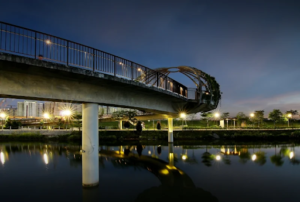 Night cycling via the Northern Eastern Riverine loop is an exciting experience worthy of exploration by cyclists. The routes are wide and easy to follow, making them suitable for beginner cyclists.
You will begin your journey from Punggol Park and proceed to the park connectors. The route will take you through the heart of Sengkang and Buangkok, enabling you to gaze at some iconic landmarks like Coney Island entrance signage and the scenic Punggol Waterfront.
This loop covers 26 kilometers, passing through several recreational hubs and terrains that stay lit throughout the night.
Go slow on your ride, and don't forget to take perfect nightfall photos here for your Instagram pages. It is safe to cycle on this loop following the guide provided by National Park Board.
Evening Cycling Tour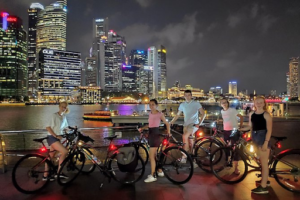 Many Singaporeans bemoan the size of the Island, but when you think about it, there are lots of unexplored places for all. When last did you do an exciting thing apart from heading to a restaurant or willingly exploring anywhere with no AC?
You can be a local tourist and discover Singapore's night beauty by embarking on the evening cycling tour. You can cover modern cityscapes and cultural enclaves that you have only read about online.
Why not begin your journey from Singapore River from live band bars and take your bike through Chinatown to the corridors of 5 Foot Ways? As you cycle past Marina Bay District, you will witness the city skyline come to life with lights, showcasing a breathtaking view of the city.
Catch the Wonderful light show- Southeast Asia's greatest light and water show display when people sleep. You will undoubtedly appreciate the engineering of this spectacle.
Explore Singapore's Coolest neighborhood for your ride here.
The Civic District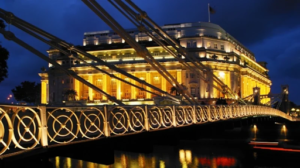 Singapore's Civic District is imbued with historical landmarks and emblematic buildings that showcase dynamic energy. Life at night along this trail is electrifying when you are on your bike.
You will witness incredible sights as you take your night cycling through the perennial running routes such as the CBD and Shentonistas. You can begin your cycling from City Hall to Bugis electric district in the North or end on the other end of Singapore River.
The skyscrapers and lighted skylines provide an incredible illuminated spectacle that will leave you awed by your country. Furthermore, you can pause midway to admire the National Museum of Singapore, the Supreme Court, Chiimes, and much more. This cycling tour will help you why Singapore comes to life at night when the majority are sleeping.
Northern Explorer Loop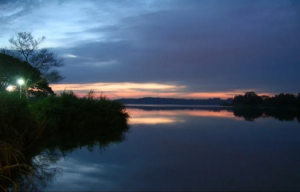 The Northern explorer loop is another cycling route you should consider for the ultimate night cycling experience. Before embarking on this tour, you can grab a bite next to Seletar camp for added energy. You can then head northwest via lower Seletar Reservoir Park and Woodlands Waterfront. This route offers cyclers an incredible scenic view of the area.
One downside of this route is that not all places you will pass are well lit; therefore, ensure your bike has a working lighting system. You could also carry extra lighting equipment, which can come in handy in darker routes.
As you cycle along the Northern explorer loop, keep your eyes on the road signs and park connector directions. This way, you will arrive at your destination in one piece, and the National Park guide provides additional information about this route.
Cycling Route from Esplanade to Changi Village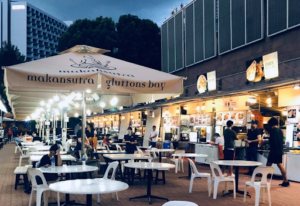 Cycling is a means of exercising which is likely to leave you exhausted and activate hunger pangs. The good news is that Singapore is inundated with delicious supper places to care for your complaining stomach. It will be fun to enjoy your favorite night's meal while on a bike tour.
You can begin your journey from Makansutra Gluttons Bay, allowing you to enjoy the best local cuisines before heading eastwards. At Sims Avenue, you can take a detour and munch some snacks at 12 Dim Sum Wen Dao Shi.
Hop on your bike and cycle towards Changi Village for supper at 89.7 FM Club. This route is suitable for foodies who want to enjoy different meals while exploring Singapore.
Western Adventure Loop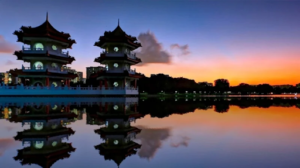 If you live on the western side of Singapore, you can also enjoy night cycling by exploring the Western Adventure Loop. This route covers 12 km, thus offering a sufficient cycling trail for excising.
Your starting point can be Chua Chu Kang Park and cycle to Jurong Lake Park before returning home. The trail is not dull but exciting with nature parks like Batok Nature Park and Dairy Farm Nature Park. Stay on the cycling trails, and you will be rewarded with the beautiful view of wildlife and quarries at night.
West Coast Park to Marina Lighthouse Route
If you are looking for a perfect night picturesque scenery, this route fits the bill. Raffles Marina Lighthouse was built in 1994 and stands as 12 meters tall landmark. This structure sends out spectacular light signals every 10 seconds- a 15-meter light beam. Many people have taken pictures of these light rays for their Instagram posts.
However, if you want to better view this famous beacon, you should take a bike from West Coast Park and cycle toward it. The cool breeze from the sea under the starlit sky adds to the beauty of this 12 km tour. You can take a picture with the incredible backdrops for your Instagram page at the end of this route.
Round Island Route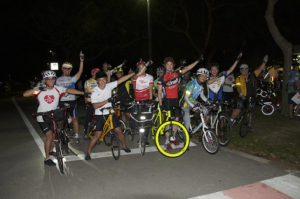 Though this route is often suitable for experienced cyclists, beginners can also use it. It is a long route, stretching 150 km around Singapore. The route has several interlinked park connectors with flat pavements, enabling you to enjoy the best of the Island's nature.
Alternatively, you can cycle via the eastern section, allowing you to take the 75 km green corridor from Rower's Bay to Berlayer Creek. The advantage of cycling through this route is that you will enjoy the broad coastal boardwalks and witness beautiful sunsets and sunrises.
Seletar Loop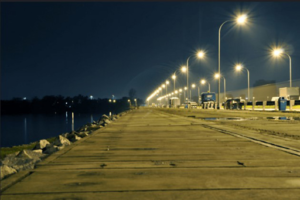 Experienced local cyclists love the Seletar loop. This route is a ring road that enables you to go round the Seletar Aerospace Park. Since the route is on the major roads, it is often recommended for those with road-cycling experience.
A beginner cyclist who does not know how to deal with cars on the road may find this route challenging, even dangerous. Seletar loop also helps cyclist test their strength and improve timing.
If you are hungry after the ride, you can fill your tummy with some meals from popular cafés such as Sunset Grill and Soek Seng 1954 Bicycle Café.
Jurassic Mile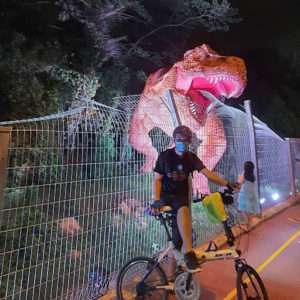 Are you a dinosaur's fan? If so, the latest cycling path in Singapore- the Jurassic mile will take you back to the dinosaur's age. This 1km stretch begins from Tanah Merah to Chang Airport terminal 4, allowing you to meet dinosaurs, including Velociraptors and T-rex.
If the distance is relatively too short for you, take the 3.5 km cycle through Changi Airport Connector to Terminal 2. Here you can celebrate your complete journey with a refreshing drink or a hearty breakfast as you admire the beauty of the famous Changi Airport. Beginners are welcome to improve their cycling skills with this route.
Coast to Coast Trail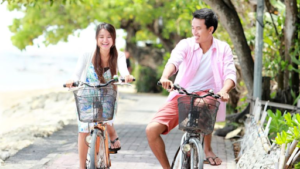 Coast to Coast trail is probably one of the most famous trails in Singapore, covering 36 km from Jurong Lake Gardens to Coney Island. As you cycle through this route, you will cross Singapore, passing nature parks, park connectors, and HBD estates. This journey will enable you to experience the best of Singapore's heartland and nature concurrently.
Though this trial was initially intended for a walking challenge, people completed it using bikes for half a day. The route is relatively quiet but well-lit for your safe cycling at night.
Many people love cycling here by day to enjoy pitstops to grab a bite at eateries along the way. We recommend checking the National Park guide on Coast to Coast route before you begin the journey for updates on any closed routes.
Kranji Marshes Loop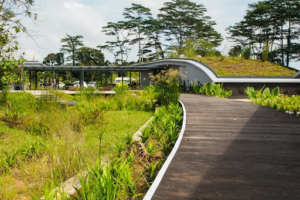 Kranji marshes are rich in wildlife diversity, boosting over 54 butterfly species, 170 bird species, and 33 dragonflies. The abundance of life in this area makes it suitable for daytime cycling since you can enjoy world life as you work out.
However, some wildlife here also comes to life during nighttime, meaning you can still marvel at creating while you cycle along this route. With a 70 km distance passing through popular landmarks like Bukit Timah nature reserve, Lim Chu Kang Road, Upper Seletar Reservoir, Macritchie Reservoir, and Kranji Marshes, you have enough distance for a complete workout. You will also enjoy Singapore's nature to the full.
Marina Bay Loop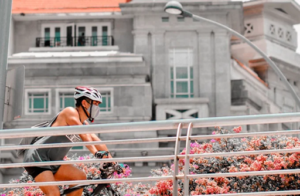 There is nothing so breathtaking as catching stunning Singapore's skyline when the sunsets. Taking the Marina Bay loop route on a bike in the evenings will offer you this rare opportunity. You can begin your 11 km tour from Marina Bay Sands and pass-through Helix Bridge to Merlion.
If you still feel energetic, you can challenge your stamina by doubling the distance. Extend the route by heading in the opposite direction to your start point at Marina Bridge.
This route also hosts the Marina Bay Evening Cycling Tour, and you can join this program for a scenic after-work charm. The tour takes cyclists around Singapore Flyer and Marina Bay. This tour will acquaint you with the ins and outs of the city, helping you learn facts you may not have known before.
Central Urban Loop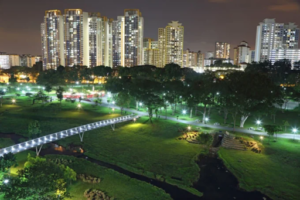 How many native Singaporeans can say they have fully explored Singapore's central city? Most people are consumed with work with less time for such discoveries. Night cycling through the central loop can be fun, covering approximately 30 km.
Since it is at the center, you will pass through several cafés to refuel whenever you feel exhausted. You can also get the needed motivation for this tour by joining Brompton Bicycle Cycling Tour that covers the central heartland from Bishan to Ang Mo Kio and Lower Pierce Reservoir.
Lorong Halus Park Connector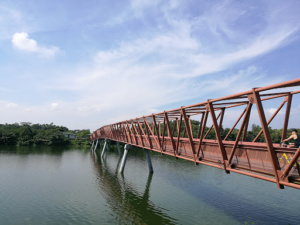 Are you looking for the easiest and most scenic way to connect from Pasir Ris to Punggol? Cycle through the Lorong Halus Park Connector, and you will easily achieve this goal. The gentle sea breeze and exciting views along Lorong Halus Wetlands will make the cycling tour effortless. Additional beautiful places along this route like Pasir Ris Farmlands and Red bridge make this cycling route worth trying at nightfall.
Final Thoughts
There we go, with some of the most exciting night cycling routes in Singapore you can explore. Depending on your preference, you can do this solo or as a group cycling. Cycling with a partner could provide a better experience. You will encourage each other and probably spot more scenic views as you cycle through Singapore's beauty. If your legs are too tired to peddle you home after a long cycle, you can always rely on Shariot to take you home on time.