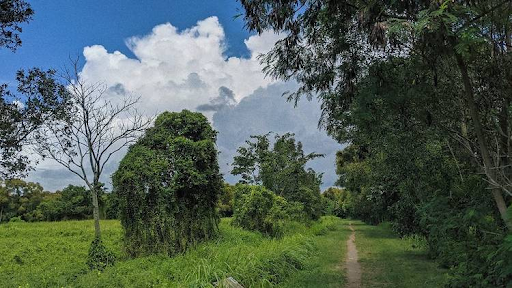 It is no coincidence that Singapore is popularly known as the Garden City. Despite its growing skyscrapers, it ranks high globally in natural aesthetics. The country's tourism industry sells a mix of modern architecture and historical buildings to showcase the Island's beauty.
However, if you dive deeper into the Island, you will find breathtaking lush reserves and natural landmarks worth exploring. Instead of staying at home or in a hotel room all day long, why not book your Shariot and head to one of these natural landmarks and experience the calming effects of nature?
Mother nature is all we need to clear our minds and develop gratitude for improved lives. Check out our list of some spectacular natural landmarks that you can celebrate with your family and friends.
Tampines Eco Green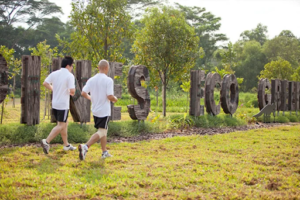 Have you ever been to Pasir Ris Park? If you haven't been here, you miss a great deal of fun. As you move across the park connector to Tampines, you will see sprawling greenery with open grasslands, secondary rainforest, and freshwater wetlands.
You may be shocked by its existence near Singapore's populous neighbourhood. You can walk through this sanctuary's green trails to discover its biodiversity wealth, featuring several species of butterflies, spiders, birds, and dragonflies.
Tampines Eco Green also has stable rustic wooden benches, providing resting places for visitors as they meditate upon nature and listen to the soothing sounds of wild birds. You will love the fresh air in this park before heading to the city's polluted environment.
Cyclists can only push their bikes along the trail or leave them at the established parking lots since no riding is allowed here. If you come driving your car or Shariot cab, you can park it at the nearby HBD estate before heading to the park on foot. Don't worry; walking is a perfect way of keeping fit and shedding some pounds.
Since most of this beautiful park is mostly untouched, remember to wear good trekking shoes to conquer the muddy trails. Insects' repellents are also ideal for this adventure to ward off pesky mozzies.
Thomson Nature Park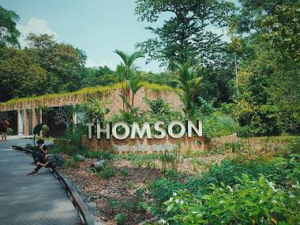 Thomson Nature Park functions as a green buffer by easing visitors' pressure to the Central Catchment Reserve. Like other parks such as Springleaf and Chestnut, Thomson has several trails and features worthy of your time, and this natural landmark has five trails spanning over 3.8km.
You will also see ferns, streams, macaques, and banded langur as you walk through these trails. Take care when walking near these animals; they can be potentially dangerous. This park is also home to various wildlife, including the Malayan porcupine and the Sunda pangolin, though you will need a bit of luck to encounter these animals.
Thomson Nature Park also hosts the rubbles and ruins of the former Hainan village, enabling visitors to glimpse at the old kampungs of Singapore. You will see old street signs and rambutan plantations that the village's residents enjoyed in the 1960s, but with the 1005 modernization of Singapore, the kampungs are a thing of the past.
You will also love the freshwater habitat with its diverse aquatic life as you experience the past Hainan heritage and its carefully conserved ruins. Ensure you walk only through the designated trails to avoid startling the animals and tree branches from falling, which could endanger life. You will undoubtedly learn many things from this natural landmark.
Kranji Marshes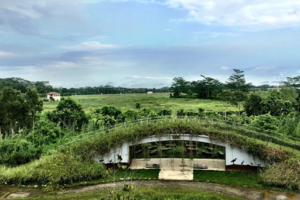 Nature lovers will delight in seeing various dragonflies and butterfly species in one place. Kranji Marshes has an ideal reactional area where visitors can play and learn from the Island's wildlife. With 57 hectares of land and rich green habitat, this natural landmark is probably Singapore's most extensive freshwater farmland.
Birdwatchers will relish the over 170 bird species in this park, especially in the early morning. Before you embark on the journey to Kranji Marshes, sign up for a guided tour to take you through the Core Conversation Area, often closed for the public.
This park also provides visitors with an opportunity to indulge their inner child with sticks and stones. Its rural vibe and birds chirping in the nearby bushes will remind you of your younger years. The learning experience is not limited to animals and birds, but the plants also teach the value of nature and conservation. The National Park Board has even floated the idea of arranging school lessons here.
Don't forget to come with your camera to take perfect shots with your family and friends. Fun activities like hopping, skipping, and jumping across Moorhen public area will raise your heart and leave the group laughing. The Kranji Marshes should be on your list of fun natural landmarks to visit in Singapore this year.
Hindhede Quarry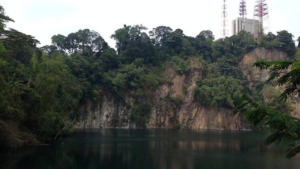 Hindhede quarry is near Bukit Timah Reserve; however, you can only observe it from the deck. This majestic quarry is a perfect spot for wildlife watching, hosting animals like plantain squirrel, clouded monitor lizard, and branded woodpecker. Remember to be alert as you walk around this area.
Are you looking for a leisure hike with your friends and families? Hindhede Nature has well-defined footpaths and easy trails ideal for children, families, and hiking beginners. The park has a designated picnic area with a kid-sized picnic table, making it a perfect spot for families. The little guys can also play with the nearby zip line, though they should take care since the line ends abruptly at the end.
Hidhede quarry resulted from granite mining between the 1900s and 1980s before the mining stopped. As you stand from the lookout point on the trail, you will undoubtedly admire the flooded quarry with its escarpment.
Bishan-Ang Mo Kio Park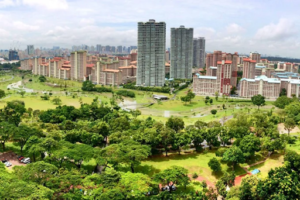 Bishan-Ang Mo Kio Park is one of Singapore's most prominent urban natural landmarks at the HDB estates. Singaporeans coming from the Central Northern areas can take proper breaks from the bustles and hustles of city life. The park has a lush green space, stretching over 6km, with amenities such as a lotus garden, cycling track, and naturalized river housing cute otters' families.
Your family can enjoy several recreational activities at this park by utilizing its Rive Plains, lush green, and Pond Gardens. Bishan-Ang Mo Kio Park, with its open lawns from either side of the river, provides ample picnic grounds. You can also enjoy the tranquillity and the beauty of several exciting flora and fauna in the park.
Fitness enthusiasts can take advantage of cycling and jogging tracks and the river's soothing babble. Even disabled kids can have fun on the wheelchair swings and wheelchair-accessible merry-go-round, enabling them to play with non-disabled peers.
In September 2017, Therapeutic Garden was launched at this park near Pond Gardens, enabling visitors to engage their senses with different plants. These plants are divided into four zones: edibles and medicinal, biodiversity, fragrance zone, and colours and texture zone. Please come with your camera to take extraordinary flora and fauna shots.
The Learning Forest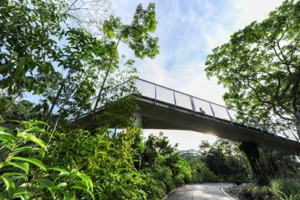 Like its name, this forest offers many teaching avenues for visitors that behold its magnificence. It is housed at Singapore Botanic Gardens and part of enlarged forest habitat, and it features various elevated and boardwalk networks worth exploring. You can explore various habitats, including lowland rainforest and freshwater wetland forest.
The forest looks natural, with over 100 bird species and 500 plant species. The forest management hopes to bring people closure to nature to reap health benefits associated with the fresh air.
The learning forest highlights include the orchid islands showcasing natural and cultivated orchid hybrids such as tiger orchids. Pulai Mash with freshwater supporting various plants and wildlife is another highlight with lessons.
You can also walk through the SPH Walk of Giants to get the forest's clear view. You can have a close connection with the giant trees of the tropical forest. The Learning Forest's canopy web is suspended 8m above the ground, enabling visitors to know how it feels upon a tree.
Learning forest allows you and your loved ones to learn more about various plant and animal species as you appreciate mother nature. Book your Shariot today and head to Botanic Gardens for an experience of a lifetime.
Fort Canning Park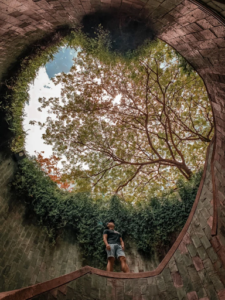 Fort Canning Park is located at the heart of Singapore and rightly makes it to the list of Singapore's natural landmarks on merits. Singapore's decision to surrender to the Japanese army in 1942 was made here in the underground Battle Box. This iconic landmark has seen the Island through its different milestones. The government recently enhanced it, giving it an improved outlook.
It is perfect for families due to its massive playground and steel slides. Young ones can enjoy the tropical pathway, provoking the thoughts of being in Bali. Fort Canning Park hosts several historical gardens to explore, such as Artisan's Garden, Pancur Larangan, Jubilee Park, Sang Nila Utama Garden, Armenian Street Park, and Spice Garden. Step into this historic ground and learn about Singapore's history
Mount Faber Park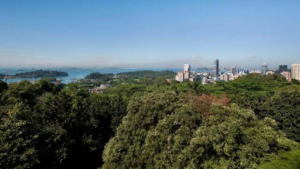 Mount Faber Park is home to the famous Henderson waves featured in many films such as a baby Merlion and Bell of Happiness. The peak of this natural landmark provides visitors with a panoramic view of southern Singapore and a cool breeze.
The cable car to the mountain gives you a breathtaking view of the horizon from above. You could also use a telescope at one of the established viewpoints for a stunning view of the city.
The mountain also has a restaurant situated 100 meters above sea level, providing visitors with a hilltop dining experience. Are you looking for an exceptional romantic evening dinner? Dusk Restaurant & Bar is a perfect place for two love birds. You can book Cable Car Sky Dining from the mountain with only the two of you in one cabin enjoying dinner on the air.
Mount Faber has a secondary rainforest rich in various plant and animal species. If you love birdwatching or nature, this place is worth taking seriously. Its biodiversity is impressive, with several new things to learn.
Sisters' Island Marine Park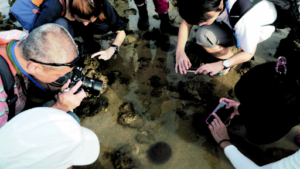 This park, covering 40 hectares of flora and fauna, is unique in several ways. It has over 250 species of hard corals, proving that Singapore's biodiversity is staggering. Since this natural landmark is cared for by National Park Board, you can register for one of the Board's guided tours to discover more about this Island.
Sister's Island Marine Park is a platform for conservation, outreach, education, and research activities on Singapore's marine biodiversity. Why was this location chosen? Because it contains various interesting habitats, including sandy shores, coral reefs, and seagrass.
The park offers Singapore the opportunity to protect endangered coral reefs. These coral reefs are home to several endangered marine species like clams, seahorses, and sponges. You may even spot several turtle species on the Island since it has a safe turtle hatchery. Technology increases the turtles' survival rate, thus adding to Singapore's biodiversity.
Register for a guided tour from the mainland to Sister's Island Marine Park and learn from nature.
Labrador Nature Reserve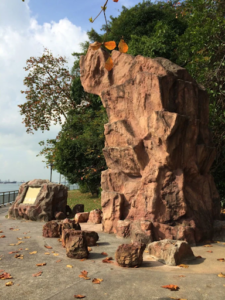 Do you live in the South of Singapore and enjoy an exhilarating coastal run? Look to Labrador Nature Reserve for a solution. You can enjoy fantastic sunrise and sunset in the morning and evening at this park with your loved ones.
Besides the beautiful stunning sunset and sunrise view, Labrador Nature Reserve also hosts over 70 bird species, including Blue-crowned Hanging Parrot, Rufous Woodpecker, and Abbott's Babbler. Birdwatchers will undoubtedly love this place as they take clear shots of the birds.
The nature trails enable visitors to stroll through the reserve, and you may be fortunate to spot wildlife like squirrels. You will appreciate nature and conservation even more as you admire flora and fauna in this rich environment.
There you go with the ten best natural landmarks in Singapore worthy of exploring in 2022. Did we leave your favourite landmark out of the list? Please let us know in the comment section below. At Shariot, we care about your experiences and memories.